I am Not Your Negro by James Baldwin and Raoul Peck
To compose his stunning documentary film I Am Not Your Negro, acclaimed filmmaker Raoul Peck mined James Baldwin's published and unpublished oeuvre, selecting passages from his books, essays, letters, notes, and interviews that are every bit as incisive and pertinent now as they have ever been. Weaving these texts together, Peck brilliantly imagines the book that Baldwin never wrote.
Loving: Interracial Intimacy in America and the Threat to White Supremacy by Sheryll Cashin
Loving beyond boundaries is a radical act that is changing America. When Mildred and Richard Loving wed in 1958, they were ripped from their shared bed and taken to court. Their crime: miscegenation, punished by exile from their home state of Virginia. The resulting landmark decision of Loving v. Virginia ended bans on interracial marriage and remains a signature case--the first to use the words "white supremacy" to describe such racism.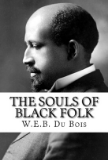 The Souls of Black Folk by W.E.B. Dubois
This classic groundbreaking work of American literature first published in 1903 is a cornerstone of African-American literary history and a seminal work in the field of sociology. W.E.B. Du Bois, who drew from his own experiences as an African-American living in American society, explores the concept of "double-consciousness"—a term he uses to describe living as an African-American and having a "sense of always looking at one's self through the eyes of others."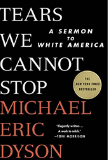 Tears We Cannot Stop: A Sermon to White America by Michael Eric Dyson
Short, emotional, literary, powerful―Tears We Cannot Stop is the book that all Americans who care about the current and long-burning crisis in race relations will want to read. Dyson argues that if we are to make real racial progress we must face difficult truths, including being honest about how black grievance has been ignored, dismissed, or discounted.
Biased: Uncovering the Hidden Prejudice that Shapes What We See, Think and Do by Jennifer L. Eberhardt
With a perspective that is at once scientific, investigative, and informed by personal experience, Dr. Jennifer Eberhardt offers us the language and courage we need to face one of the biggest and most troubling issues of our time. She exposes racial bias at all levels of society—in our neighborhoods, schools, workplaces, and criminal justice system. Yet she also offers us tools to address it.
Rest In Power: The Enduring Life of Trayvon Martin by Sybrina Fulton
Rest in Power, told through the compelling alternating narratives of Sybrina Fulton and Tracy Martin, answers, for the first time, those questions from the most intimate of sources. It's the story of the beautiful and complex child they lost, the cruel unresponsiveness of the police and the hostility of the legal system, and the inspiring journey they took from grief and pain to power.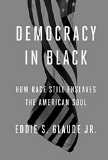 Democracy in Black: How Race Still Enslaves the American Soul by Eddie S. Glaude
A powerful polemic on the state of black America that savages the idea of a post-racial society America's great promise of equality has always rung hollow in the ears of African Americans. But today the situation has grown even more dire. From the murders of black youth by the police, to the dismantling of the Voting Rights Act, to the disaster visited upon poor and middle-class black families by the Great Recession, it is clear that black America faces an emergency.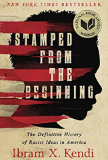 Stamped from the Beginning by Ibram X. Kendi
In this deeply researched and fast-moving narrative, Kendi chronicles the entire story of anti-black racist ideas and their staggering power over the course of American history. He uses the life stories of five major American intellectuals to drive this history: Puritan minister Cotton Mather, Thomas Jefferson, abolitionist William Lloyd Garrison, W.E.B. Du Bois, and legendary activist Angela Davis. He demonstrates racist ideas were created to justify and rationalize deeply entrenched discriminatory policies and the nation's racial inequities.
The Beast Side: Living and Dying While Black in America by D. Watkins
The time under President Obama was meant to usher in a new post-racial American political era. However, when seventeen-year-old Trayvon Martin was shot by a wannabe cop in Florida; and then Ferguson, MO, happened; and then South Carolina hit the headlines; and then Baltimore blew up, it was hard to find any evidence of a new post-racial order. Suddenly the entire country seemed to be awakened to a stark fact: African American men are in danger in America.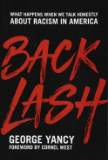 Backlash: What Happens When We Talk Honestly About Race in America by George Yancy
When George Yancy penned a New York Times article entitled "Dear White America," he knew that he was courting controversy. Here, Yancy chronicles the ensuing blowback as he seeks to understand what it was that created so much rage among so many white readers. He challenges white Americans to develop a new empathy for the African American experience.
We also own these high-demand titles, but they have waitlists. Click on the book cover to place a hold.
No book list can be exhaustive. Find more with these subject matter searches:
African Americans--Race Identity | African American Women--Social Conditions |
Racism--United States | United States--Race Relations | White Supremacy Movements--United States