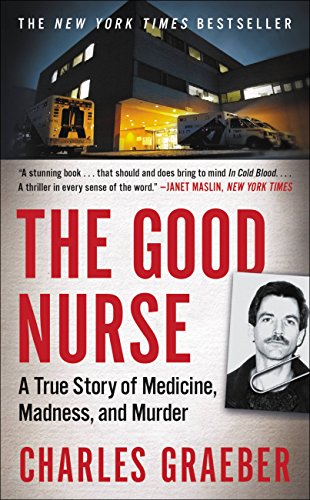 This book club is currently being held virtually on the library's Goodreads page.
Do you love a good whodunit? Join others who have a similar interest in true crime at our book club! The title we will be reading for our September virtual discussion is The Good Nurse by Charles Graeber. Limited copies of this book are available for checkout at the Headquarters Library through our curbside service. Please call 352-334-3940 for availability and to request a book club copy.
To join the discussion on Goodreads you will need to create a Goodreads account and join our group. When you join, please answer the Challenge Question(s) so that it can be approved. Once your request has been approved, you will be able to participate on the discussion board. Books will be available for discussion for the entire month, so you will have all of August to talk about "The Good Nurse" with other book club members. We also have a general discussion board for off-topic discussion and introductions, so please introduce yourself to the group!
Future Titles:
September - The Good Nurse: A True Story of Medicine, Madness, and Murder by Charles Graeber
October - If You Tell: A True Story of Murder, Family Secrets, and the Unbreakable Bond of Sisterhood by Gregg Olsen
November - Unspeakable Acts: True Tales of Crime, Murder, Deceit, and Obsession by Sarah Weinman
December - Broken Faith: Inside the Word of Faith Fellowship, One of America's Most Dangerous Cults by Mitch Weiss
January - A Deadly Game: The Untold Story of the Scott Peterson Investigation by Catherine Crier
Want more true crime titles to hold you over until the next meeting? Check out what we currently have in our collection.
To catch up on past book club titles, check out this list.