Struggling to find the next audiobook to listen to? Look no further! We have some staff picks for you! In no particular order, the following list are titles staff across the district have suggested:
Born a Crime by Trevor Noah
One of the comedy world's fastest-rising stars tells his wild coming of age story during the twilight of apartheid in South Africa and the tumultuous days of freedom that followed. Read by the author.
American Like Me by America Ferrera and other authors
From award-winning actress and political activist America Ferrera comes a vibrant and varied collection of first person accounts from prominent figures about the experience of growing up between cultures. Read by the authors.
I Know Why the Caged Bird Sings by Maya Angelou
Maya Angelou's memoir of growing up black in the 1930's and 1940's. Read by the author.
Astrophysics for People in a Hurry by Neil DeGrasse Tyson
Tyson brings the universe down to Earth succinctly and clearly, with sparkling wit, in tasty chapters consumable anytime and anywhere in your busy day. Read by the author.
 
Between the World and Me by Ta-Nehisi Coates
In a profound work that pivots from the biggest questions about American history and ideals to the most intimate concerns of a father for his son, Ta-Nehisi Coates offers a powerful new framework for understanding our nation's history and current crisis. Read by the author.

The Last Black Unicorn by Tiffany Hadish
From stand-up comedian and actress Tiffany Haddish comes The Last Black Unicorn, a hilarious, edgy, and heart-wrenching collection of autobiographical essays that will leave you laughing through tears. Read by the author.
The Way I Heard it by Mike Rowe
Executive producer and host Mike Rowe presents a collection of his favorite episodes from the podcast, The Way I Heard It, along with a host of personal memories, ruminations, and insights. Read by the author.
The Book of Joy by Dalai Lama XIV and Desmond Tutu
Two great spiritual masters, His Holiness Dalai Lama and Archbishop Desmond Tutu,  share their own hard-won wisdom about living with joy even in the face of adversity. Read by Douglas Carlton Abrams and various others.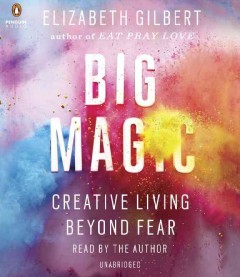 Big Magic: Creative living beyond fear by Elizabeth Gilbert
Gilbert, the author of Eat, Pray, Love, digs deep into her own generative process to share her wisdom and unique perspective about creativity. Read by the author.
The Checklist Manifesto by Atul Gawande
Reveals the surprising power of the ordinary checklist now being used in medicine, aviation, the armed services, homeland security, investment banking, skyscraper construction, and businesses of all kinds. Read by John Bedford Lloyd.
As you Wish by Cary Elwes
From actor Cary Elwes, who played the iconic role of Westley in The Princess Bride, comes a first-person account and behind-the-scenes look at the making of the cult classic film filled with never-before-told stories, exclusive photographs, and interviews with co-stars. Read by the author; additional narration by Danny Burnstein.
Believe me by Eddie Izzard
Eddie Izzard details his childhood, his first performances on the streets of London, his ascent to worldwide success on stage and screen, and his comedy shows which have won over audiences around the world. Read by the author.
Wishful Drinking by Carrie Fisher
Carrie Fisher, forever immortalized by her role as Princess Leia in Star Wars, reveals her turbulent life, from her superficial Hollywood upbringing to her addiction to alcohol. With scathing humor, Fisher chronicles her declining acting career and subsequent tribulations, including mothering the child of a gay man. Read by the author.

 In a Sunburned Country by Bill Bryson
Despite the fact that Australia harbors more things that can kill you in extremely nasty ways than anywhere else, including sharks, crocodiles, snakes, even riptides and deserts, Bill Bryson adores the place, and he takes his readers on a rollicking ride far beyond that beaten tourist path. Read by the author.
 
Lady in waiting : My Extraordinary Life in the Shadow of the Crown  by Anne Tennant
Lady Anne Glenconner has been at the center of the royal circle from childhood, when she met and befriended the future Queen Elizabeth II and her sister, the Princess Margaret. A unique witness to landmark moments in royal history, Maid of Honor at Queen Elizabeth's coronation, and a lady in waiting to Princess Margaret until her death in 2002, Lady Anne's life has encompassed extraordinary drama and tragedy. Read by the author.
Lab Girl by Hope Jahren
Acclaimed scientist Hope Jahren has built three laboratories in which she's studied trees, flowers, seeds, and soil. Her first book is a revelatory treatise on plant life—but it is also so much more. Lab Girl is a book about work, love, and the mountains that can be moved when those two things come together. This book has also been chosen for the Alachua County Big Read. Read by the author.