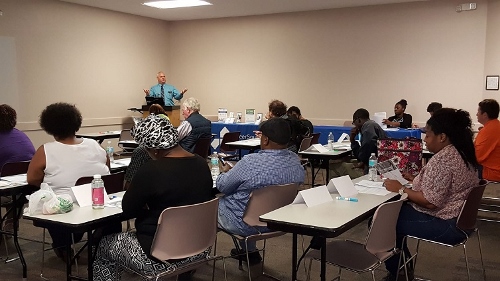 This conference is for individuals with criminal backgrounds or other significant barriers who are struggling to re-enter the workforce or would like to start a small business. Participants will learn skills to obtain and maintain employment, start a small business and further their education. Incentives include clothing, bus passes, a professional resume and more. Refreshments will be served.
Dates:
April 6: Employability Skills & Career Mapping:
10:00-10:25: Motivational Speaker/ Maryanne Van Dogen
10:30-11:15: Employability Skills/ Harold Gertner
11:20-12:00: Power Mapping/ Jhody Polk
April 7: Educational Opportunities & Certifications:
10:15-11:00: GED & Certificate Programs/ Terrell Jenkins
11:10- 12:00/ City College Certificate Programs/ Stephen Johnson  
April 8: Entrepreneurship & Small Business: (Business Panel)
Taquila Copeland /Small Business Owner
Juwana Maner/ Small Business owner
Tequila McKnight/ Small Business Owner
Women Entrepreneur's program (University of Florida)
Tavarous Parks/ GHA, Entrepreneurship and Small Business Resources
April 9: Job Retention: Ideas and strategies will be discussed by trained professionals.
Time of Conference: 10:00am-12:00pm 
Location: Library Partnership and Resource Center (912 NE 16th Ave, Gainesville, Florida 32601)
This Conference would not be possible without our Community Partners:
Partnership For Strong Families,  Santa Fe College, The Library Partnership, Gainesville Housing Authority, Greater Gainesville Chamber, The Florida Council, Career Source of North Central Florida, Florida Department of Corrections, Alachua County Sheriff's Office,  Alachua County 
Due to Covid-19, the Re-Entry Conference and Job Fair are canceled. We apologize for the inconvenience. Stay safe and healthy!