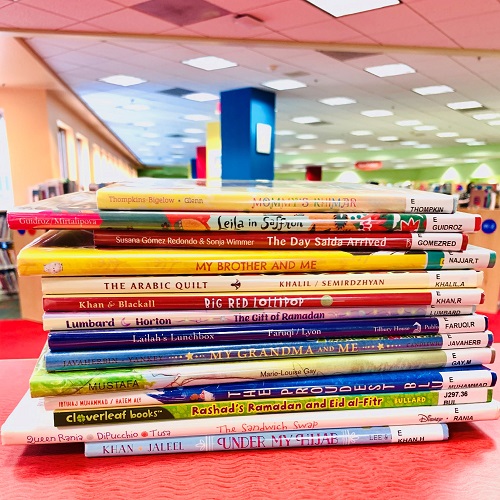 April is Arab American Heritage Month. As a community, we celebrate those with Arab American heritage and reflect on the contributions of Arab Americans to our country. By reading picture books about the joys, struggles, and daily lives of Arab Americans, we can provide adults and children with windows into lives and cultures different than their own and also mirrors of near and dear traditions and struggles to those who do not typically see themselves represented. 
 Choose a book from this wonderful list to read and enjoy this month. Both print and eBooks are available to enjoy no matter your age.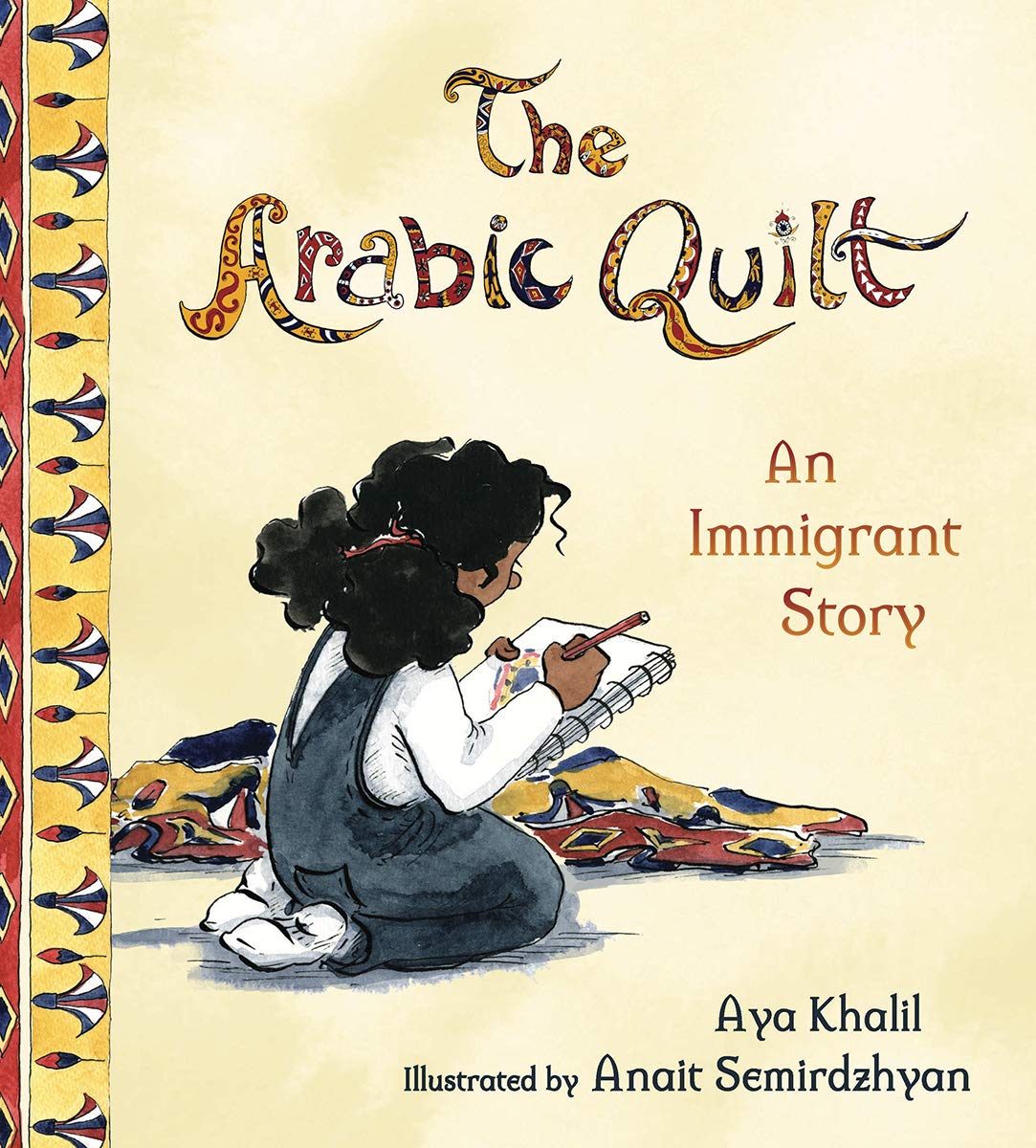 The Arabic Quilt: An Immigrant Story by Aya Khalil (2020)
K-Gr 2—Kanzi, a young Egyptian immigrant, is nervous about looking different on the first day of her new school. When Kanzi's classmates tease her about her native language, her teacher helps Kanzi and her classmates learn the value of being bilingual and the beauty of being different through a creative class project: a paper collage quilt with all the students' names written on it in Arabic. The story highlights the role of a supportive and creative teacher and the importance of instilling acceptance in children. "My mom says we should only speak English," says Molly, one of the students. In response, the teacher writes the words algebra, coffee, lemon, and sugar on the board as an example to show the students how many languages share the same origin and that "knowing different languages will make the world a friendlier place." The story ends with a powerful poem with a compelling message of taking pride in one's mother tongue. The author includes a glossary of Arabic words with phonetics and their meaning in English. Copyright 2020 School Library Journal.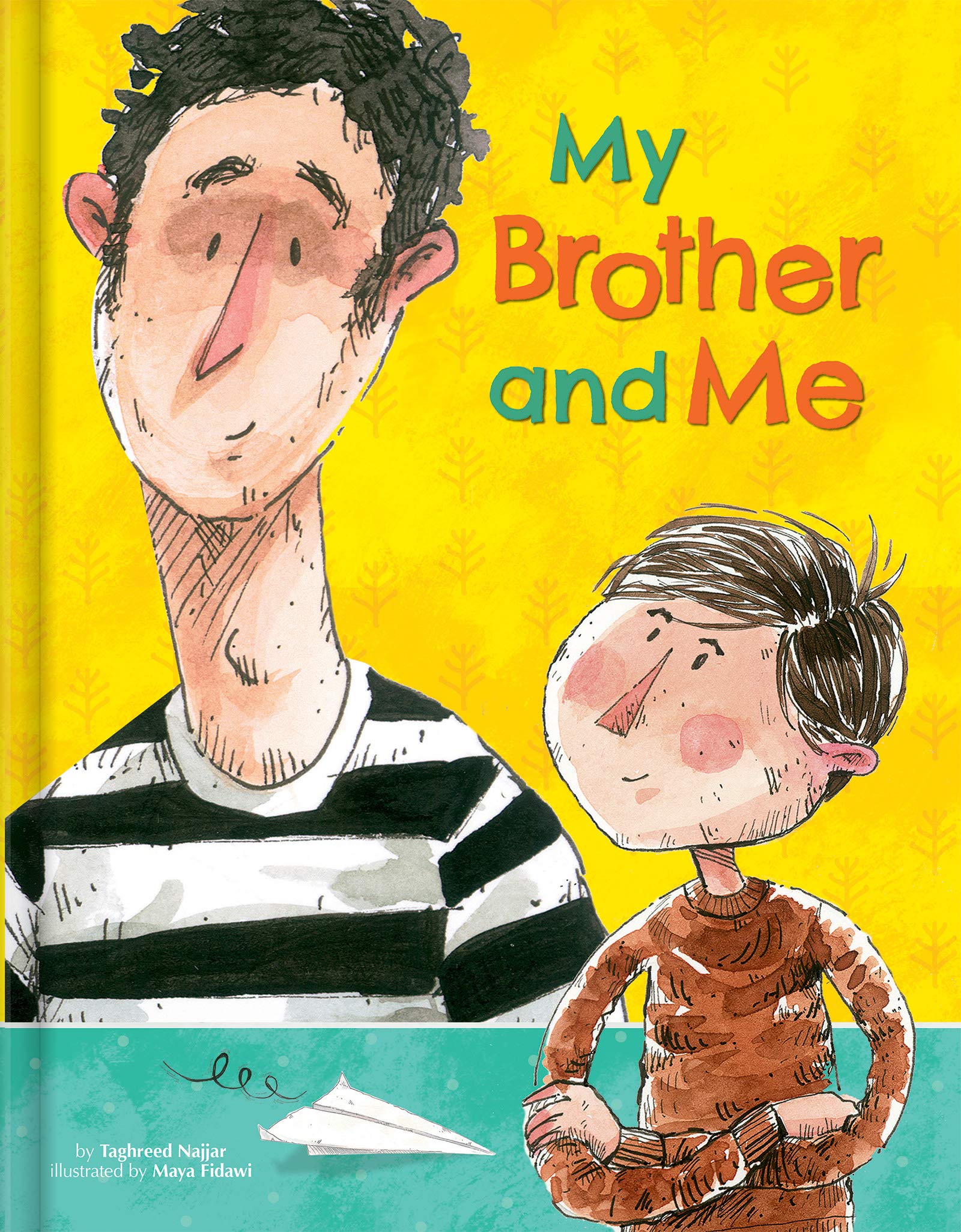 My Brother and Me by Taghreed Najjar (2019)
K-Gr 2—Aloush adores his much older big brother Ramez, who has graduated from college and works at an engineering company. Ramez drives the boy to school, takes him to basketball practice, and allows him to hang out when friends visit. The golden age dissolves when Ramez gets engaged, so Aloush attempts benign pranks to scare his fiancée away. Her calm reactions to spilled water and a surprise hamster prove Deema's character is stellar and finally the pair bond over toy cars and video games. When Deema asks Aloush to be her little brother, his hug and "I'll think about it" promise a happy ending. Fidawi's charming line drawings of elongated bodies in a muted palette capture the myriad of moods with secret humor stitched in. A giant fly on the page facing a stinky soccer uniform and the young boy's reaction to Mama's ululating engagement celebration are a hoot. VERDICT Originally published in Arabic, this story's appeal is universal and gently shares details of culture. —Gay Lynn Van Vleck, Henrico County Library, Glen Allen, VA, Copyright 2019 School Library Journal.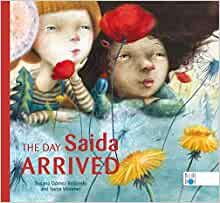 The Day Saida Arrived by Susana Gomez & Sonja Wimmer (2020)
K-Gr 2—A scenic chronicle of the burgeoning friendship between a Moroccan immigrant, Saida, and a Spanish girl, who narrates this translation first published in Spain. When they meet, the little girl instantly knows that she and Saida will be pals but is concerned because Saida is homesick and silent. Since they can't converse due to the language barrier, the two begin drawing symbols like hearts and smiles. The young Spanish girl's mother describes Saida's former home—"bazaars and archways and colorful tiles"—and her father tells her that while Saida's words don't work here, Spanish wouldn't work in Morocco. Soon the two friends start teaching one another in their native tongues; words are shown in English, Arabic, and in phonetics. The two girls dream of one day going to Morocco together and the tale concludes with the narrator declaring the word "border" as unwelcome. VERDICT Filled with arresting and beautiful hand-painted illustrations done in acrylic paint and crayons, the images do a lovely job of showing Saida's coming into her own, and renders a poignant message about being the newcomer.—Amy Nolan, St. Joseph P.L., MI, Copyright 2020 School Library Journal.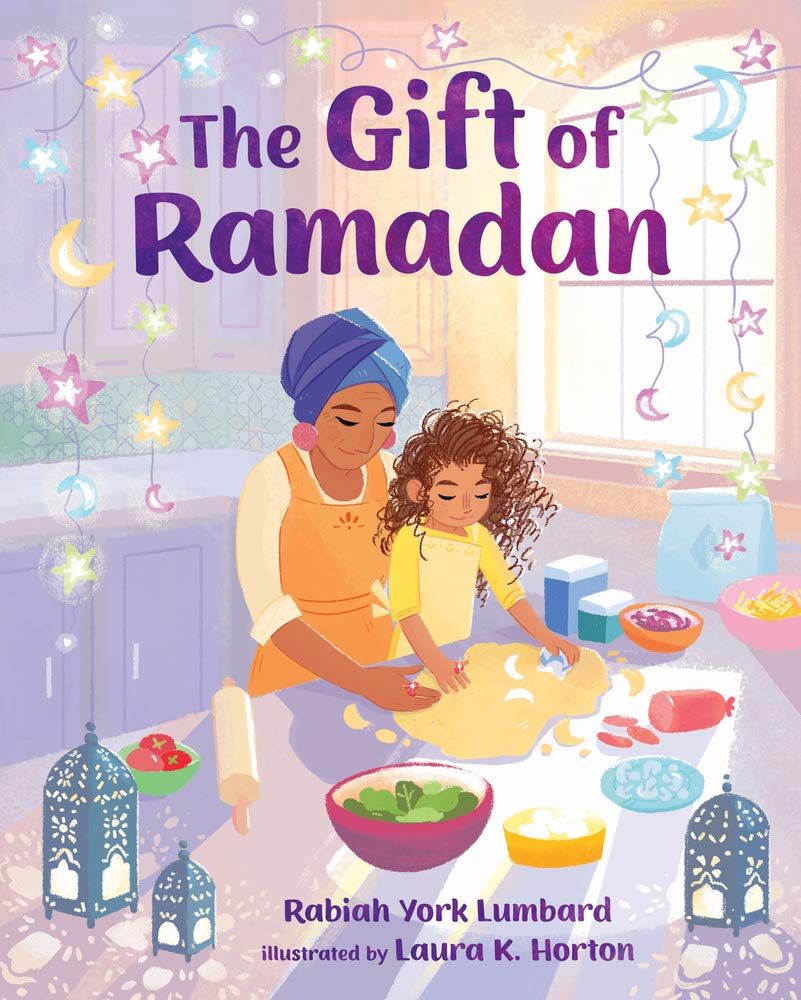 The Gift of Ramadan by Rabiah York Lumbard (2019)
Gr 2–5—An inquisitive young girl, Sophia, is excited about Ramadan, a holy month of fasting in Islam. As her grandmother and mother describe what Ramadan means, Sophia announces that she will fast. Throughout the day, she tries to keep herself busy and not think about food. However, her little brother starts to chase her with a cookie. As the smell of chocolate fills her nose, Sophia can't resist her urges anymore and starts eating cookies. Distressed that she lost the sparkly feeling she was supposed to gain from fasting, she learns what is expected of different age groups and other ways people can earn blessings during this observance. This book makes Ramadan approachable to young audiences. The adorable illustrations of Sophia and the daily life of one family as they navigate their fasting are age appropriate and represent the story very well. The book has a small issue—the author oversimplifies the concepts of sunrise and sundown. Some terms, such as sahoor and iftar, could have been explained either in the text or in the glossary. VERDICT Highly recommended to introduce young readers to Islamic culture and traditions; a perfect addition to holiday book collections.—Noureen Qadir-Jafar, Syosset Library, NY Copyright 2019 School Library Journal.
Leila in Saffron by Rukhsanna Guidroz (2019)
In a lyrical story about identity, family origins, and self-worth, Leila sees only her "skinny arms and knobby knees" in the mirror. But during a gathering at her Naani's house, Leila looks to her family "for parts of me that I like." She notes the similarities between her smile and her aunt's, looks forward to buying books written in Arabic during her first trip to Pakistan, and regards Naani's silk scarves in "the color of lentils, bright and orange; pomegranates, juicy and rosy; cucumber skin, dark and green; and threads of saffron, gold and copper." Her careful observations lead her to discover a unique internal mosaic of influences that "make me who I am." Mirtalipova illustrates in dramatic jewel tones that capture a homey atmosphere of abundance and warmth. Ages 4–8. (June) Copyright 2019 Publishers Weekly.
Mommy's Khimar by Jamilah Thompkins-Bigelow (2018)
In this ebullient picture book, readers come to share in the delight a little girl takes in wearing her mother's khimar—another term for hijab. For the girl, her mother's rainbow collection of beautiful khimars is a source of wonder, power, and intimacy, much like any mother's closet of pretty things might be for a young child. Her favorite one is yellow, and she wears it like a superhero wears her cape, imagining herself shining like the sun and shooting through the sky like a star. She recognizes her mother's fragrances—coconut oil and cocoa butter—which ensure the security of her mother's presence even in her absence. This affirming book will be a welcome mirror for Muslim and interfaith families, and a necessary counter to Islamophobic discourse. The illustrations are as lively and brightly colored as the khimars themselves, and smiling faces of friends and family members echo the warm message of the text. Copyright 2018 Booklist Reviews.
Lailah's Lunchbox by Reem Farqui (2015)
K-Gr 3—Lailah recently moved from Abu Dhabi to Peachtree City, GA, and while she misses her friends back in the Middle East, she is very excited to be old enough to fast during Ramadan. However, being new is one thing, but being different is another. What if her class doesn't know what Ramadan is? What if she is the only one fasting? Lailah falters when it is time to give Mrs. Penworth a note asking that she be excused from lunch, and she has to endure the tempting smells of food and kind offers of her classmates to share lunch. After escaping to the foodless library, the school librarian encourages Lailah to write down her feelings and share them with her teacher. After all, who knows what could come of sharing her culture? The large, often full-page watercolor illustrations provide gentle details that add depth to the text. A note and glossary round out the story, giving context from the author's life and information about Islamic culture. Fans of Patricia Polacco will enjoy this heartfelt tale. VERDICT A solid addition for libraries in need of modern Ramadan stories.—Brittany Staszak, St. Charles Public Library, IL, Copyright 2015 Library Journals
Mira's Curly Hair by Maryam al Serkal (2019)
"Brown-skinned, curly-haired Mira is delighted to watch her mother transition from straight hair to curly hair in this European import set in the Emirates. Mira doesn't like her curly hair. 'She wanted it to be straight and smooth, just like her Mama's.' She tries hair tools and poses and flattening it out with books, but her hair still curls all over. One day, Mira and her mama get caught outside in the rain. As they wait for the rain to clear, Mira notices something happening to Mam''s hair. 'Up and up! It kept on curling! It wouldn't stop!' Mira thinks her mam''s hair 'looks beautiful and free, curling everywhere!' From then on, both Mira and her mama wear curls every day. In the final, triumphant spread, the curly-haired duo rides a tandem bicycle by the sea. Although it's hard to imagine why Mira has never seen her mama's hair in its natural state before, this simple story does a lovely job weaving in various cultural realities with a universal theme of self-acceptance. The artwork, in acrylics completed digitally, uses bright, nearly fantastical colors and images―a red sky, hair tools that include toy soldiers, brightly patterned birds surrounding Mama's curly hair. Palm trees, Islamic architecture, and traditionally dressed passers-by line the streets. This volume adds depth and beauty to the growing collection of hair-themed picture books for the very young."―Kirkus Reviews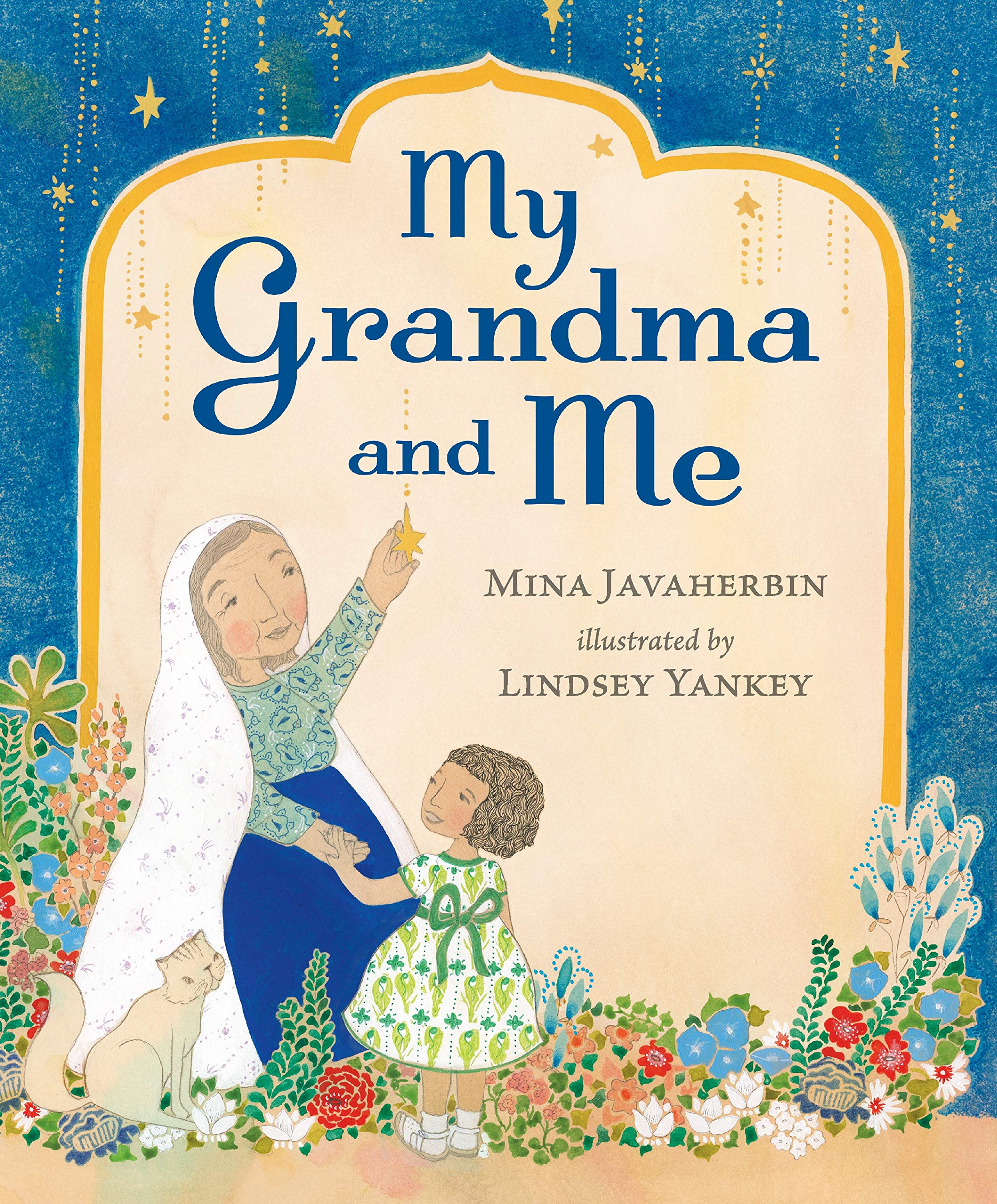 My Grandma and Me by Mina Javaherbin (2019)
The author reminisces about her grandmother, with whom she spent a childhood in Iran. Short vignettes fondly describe mundane activities: waking up together for namaz (Islamic prayer), collecting bread from the delivery boy, visiting their Christian neighbors next door. Little Mina plays hopscotch with her friend while their grandmothers knit together—a usefully inclusive note, as most of the memories revolve around Islamic tradition. Mina helps her grandma craft long, veiling chadors, and during Ramadan she playfully pretends to join in the fasting. Yankey's mixed-media illustrations will transport readers to an idyllic twentieth-century Iran, recalling the style of Persian art, with dusty, muted colors and intricately patterned rugs. A sweet tranquility is evoked in all the elements, touched by a gentle melancholy when Mina and her friend imagine their grandmas together in heaven. While this book presents a relationship in a specific cultural context, a subtle message of interreligious peace and unity shines through, supported by the memories' emotional universality, through which young readers will learn empathy and cultural understanding. Grades K-2. Copyright 2019 Booklist Reviews.
Mustafa by Marie-Louise Gay (2018)
PreS-Gr 3—A young boy has traveled a long way to this new country from his old one, where the trees were dusty and gray and there was not a lot of extra food. But here, in this new country, people feed the birds and the squirrels, and the trees magically turn from lush green to bright jewel-toned colors. Mustafa is amazed by all he sees around him and learns about the culture of this new place through observation; but when he tries to engage with a little wave or a smile, he goes unnoticed. Mustafa wonders if he is invisible, but his mother assures him that he is not. One day, a little girl that Mustafa has observed multiple times in the park reaches out to him, making a connection and a lasting impression. This latest from Gay is a beautifully written and illustrated picture book for elementary-aged children. The story of a young boy moving to an unfamiliar place and finding his way, even when another language is spoken, is one that all children should hear. His experience is one that many kids can relate to and others should be aware of. Mustafa is brave and courageous, putting himself out there to learn about the world around him and make a new friend. The mixed-media illustrations are drawn delicately but filled in with rich, bold colors. Even young children not yet able to read will be able to look at the pictures, follow the story line, and feel the emotions. VERDICT One for the must-be-purchased list.—Amy Shepherd, St. Anne's Episcopal School, Middleton, DE, Copyright 2018 School Library Journal.
The Proudest Blue by Ibtihaj Muhammad (2019)
K-Gr 4—Faizah is excited for her first day of school but even more excited for her older sister, Asiya. Asiya is starting sixth grade with her brand-new blue hijab. As Faizah walks to the school in her new light-up shoes and backpack, she admires her sister who looks like a princess in her blue head scarf. At school, some students celebrate with her, some are ambivalent, and some faceless, nameless characters taunt her. Their mother has prepared the girls with wise words. When the kids in the school bully Asiya, she remembers her mother's advice to not carry hurtful words as "they are not yours to keep. They belong only to those who said them." The illustration and the colors are just as powerful as words conveying the passionate message of how to be proud of one's culture, individuality, and religion and how to stay strong and keep one's faith. This is an empowering book for young readers who can see themselves in Asiya or know someone like her. The touching and celebratory illustrations complement the quiet strength of Asiya as she steps into a beautiful and celebrated coming-of-age rite. VERDICT This excellent story about identity, visibility, and confidence, touches on rites of passage, bonds between sisters, and bullying and is unapologetic in tackling misconceptions and demanding equality.—Noureen Qadir-Jafar, Syosset Library, NY, Copyright 2019 School Library Journal.
Salma the Syrian Chef by Danny Ramadan (2020)
K-Gr 2—Salma lives with her mother in a refugee center in Canada, hoping her father will join them. Salma misses her father and the life in Syria, and struggles seeing how unhappy her mother is. Determined to hear her mother laugh again, Salma tries to cheer her up with silly drawings and jokes, "but all she gets is Mama's sad smile, full of love but empty of joy." Remembering the last time she saw her mother happy, Salma decides to surprise her by making foul shami, a Syrian meal her family shared in their lost home. Salma seeks the help of many other people in the refugee camp to find a recipe, translate the foods, shop, and prepare the meal, showcasing the things all the immigrants have in common as well as the variety and uniqueness of the cultures. Despite all the help, Salma doesn't have the right spices to finish her dish, and her frustration opens a floodgate for all her feelings of displacement and sadness. The meal, of course, delights her mother, and their friends at the camp join them with the missing ingredients. The charming illustrations are notably framed by Syrian mosaic patterns, providing a beautiful framework for the story. Realistically, the happy ending is limited to the connection with her mother and a dream of continued happiness with their new community; no easy answers about the future are provided. VERDICT Truthful, hopeful, and relatable; a first purchase.—Anna Haase Krueger, Ramsey County Library, MN, Copyright 2020 School Library Journal.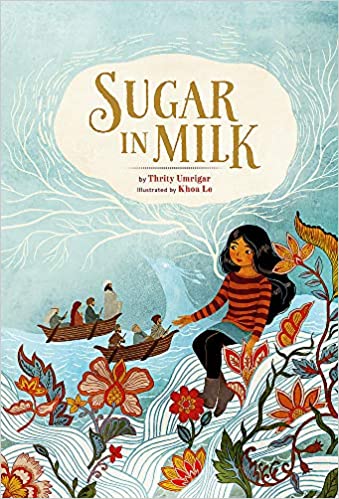 Sugar in Milk by Thrity Umrigar (2020)
K-Gr 4—After immigrating to the United States, a young girl learns to embrace opportunities in this timely tale of courage and humanity. Set in an unnamed American city of today, a young girl moves in with her aunt and uncle. To cure the young girl's aching homesickness, Auntie relays the story of how ancient Persian refugees immigrated to India. After reaching India's shores, the local king turns them away from his already crowded country. Despite not sharing a common language, the Persian leader shows the king how both groups can live alongside one another in harmony, like sugar in milk. Stunningly portrayed through gorgeous visuals, these flashbacks distinguish themselves within deep blue page borders that become increasingly detailed as the story progresses, and which culminate into a dazzling pattern of peacock feathers and blooming florals as the Persians are welcomed to their new home. After hearing this story, the young girl sees her neighborhood through fresh eyes and discovers her new community is more welcoming than she first thought. Her own journey, which began alone under a cold winter sky, begins anew under the bright sun and a blossoming tree with unlimited potential for a sweet future. VERDICT Lush illustrations and a strong message of hope and perseverance make this a standout title for all collections.—Sophie Kenney, Aurora P.L., IL - Copyright 2020 School Library Journal.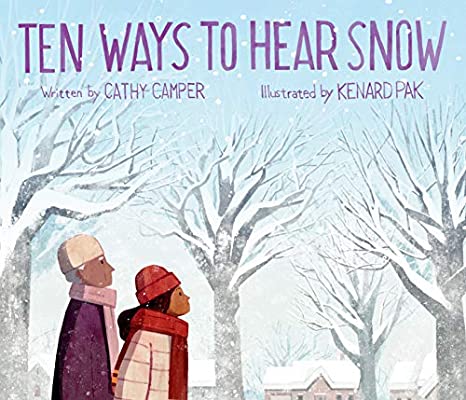 Ten Ways to Hear Snow (2020)
Luminous aquatint-like views of snow-covered neighborhood streets by Pak (Maud and Grand-Maud) contribute serenity to this story about senses and perception. A blizzard has ended, and Lina heads to visit her grandmother, Sitti. As she considers Sitti's diminishing eyesight en route, Lina realizes that snow is not just seen, but heard, and starts to list its different sounds: the "scraaape scrip" of a snow shovel, the "ploompf" of snow dislodged by a bluejay, the "drip, drip" of mittens drying. At Sitti's apartment, the two make warak enab (grape leaves stuffed with rice and lamb), assembling the rolls and joking as they go: "Mine looks like a mustache!" Lina says, holding a roll under her nose. How does Sitti knows that it has snowed? "Each morning I open the window and listen," Sitti tells the girl, and her sharp hearing supplies the final item on Lina's list. Deliberately paced, peppered with sound words, and centered around a close-knit family's routines and meals, this story by Camper (the Lowriders in Space series) is just right for winter reading. Ages 4–8. (Oct.) Copyright 2020 Publishers Weekly. School Library Journal Reviews
Under My Hijab by Hena Khan (2019)
A young girl watches the women in her life, paying close attention to how they wear their hijabs. Grandma carefully tucks in the ends of hers, like the pastry on the pies she bakes. Auntie, who is an artist, winds her silky hijab high on her head and pins it with a jewel. Iman's more sporty covering stays put while she competes for her martial-arts black belt. This book is a generous invitation by both author and illustrator to young Muslim girls to witness the variety of ways and reasons women wear hijabs. It is necessarily unsubtle, for it also considers the gaze of the outsider who may wonder and have questions. The women and girls the protagonist admires vary in profession, age, and race. They go about their lives with confidence and pride, choosing to style their hijabs according to circumstance or whimsy. An author's note explains when and why some Muslim women choose to cover, or not. Cheerful, colorful images complement the affirming tone and message of this timely book. Grades K-3. Copyright 2018 Booklist Reviews. Publishers Weekly Reviews
More Books for Arab American Heritage Month