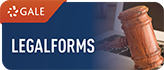 Gale Legal Forms contains a wealth of information and forms to help with legal procedures commonly faced in the new season. 
Are you planning to move in 2020? There are many Real Estate forms and Landlord Tenant information.
Thinking about starting a business in the new year? Use the LegalLife Articles and Legal Definitions to learn about incorporation, patents, and more.
Preparing for other major changes? Gale Legal Forms has Wills and Estates, Name Changes, and even Pet Adoption forms.