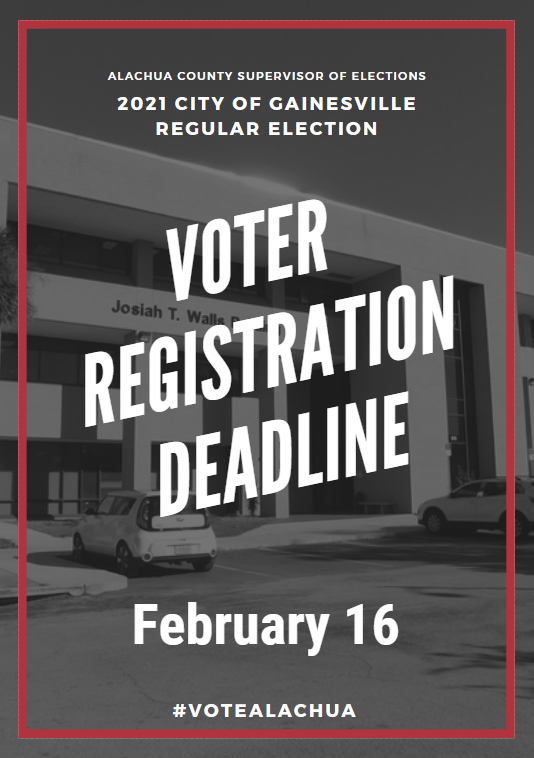 Voting for the 2021 City of Gainesville Regular Election will take place on March 16, 2021 from 7 a.m. to 7 p.m. Voters must vote in the polling place to which they are assigned. Use the Precinct Finder to find your polling place.
Early voting will be held from Friday, March 5 through Saturday, March 13. Early voting locations will be open from 9 a.m. to 6 p.m. 
You can request a vote-by-mail ballot online or by calling 352-374-5252. Mail ballot requests will be valid through 2024.
Gainesville City Commission District 1 and At Large Seat B are on the ballot. All registered voters who live in the city of Gainesville can vote in the At Large Seat B contest, while only those who live in District 1 may vote in that contest. A detailed map of commission districts is available online.
The election is for a roughly three-and-a-half year term, with the winners serving from May 2021 to January 2025.
This will be the last standalone Gainesville election. In 2018, voters approved a change to the city's charter that moved the city's elections so that they would be on the primary and general election ballots.
Beginning in 2022, similar to other nonpartisan positions, like School Board and some judicial seats, the candidates will first appear on the primary ballot, and if no candidate receives a majority of the vote, the top two candidates will move on to the November general election. After this year, Gainesville city commission seats, including mayor, will serve four-year terms, with a two-term limit.
The 2022 election cycle will feature races for mayor and city commissioners representing districts 2, 3 and 4. The 2024 election cycle will feature commission races for At Large Seat A, At Large Seat B and District 1.
Alachua County Supervisor of Elections, Kim A. Barton, encourages residents to reach out to her with any questions they have. You can contact her by email or by calling 352-374-5252.