With Pride month wrapping up, I wanted to return to our roots: it's been over 50 years since the Compton's Cafeteria riot and the Stonewall riots which were primarily led by queer or transgender people of color. Despite all they've done to help bring equality to the LGBTQ+ community, trans people of color are still some of the most vulnerable members of our community, as well as the most underrepresented in media. (More information on that in this NYT article, which you can access for free here with the use of your library card.)
To honor the contributions of trans people of color, and in acknowledgement of the protests of George Floyd's death that have occurred throughout the country and across the world this past month, I've tried to find books that draw attention to and celebrate young trans characters of color, but it hasn't been easy. Trans narratives are still underrepresented in YA literature, as are those of people of color. If you combine the two, it's almost impossible to find any. Despite that, I've managed to round up five books that include trans, genderfluid, and Two-Spirit characters of color as a main character or major secondary character.
These books do not shy away from dealing with difficult topics so I've done my best to include content warnings for each of the books. It's possible that I've missed something, however, so if anything I've included worries you I encourage you to check out a wider array of reader analysis and review on Goodreads.
Pet by Akwaeke Emezi
Pet is here to hunt a monster.
Are you brave enough to look?
There are no more monsters anymore, or so the children in the city of Lucille are taught. With doting parents and a best friend named Redemption, Jam has grown up with this lesson all her life. But when she meets Pet, a creature made of horns and colours and claws, who emerges from one of her mother's paintings and a drop of Jam's blood, she must reconsider what she's been told. Pet has come to hunt a monster, and the shadow of something grim lurks in Redemption's house. Jam must fight not only to protect her best friend, but also to uncover the truth, and the answer to the question-How do you save the world from monsters if no one will admit they exist?
My note: Pet is lyrical and haunting, and the idea of monsters hiding among society, even when you've revolted and gotten rid of them, is both chilling and all too real. Jam is a transgender girl living in this post-revolution world where no one has any problems with her transitioning at a young age, or with the fact that she's non-verbal most of the time, using sign language instead. There is also a secondary nonbinary character whose identity is implicitly accepted by the narrative and the people around them.
Content warnings: child abuse/CSA.
 
River of Teeth by Sarah Gailey
In the early 20th Century, the United States government concocted a plan to import hippopotamuses into the marshlands of Louisiana to be bred and slaughtered as an alternative meat source. This is true.
Other true things about hippos: they are savage, they are fast, and their jaws can snap a man in two.
This was a terrible plan.
Contained within this volume is an 1890s America that might have been: a bayou overrun by feral hippos and mercenary hippo wranglers from around the globe. It is the story of Winslow Houndstooth and his crew. It is the story of their fortunes. It is the story of his revenge.
My note: River of Teeth is a novella, and so the author has had to cram a lot of plot into a very small space. It's also classified as Adult Fiction, but I felt it held strong appeal for older teens who enjoy historical fiction with a dash of awesome diversity. The trans character in this novel never uses a particular identity, but their identity and use of they/them pronouns are respected throughout the story.
(If you enjoy this, be sure to check out the sequel, Taste of Marrow.)
Content warnings: character death, violence.
The Misedcuation of Cameron Post by Emily Danforth
When Cameron Post's parents die suddenly in a car crash, her shocking first thought is relief. Relief they'll never know that, hours earlier, she had been kissing a girl.
But that relief doesn't last, and Cam is soon forced to move in with her conservative aunt Ruth and her well-intentioned but hopelessly old-fashioned grandmother. She knows that from this point on, her life will forever be different. Survival in Miles City, Montana, means blending in and leaving well enough alone (as her grandmother might say), and Cam becomes an expert at both.
Then Coley Taylor moves to town. Beautiful, pickup-driving Coley is a perfect cowgirl with the perfect boyfriend to match. She and Cam forge an unexpected and intense friendship--one that seems to leave room for something more to emerge. But just as that starts to seem like a real possibility, ultrareligious Aunt Ruth takes drastic action to "fix" her niece, bringing Cam face-to-face with the cost of denying her true self--even if she's not exactly sure who that is.
My note: Adam, a Winkte or Two-Spirit Lakota, is a major secondary character in the second half of the book. His identity is not always respected or understood by those around him, but he's one of the very few Two-Spirit characters in YA literature (you can read more about that here). While there's discussion within Native American communities about whether they are people of color, I felt it necessary and important to include The Miseducation of Cameron Post here for it's inclusion of Adam's identity and his struggles, particularly due to the historical and contemporary exclusion of Indigenous peoples from Western queer communities.
(If you enjoy the book, be sure to check out the movie.)
Content warnings: conversion therapy, self-harm, homophobia/homophobic slurs.
Mask of Shadows by Linsey Miller
I Needed to Win.
They Needed to Die.
Sallot Leon is a thief, and a good one at that. But genderfluid Sal wants nothing more than to escape the drudgery of life as a highway robber and get closer to the upper-class—and the nobles who destroyed their home.
When Sal steals a flyer for an audition to become a member of The Left Hand—the Queen's personal assassins, named after the rings she wears—Sal jumps at the chance to infiltrate the court and get revenge.
But the audition is a fight to the death filled with clever circus acrobats, lethal apothecaries, and vicious ex-soldiers. A childhood as a common criminal hardly prepared Sal for the trials. And as Sal succeeds in the competition, and wins the heart of Elise, an intriguing scribe at court, they start to dream of a new life and a different future, but one that Sal can have only if they survive.
My note: Sal is awesome and ruthless in turns, and their story had me on the edge of my seat the whole time. Their race/ethnicity is never really mentioned explicitly in the book, but they come from a diverse world, and the author has stated that she would want Sal to be cast as a person of color. Sal is misgendered once or twice, but on the whole their world is accepting of their genderfluid/nonbinary identity, and that's pretty great. Additionally, the author has a note on her blog about Sal's relationship with clothes, gender, and pronouns, and includes her own content warnings about Mask of Shadows and its sequel which are far more comprehensive than mine below. You can read that here.
(If you enjoy this, be sure to check out the sequel, Ruin of Stars.)
Content warnings: misgendering, violence, character death.
Felix Ever After by Kacen Callender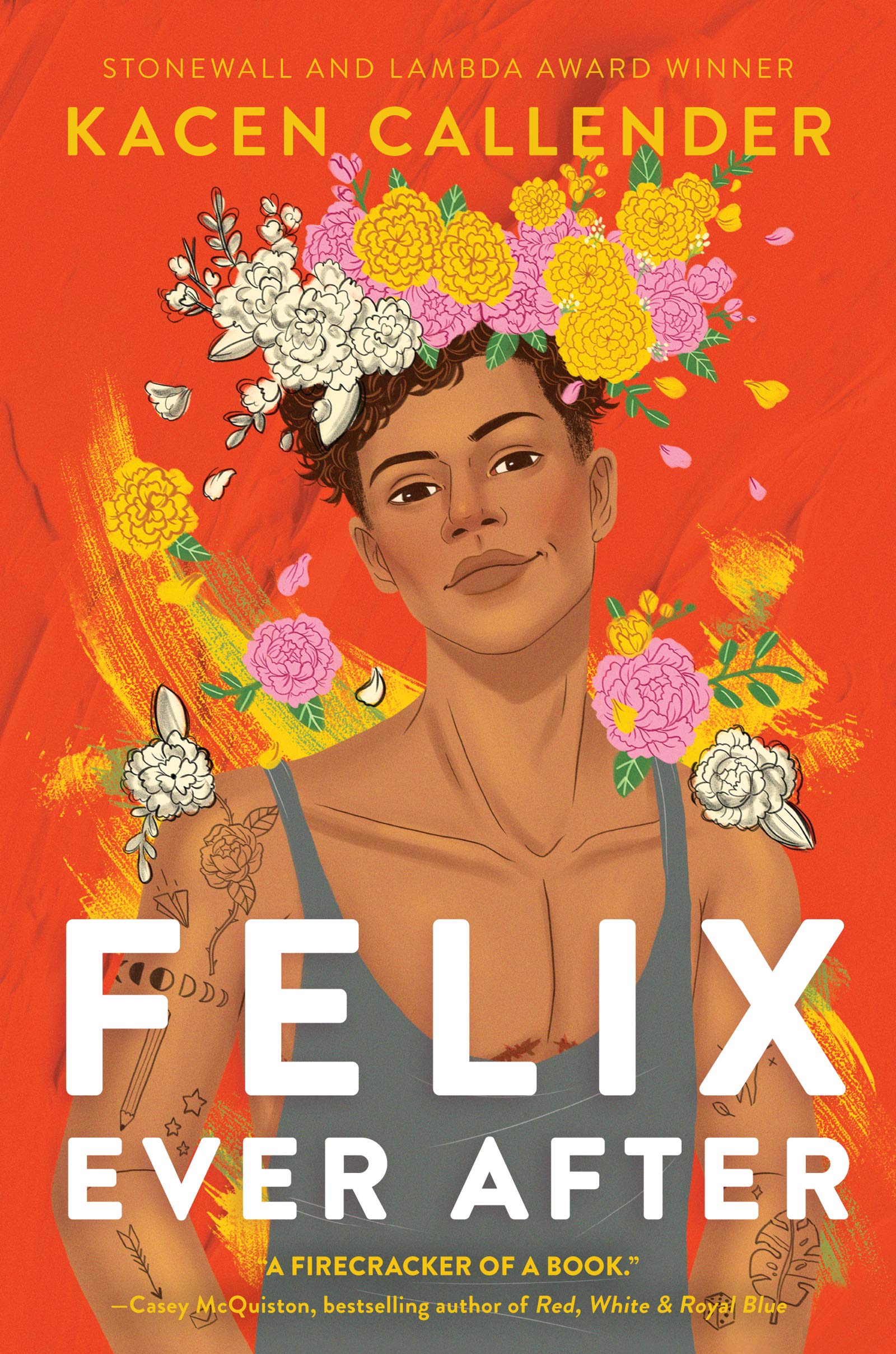 Felix Love has never been in love—and, yes, he's painfully aware of the irony. He desperately wants to know what it's like and why it seems so easy for everyone but him to find someone. What's worse is that, even though he is proud of his identity, Felix also secretly fears that he's one marginalization too many—Black, queer, and transgender—to ever get his own happily-ever-after.
When an anonymous student begins sending him transphobic messages—after publicly posting Felix's deadname alongside images of him before he transitioned—Felix comes up with a plan for revenge. What he didn't count on: his catfish scenario landing him in a quasi–love triangle....
But as he navigates his complicated feelings, Felix begins a journey of questioning and self-discovery that helps redefine his most important relationship: how he feels about himself.
My note: Felix begins the story pretty sure he's figured everything out—he's a trans guy, he wants to get into Brown University, and Ezra Patel is his best friend. But he soon finds out that things maybe not be as straight forward as he thought. It's awesome to see a character who begins with a firm understanding of his gender start to explore options beyond the male-female binary when he realizes his first identity no longer fits him quite as well as it originally did. I listened to the audiobook, and I really appreciated that they found a young, Black trans man to narrate the book, bringing an authenticity to Felix's story. Though the book opens with Felix's deadname and pre-transition photographs being revealed, his deadname is never told to the audience, a fact that I definitely appreciated.
Content warnings: transphobia, deadnaming, misgendering
Also in our collection are also awesome nonfiction resources like Beyond Gender Binaries: The History of Trans, Intersex, and Third-Gender Individuals by Rita Santos. And be sure to check out Cemetery Boys by Aiden Thomas, a novel about a trans Latinx brujo named Yadriel and the ghost he accidentally summons, when it releases later this year!