While a lot of aquariums, including the local Florida Aquarium in Tampa, have reopened in some capacity many are still offering livestreams for those of us who feel more comfortable enjoying their exhibits from home. I've rounded up a few of my favorites below, so whether you are an active watcher or just want something soothing to play in the background, we've got plenty to choose from! And at the bottom, we've got links to some awesome books and DVDs from our collection.
Located in nearby Clearwater, FL, the Clearwater Marine Aquarium is home to Winter and Hope, two dolphins who were rescued and rehabilitated by the aquarium. We have two books and two movies about Winter and Hope, which you can find in our catalog here!
The CMA has twelve webcams, which cover everything from the dolphin habitats to the nearby Clearwater Beach.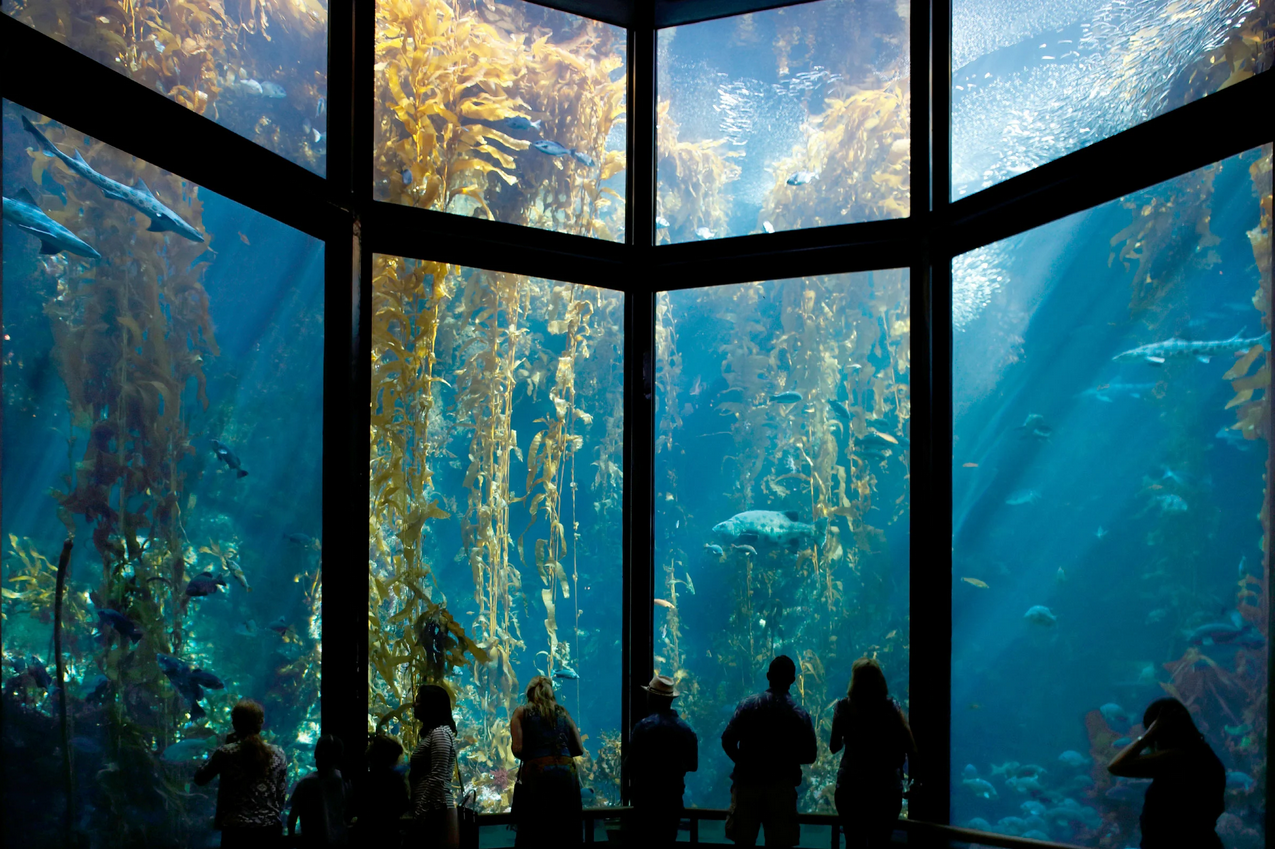 The Monterey Bay Aquarium in Monterey, CA, has ten live stream feeds of their exhibits and nearby ocean locations. Not all cams are active at the same time, but there's always at least one going! They also have narrated feedings every day at certain times, so be sure to check the link above for more details on that.
Image Source: Monterey Bay Aquarium
This site has tons of live streams of animals—and not just ocean ones! The link above will direct you to a specific ocean cam, but if you scroll down some, you'll see lots more, including open ocean cams and archived videos of habitats that are "off season," meaning that the animals that frequent those habitats are not currently in that part of the world.
New England Aquarium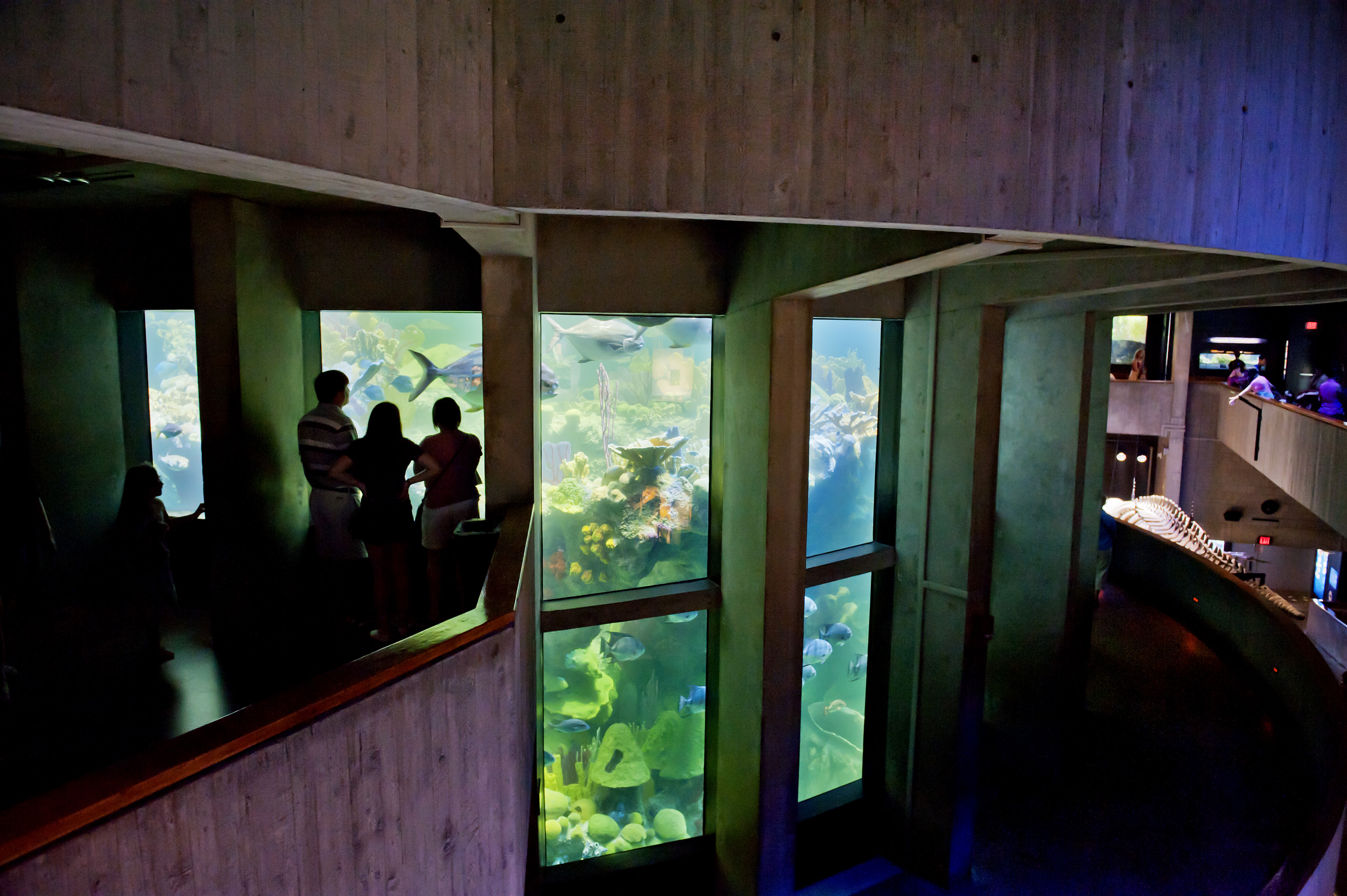 The New England Aquarium was the closest aquarium to my hometown growing up, and it is still cool to me. They have two live streams: the penguin colony, which has live feedings twice a day, and their huge giant ocean tank (which you can see part of in the background of the penguin live stream, as well as to the right). When the aquarium opened in 1969, the giant ocean tank at NEA was the largest one of its kind in the world.
And if you're lucky, you might catch sight of Myrtle, a green sea turtle who's been living at the aquarium since 1970. (They estimate that she's over 90 years old by now!)
Image source: The New England Aquarium
The National Aquarium in Baltimore, MD, has three livestream cameras that operate during their business hours; after hours, you can watch some of their prerecorded videos. My personal favorite is the Pacific coral reef camera, but all three are awesome! They're also a bit more interactive than most on this list: with your computer mouse hovering over the video, you can zoom in on certain areas of the video feed and click and drag to move the view around.
Nonfiction
500 Freshwater Aquarium Fish: A Visual Reference to the Most Popular Species edited by Greg Jennings | Resource on types of freshwater fish, as well as tips and tricks for setting up a freshwater aquarium.
Aquarium Fish by Dick Mills | A pocket-sized guide to aquarium fish for beginners and experts alike.
Adult Fiction
Monterey Bay  by Lindsay Hatton | A novel set around the creation of the Monterey Bay Aquarium, following fifteen-year-old artist Margot Fiske and her father.
The Meg series by Steve Alten | Scientist Jonas Taylor is the lone survivor of a secret dive into the Mariana Trench. Now, he must convince everyone else what he knows to be true: Megaladons still exist, and they're a serious threat.
Childrens & YA Fiction
Children of the Sea series by Daisuke Igarashi | Ruka and her new friends are some of the few who hear a call from the sea that no one else does, and they must use this skill to find out why fish are disappearing from the world's oceans.
Fish Girl by Donna Napoli and David Wiesner | When Fish Girl, a mermaid who lives in a boardwalk aquarium, meets Lavia, she starts to long for her own independence.
Georgia Aquarium, Keepers of the Deep | A behind-the-scenes view of the creation and maintenance of the Georgia Aquarium.
Ocean Wonders. Encountering Sea Monsters, Oceans in Glass: Behind the Scenes of the Monterey Bay Aquarium | A two-part program; Encountering Sea Monsters focuses on the lives and habitats of deep sea creatures, while Oceans in Glass give a behind-the-scenes look at the Monterey Bay Aquarium.
Window to the Sea | A behind-the-scenes look at four North American aquariums and the work of scientists there.