Image

Congratulations to the Waldo Branch
The fourteenth annual Battle of The Books Competition took place on Saturday, July 22nd.
This year Alachua County teens selected:
Our district's teens studied and worked as teams to compete in the ultimate trivia contest.  We would like to congratulate our winning teams:
First Place:  Waldo Branch
Second Place:  Millhopper Branch
Third Place:  Alachua Branch
Image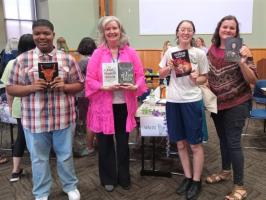 Congratulations to everyone who participated, from our hardworking teens, to our supportive staff coaches, to RTI Surgical whose generous donation made all of this possible, to David Elliott, poet extraordinaire, who gave a wonderful presentation to kick off the program. It was a great deal of fun and a showcase of the excellence a collection of hardworking people can achieve when they work toward a shared goal.
One last thank you for all our fantastic teens, and reiterated gratitutude to RTI Surgical for their donation which made the book giveaway and author visit possible.
Image
Image

Last years titles and winners
WINNERS
Congratulations to our winners of the 2022 Battle of the Books trivia competition!
1st Place: Millhopper Branch
2nd Place: Waldo Branch
3rd Place: Headquarters Library
Alachua County teen participants were given free copies of of selected books to read over the summer to prepare to flex their trivia skills at the annual Battle of the Books. The competition took place July 23 at 2 p.m. on Zoom.
Alachua County teens selected the following books for 2022:
One of the Good Ones by Maika Moulite
Other Words for Home by Jasmine Warga
They Called Us Enemy by George Takei
Image

Thank you to our Battle of the Books sponsor RTI Surgical ,for their generous donation that funded this program.
Image