Library cardholders can borrow books, DVDs, audiobooks, music CDs, graphic novels, and more. In addition, our website offers 24/7 access to eBooks, eAudiobooks, digital magazines, music and more for download or viewing online.
Loan Terms
| Material Type | Loan Period* | Item Limits** |
| --- | --- | --- |
| Books | 28 days | 100 |
| Audiobooks | 28 days | 100 |
| Playaways | 28 days | 100 |
| DVDs | 14 days | 100 |
| Music CDs | 14 days | 100 |
| eBooks/eAudiobooks | 7-21 days | 20 |
| WiFi2Go | 7 days | 1 |
| Book Sizzlers | 14 days | 1 |
| DVD Sizzlers | 7 days | 1 |
| Book Club Kits | 56 days | 1 |
| STEM Kits/Equipment | 14 days | 1 |
| Interlibrary Loans | Determined by lending library | 5 |
* Always refer to the checkout receipt for the due date of each item
**Patrons with library cards in good standing can borrow up to 100 total items, with some restrictions and excluding Interlibrary Loans
Image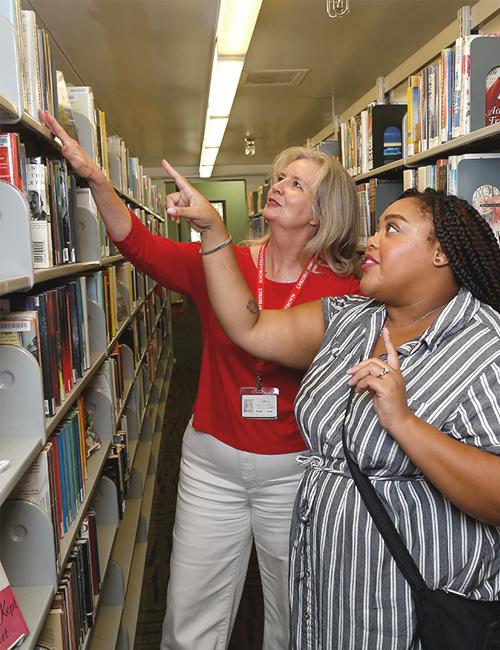 Requesting Materials
Circulating materials not available at your preferred library branch can be placed on hold and delivered to any library location.
A notification will be sent when an item arrives at your pickup branch. The item will be held for seven calendar days.
Requests can be made in-person, by calling your preferred branch, or through the online catalog.
There is a limit of 100 holds per library card, including up to 25 holds for DVDs.
Renewing Materials
Items* will be automatically renewed on the day the item is scheduled to be returned if there are no current hold requests from other patrons. The maximum number of renewals is two.
You may manually renew eligible items by logging in to your ACLD account from our website. You may also call or visit any of our library locations.
Patrons with expired library cards and/or fines of $50 or more and/or five (5) or more overdue items will not be able to renew materials and will have their library card privileges temporarily suspended until the card is renewed and/or the fines are resolved and/or the overdue items are returned and checked in by library staff.
*Some material types do not allow for renewals
Returning Materials
Library materials checked out at any branch library can be returned to any Alachua County Library District location, book drop, or bookmobile.
Interlibrary Loans and Book Club Kits must be returned in person to one of the public service desks at any library branch location.
Lost or Damaged Materials
Cardholders will be charged the replacement cost for any lost or damaged materials.
Items returned incomplete will be charged to the cardholder's account for the replacement cost of any missing portion.
Payments can be made at any library branch location or by logging in to your ACLD account on our website.
The Library does not accept replacements for lost or damaged items.
Confidentiality of Library Records
Florida Statute 257.261 provides that all registration and circulation records of every public library shall be confidential information. This information can only be given to properly identified cardholders. Questions regarding this or other library policies should be directed to your local branch.