Check out toys from our sensory toy collection!
Image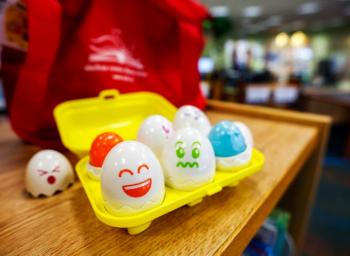 Sensory toys engage a child's cognitive and physical attention by stimulating their senses. These senses can include sight, sound, touch, smell, and taste. Additionally, sensory toys often stimulate the tactile system through various textures or weight. These toys are beneficial to all ages and abilities to spur a child's brain development. The best part about these toys is that each is also fun!
You can reserve one of the many toys available in the catalog or by contacting your local branch. These items check out for up to two weeks (14 days) and there is a limit of one sensory toy per patron at a time. Each toy is in a red canvas bag with the title on a tag. Additionally, each contains a laminated sheet with information about the toy. Some toys are appropriate for babies, and others are for children older than 3 years old.  
Everyone is raving about these toys. We hope you enjoy the collection and include them in the growth and development of your little ones. Below, you will find a photo and brief description of each item. Click on the image to find the item in the catalog! Descriptions of items adapted from manufacturers.
How To Check Out
Users must have a library card to check out sensory toys. If you do not have a card, view information on how to get a card. To view sensory toys inside your library, ask library staff. Sensory toys are checked out to patrons under the following agreements:
Check out for 14 days.
1 Sensory Toy per card.
Return all of the contents in the bag together.
Image

Enter the dynamic world of Colorama with all its different colors and shapes. Collect the most playing pieces and win the game!

Image

This cheerful caterpillar encourages young learners to work on number and color recognition and develop fine motor skills and hand-eye coordination.

Image

Kids get a solid grasp of the 5 senses with a hands-on learning center that comes ready to use! This independent toy is tons of fun.

Image

This matching game focuses on emotions. By playing this game together, parents help their children build empathy for others.

Image

This soft book features textures and activities, including furry body, shiny wings, satin spots, peep-o leaf, squeaky petal, dotty shell, and sun mirror.

Image

This excellent STEM toy lets children manipulate the magnetic pieces into Tinker-toy-like shapes! Imagine what you can build.

Image

Chirp! Squeak! Hide! Where are you chicklets? Great for shape recognition: shapes on the bottom of each egg for shape sorting fun!

Image

Hix is a delight to fidget with and makes geometry accessible and fun for all ages to train visual-spacial ability, hand-eye coordination, and fine motor skills.

Image

This award-winning game delights children as they try to carefully remove leaves without dislodging the sleeping bees. Play to get the most leaves!

Image

This is the perfect toy for your little one who is just learning how to build on their own to encourage discovery and open-ended play.

Image

This toy offers an interactive hands-on introduction to the basics of lacing and fine motor skill development for toddlers, preschoolers, and kindergartners.

Image

Our jumbo nuts and bolts set[s] are safe, easy to grip and connect to foster gross motor skill development, learning colors, shapes, patterns, and more!

Image

Undo a lock or latch, swing open the numbered door and count on finding fun when the picture beneath is revealed on this wooden educational toy!

Image

This games requires cooperation and teaches children to play and win together to ensure the animals cross the ice field and get home to their igloo safely!

Image

Kids will delight in discovering what's hiding behind the locked and latched panels on this wooden play board and educational toy in one.

Image

Our skill-building maze gives kids an irresistible, hands-on, fun way to build color recognition and fine motor controls! 

Image

Practice the fundamentals with this clever learning aid! Manual dexterity boards encourages children to practice fine motor skills.

Image

Build & Imagine's colorful, illustrated StoryWalls connect magnetically to build a world where marine rescue dress-up characters work and play.

Image

Mix up the geometric shapes on the routed spaces on the board and hide them with the bright, red caps to practice memory and matching skills!

Image

Monkey Bingo is the exciting new way to play bingo with an amusing dispenser and colorful tiles - you know you're in for serious fun!

Image

Catapulting insects has never been so much fun. Little ones will especially delight in flicking bugs into this funny frog's mouth. 

Image

ALEX Toys Musical Gator makes composing songs a snap! The wooden alligator is 4 musical instruments in one, so your little one can be a one-tot band!

Image

This is the classic block stacking game with a twist: the blocks are also numbered so you can roll the dice to determine which block to pull next!

Image

Oombee Cube is a colorful, soft, and smart twist on a timeless toy for discovering shapes, learning colors, and improving on motor skills.

Image

 

Unlock each box to explore what's behind each door! This set of six wooden lock boxes is ideal for learning shape, color, and spatial relationships. 

Image

 

Fun for children to pound the balls until they drop in the block and slide out. This game improves the hand-eye coordination, aligning, slotting and aiming.

Ruff's House: Teaching Tactile Set

Image

 

Ruff's House Teaching Tactile Set is the playful way to help develop sensory learning. Reach inside Ruff's house to feel and find two matching bones.

Image

Learn to build with brightly colored Edu-Foam blocks come in many variations for youngsters' small hands and adapts well for use with children.

Image

Match the shapes to the tubes, then watch and listen as they slide down with three different sounds, various shapes and colors, and big chunky pieces!

Shark Fishery

Image

This challenging game is for the competitive at heart. Get creative and come up with challenging ways to catching the different colored sharks.

Snail's Pace Race

Image

Six colorful garden snails are ready to race. Which snail will come in first and which will finish last? To find out, roll the two colored dice and start the race!

Sound Puzzle: Vehicles

Image

Place a vehicle puzzle piece correctly in the puzzle board and listen to it toot, beep or rumble! Includes 8 different sounds with unlimited fun!

Spike the Fine Motor Skill Hedgehog

Image

Our hedgehog lost his quills and only your little ones can help him get them back! This unique hedgehog helps kids build hand muscles and fine motor skills.

Image

These spinning rings encourage hand-eye coordination, cause-and-effect learning, motor dexterity; tactile exploration, and visual-recognition skills!

Image

Help Little Tomcat Tiptop tidy up. But where does the fire engine go? What about the stuffed giraffe? Will you help Tiptop put the toy tiles back?

Image

Tobbles Neo - bright and cheerful colors, unqiue graspable texture, the physics of motion - and the addition of more tactile clout inspires more play! 

Image

In this colorful memory-matching game, 12 homes complement 12 animals to strengthen these skills: visual distinction, classification, and recollection skills