Image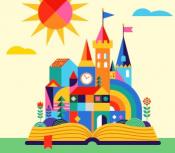 The concept is simple, the rewards are priceless. 1,000 Books Before Kindergarten encourages you to read books with your newborn, infant, and toddler. The goal is to read 1,000 books before your little one starts kindergarten. Reading together helps develop important pre-literacy skills that provide a solid reading foundation. Reading is key to school and learning success. Plus, sharing stories together is fun! This page will be your guide throughout the program. Here, we have gathered book recommendations, tips for reading aloud together, and more. 
How to enroll:
Register for the program on the Beanstack website or through the Beanstack app! Any child ages birth to six years old can join.

Read with your child. When you read with your child, you are bonding, creating life-long memories, and fostering early literacy skills.

Track your reading. Enter the books you read in Beanstack and earn badges. If you read a book more than once, be sure to record it each time. Books read during library story time programs, at daycare, or by others to your child also count.

Celebrate when you reach each milestone! Playing a game together, having a dance party, making a special snack or spending some time outside are all great ways to celebrate.
This program has no end date except your child's going to school, so don't feel rushed – enjoy the journey! Use every chance you have to read with your children, tell and talk about stories, say nursery rhymes, sing songs, and visit the library. By reading 1 story a day, you and your child will have read 365 books in 1 year, 730 books in 2 years, and over 1,000 books in 3 years. When your child has completed the program, visit your library for a certificate and a small prize!
Go to our site and select "Register an Individual or Family" to get started.
Recommended Books for You and Your Child
Great Reads Ages 0 - 1

Great Reads Age 1 - 2

Great Reads Ages 2 - 3

Great Reads Ages 3 - 4

Great Reads Ages 4 -5 

Great Reads Ages 5 - 6
Why Read Aloud?
Reading aloud is one of the most important things parents can do with their children. We read to children for all the same reasons we talk with children: to reassure, to entertain, to bond, to inform or explain, to arouse curiosity, to inspire. In reading aloud, we also condition the child's brain to associate reading with pleasure, create background knowledge, build vocabulary, and provide a reading role model. Reading aloud builds many important foundational skills while providing a model of fluent, expressive reading and helping children recognize what reading for pleasure is all about. As children grow, how you read aloud together will change. Below are some tips and tricks on how best to read aloud with your child at every stage!
All Ages

Make reading part of every day, even for just a few minutes - have fun!
Talk about the pictures too, you do not have to read the book to tell a story.
Show your child the cover page and explain what the story is about, let your child turn the pages.
Run your finger along the words as you read them.
Silly sounds - especially animal sounds - are fun to make and help keep your child engaged.
Make the story come alive. Create voices for the story characters.
Choose books about events in your child's life such as starting preschool, going to the dentist, getting a new pet, or moving to a new home.
Ask questions about the story - What do you think will happen next? What is this? At the end of the book, ask your child what happened in the story and let them retell it.
Let your child ask questions about the story, use this opportunity to talk about familiar activities and objects.
Visit your local library often!

Infants

Hold your baby on your lap while you read.
Babies like board books, pictures of babies, rhymes and songs from the same book over and over, and when you point at the pictures - all of these things are how babies learn!

1 Year Old

Let your toddler move around while you're reading.
Name the pictures - this helps toddlers learn new words.
Read labels and signs wherever you go!
Toddlers like the same book over and over, routines like reading a book at bedtime, choosing and holding the book, books about food, trucks, animals, and children, and books with few words.

2 Years Old

Read labels and signs wherever you go.
Keep different books around the house and let your child choose.
Two-year-olds like to help turn the pages, to fill in the words in a story they know, to point and name pictures, hear the same book over and over, and books that are silly like animal books and animal noises.

Preschool Aged

Have your child sit close or on your lap while reading.
Ask questions about the story.
Let your child tell you stories.
Make weekly visits to the children's room at the library so your child can choose more books.
Children this age also like longer books that tell stories and enjoy exploring their own creativity through books without words.