Science - Learning at home with your library!
Image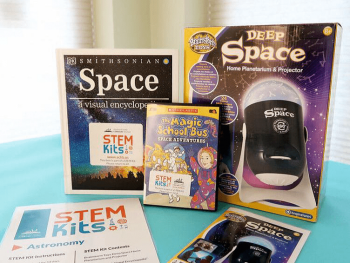 The Library District's STEM (science, technology, engineering, and mathematics) kits encourage scientific discovery. Each kit includes hands-on exploration with an interactive toy, book, and DVD. The interactive toys include activities, learning games, or age appropriate scientific equipment.
The kits enhance children's natural gifts in science by inspiring exploration. Using STEM concepts in play builds confidence, motivation, and knowledge in all science subjects.
Our kits are a great resource for children in pre-school through 5th grade. The kits can also be an excellent support to homeschool or virtual learning. This collection is available thanks to the generous support of the Rotary Club of Gainesville. View the complete collection below or in our catalog.
Image

How To Check Out
Users must have a library card to checkout STEM kits. If you do not have a card, view information on how to get a card.
To view STEM Kits inside your library, ask library staff. STEM Kits are checked-out under the following agreements:
Check out for 14 days.
1 STEM Kit per card.
Return all of the contents in the kit together.
Return item inside branch to staff at desk.