Kehinde Wiley | Featured artwork: Portrait of Lay Pouleyy, 2020 
Image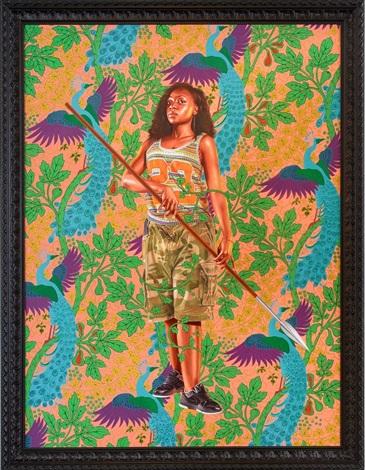 "Los Angeles native and New York based visual artist, Kehinde Wiley has firmly situated himself within art history's portrait painting tradition. As a contemporary descendent of a long line of portraitists, including Reynolds, Gainsborough, Titian, Ingres, among others, Wiley, engages the signs and visual rhetoric of the heroic, powerful, majestic and the sublime in his representation of urban, black and brown men found throughout the world.
By applying the visual vocabulary and conventions of glorification, history, wealth and prestige to the subject matter drawn from the urban fabric, the subjects and stylistic references for his paintings are juxtaposed inversions of each other, forcing ambiguity and provocative perplexity to pervade his imagery. Wiley's larger than life figures disturb and interrupt tropes of portrait painting, often blurring the boundaries between traditional and contemporary modes of representation and the critical portrayal of masculinity and physicality as it pertains to the view of black and brown young men.
Initially, Wiley's portraits were based on photographs taken of young men found on the streets of Harlem. As his practice grew, his eye led him toward an international view, including models found in urban landscapes throughout the world – such as Mumbai, Senegal, Dakar and Rio de Janeiro, among others – accumulating to a vast body of work called, "The World Stage." The models, dressed in their everyday clothing most of which are based on the notion of far-reaching Western ideals of style, are asked to assume poses found in paintings or sculptures representative of the history of their surroundings. This juxtaposition of the "old" inherited by the "new" – who often have no visual inheritance of which to speak – immediately provides a discourse that is at once visceral and cerebral in scope.
Without shying away from the complicated socio-political histories relevant to the world, Wiley's figurative paintings and sculptures "quote historical sources and position young black men within the field of power." His heroic paintings evoke a modern style instilling a unique and contemporary manner, awakening complex issues that many would prefer remain mute."
Biorgraphy taken from Kehinde Wiley's website
Learn more about Kehinde Wiley
View more of Kehinde Wiley's work
Kerry James Marshall | Featured artwork: Keeping the Culture, 2011
Image
"Kerry James Marshall uses painting, sculptural installations, collage, video, and photography to comment on the history of black identity both in the United States and in Western art. He is well known for paintings that focus on black subjects historically excluded from the artistic canon and has explored issues of race and history through imagery ranging from abstraction to comics. Marshall said in a 2012 interview with Art + Auction that "it is possible to transcend what is perceived to be the limitations of a race-conscious kind of work. It is a limitation only if you accept someone else's foreclosure from the outside. If you plumb the depths yourself, you can exercise a good deal of creative flexibility. You are limited only by your ability to imagine possibilities."
Marshall was born in Alabama in 1955 and grew up in Watts, Los Angeles. He is a 1978 graduate of the Otis College of Art and Design and currently lives and works in Chicago. In his PBS Art21 special Marshall said, "You can't be born in Birmingham, Alabama, in 1955 and grow up in South Central [Los Angeles] near the Black Panthers headquarters, and not feel like you've got some kind of social responsibility. You can't move to Watts in 1963 and not speak about it. That determined a lot of where my work was going to go…"
A major survey, Kerry James Marshall: MASTRY was on view at The Museum of Contemporary Art, Los Angeles from March 12 – July 2, 2017. The survey was previously on view at The Met Breuer and the Museum of Contemporary Art Chicago. Other solo exhibitions in the past few years include Kerry James Marshall: In the Tower at the National Gallery of Art, Washington, DC (2013); Kerry James Marshall: Painting and Other Stuff, organized by the Museum van Hedendaagse Kunst Antwerpen, Belgium (2013), and traveled to the Kunsthal Charlottenborg, Denmark (2014); Antoni Tapies Foundation, Barcelona (2014) and the Museo Nacional Centro de Arte Reina Sofia, Madrid (2014).
Marshall has worked in numerous public collections including the Museum of Modern Art, New York; the Whitney Museum of American Art, New York; The Studio Museum in Harlem, New York; the Metropolitan Museum of Art, New York; the Walker Art Center, Minneapolis; the National Gallery of Art, Washington, DC; Los Angeles County Museum of Art; Birmingham Museum of Art; San Francisco Museum of Modern Art; Art Institute of Chicago; Museum of Contemporary Art Chicago; and the Museum of Fine Arts, Boston. He is the recipient of several awards, grants and fellowships including the MacArthur genius grant in 1997. Kerry James Marshall was selected to exhibit in the 2015 Venice Biennale: All the World's Futures, May 9 - November 22, 2015.
Jack Shainman Gallery has represented Kerry James Marshall since 1993. Solo exhibitions in the gallery include Dollar for Dollar (2013), Black Romantic (2008), Drawings (2004), Kerry James Marshall (1999), The Garden Project (1995) and Kerry James Marshall (1993)."
Biography taken from Kerry James Marshall's Jack Shainman Gallery page
Learn more about Kerry James Marshall
View more of Kerry James Marshall's work
Ruth E. Carter | Featured artwork: Dora Milaje costume for Nakia from the movie Black Panther
Image
"Ruth E. Carter's unparalleled ability to develop an authentic story through costume and character has made her one of the most sought after and renowned costume designers today. She has garnered two Academy Award (Oscar) nominations for "Best Costume Design," for Spike Lee's
Malcolm X
(1993) and Steven Spielberg's
Amistad
(1998). And an Emmy nomination in 2016 for the reboot of ROOTS. She has worked in the industry for over three decades and has been credited with over forty films and counting. Carter and Lee have worked on over ten films together beginning with
School Daze
and including
Do the Right Thing
,
Malcolm X
and
Old Boy
. Known for her research and diligence to the craft, specifically for her outstanding work for period ensemble films like the highly praised Lee Daniels'THE BUTLER and Ava Duvernay's, SELMA, she proudly presents: THE BLACK PANTHER her most recent work directed by Ryan Cooglar." 
Biography taken from Ruth E. Carter's webpage
Learn more about Ruth E. Carter
View more of Ruth E. Carter's work
Kara Walker | Featured artwork: Fons Americanus (detail - photograph by Matt Greenwood)
"New York-based artist Kara Walker is best known for
Image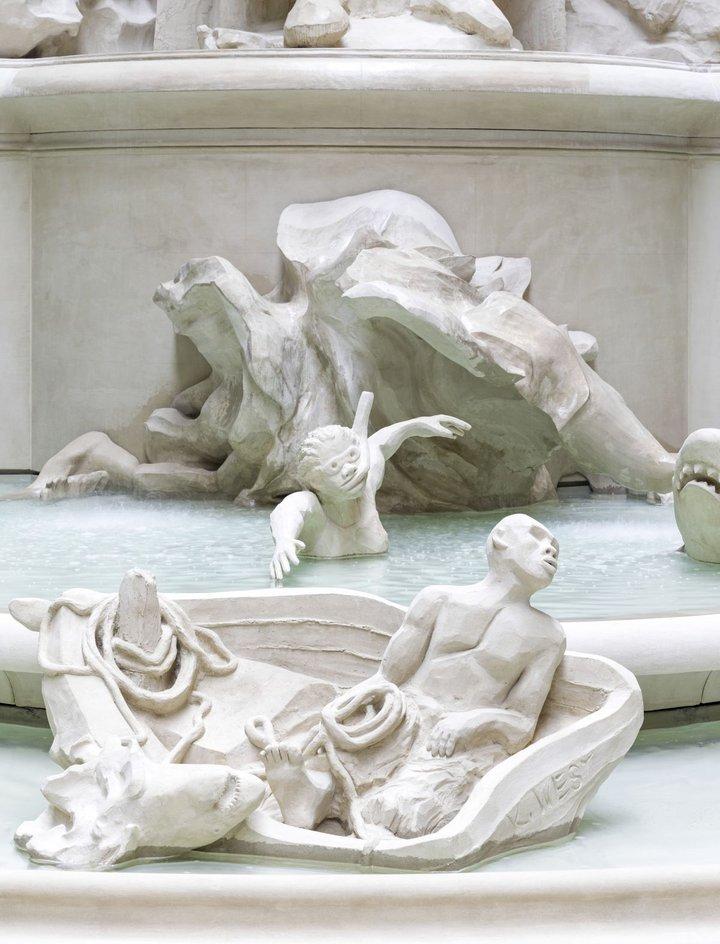 her candid investigation of race, gender, sexuality, and violence through silhouetted figures that have appeared in numerous exhibitions worldwide.
Born in Stockton, California in 1969, Walker was raised in Atlanta, Georgia from the age of 13. She studied at the Atlanta College of Art (BFA, 1991) and the Rhode Island School of Design (MFA, 1994). She is the recipient of many awards, notably the John D. and Catherine T. MacArthur Foundation Achievement Award in 1997 and the United States Artists, Eileen Harris Norton Fellowship in 2008. In 2012, Walker became a member of the American Academy of Arts and Letters. In 2015, she was named the Tepper Chair in Visual Arts at the Mason Gross School of the Arts at Rutgers University. Her work can be found in museums and public collections throughout the United States and Europe including The Solomon R. Guggenheim Museum, New York; The Museum of Modern Art, New York; The Metropolitan Museum of Art, New York; The Tate Gallery, London; the Museo Nazionale delle Arti del XXI Secolo (MAXXI), Rome; and Deutsche Bank, Frankfurt.
Walker's major survey exhibition, Kara Walker: My Complement, My Enemy, My Oppressor, My Love, was organized by The Walker Art Center in Minneapolis where it premiered in February 2007 before traveling to ARC/ Musée d'Art moderne de la Ville de Paris; The Whitney Museum of American Art in New York; The Hammer Museum in Los Angeles; and the Museum of Modern Art in Fort Worth. Recent solo exhibitions have been presented at the Art Institute of Chicago; Camden Arts Centre in London; and Metropolitan Arts Center (MAC) in Belfast.
During the spring of 2014, Walker's first large scale public project, a monumental installation entitled A Subtlety: Or… the Marvelous Sugar Baby an Homage to the unpaid and overworked Artisans who have refined our Sweet tastes from the cane fields to the Kitchens of the New World on the Occasion of the demolition of the Domino Sugar Refining Plant, was on view at the abandoned Domino Sugar refinery in Williamsburg, Brooklyn. Commissioned and presented by Creative Time, the project – a massive sugar covered sphinx-like sculpture – responded to and reflected on troubled history of sugar.
As a special project of the 2015 Venice Biennale, Walker was selected as director, set and costume designer for the production of Vincenzo Bellini's Norma at Teatro La Fenice, Venice, Italy."
Biography taken from Kara Walker's webpage
View more of Kara Walker's work
Najee Dorsey | Featured artwork: Return to Eden #1, 2019
Image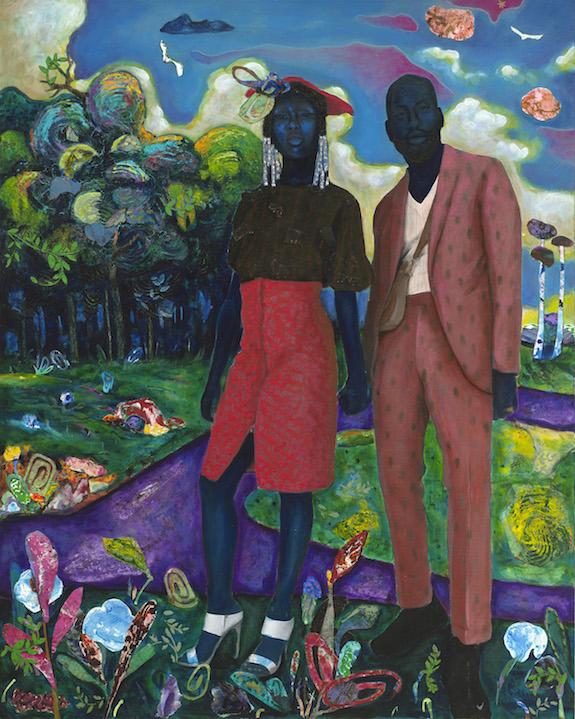 "Najee Dorsey Born in Blytheville, Arkansas on January 26, 1973, visual artist and entrepreneur Najee Dorsey is known for embracing southern roots in his work by relaying scenes of African American life in the south on canvas. He began his journey as an artist at the age of five, selling his artwork to his mother for candy. From that point on, Dorsey continued making art as a favorite pastime. Dorsey's first endeavor as an aspiring entrepreneur became evident in his earliest business venture selling cinnamon toothpicks at age twelve to his classmates. In High School, Najee earned a partial scholarship in 1991 to Memphis College of Art (later known as the Memphis Academy of Art). He eventually left the institution prior to completing his first semester due to a combination of financial challenges, and the need for a more dynamic environment. Still, Dorsey continued creating art part-time while working different jobs over the years.
Balancing his schedule as an artist and an employee, Dorsey went through a phase where he became indifferent about creating; lending more time to making a living than creating art. During this period, Dorsey met Najjar Abdul-Musawwir, an artist and community arts activist, who became his friend and an early mentor. This newfound relationship with Abdul-Musawwir provided inspiration toward refocusing some of his energy on his first love, art. Between 1992 and 1993 Dorsey again continued honing his craft and later producing an airbrushed work that became his first response to civil rights issues containing a message of social responsibility in a piece entitled, Guidance in the Time of Ignorance which was purchased by Mr. Abdul-Musawwir soon after.
In advancing both his art and entrepreneurship, Najee opened a creative hub in Blytheville, Arkansas with the help of his wife, Seteria (who is also an artist). This creative space functioned as an art gallery, coffee-shop, and used book store during the summer of 2000. Najee used the space as a launchpad for his career as "artrepreneur"-- a title referenced to in a 2012 BlackEnterprise.com article on Dorsey.
In 2005, the Dorseys moved to Atlanta, GA, where Najee became a full-time artist. Focusing solely on his art resulted in a fruitful career. Now, more than 10 years later, his work has been featured in nine museum shows including, Visions of our 44th Collection at the Charles H. Wright Museum in Detroit, MI and Leaving Mississippi: Reflections on Heroes and Folklore at the Columbus Museum, Columbus, GA and the African American Museum in Dallas, TX. Over the years, Dorsey's changing mediums have resonated with many people, but his consistency in exhibiting imagery rooted in his southern heritage is what Najee Dorsey is known for. Over the past decade, Dorsey's work has been consistently featured and acquired by a number of institutions, and private collections across the United States.
Since becoming a full-time artist in 2005, Najee has become well acquainted with the trials and tribulations of most African American artists: the closed doors in the arts community, the lack of representation in art institutions, and the undervaluation of African American art and its creators by dominant society. Being the proactive individual that he is, Najee founded Black Art In America™ (BAIA) in 2010 as a free online media platform for African American artists, collectors, art enthusiasts, and arts professionals. In the company's conceptual stages, influencers from BAIA's audience were surveyed and it became clear that their issues were centered on exposure, appreciation, and access to each other. BAIA™ was founded as a centralized location for profiling the African American artist -- giving members of the network access to the work of African American artists (past and contemporary), and most importantly, opportunities for interchange. Since 2010, the network has become the leading online portal and resource focused on African American art, artists, collectors, industry leaders, and arts enthusiasts. The BAIA™ online network currently has a monthly virtual reach of 750,000 people and growing.
As an artist, Najee Dorsey has developed much in his craft over the years, and has become known for his mixed media collage, digital media collage images of little known and unsung historical figures, as well as nostalgic scenes from African American life in the southern United States. In his work, as Najee chronicles moments in Black life throughout history, he maintains that, "stories untold are stories forgotten". Far from the days after dropping out of arts college, and becoming uncertain about his future in the arts, Dorsey has forged a successful career as an artist, being featured in numerous solo and group museum shows, television broadcasts and print publications -- a major feat for any artist. As well as these accomplishments, he has skillfully combined his creative edge, and business acumen to develop a steadily growing online community that documents, preserves and promotes the contributions of the African American arts community. Najee now lives in Columbus, GA with his wife, Seteria."
Biography taken from Najee Dorsey's webpage
View more of Najee Dorsey's work
Suzanne Jackson | Featured artwork: a history drawing-cracked wall, 2016-19
Image
"An accomplished artist, poet, set designer, gallery owner, and dancer, Suzanne Jackson has been exhibiting internationally for some four decades. Born in Saint Louis, she was raised in the Yukon Territory of pre-statehood Alaska and took her first art lessons when she was a teenager. She moved to the Bay Area in 1966 to attend San Francisco State University, where she studied both art and ballet, eventu­ally receiving a BA in painting. While at the university, Jackson worked in the campus gal­lery installing exhibitions and taught art at Saint Stephen's School. Following graduation, she toured South America with a modern dance company, and upon returning settled in Echo Park, a bohemian enclave near downtown Los Angeles, in 1967.
After taking a drawing class at Otis Art Institute with Charles White, Jackson began to connect with other artists in Los Angeles, including Dan Concholar, Alonzo Davis, and Timothy Washington. Soon after, Jackson was invited to participate in the 1968 Watts Summer Festival arts competition and a show at the Laguna Art Museum. From 1968 to 1970 Jackson ran Gallery 32, a space dedicated to fostering a supportive artist community. Located at 672 North Lafay­ette Park Place, near MacArthur Park, the Otis Art Institute, and Chouinard Art Institute, Gallery 32 was inspired by White's philosophy that art could be an effective vehicle for community activism and social change. Seek­ing to replicate Jackson's previous experiences of San Francisco bohemianism, Gallery 32 functioned less as a business than as a place for the exchange of ideas and philosophies. Jackson funded the gallery herself, largely with money she earned from teaching. The gallery became an important venue, hosting discus­sions, poetry readings, and fund-raisers for social causes, and exhibiting work that dem­onstrated strong political and civic engagement. It quickly became one of the few art spaces in Los Angeles to exhibit emerging African American artists such as Gloria Bohanon, Emory Douglas, David Hammons, Betye Saar, and Timothy Washington. The gallery also hosted fund-raising exhibitions for the Black Arts Council, the Black Panther Party, and the Watts Towers Arts Center children's arts pro­gram. One of the gallery's important exhibitions was the 1970 Sapphire Show, the first Los Angeles survey of African American women artists. Gallery 32 played a vital role in the pro­gressive struggles of the period while contrib­uting to the diverse art scene of Los Angeles.
Unfortunately, the gallery survived for only two years, closing in 1970. Jackson continued to make and exhibit her own work and had several solo exhibitions at the Ankrum Gallery in the mid-1970s. Using acrylic, watercolor, and mixed media, she worked predominantly on large canvases to reflect the "abstract language of cultural continuity, social dislocation, spiri­tual yearning and the grace of the physical body."# On a single painting, she might combine up to 150 thin lines of paint to achieve a lumi­nosity and vibrancy of color, influenced by a combination of spiritual belief systems, includ­ing Islam and Buddhism. Jackson attaches meaning to certain colors; for example, her use of white refers not to Alaska, ice, or snow but to the white found in African masks. Several works from the period include images of birds, reflecting the artist's long-standing interest in the species, which dates back to her member­ship in the Audubon Society as a child in Alaska.
Jackson completed an MFA from the School of Drama, Yale University, in 1990, focusing on theater design. She has had a dis­tinguished career, exhibiting her work nation­ally and internationally. In 1981 Jackson was nominated by Betye Saar for the first National Awards in the Visual Arts. She was the recipient of two Idyllwild Associates fellowships for etching/bookmaking and dance at the Idyllwild School of Music and the Arts, in 1982 and 1983, respectively. Jackson recently retired from the painting department at Savannah College of Art and Design, Georgia, where she had taught since 1996."
Biography taken from The Hammer Museum
Learn more about Suzanne Jackson
View more of Suzanne Jackson's work
Lorna Simpson | Featured work: Cascade, 2018 (photograph by James Wang)
"Lorna Simpson received her BFA in Photography from
Image
the School of Visual Arts, New York, and her MFA from the University of California, San Diego. When Lorna Simpson emerged from the graduate program at San Diego in 1985, she was already considered a pioneer of conceptual photography. Feeling a strong need to re-examine and re-define photographic practice for contemporary relevance, Simpson was producing work that engaged the conceptual vocabulary of the time by creating exquisitely crafted documents that are as clean and spare as the closed, cyclic systems of meaning they produce. Her initial body of work alone helped to incite a significant shift in the view of the photographic art's transience and malleability.
Lorna Simpson first became well-known in the mid-1980s for her large- scale photograph-and-text works that confront and challenge narrow, conventional views of gender, identity, culture, history and memory. With unidentified figures as a visual point of departure, Simpson uses the figure to examine the ways in which gender and culture shape the interactions, relationships and experiences of our lives in contemporary America. In the mid-1990s, she began creating large multi-panel photographs printed on felt that depict the sites of public – yet unseen – sexual encounters. Over time she turned to film and video works in which individuals engage in enigmatic conversations that seem to address the mysteries of both identity and desire. Throughout her body of work, Simpson questions memory and representation, whether in her moving juxtaposition of text and image, in her haunting video projection Cloudscape and its echo in the felt work Cloud, or in her large-scale video installation Momentum which recreates a childhood dance performance. Using the camera as a catalyst, Simpson constructs work comprising text and image, parts to wholes, which comment on the documentary nature of found or staged images. In Simpson's latest works, characteristic ambivalence is presented with hazy ink washes to present isolated figures amidst nebulous spaces– a return to and departure from her earlier unidentified figures in a deepened exploration of contemporary culture.
Her works have been exhibited at and are in the collections of the Museum of Modern Art, New York; the Museum of Contemporary Art, Chicago; the Walker Art Center, Minneapolis; Whitney Museum of American Art, New York; Los Angeles Museum of Contemporary Art, Los Angeles; and Haus der Kunst; Munich amongst others. Important international exhibitions have included the Hugo Boss Prize at the Guggenheim Museum, New York, Documenta XI in Kassel, Germany, and the 56th Venice Biennale, Venice, Italy. Lorna Simpson is represented by Hauser & Wirth."
Biography taken from Lorna Simpson's webpage 
Learn more about Lorna Simpson
View more of Lorna Simpson's work
Mickalene Thomas | Featured work: Raquel with Les Trios Femmes, 2018
Image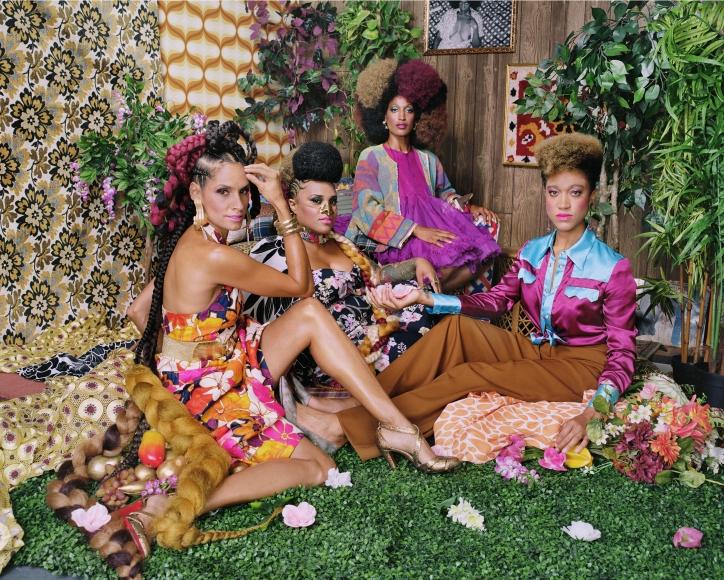 "Mickalene Thomas (lives and works in Brooklyn, NY) makes paintings, collages, photography, video, and installations that draw on art history and popular culture to create a contemporary vision of female sexuality, beauty, and power. Blurring the distinction between object and subject, concrete and abstract, real and imaginary, Thomas constructs complex portraits, landscapes, and interiors in order to examine how identity, gender, and sense-of-self are informed by the ways women (and "feminine" spaces) are represented in art and popular culture.
Thomas received a B.F.A. from the Pratt Institute, Brooklyn, NY in 2000 and an M.F.A. from Yale University School of Art, New Haven, CT in 2002. Solo exhibitions of her work have been organized at the Baldwin Gallery, Aspen, CO (forthcoming, 2019); The Bass Museum of Art, Miami Beach, FL (2019); The Baltimore Museum of Art, Baltimore, MD (2019); Contemporary Arts Center, New Orleans, LA (2019); Galerie Nathalie Obadia, Paris, France (2019); Art Gallery of Ontario, Toronto, ON (2018); The Dayton Art Institute, OH (2018); Wexner Center for the Arts, Columbus, OH (2018); Henry Art Gallery, Seattle, WA (2018); Pomona College Museum of Art (2018), Claremont, CA (2017); Georgia Museum of Art, Athens, GA (2017); Newcomb Art Museum, Tulane University, New Orleans, LA (2017); Spelman College Museum of Fine Arts, Atlanta, GA (2017); Museum of Contemporary Art, Los Angeles (2016); Aspen Art Museum, CO (2016); Aperture Foundation, New York (2016); George Eastman House, Rochester, NY (2014); Brooklyn Museum, New York (2012-13); Santa Monica Museum of Art (2012); Institute of Contemporary Art, Boston (2012); Hara Museum of Contemporary Art, Tokyo (2011); and La Conservera Contemporary Art Centre, Ceuti, Spain (2009). Select group exhibitions featuring her work include Orlando, Aperture, New York, NY (2019);You Are Here: Light, Color, and Sound Experience, North Carolina Museum of Art, Raleigh, NC (2018); Figuring History: Robert Colescott, Kerry James Marshall, Mickalene Thomas, Seattle Art Museum, Seattle, WA (2018); The Color Line: African American Artists and the Civil Rights in the United States, Musée du quai Branly, Paris, France (2016); SHE: International Women Artists, Long Museum, Shanghai (2016); No Man's Land: Women Artists from the Rubell Family Collection, Rubell Family Collection, Miami, traveled to the National Museum of Women in the Arts, Washington D.C. (2015); 30 Americans, Corcoran Gallery, Washington, D.C. (2011), which has traveled extensively around the United States (2011-2017, ongoing); and Americans Now, National Portrait Gallery, Washington, D.C. (2010). Thomas's work is in numerous international public and private collections including The Museum of Modern Art, New York; San Francisco Museum of Modern Art; Solomon R. Guggenheim Museum, New York; Whitney Museum of American Art, New York; Museum of Fine Arts, Boston; Art Institute of Chicago; MoMA PS1, New York; Brooklyn Museum of Art, New York; Studio Museum in Harlem, New York; Yale University Art Collection, New Haven, CT; and Hara Museum of Contemporary Art, Tokyo.
Thomas has been awarded multiple prizes and grants, including the USA Francie Bishop Good & David Horvitz Fellow (2015); Anonymous Was A Woman Award (2013); Brooklyn Museum Asher B. Durand Award (2012); and the Timerhi Award for Leadership in the Arts (2010)."
Biography taken from Mickalene Thomas's website
Learn more about Mickalene Thomas 
View more of Mickalene Thomas' work
Derrick Adams | Featured work: Floater 36, 2017 
Image
"Derrick Adams is a Baltimore-born, Brooklyn, New York-based artist whose critically admired work spans painting, collage, sculpture, performance, video, and sound installations. His multidisciplinary practice engages the ways in which individuals' ideals, aspirations, and personae become attached to specific objects, colors, textures, symbols, and ideologies. His work probes the influence of popular culture on the formation of self-image, and the relationship between man and monument as they coexist and embody one another. Adams is also deeply immersed in questions of how African American experiences intersect with art history, American iconography, and consumerism. Most notably in his Floater series, he portrays Black Americans at leisure, positing that respite itself is a political act when embraced by black communities. The radicality of this position has materialized in Adams' work across his Deconstruction Worker, Figure in the Urban Landscape, and Beauty World series.
In formal terms, Adams' practice is rooted in Deconstructivist philosophies related to the fragmentation and manipulation of structure and surface, and the marriage of complex and improbable forms. His tendency to layer, hybridize, and collage not only images and materials, but also different types of sensory experiences, link the artist to an estimable lineage of pioneers ranging from Hannah Höch and Henri Matisse, to William H. Johnson and Romare Bearden. In Adams' art, the process can also be understood as an analog: "Everything that we are is based on a specific construction," he once remarked.
Adams received his MFA from Columbia University and BFA from Pratt Institute. He is an alumnus of the Skowhegan School of Painting and Sculpture and Marie Walsh Sharpe Foundation's Studio Program.
Adams is a recipient of a Robert Rauschenberg Foundation Residency (2019), a Gordon Parks Foundation Fellowship (2018), a Studio Museum Joyce Alexander Wein Artist Prize (2016), and a Louis Comfort Tiffany Award (2009). He has been the subject of numerous solo exhibitions, including Where I'm From — Derrick Adams (2019) at The Gallery in Baltimore City Hall; Derrick Adams: Sanctuary (2018) at the Museum of Arts and Design, New York; and Derrick Adams: Transmission (2018) at the Museum of Contemporary Art, Denver. Adams' work has been presented in numerous important public exhibitions, including Men of Change: Power. Triumph. Truth. (2019) at the National Underground Railroad Freedom Center, Cincinnati; PERFORMA (2015, 2013, and 2005); The Shadows Took Shape (2014) and Radical Presence (2013–14) at The Studio Museum in Harlem; The Channel (2012) at the Brooklyn Academy of Music; Greater New York (2005) at MoMA PS1; and Open House: Working In Brooklyn (2004) at the Brooklyn Museum. His work resides in the permanent collections of The Metropolitan Museum of Art, The Studio Museum in Harlem, the Whitney Museum of American Art, the Virginia Museum of Fine Arts, and the Birmingham Museum of Art.
Biography taken from Derrick Adams' website
Learn more about Derrick Adams
View more of Derrick Adams' work
Glenn Ligon | Featured work: Notes for a Poem on the Third World (chapter one), 2018
Image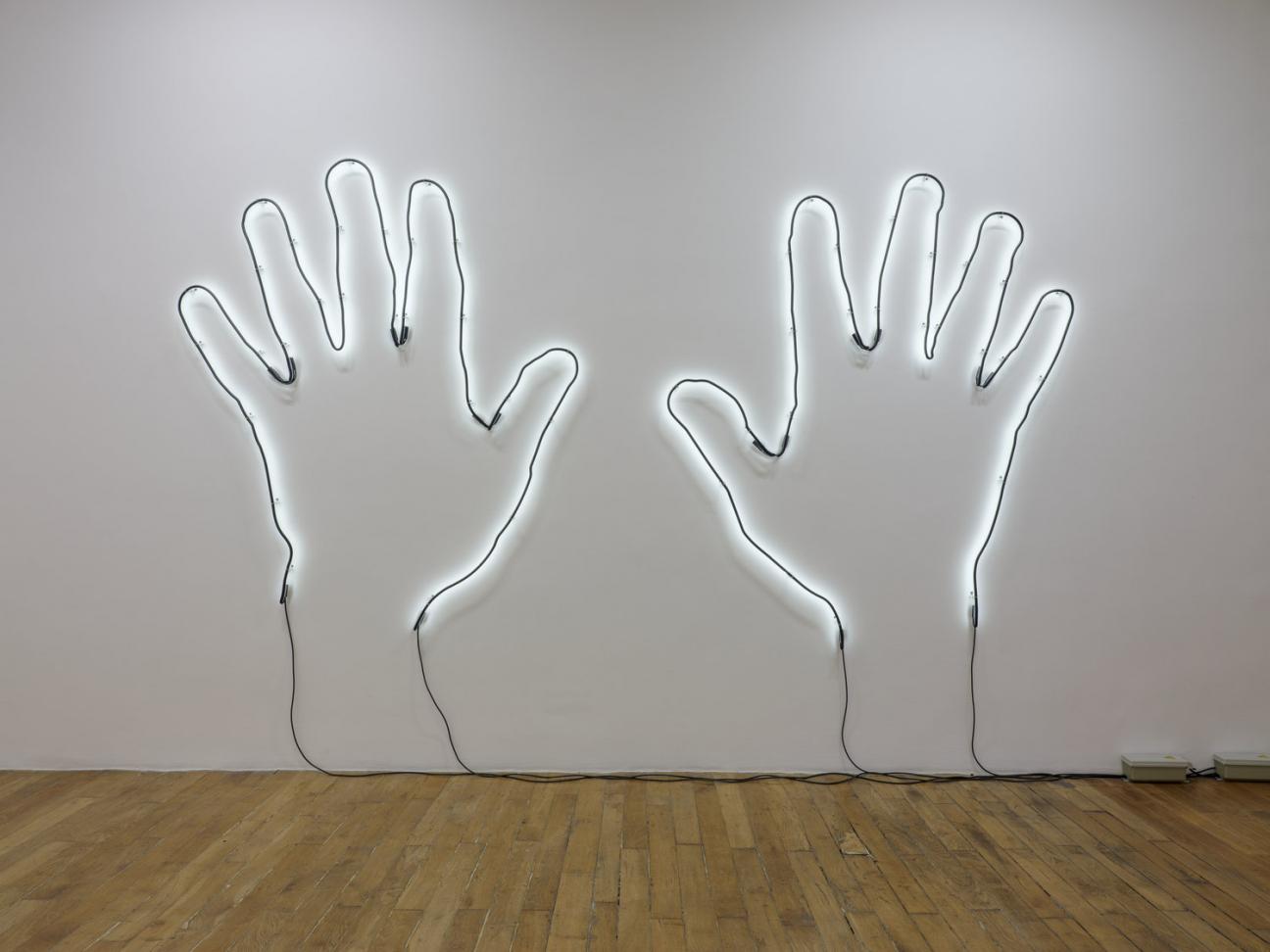 "Glenn Ligon (b. 1960) is an artist living and working in New York. Through his work he pursues an incisive exploration of American history, literature, and society across a body of work that builds critically on the legacies of modern painting and more recent conceptual art. He is best known for his text-based paintings, made since the late 1980s, which draw on the writings and speech of diverse figures including Jean Genet, Zora Neale Hurston, Gertrude Stein and Richard Pryor. He received a Bachelor of Arts from Wesleyan University and attended the Whitney Museum Independent Study Program. In 2011 the Whitney Museum of American Art held a mid-career retrospective of Ligon's work, Glenn Ligon: America, organized by Scott Rothkopf, that traveled nationally. Important recent shows include Glenn Ligon: Encounters and Collisions (2015), a curatorial project organized with Nottingham Contemporary and Tate Liverpool, and Blue Black (2017), an exhibition Ligon curated at the Pulitzer Arts Foundation in St. Louis, inspired by the site-specific Ellsworth Kelly wall. Ligon has also been the subject of solo museum exhibitions at the Camden Arts Centre in London, the Power Plant in Toronto, the Walker Art Center in Minneapolis, and the Studio Museum in Harlem, among others. His work has been included in major international exhibitions, including the Venice Biennale (2015 and 1997), Berlin Biennal (2014), Istanbul Biennal (2011), Documenta XI (2002), and Gwangju Biennale (2000)."
Biography taken from Glenn Ligon's webpage
View more of Glenn Ligon's work
Interested in learning more about black artists? Check out the following resources for biographies, research, news, and more.
Websites:
Books:
Movies: