Image

The National Book Foundation has announced the winning titles of the 74th National Book Awards. Books published in the U.S. between Dec. 1, 2022, and Nov. 30, 2023, were eligible to be taken into consideration for the honor. The submitted titles are sorted into five categories: Fiction, Non-Fiction, Poetry, Translated Literature, and Young People's Literature. Ten titles were placed in the longlist of each category in September. On Oct. 3, 2023, the five finalists from each category were announced. 
Want more award-winning titles to add to your 2024 TBR? Browse all the previous winners of the National Book Awards from 1950 through 2022.
Fiction 
Winner 
Image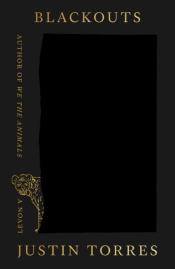 Blackouts: A Novel by Justin Torres 
Out in the desert in a place called the Palace, a young man tends to a dying soul, someone he once knew briefly, but who has haunted the edges of his life. Juan Gay—playful raconteur, child lost and found and lost, guardian of the institutionalized—has a project to pass along to this new narrator. It is inspired by a true artifact of a book, Sex Variants: A Study in Homosexual Patterns, which contains stories collected in the early twentieth century from queer subjects by a queer researcher, Jan Gay, whose groundbreaking work was then co-opted by a committee, her name buried. As Juan waits for his end, he and the narrator trade stories—moments of joy and oblivion—and resurrect lost loves, lives, mothers, fathers, minor heroes. The past is with us, beside us, ahead of us; what are we to create from its gaps and erasures?

Inspired by Kiss of the Spider Woman, Pedro Páramo, Voodoo Macbeth, the book at its own center and the woman who created it, oral histories, and many more texts, images, and influences, Justin Torres's Blackouts is a work of fiction that sees through the inventions of history and narrative. An extraordinary work of creative imagination, it insists that we look long and steady at the world we have inherited and the world we have made—a world full of ghostly shadows and flashing moments of truth.
 
Non-Fiction 
Winner
Image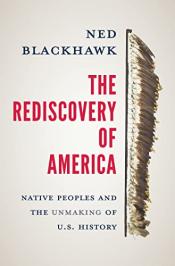 The Rediscovery of America: Native Peoples and the Unmaking of U.S. History by Ned Blackhawk 
A sweeping and overdue retelling of U.S. history that recognizes that Native Americans are essential to understanding the evolution of modern America
The most enduring feature of U.S. history is the presence of Native Americans, yet most histories focus on Europeans and their descendants. This long practice of ignoring Indigenous history is changing, however, with a new generation of scholars insists that any full American history address the struggle, survival, and resurgence of American Indian nations. Indigenous history is essential to understanding the evolution of modern America.
 
Ned Blackhawk interweaves five centuries of Native and non‑Native histories, from Spanish colonial exploration to the rise of Native American self-determination in the late twentieth century. In this transformative synthesis he shows that:
European colonization in the 1600s was never a predetermined success;

Native nations helped shape England's crisis of empire;

The first shots of the American Revolution were prompted by Indian affairs in the interior;

California Indians targeted by federally funded militias were among the first casualties of the Civil War;

The Union victory forever recalibrated Native communities across the West;

Twentieth-century reservation activists refashioned American law and policy.
Blackhawk's retelling of U.S. history acknowledges the enduring power, agency, and survival of Indigenous peoples, yielding a truer account of the United States and revealing anew the varied meanings of America.
 
Poetry 
Winner
Image
from unincorporated territory [åmot] by Craig Santos Perez
Experimental and visual poems diving into the history and culture of the poet's homeland, Guam.
 
This book is the fifth collection in Craig Santos Perez's ongoing from unincorporated territory series about the history of his homeland, the western Pacific island of Guåhan (Guam), and the culture of his indigenous Chamoru people. "Åmot" is the Chamoru word for "medicine," commonly referring to medicinal plants. Traditional Chamoru healers were known as yo'åmte; they gathered åmot in the jungle and recited chants and invocations of taotao'mona, or ancestral spirits, in the healing process.
 
Through experimental and visual poetry, Perez explores how storytelling can become a symbolic form of åmot, offering healing from the traumas of colonialism, militarism, migration, environmental injustice, and the death of elders.
 
Translated Literature 
Winner
Image
The Words That Remain by Stênio Gardel, Bruna Dantas Lobato 
A letter has beckoned to Raimundo since he received it decades ago from his youthful passion, handsome Cicero. 
But having grown up in an impoverished area of Brazil where the demands of manual labor thwarted his becoming literate, Raimundo has long been unable to read. As young men, he and Cicero fell in love, only to have Raimundo's father brutally beat his son when he discovered their affair. Even after Raimundo succeeds in making a life for himself in the big city, he continues to be haunted by this secret missive full of longing from the distant past. Now, as an elderly man, he at last acquires a true education and the ability to access the letter. Exploring Brazil's little-known hinterland as well its urban haunts, this is a sweeping novel of repression, violence, and shame, along with their flip side: survival, endurance, and the ultimate triumph of an unforgettable figure on society's margins. The Words That Remain explores the universal power of the written word and language, and how they affect all our relationships.
  
Young People's Literature 
Winner
Image
A First Time for Everything: A True Story by Dan Santat 
Dan's always been a good kid. The kind of kid who listens to his teachers, helps his mom with grocery shopping, and stays out of trouble. But being a good kid doesn't stop him from being bullied and feeling like he's invisible, which is why Dan has low expectations when his parents send him on a class trip to Europe.

At first, he's right. He's stuck with the same girls from his middle school who love to make fun of him, and he doesn't know why his teacher insisted he come on this trip. But as he travels through France, Germany, Switzerland, and England, a series of first experiences begin to change him―first Fanta, first fondue, first time stealing a bike from German punk rockers... and first love.

Funny, heartwarming, and poignant, A First Time for Everything is a feel-good coming-of-age memoir based on New York Times bestselling author and Caldecott Medal winner Dan Santat's awkward middle school years. It celebrates a time that is universally challenging for many of us, but also life-changing as well.