Image

Join us at the Alachua Branch for a fun monthly book discussion. Each month we will select one Adult Fiction or Nonfiction title to read and discuss it as a group. Meetings will be held on the third Tuesday of each month at 2 p.m. in the Meeting Room. Copies of the current book will be available upon request at the Circulation Desk. To confirm availability, please call 386-462-2592 or email lcowart@aclib.us.
Currently Reading:
Image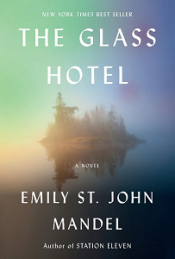 The Glass Hotel by Emily St. John Mandel
Tuesday, May 17 at 2 p.m., Alachua Branch Meeting Room
Registration Required (walk-ins allowed as space permits)
Registration opens May 3
"Vincent is a bartender at the Hotel Caiette, a five-star lodging on the northernmost tip of Vancouver Island. On the night she meets Jonathan Alkaitis, a hooded figure scrawls a message on the lobby's glass wall: Why don't you swallow broken glass. High above Manhattan, a greater crime is committed: Alkaitis is running an international Ponzi scheme, moving imaginary sums of money through clients' accounts. When the financial empire collapses, it obliterates countless fortunes and devastates lives. Vincent, who had been posing as Jonathan's wife, walks away into the night. Years later, a victim of the fraud is hired to investigate a strange occurrence: a woman has seemingly vanished from the deck of a container ship between ports of call.

In this captivating story of crisis and survival, Emily St. John Mandel takes readers through often hidden landscapes: campgrounds for the near-homeless, underground electronica clubs, the business of international shipping, service in luxury hotels, and life in a federal prison. Rife with unexpected beauty, The Glass Hotel is a captivating portrait of greed and guilt, love and delusion, ghosts and unintended consequences, and the infinite ways we search for meaning in our lives." (Goodreads)
June Meeting:
June 21 – A Piece of the World by Christina Baker Kline
Previously Read:
Interested in other book clubs? Learn about all our groups on our Book Clubs page.