Image

Join us at the Alachua Branch for a fun monthly book discussion. Each month we will select one Adult Fiction or Nonfiction title to read and discuss it as a group. Meetings will be held on the third Tuesday of each month at 2 p.m. in the Meeting Room. Copies of the current book will be available upon request at the Circulation Desk. To confirm availability, please call 386-462-2592 or email lcowart@aclib.us.
Currently Reading:
Image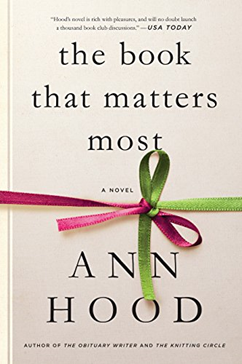 The Book that Matters Most by Ann Hood
Tuesday, September 20, 2 p.m., Alachua Branch Meeting Room
Ava's twenty-five-year marriage has fallen apart, and her two grown children are pursuing their own lives outside of the country. Ava joins a book group, not only for her love of reading but also out of sheer desperation for companionship. The group's goal throughout the year is for each member to present the book that matters most to them. Ava rediscovers a mysterious book from her childhood—one that helped her through the traumas of the untimely deaths of her sister and mother. Alternating with Ava's story is that of her troubled daughter Maggie, who, living in Paris, descends into a destructive relationship with an older man. Ava's mission to find that book and its enigmatic author takes her on a quest that unravels the secrets of her past and offers her and Maggie the chance to remake their lives. (Goodreads)
* Limited physical copies of the current book will be available upon request at the Circulation Desk. It is also available in digital formats (eBook and eAudiobook) with no holds list.
Upcoming Meetings:
October 18 – I'll Be Gone in the Dark by Michelle McNamara
November 15 – Anxious People by Fredrik Backman
Previously Read:                                                                     
The Golden Hour by Beatriz Williams
Lincoln in the Bardo by George Saunders

 
Interested in other book clubs? Learn about all our groups on our Book Clubs page.