Image

Image

Image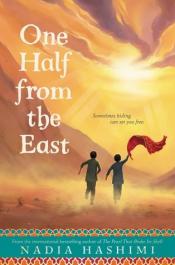 One Half from the East by Nadia Hashimi [2016] 
Setting: Afghanistan
Suggested age range: 8-12 years
Obayda's family is in need of some good fortune.
Her father lost one of his legs in a bomb explosion, forcing the family to move from their home city of Kabul to a small village, where life is very different and Obayda's father almost never leaves his room.
One day, Obayda's aunt has an idea to bring the family luck—dress Obayda, the youngest of her sisters, as a boy, a bacha posh.

Now Obayda is Obayd.
Life in this in-between place is confusing, but once Obayda meets another bacha posh, everything changes. The two of them can explore the village on their own, climbing trees, playing sports, and more.
But their transformation won't last forever—unless the two best friends can figure out a way to make it stick and make their newfound freedoms endure.
Image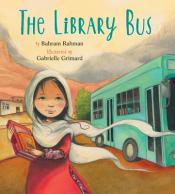 The Library Bus by Bahram Rahman [2020]
Setting: Afghanistan
Suggested age range: 5-8 years
It is still dark in Kabul, Afghanistan when the library bus rumbles out of the city. There are no bus seats—instead there are chairs and tables and shelves of books. And there are no passengers—instead there is Pari, who is nervously starting her first day as Mama's library helper. Pari stands tall to hand out notebooks and pencils at the villages and the refugee camp, but she feels intimidated. The girls they visit are learning to write English from Mama. Pari can't even read or write in Farsi yet. But next year she will go to school and learn all there is to know. And that is a wonderful thing. Not long ago, Mama tells her, girls were not allowed to read at all.
Image

Image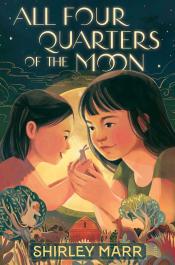 All Four Quarters of the Moon by Shirley Marr [2022]
Setting: Australia
Suggested age range: 8-12 years
The night of the Mid-Autumn Festival, making mooncakes with Ah-Ma, was the last time Peijing Guo remembers her life being the same. She is haunted by the magical image of a whole egg yolk suspended in the middle like the full moon. Now adapting to their new life in Australia, Peijing thinks everything is going to turn out okay as long as they all have each other, but cracks are starting to appear in the family.

Five-year-old Biju, lovable but annoying, needs Peijing to be the dependable big sister. Ah-Ma keeps forgetting who she is; Ma Ma is no longer herself and Ba Ba must adjust to a new role as a hands-on dad. Peijing has no idea how she is supposed to cope with the uncertainties of her own world while shouldering the burden of everyone else.

If her family are the four quarters of the mooncake, where does she even fit in?
Image

Image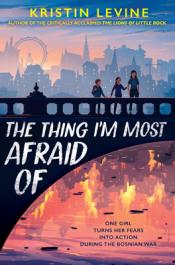 The Thing I'm Most Afraid Of by Kristin Levine [2021]
Setting: Austria
Suggested age range: 10-12 years
Most twelve-year-olds would be excited to fly to Austria to see their dad for the summer but then Becca is not most twelve-year-olds. Suffering from severe anxiety, she fears that the metal detectors at the airport will give her cancer and the long international flight will leave her with blood clots. Luckily, she's packed her Doomsday Journal, the one thing that always seems to help. By writing down her fears and what to do if the worst happens, Becca can get by without (many) panic attacks.

Routines and plans help Becca cope but living in a new country is full of the unexpected--including Becca's companions for the summer. Like Felix, the short and bookish son of Becca's dad's new girlfriend. Or Sara, the nineteen-year-old Bosnian refugee tasked with watching the two of them for the summer. As Becca explores Vienna and becomes close to her new friends, she soon learns she is not alone in her fears. What matters most is what you do when faced with them.
Image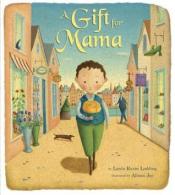 A Gift for Mama by Linda Ravin Lodding [2014]
Setting: Austria 
Suggested age range: 4-8 years
Oskar sets out—with a single coin—to find the perfect gift for his mother. And he spots it at once: a beautiful yellow rose. But when he meets an artist, Oskar trades the rose for a paintbrush. And when he meets a conductor, he trades the paintbrush for a sheet of music. 

The bustling streets are full of interesting people and delightful possible presents, and Oskar trades one gift for another, and another, and another! But what he finds by the end of the day is even more precious.

Simple kindness is at the heart of this enchanting, gloriously-illustrated tale.
Image

Image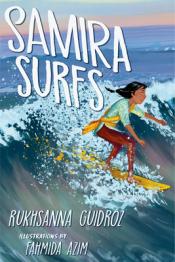 Samira Surfs by Rukhsanna Guidroz [2021]
Setting: Bangladesh
Suggested age range: 8-12 years
A middle-grade novel in verse about Samira, a twelve-year-old Rohingya refugee living in Cox's Bazar, Bangladesh, who finds peace, empowerment, and sisterhood in a local surf club for girls.

Samira thinks of her life as before and after: before the burning and violence in Burma (now Myanmar), when she and her best friend would play in the fields, and after, when her family was forced to flee. There's before the uncertain journey to Bangladesh by river, and after, when the river swallowed her nana and nani whole. And now, months after rebuilding a life in Bangladesh with her mama, baba, and brother, Khaled, there's before Samira saw the surfer girls, and after, when she decides she'll become one.

With Khaled's help, Samira pushes past her fear of the water and begins secret surf lessons. She forges a friendship with the Bengali surfer girls of Cox's Bazar and learns of a surf contest for kids that could change her life in so many ways. But as more Rohingya seek refuge in Cox's Bazar and the dynamics of her community change, it becomes harder for Samira to keep her surfing a secret, potentially putting her family at risk.
Image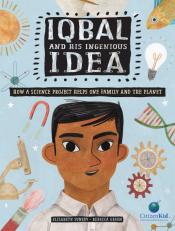 Iqbal and His Ingenious Idea: How a Science Project Helps One Family and the Planet by Elizabeth Suneby [2018]
Setting: Bangladesh
Suggested age range: 8-12 years
It's monsoon season in Bangladesh, which means Iqbal's mother must cook the family's meals indoors, over an open fire. The smoke from the fire makes breathing difficult for his mother and baby sister, and it's even making them sick. Hearing them coughing at night worries Iqbal. So when he learns that his school's upcoming science fair has the theme of sustainability, Iqbal comes up with the perfect idea for his entry: he'll design a stove that doesn't produce smoke! With help from his teacher, Iqbal learns all about solar energy cooking, which uses heat from the sun to cook --- ingenious! Has Iqbal found a way to win first prize in the science fair while providing cleaner air and better health for his family at the same time?

Award-winning author Elizabeth Suneby's thoroughly researched and inspiring story introduces young children to the problems associated with open-flame cooking in the developing world, as well as background information on sustainable technology. Part of the CitizenKid collection, this book uses the common experience of a science fair project to help children recognize that they, too, can help make the world a better place through innovative thinking and creative problem solving. The artwork by Rebecca Green, filled with details of everyday life in a Bangladesh village, beautifully evokes a sense of place and culture. Iqbal offers a perfect example for the character education subject of initiative. End matter includes information about clean cookstoves, a DIY solar cooker activity and a glossary.
Image

Image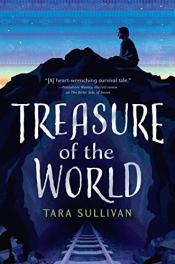 Treasure of the World by Tara Sullivan [2021]
Setting: Bolivia
Suggested age range: 10-12 years
Twelve-year-old Ana wants nothing more than to escape the future set for her and her classmates in her small mining village. Boys her age are beginning to leave school to become silver miners and girls her age are destined to one day be the wives of miners. But when her often ill eleven-year-old brother is forced by their demanding father to start work in the mines, Ana gives up her dreams of school to volunteer in his place. The world of silver mining though is dark and dangerous and the men who work there don't want a girl in their way. Ana must find the courage to not only survive but save her family after the worst happens and a mining accident kills her father and leaves her brother missing
Image

Image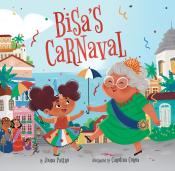 Bisa's Carnaval by Joana Pastro [2021]
Setting: Brazil
Suggested age range: 4-8 years
It's time for Carnaval and Clara cannot wait to celebrate her favorite holiday with family, but especially with her great-grandmother. Even if Bisa can't attend, Clara knows the Carnaval parade will still be special. Costumed lovingly by their bisa, everyone takes to the street for the annual parade. But even among all the colors, costumes, music, and dancing, something is missing . . . or is it someone?
Image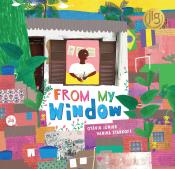 From My Window by Otávio Júnior [2018]
Setting: Brazil
Suggested age range: 4-8 years
What do you see from your window? This #OwnVoices picture book from Brazil offers a first-hand view of what children growing up in the favelas of Rio de Janiero see everyday. A vibrant and diverse celebration of urban community living, brought to life by unique, colorful illustrations that juxtapose brick buildings with lush jungle plants.
Image

Image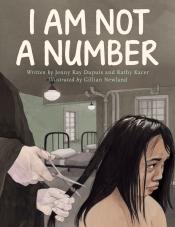 I Am Not a Number by Jenny Kay Dupuis [2016]
Setting: Canada
Suggested age range: 7-11 years
When eight-year-old Irene is removed from her First Nations family to live in a residential school she is confused, frightened, and terribly homesick. She tries to remember who she is and where she came from, despite the efforts of the nuns who are in charge at the school and who tell her that she is not to use her own name but instead use the number they have assigned to her. When she goes home for summer holidays, Irene's parents decide never to send her and her brothers away again. But where will they hide? And what will happen when her parents disobey the law? Based on the life of co-author Jenny Kay Dupuis' grandmother, I Am Not a Number is a hugely necessary book that brings a terrible part of Canada's history to light in a way that children can learn from and relate to.
Image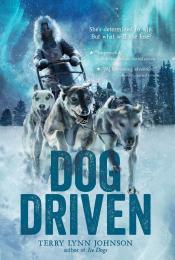 Dog Driven by Terry Lynn Johnson [2019]
Setting: Canada
Suggested age range: 10-12 years 
McKenna Barney is trying to hide her worsening eyesight and has been isolating herself for the last year. But at the request of her little sister, she signs up for a commemorative mail run race in the Canadian wilderness—a race she doesn't know if she can even see to run. 
 
Winning would mean getting her disease—and her sister's—national media coverage, but it would also pit McKenna and her team of eight sled dogs against racers from across the globe for three days of shifting lake ice, sudden owl attacks, snow squalls, and bitterly cold nights.

A page-turning adventure about living with disability and surviving the wilderness, Dog Driven is the story of one girl's self-determination and the courage it takes to trust in others.
Image

Image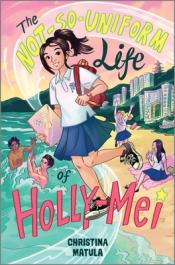 The Not-So-Uniform Life of Holly-Mei by Christina Matula [2022]
Setting: China
Suggested age range: 8-12 years
This debut middle grade series follows a girl finding her place in a brand-new world of private school and frenemies when her family moves to Hong Kong.

Holly-Mei Jones couldn't be more excited about moving to Hong Kong for her mother's job. Her new school is right on the beach and her family's apartment is beyond beautiful. Everything is going to be perfect . . . right?
Maybe not. It feels like everywhere she turns, there are new rules to follow and expectations to meet. On top of that, the most popular girl in her grade is quickly becoming a frenemy. And without the guidance of her loving Ah-ma, who stayed behind in Toronto, Holly-Mei just can't seem to get it right.

It will take all of Holly-Mei's determination and sparkle (and maybe even a tiny bit of stubbornness) to get through seventh grade and turn her life in Hong Kong into the ultimate adventure! 
Image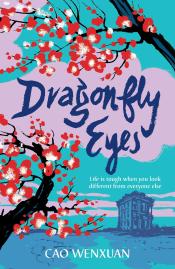 Dragonfly Eyes by Cao Wenxuan [2021]
Setting: China
Suggested age range: 9-12 years
A family saga spanning fifty years and three generations, which takes the reader from the France of the Golden Age to poverty-stricken post-war Shanghai via the re-imagined rural China of the Cultural Revolution.
Ah-Mei and her French grandmother, Nainai, share a rare bond. Maybe because Ah-Mei is the only girl grandchild, or maybe because the pair look so alike – and because neither look much like the rest of their Chinese family. Politics and war make 1960s Shanghai a hard place to grow up, especially when racism and bigotry are rife, and everyone is suspicious of Nainai's European heritage. Ah-Mei and her family suffer much in this time of political upheaval, and when the family silk business falters, they are left with almost nothing. But Ah-Mei and her grandmother are resourceful, and they have one another – and the tenderness they share brings them great strength.
Image

Image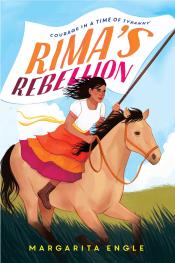 Rima's Rebellion: Courage in a Time of Tyranny by Margarita Engle [2022]
Setting: Cuba
Suggested age range: 12+
Rima loves to ride horses alongside her abuela and Las Mambisas, the fierce women veterans who fought during Cuba's wars for independence. Feminists from many backgrounds have gathered in voting clubs to demand suffrage and equality for women, but not everybody wants equality for all—especially not for someone like Rima. In 1920s Cuba, illegitimate children like her are bullied and shunned.

Rima dreams of a day when she is free from fear and shame, the way she feels when she's riding with Las Mambisas. As she seeks her way, Rima forges unexpected friendships with others who long for freedom, especially a handsome young artist named Maceo. Through turbulent times, hope soars, and with it…love.
Image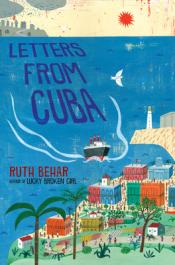 Letters from Cuba by Ruth Behar [2020]
Setting: Cuba
Suggested age range: 10-12
The situation is getting dire for Jews in Poland on the eve of World War II. Esther's father has fled to Cuba, and she is the first one to join him. It's heartbreaking to be separated from her beloved sister, so Esther promises to write down everything that happens until they're reunited. And she does, recording both the good--the kindness of the Cuban people and her discovery of a valuable hidden talent--and the bad: the fact that Nazism has found a foothold even in Cuba.

Based on Ruth Behar's family history.
Keep an our eye for our next installment, Around the World in Children's Books: D-F!
All descriptions adapted from publisher