Thanks to generous donations from the Alachua Audubon Society, the Alachua County Library District is proud to offer 10 birding kits as part of our circulating collection. These kits check out for 14 days, and, if no one else has asked for them, can renew up to two times. Place one on hold today for pick up at your preferred library location.
Image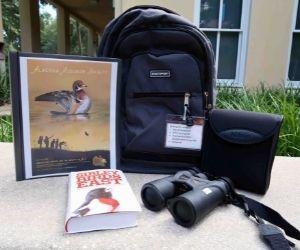 Ideal for beginner and intermediate birdwatchers, each kit is neatly contained within a backpack. Inside, patrons will find three items: a pair of Vortex Raptor binoculars in a carrying case; the book Sibley Birds East: Field Guide to Birds of Eastern North America; and a resource guide prepared by the Alachua Audubon Society, including information on bird-friendly wildflowers and a guide on Alachua County's best parks for birding.
According to the Alachua Audubon Society's list of Best Birding Sites, November through February is the best time to visit La Chua Trail (Paynes Prairie Preserve State Park). "Late fall and winter are the best seasons to bird the Prairie basin. Look for American Bitterns, Sandhill Cranes (thousands winter here), Northern Harriers, Red-tailed Hawks, Bald Eagles, Marsh and Sedge Wrens, and a variety of waterfowl. There are 19 species of sparrows on the checklist; Vesper, Grasshopper, White-throated, and White-crowned are probably the best of those you might expect to see on a more-or-less average walk, but Savannah, Swamp, and Song are the common ones."
If you'd like to take a younger birdwatcher with you on your birding expedition, you're in luck! Children have their own birding kit, the STEM Kit: Birdwatching Adventures set. The kit includes a pair of children's binoculars, the picture book How to Find a Bird, a Bill Nye the Science Guy DVD on birds, and a child-friendly birding guide. (The children's kits were made possible by a donation from the Rotary Club of Gainesville.)
The Library District also has many birdwatching books available for patrons to pair with their birding kit. These are some of our best resources on birding:
We also have other birding materials, including memoirs and even comic books about birds. Just search "birding" in our catalog to explore everything we have available. Keen-eyed searchers will notice reference materials available from the National Audubon Society; look for these non-circulating items in person at the Headquarters Library.
For the birdwatcher who likes to stay connected to the Worldwide Web, we also recommend our WiFi2Go, a mobile hotspot with its own data signal that can connect you to the internet--for free!--wherever it has a signal. Alachua County birders may find this handy if they want to connect to Libby, the app we use for eBooks; we have a range of birding books available as eBooks, including the magazines BirdWatching and Audubon.
Now get out there and spot some birds!