Chanukah is an eight-day holiday celebrated by Jewish people in remembrance of the Maccabees taking back and rededicating the Second Temple. It is also a celebration of the single day of oil that lasted an impressive eight days. In honor of this we have curated a list of books available for check out at your library that celebrates Jewish culture. We hope that while you are at home lighting your menorah and eating latkes, sufganiyot or bimuelo, you can take some time and check out these great titles.
Adult Fiction
Image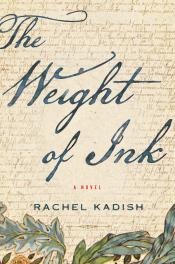 The Weight of Ink by Rachel Kadish
Set in London of the 1660s and of the early twenty-first century, this is the interwoven tale of two women of remarkable intellect: Ester Velasquez, an emigrant from Amsterdam who is permitted to scribe for a blind rabbi, just before the plague hits the city; and Helen Watt, an ailing historian with a love of Jewish history. Helen has been summoned by a former student to view a cache of seventeenth-century Jewish documents newly discovered in his home during a renovation. Enlisting the help of Aaron Levy, an American graduate student as impatient as he is charming, and in a race with another fast-moving team of historians, Helen embarks on one last project: to determine the identity of the documents' scribe, the elusive "Aleph." Electrifying and ambitious, sweeping in scope and intimate in tone, it is a sophisticated work of historical fiction about women separated by centuries, and the choices and sacrifices they must make in order to reconcile the life of the heart and mind.
Image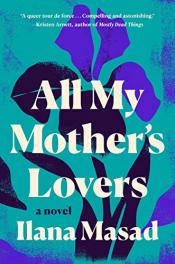 All My Mother's Lovers by Ilana Masad
Intimacy has always eluded twenty-seven-year-old Maggie Krause, despite being brought up by married parents, models of domestic bliss. That is until Lucia came into her life. But when Maggie's mom, Iris, dies in a car crash, Maggie returns home only to discover a withdrawn dad, an angry brother, and, along with Iris's will, five sealed envelopes, each addressed to a mysterious man she's never heard of. In an effort to run from her own grief and discover the truth about Iris—who made no secret of her discomfort with her daughter's sexuality—Maggie embarks on a road trip, determined to hand-deliver the letters and find out what these men meant to her mother. Maggie quickly discovers Iris's second, hidden life, which shatters everything Maggie thought she knew about her parents' perfect relationship. What is she supposed to tell her father and brother? And how can she deal with her own relationship when her whole world is in freefall?
Image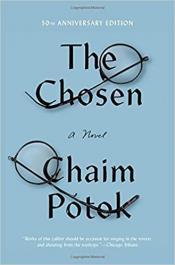 It is the now-classic story of two fathers and two sons and the pressures on all of them to pursue the religion they share in the way that is best suited to each. In 1940s Brooklyn, New York, an accident throws Reuven Malther and Danny Saunders together. Despite their differences (Reuven is a Modern Orthodox Jew with an intellectual, Zionist father; Danny is the brilliant son and rightful heir to a Hasidic rebbe), the young men form a deep, if unlikely, friendship. And as the boys grow into young men, they discover in the other a lost spiritual brother, and a link to an unexplored world that neither had ever considered before. The intellectual and spiritual clashes between fathers, between each son and his own father, and between the two young men, provide a unique backdrop for this exploration of fathers, sons, faith, loyalty, and, ultimately, the power of love.
Image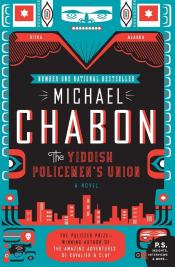 The Yiddish Policemen's Union: A Novel by Michael Chabon
For sixty years Jewish refugees and their descendants have prospered in the Federal District of Sitka, a temporary safe haven created in the wake of the Holocaust and the shocking 1948 collapse of the fledgling state of Israel. The Jews of the Sitka District have created their own little world in the Alaskan panhandle, a vibrant and complex frontier city that moves to the music of Yiddish. But now the District is set to revert to Alaskan control, and their dream is coming to an end. Homicide detective Meyer Landsman of the District Police has enough problems without worrying about the upcoming Reversion. His life is a shambles, his marriage a wreck, his career a disaster. And in the cheap hotel where Landsman has washed up, someone has just committed a murder—right under his nose. When he begins to investigate the killing of his neighbor, a former chess prodigy, word comes down from on high that the case is to be dropped immediately, and Landsman finds himself contending with all the powerful forces of faith, obsession, evil and salvation that are his heritage.
Image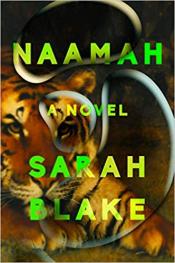 Naamah: A Novel by Sarah Blake
With the coming of the Great Flood—the mother of all disasters—only one family was spared, drifting on an endless sea, waiting for the waters to subside. We know the story of Noah, moved by divine vision to launch their escape. Now, in a work of astounding invention, acclaimed writer Sarah Blake reclaims the story of his wife, Naamah, the matriarch who kept them alive. Here is the woman torn between faith and fury, lending her strength to her sons and their wives, caring for an unruly menagerie of restless creatures, silently mourning the lover she left behind. Here is the woman escaping into the unreceded waters, where a seductive angel tempts her to join a strange and haunted world. Here is the woman tormented by dreams and questions of her own; questions of service and self-determination, of history and memory, of the kindness or cruelty of fate.
Image
An Undisturbed Peace: A Novel by Mary Glickman
Considered one of the greatest depictions of the horror that was the Trail of Tears, this novel weaves together the story of three very different characters into a world that tests the very mettle of a soul. In Greensborough, North Carolina is Abrahan Bento Sassaporta Naggar has traveled to America from the filthy streets of East London in search of a better life. But Abe's visions of a privileged apprenticeship in the Sassaporta Brothers' empire are soon replaced with the grim reality of indentured servitude. Some fifty miles west, Dark Water of the Mountains, the daughter of a powerful Cherokee chief, leads a life of irreverent solitude. Twenty years ago, she renounced her family's plans for her to marry a wealthy white man—a decision that soon proves fateful. And in Georgia, a black slave named Jacob has resigned himself to a life of loss and injustice in a Cherokee city of refuge for criminals. As their stories converge in the shameful machinations of history, three outsiders will bear witness to the horrors known as Andrew Jackson's Indian Removal Act—just as they also discover the possibility for hope.
Image
Famous All Over Town: A Novel by Bernie Schein
This comically candid multi-generational account of two Jews, a low-country native and a Northern transplant, at the epicenter of momentous events in the sleepy southern coastal hamlet of Somerset, South Carolina will knock your socks off. Delving beneath the surface of the southern status quo, this tale follows these interconnected lives through the private and public upheavals in small-town life from the turbulent 1960s to the eve of the new millennium, confronting the ramifications of the civil rights era, Vietnam, Watergate, and—closer to home—a deadly version of the infamous Ribbon Creek incident. Somerset's colorful citizens also confront their own repressed memories, conflicted identities, burgeoning ambitions, and romantic entanglements. Even as events unfold to often-uproarious effect, this novel holds true to a deeply realized sense of intimacy and authenticity in the interactions of its myriad characters as revelations expose how these disparate lives are conjoined in surprising ways.
Nonfiction
Image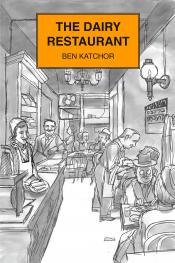 The Dairy Restaurant by Ben Katchor
Ben Katchor retells the history of where we choose to eat—a history that starts with the first man who was allowed to enter a walled garden and encouraged by the garden's owner to enjoy its fruits. He examines the biblical milk-and-meat taboo, the first vegetarian practices, and the invention of the restaurant. Through text and drawings, Katchor illuminates the historical confluence of events and ideas that led to the development of a "milekhdike (dairy) personality" and the proliferation of dairy restaurants in America, and he recollects his own experiences in many of these iconic restaurants just before they disappeared.
Image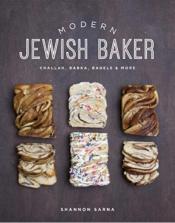 Modern Jewish Baker: Challah, Babka, Bagels & More by Shannon Sarna
Jewish baked goods have brought families together around the table for centuries. In Modern Jewish Baker, Sarna pays homage to those traditions while reinvigorating them with modern flavors and new ideas. One kosher dough at a time, she offers the basics for challah, babka, bagels, hamantaschen, rugelach, pita, and matzah. Never one to shy away from innovation, Sarna sends her readers off on a bake-your-own adventure with twists on these classics.
Image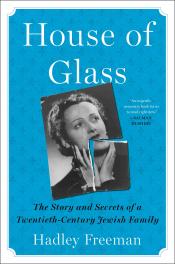 House of Glass: The Story and Secrets if a Twentieth-Century Jewish Family by Hadley Freeman
Hadley Freeman knew her grandmother Sara lived in France just as Hitler started to gain power, but rarely did anyone in her family talk about it. Long after her grandmother's death, she found a shoebox tucked in the closet containing photographs of her grandmother with a mysterious stranger, a cryptic telegram from the Red Cross, and a drawing signed by Picasso. This discovery sent Freeman on a decade-long quest to uncover the significance of these keepsakes, taking her from Picasso's archives in Paris to a secret room in a farmhouse in Auvergne to Long Island to Auschwitz. This thrilling family saga is filled with extraordinary twists, vivid characters, and famous cameos, illuminating the Jewish and immigrant experience in the World War II era.
Image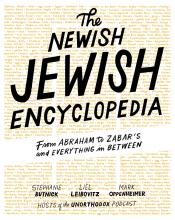 The Newish Jewish Encyclopedia: From Abraham to Zabar's and Everything In Between
Deeply knowing, highly entertaining, and just a little bit irreverent, this unputdownable encyclopedia of all things Jewish and Jew-ish covers culture, religion, history, habits, language, and more. Readers will refresh their knowledge of the Patriarchs and Matriarchs, the artistry of Barbra Streisand, the significance of the Oslo Accords, the meaning of words like balaboosta, balagan, bashert, and bageling. Understand all the major and minor holidays. Learn how the Jews invented Hollywood. Remind themselves why they need to read Hannah Arendt, watch Seinfeld, listen to Leonard Cohen. Even discover the secret of happiness. Includes hundreds of photos, charts, infographics, and illustrations. It's a lot.
Image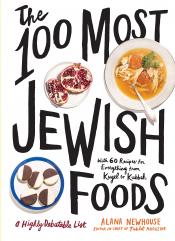 The 100 Most Jewish Foods: A Highly Debatable List
Tablet's list of the 100 most Jewish foods is not about the most popular Jewish foods, or the tastiest, or even the most enduring. It's a list of the most significant foods culturally and historically to the Jewish people, explored deeply with essays, recipes, stories, and context. Some of the dishes are no longer cooked at home, and some are not even dishes in the traditional sense. The entire list is up for debate, which is what makes this book so much fun. Many of the foods are delicious (such as babka and shakshuka). Others make us wonder how they've survived as long as they have (such as unhatched chicken eggs and jellied calves' feet). As expected, many Jewish (and now universal) favorites like matzo balls, pickles, cheesecake, blintzes, and chopped liver make the list. The recipes are global and represent all contingencies of the Jewish experience.
Image
The Last Kings of Shanghai: The Rival Jewish Dynasties That Helped Create Modern China by Jonathan Kaufman
An epic, multigenerational story of two rival dynasties who flourished in Shanghai and Hong Kong as twentieth-century China surged into the modern era, from the Pulitzer Prize-winning journalist Jonathan Kaufman. By the 1930s, the Sassoons had been doing business in China for a century, rivaled in wealth and influence by only one other dynasty–the Kadoories. These two Jewish families, both originally from Baghdad, stood astride Chinese business and politics for more than 175 years, profiting from the Opium Wars; surviving Japanese occupation; courting Chiang Kai-shek; and losing nearly everything as the Communists swept into power. In The Last Kings of Shanghai, Jonathan Kaufman tells the remarkable history of how these families participated in an economic boom that opened China to the world, but remained blind to the country's deep inequality and to the political turmoil at their doorsteps. In a story stretching from Baghdad to Hong Kong to Shanghai to London, Kaufman enters the lives and minds of these ambitious men and women to forge a tale of opium smuggling, family rivalry, political intrigue, and survival.
Image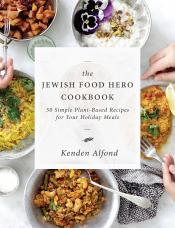 The Jewish Food Hero Cookbook: 50 Plant-Based Recipes for Your Holiday Meals by Kenden Alfond
Beautifully photographed and filled with endearing stories of the author's inspiration behind each holiday menu, The Jewish Food Hero Cookbook is not just about the food and the final presentation. It's also about how you feel leading up to the holiday, and the ambiance one wants to create from day one of preparation. It's about experiencing the holiday itself and creating beloved memories with your family. Pairing both traditional and modern, healthy food, the goal of this book is to prove that together we can create a new and healthy food future for the Jewish people, one that is connected to the most beautiful of Jewish traditions while being grounded in the present.
Descriptions adapted from the publishers.