Image

Books
Classic books, the ones you read for school or because they are on some list. Are they any good? Find out for yourself. Here are some classics that have publication anniversary dates in August. Have you read these classics?
Aug. 9, 1854: The transcendentalist author Henry David Thoreau published Walden; or, Life in the Woods. Thoreau stayed in a cabin near Concord, Mass., for two years as a type of social experiment to see if he could live a simple life. The book contains information and thoughts about living in natural surroundings, self-reliance, independence, and spiritual discovery. 

August 1903: The story Call of the Wild by Jack London, was first serialized in The Saturday Evening Post and then published as a book. It is the story of a dog named Buck who is stolen from his home in California and taken to Alaska. He is bought and sold several times, learns how to be a sled dog, and is severely mistreated until John Thornton rescues him.

August 1965: The epic science-fiction novel, Dune by Frank Herbert has inspired films, music, games, and even space exploration – places on Saturn's moon Titan bear names from the series. The novel won the Hugo and Nebula Awards. Herbert wrote five more Dune novels and after his death, his son used his father's notes to write prequels and more sequels. 
Authors
These authors are celebrating birthdays in August. Have you ever read their books? If not, give one a try. If you have, make sure you've read their most popular book or series. Have you read all their books? Make sure you've read their latest.
Image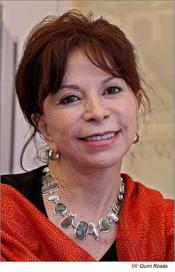 Image
Isabel Allende was born in Lima, Peru on Aug. 2, 1942. Her father left the family and her mother moved them to Chile in 1945 and then remarried. Her family was in politics, and she frequently moved around South America, the Middle East, and Europe. Allende finished secondary school in Chile and married her first husband when she was 20. She had two children and began writing. She worked as a journalist for magazines and television. After her uncle, the president of Chile, was assassinated in a military coup her family was exiled to Venezuela. She wrote her first novel in 1982, The House of the Spirits. She moved to San Francisco in 1987 after divorcing her first husband. She married her second husband in 1988 and became an American citizen in 1993. Allende continued to write novels mixing history, magical realism, and spirituality with strong female characters. In 1991, Allende's daughter Paula died after a lengthy illness, so she started a foundation to help empower women and young girls. Allende has taught at several universities, received many honorary doctorates, lectured on numerous topics, and received countless awards, including the Presidential Medal of Freedom. She has written 25 books, selling more than 75 million copies in 42 languages. Allende lives in California with her third husband, near her son and grandchildren. Her latest novel is The Wind Knows My Name about the ripple effects of war and immigration on a young child in Europe in 1938 and another in the United States in 2019. (author photo by Quim Rosés from Wikimedia Commons)
Image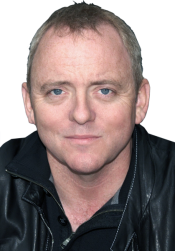 Image
Dennis Lehane was born in Dorchester, Mass. on Aug. 4, 1965. He was the youngest of five children born to parents who immigrated from Ireland in the 1940s. Growing up in the rough area of South Boston, Lehane saw firsthand the violence people were capable of and so it became the setting of most of his novels. He was a voracious reader and began writing in high school. Lehane wanted to make a career of writing and his parents were worried about his financial security, but he went to Florida for college and got his MFA in Creative Writing. He has had many jobs over the years: therapeutic counselor, chauffeur, staff writer and producer for television shows, screenwriter and director for films, and professor. His first novel, A Drink Before the War was published in 1994 and began the Kenzie and Gennaro series. Working as a chauffeur at the Ritz Carlton, gave him time to write his next two novels. His books are gritty crime novels, and several have been turned into films, such as Mystic River. He has two daughters and is married to his third wife. His latest novel is Small Mercies. (author photo from Wikimedia Commons)
Image
Image
Danielle Steel was born in New York City on Aug. 14, 1947. She finished high school at 15 and studied at the Parsons School of Design but dropped out her first year due to health reasons. She then studied at NYU but quit after marrying at age 18. She had her first child at 20 and then divorced, eventually moving to San Francisco. She wrote her first novel in the summer of 1971, Going Home. Steel then had several manuscripts rejected and didn't have her second novel published until 1977. During that gap, Steel was a copywriter for an advertising agency, taught high school, and wrote poems and articles for women's magazines. She also met and married two convicts, a bank robber and then a heroin addict. One of the marriages resulted in her second child. Steel then married a shipping executive in 1981, who brought two boys into the marriage. Steel went on to have five children with him over the next 14 years. Steel's career was on fire, and she pumped out two to three best-selling novels every year. She then married her fifth husband. Her second child Nicky suffered from mental health issues and started using drugs as a teenager, dying from an overdose at 19. She started a foundation in his name that is involved in mental illness and suicide prevention. Steel has written more than 200 books, selling 900 million copies in 43 languages and she's still at it. Her novels are usually contemporary fiction and romance with happy endings. Many have female protagonists who have powerful jobs or money but are dealing with a tragedy or a life versus love dilemma. Her latest novel is Palazzo and her newest, Happiness will be published in August. (author photo by Brigitte Lacombe)