Image

National Dog Day was established in 2004 by Colleen Paige, a Pet & Family Lifestyle Expert and Animal Advocate. The day was created to celebrate these beloved animals and to bring awareness to the number of dogs in shelters, in hopes to encourage adoption for those still looking for a loving home. For those not looking to adopt, the day is a time to celebrate "man's best friend" and enjoy the connection we've made with dogs over thousands of years.
Library patrons can have some one-on-one time with dogs at our "Read with a Dog" programs, which can be attended by children and their caretakers at the Headquarters Library, as well as the Alachua, High Springs, Library Partnership (Stories with Slick), Millhopper, and Tower Road branches.
We've collected photos of the fury friends belonging to library staff members across the district. Head on over the Library's Flickr page to see the adorable dog photos! We've also collected a short list of books to help you celebrate and spoil your furry friends.
Image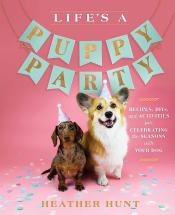 Life's a Puppy Party: Recipes, DIYs, and Activities for Celebrating the Seasons with Your Dog by Heather N. Hunt
The Forever Dog: Surprising New Science to Help Your Canine Companion Live Younger, Healthier, and Longer by Rodney Habib
The Story of Your Dog: A Straightforward Guide to a Complicated Animal by Brandon McMillan
How Dogs Work: A Head-to-tail Guide to Your Canine by Daniel Tatarsky
Wag: The Science of Making Your Dog Happy by Zazie Todd
How to Train Your Dog...: How to Sit, How to Stay, How to Listen, and More! by Liz Palika