There are many incredible black authors writing YA books these days, and we thought it was only right to highlight these authors and give them a chance to shine. So if you've been looking to read and amplify the work of black authors, here are some great YA reads!
Remember that you can check out books from the library either through our current curbside service, available at all twelve branches of the Alachua County Library District, or you can check out eBooks and eAudiobooks from OverDrive. And if you need more reading recommendations, try Novelist Plus.
Image
G. Neri, Grand Theft Horse
Alachua County Library District was lucky enough to host Greg Neri, also known as G. Neri, last summer at our Battle of the Books event, where he discussed how he wrote Grand Theft Horse with us. Grand Theft Horse is the real-life story of Greg's real-life cousin Gail Ruffu, who was caught in a decade-long battle over her right to keep her own racehorse out of harm's way. Gail's story of becoming an outlaw in the process of doing the right thing is riveting. Greg has also written a number of other nonfiction comic books, including Yummy: the Last Days of a Southside Shorty, and Ghetto Cowboy, which is currently being adapted for film.
Bethany C. Morrow, A Song Below Water
Image
Tavia has always had to hide the fact that she's a siren, and in Portland, Oregon, there aren't enough people she can trust, except her best friend Effie. But when the murder of a siren makes national news and the girl's idol also comes out as a siren, Tavia and Effie will have to reckon with all of their secrets.
Image
Tonya Bolden, Saving Savannah
Tonya Bolden's work often intertwines history, feminism, and black protagonists. In Saving Savannah, Savannah is the daughter of an upper-class black family in Washington, D.C. in 1919. When she meets Nell, who comes from a working class background, Savannah finds a cause worth fighting for. Bolden has also written Crossing Ebenezer Creek and Inventing Victoria.
Elizabeth Acevedo, Clap When You Land
Image
Elizabeth Acevedo writes books in verse, allowing her Afro-Latina protagonists to express themselves through poetry in ways they might not be able to otherwise. Clap When You Land is Elizabeth Acevedo's latest novel. In the aftermath of his death, Camino and Yahaira Rios each discovers that the other is her half sister, and that the father they idolized had a lot of secrets. Camino and Yahaira take turns telling their heartwrenching story of grief and connection. Acevedo has also written With the Fire on High, about a single mother, and The Poet X, an award-winning novel about a slam poet.
Image
Tochi Onyebuchi, War Girls
In War Girls, Onyii and Ify live in a future Nigeria marked by war and pollution. Soldiers are equipped with bionic limbs and organs just to survive, and only the very few live on offworld colonies. The sisters dream of being able to live in peace--but they might have to fight a war to get it. This book is the first in a series, with the sequel Rebel Sisters due to be published in October. Onyebuchi has also written a fantasy duology, Beasts Made of Night and its sequel Crown of Thunder, and recently released the adult sci-fi novella Riot Baby.
Kacen Callender, Felix Ever After
Image
Stonewall and Lambda Award winning author Kacen Callender's latest novel, Felix Ever After, is about Felix Love. When an anonymous fellow student starts harassing Felix online, outing Felix as transgender, Felix decides to get a little dirty to get even. Felix's plan to catfish his way to revenge lands him into a love triangle. Kacen Callender has also written Queen of the Conquered, a fantasy novel about a girl fighting to regain control of her conquered island kingdom; and This is Kind of an Epic Love Story, a contemporary LGBTQ+ romance.
Image
Justina Ireland, Dread Nation
In this alternate version of history, the Civil War is derailed when the living dead start rising from the battlefields. In the new world, native and black children are required to learn how to combat the dead. Jane is relatively lucky; she's being trained to servy wealthy white families, however unwillingly. But when families around Boston start going missing, Jane is caught up in a larger conspiracy. Dread Nation has a sequel, Deathless Divide, which just came out this year!
Image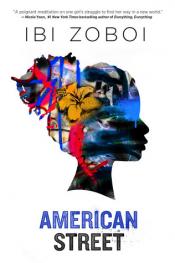 Ibi Zoboi's American Street follows Fabiola, who is left to try to rebuild her life in America when her mother is detained at Immigration. Zoboi has also written Pride, a retelling of Pride and Prejude with black teens in a gentrifying neighborhood; and later this year will debut Punching the Air, a verse novel with Yusef Salaam about wrongful imprisonment.
Image
Daniel Jose Older, Shadowshaper
Sierra is looking forward to a summer of making art and hanging out with friends when the murals all over Bed-Stuy begin to...change. Launched into the world of Shadowshapers, who use ancestral magic to make art real, Sierra must fight for her life and those of other Shadowshapers, who are being picked off one by one. Shadowshaper is the first in a series, including Shadowhouse Fall.
Roseanne A. Brown, A Song of Wraiths and Ruin
Image
A debut novel, A Song of Wraiths and Ruin is about two characters on an inevitable collision course. Malik and his sisters are trying to find a new life in Ziran when a vengeful spirit kidnaps one of Malik's sisters; Malik must kill the crown princess Karina to get her back. Meanwhile, Karina's mother has just been assassinated, her court on the verge of mutiny, and Karina has hatched a plan to resurrect her mother with dark magic. Malik and Karina want to, need to, kill each other to survive; but a growing attraction and ancient evils makes even murder more complicated. A Song of Wraiths and Ruin is part of a duology, with the second part due to come out in 2021.