Image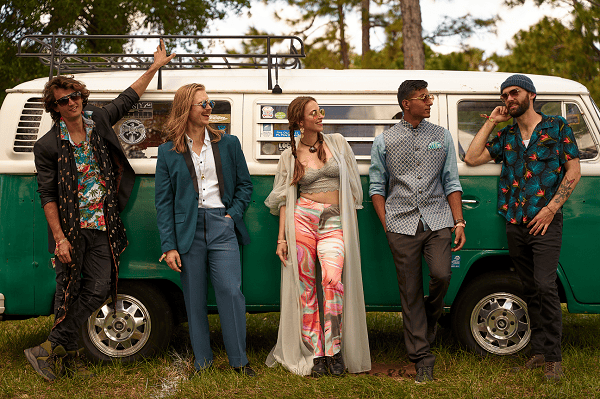 The Gainesville music community has a proud history of artists who have been able to establish themselves in the local scene as they expand their talents and realize their dreams.
MADWOMAN is a five-piece Psychedelic Alternative-Indie Pop band based in Gainesville, Florida. Lead singer Leni Daigle, guitarist Chandler McFarland, bassist Riley Sechrest, and drummer Unmil Patel all grew up here and attended local high schools, while synth player Louie Dager first moved to Florida at age 14.
Before writing music, Leni wrote short stories in elementary school, "learning how to be creative… and having fun with pure imagination." She would check out encyclopedias and nonfiction books about science from Alachua County Library District, whereas Louie fell in love with the Captain Underpants series and Chandler would read the Magic Tree House books. Chandler himself is reworking his relationship with reading to rediscover his love for literature without the intimidation and pressure of internal expectations. Unmil reflected on the sports books he read as a kid, and Riley recommended a recent read of his, Patrick Rothfuss's The Name of the Wind.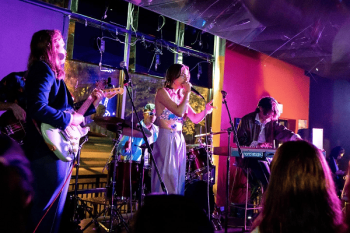 Having only become a unit of five members beginning January 2022, their stage presence and cohesion as a band shows a clearly united relationship. Reflecting on different songwriting dynamics for groups, Riley acknowledged his appreciation for their collaborative relationship and ability to "work off each other's ideas [in a way that] flows very nicely." Chandler took the opportunity to express his awe in lead singer Leni's talent and performance, and their intent to "write songs that elevate her in a certain way as a platform to speak [her] truth and add our own truths to it." He also agreed with Riley in their group unity in their goals and continued growth together.
Looking towards their future as a band, MADWOMAN is focusing on releasing more music as it flows, as well as expanding their touring network from Florida into the overall southeast. While the various members are also balancing work and school, they seek to make music a self-sufficient path. Louie is bringing the band into the web3 cryptocurrency space with NFTs. The music industry isn't an easy field to sustain a career within, but MADWOMAN intends to use their momentum to change people's perspectives and influence the world in a positive way.
Thanks to community partner MusicGNV for connecting the Library District to local artists for this new blog series!
Photos used with permission by the artist.
Music MADWOMAN Recommends: