Image

Come enjoy discussing newer fiction and nonfiction titles. We meet in-person on the first Tuesday of each month at 1 p.m. (Registration Required). We also have a live discussion via Zoom on the second Tuesday of each month at 1 p.m. When we meet, we start by sharing books we've read recently, then discuss that month's book.
Image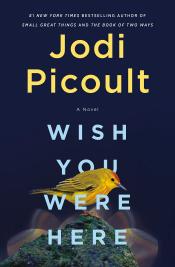 In July, Millhopper Book Club will be discussing, Wish You Were Here by Jodi Picoult. Diana O'Toole is perfectly on track. She works at Sotheby's and her boss has hinted at a promotion. Her boyfriend, Finn, a surgical resident, is about to propose on their romantic getaway to the Galapagos-days before her 30th birthday. Right on time. But then a virus that felt worlds away has appeared in the city and it's all hands on deck at the hospital. Finn has to stay behind. Diana goes so the nonrefundable trip doesn't go to waste. Almost immediately, Diana's dream vacation goes awry. Her luggage is lost, the Wi-Fi is nearly nonexistent, and the hotel is shut down. In fact, the whole island is now under quarantine. Completely isolated, she must venture beyond her comfort zone. Slowly, she carves out a connection with a local family when a teenager with a secret opens up to Diana, despite her father's suspicion of outsiders. In the Galapagos Islands, Diana finds herself examining her relationships, her choices, and herself - and wondering if when she goes home, she will have evolved into someone completely different. – Description adapted from publisher
In-person discussion will be Tuesday, July 5 at 1 p.m. Registration opens on June 21.
The Zoom discussion will be Tuesday, July 12 at 1 p.m.
Upcoming titles:
Aug: As Long as We Both Shall Live by JoAnn Chaney
Sept: The Maid by Nita Prose
Oct: The Golden Hour by Beatriz Williams
Nov: Apples Never Fall by Liane Moriarty
Previous titles:
State of Terror by Hillary Rodham Clinton and Louise Penny
Fuzz: When Nature Breaks the Law by Mary Roach
A Slow Fire Burning by Paula Hawkins
Interested in other book clubs? The Alachua County Library District has several. You can find more information on our Book Clubs page.