Image
Teens ages 12-18 are invited to join us for the return of the Newberry Teen Book Club. Each month we will read a different title. The selection could be a graphic novel, mystery, fantasy, horror, classic, any genre from any time, actually. Discussions will be held on the fourth Wednesday of each month at 3:15 p.m. in the Newberry Branch Meeting Room. Unfortunately, Hurricane Ian canceled our meeting in September, but we have a great selection for you in October. We will be meeting on Wednesday, October 26 at 3:15pm. 
Currently Reading:
Image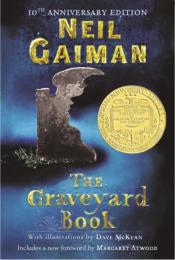 "IT TAKES A GRAVEYARD TO RAISE A CHILD.
Nobody Owens, known as Bod, is a normal boy. He would be completely normal if he didn't live in a graveyard, being raised by ghosts, with a guardian who belongs to neither the world of the living nor the dead. There are adventures in the graveyard for a boy—an ancient Indigo Man, a gateway to the abandoned city of ghouls, the strange and terrible Sleer. But if Bod leaves the graveyard, he will be in danger from the man Jack—who has already killed Bod's family."-- Provided by publisher.
Interested in other book clubs? Learn about all our groups on our Book Clubs page.