When Sid Jones started working at the Alachua County Library District, he spent most of his days stocking shelves on the bookmobile and delivering reading materials to communities all over the county. Now, after 36 years, he gets to spend his days woodworking at home. 
Last month, Jones retired. 
Image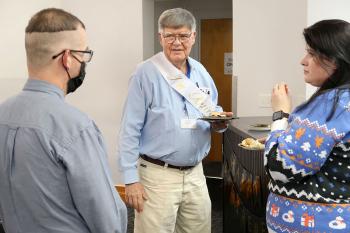 He spent most of his career as a library specialist at the same location in Southwest Gainesville. Along with a few other staff, Jones helped to open the doors of the Tower Road Branch 30 years ago. All these years later, he is the last of those original staff members to retire.
Jones has spent a lot of time at the Tower Road Branch location. Two years before the branch opened in 1992, Jones was running the bookmobile there. Once a week he would drive to a church parking lot across from what would become the new branch, and distribute books to the community through the bookmobile. According to Jones, the two-person bookmobile staff would stock the best books the library had on the bookmobile. 
"Some patrons followed us around from stop to stop to get the latest and best books," said Jones.
According to Jones, the bookmobile delivered to nursing homes, homebound patrons, subsidized housing, and upscale subdivisions. They visited small communities around the county like Waldo, Newberry, and Archer. The bookmobile would deliver books to student housing at the University of Florida.
Image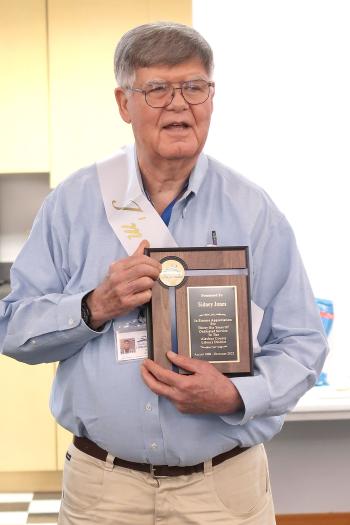 "The transition from the bookmobile to the new branch was easy because we had some of the same staff and the same patrons," said Jones.
The new Tower Road Branch was very popular when it opened and still is one of the busiest branches in the Library District. 
"Sid is a gifted library specialist," said Carolyn Wallace, the branch manager at the Tower Road Branch who worked with Jones for more than 12 years. "While we are happy for his well-deserved retirement, we will miss him greatly," Wallace said.  
Image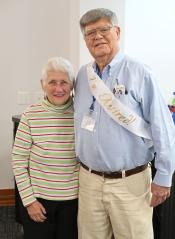 Throughout his life, Jones has worked in the U.S. Navy as a plane captain and avionics technician for the Blue Angels, an adjunct professor at the University of Florida, and as a driver of the bookmobile. Jones is a dedicated reader, book collector, and Sherlock Holmes aficionado. 
According to Wallace, Jones is the resident friend of the wildlife at the Tower Road Branch. During his breaks, Jones enjoys walking out to refill the seed for the bird feeder, which can be viewed from the Quiet Reading Room. He has lent his gardening skills to the branch Seed Library, growing and saving hundreds of climbing butter beans. In fact, you may have received some of those seeds yourself in 2022's Take & Make: Nature Bag.  
In retirement Jones said he will take it easy as the dust settles on his new situation. He plans to do some woodworking and help out his amateur radio club.