Image

Every Saturday on Facebook, we ask all our followers, "What are you reading this weekend?" You answered, and we gathered all the titles and authors from our collection here for easy access. Find titles in a variety of formats, including audiobooks you can check out on CD or download directly to a digital device.
If you haven't already downloaded the Libby App to access eBooks and digital audiobooks on your Apple or Android smart device, you can get started now! If you prefer to read on a larger device, go to www.aclib.us/LibbyApp for the browser option.
Most Popular Patron Read 
Our patrons read a large variety of titles, but we had one book come out on top with a single additional reader! 
Image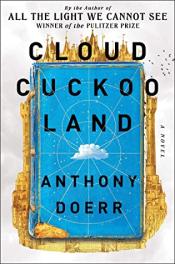 Cloud Cuckoo Land by Anthony Doerr
When everything is lost, it's our stories that survive.

How do we weather the end of things? Cloud Cuckoo Land brings together an unforgettable cast of dreamers and outsiders from past, present, and future to offer a vision of survival against all odds.

Constantinople, 1453: An orphaned seamstress and a cursed boy with a love for animals risk everything on opposite sides of a city wall to protect the people they love.

Idaho, 2020: An impoverished, idealistic kid seeks revenge on a world that's crumbling around him. Can he go through with it when a gentle old man stands between him and his plans?

Unknown, Sometime in the Future: With her tiny community in peril, Konstance is the last hope for the human race. To find a way forward, she must look to the oldest stories of all for guidance.

Bound together by a single ancient text, these tales interweave to form a tapestry of solace and resilience and a celebration of storytelling itself. Like its predecessor All the Light We Cannot See, Anthony Doerr's new novel is a tale of hope and profound human connection.
Most Popular Genre 
Our patrons have enjoyed a variety of genres, but mystery/thriller titles top the list once again! 
Historical Fiction came as a close second. 
Share Your Weekend Reads! 
Share what you are reading on our Facebook page! Don't see the book you read in our collection? Suggest materials to add to our collection. 
Week Five

Fiction

Bildungsroman

Image

Regan G. read Tomorrow, and Tomorrow, and Tomorrow by Gabrielle Zevin

On a bitter-cold day, in the December of his junior year at Harvard, Sam Masur exits a subway car and sees, amid the hordes of people waiting on the platform, Sadie Green. He calls her name. For a moment, she pretends she hasn't heard him, but then, she turns, and a game begins: a legendary collaboration that will launch them to stardom. These friends, intimates since childhood, borrow money, beg favors, and, before even graduating college, they have created their first blockbuster, Ichigo. Overnight, the world is theirs. Not even twenty-five years old, Sam and Sadie are brilliant, successful, and rich, but these qualities won't protect them from their own creative ambitions or the betrayals of their hearts.

Spanning thirty years, from Cambridge, Massachusetts, to Venice Beach, California, and lands in between and far beyond, Gabrielle Zevin's Tomorrow, and Tomorrow, and Tomorrow is a dazzling and intricately imagined novel that examines the multifarious nature of identity, disability, failure, the redemptive possibilities in play, and above all, our need to connect: to be loved and to love. Yes, it is a love story, but it is not one you have read before.

 

Domestic Fiction 

Image

Katie M. and Debbie L. read Mad Honey: A Novel by Jodi Picoult

Olivia McAfee knows what it feels like to start over. Her picture-perfect life—living in Boston, married to a brilliant cardiothoracic surgeon, and raising a beautiful son, Asher—was upended when her husband revealed a darker side. She never imagined she would end up back in her sleepy New Hampshire hometown, living in the house she grew up in, and taking over her father's beekeeping business.

Lily Campanello is familiar with do-overs, too. When she and her mom relocate to Adams, New Hampshire, for her final year of high school, they both hope it will be a fresh start.

And for just a short while, these new beginnings are exactly what Olivia and Lily need. Their paths cross when Asher falls for the new girl in school, and Lily can't help but fall for him, too. With Ash, she feels happy for the first time. Yet at times, she wonders if she can trust him completely...

Then one day, Olivia receives a phone call: Lily is dead, and Asher is being questioned by the police. Olivia is adamant that her son is innocent. But she would be lying if she didn't acknowledge the flashes of his father's temper in him, and as the case against him unfolds, she realizes he's hidden more than he's shared with her.

Mad Honey is a riveting novel of suspense, an unforgettable love story, and a moving and powerful exploration of the secrets we keep and the risks we take in order to become ourselves.

Image

Abby H. read The Bad Immigrant by Sefi Atta

An account of an immigrant family's struggle and the lessons learned about diversity.

Writing at the height of her powers, The Bad Immigrant cements Sefi Atta's place as one of the best storytellers of our time. Through the voice of her first male protagonist, Lukmon, Atta peels away nuanced layers to expose the realities of migration from Nigeria to the USA, such as the strains of adjustment and the stifling pressure to conform without loss of identity.

Covering a wide range of issues, including interracial and intra-racial tensions, and familial strains exacerbated in a new geographic and cultural environment, this novel is a thoroughgoing exposition of the many challenges that confront a modern migrant, told from the perspective of a protagonist whose sophistication and educational prowess is no guarantee of success in a country that is prone to valuing conformity over merit. Atta grounds Lukmon's narrative in a wide array of cultural and literary allusions that testify to the author's wit and sophisticated management of complicated matters in a manner at once erudite and accessible.

In The Bad Immigrant, Atta deftly drives the narrative forward with a repartee that forges deep intimacy with the characters and engenders sympathy for all of them, even those we find infuriating.

Image

Gail B. read Anything is Possible by Elizabeth Strout 

Short story collection Anything Is Possible explores the whole range of human emotion through the intimate dramas of people struggling to understand themselves and others.

Here are two sisters: one trades self-respect for a wealthy husband while the other finds in the pages of a book a kindred spirit who changes her life. The janitor at the local school has his faith tested in an encounter with an isolated man he has come to help; a grown daughter longs for her mother's love even as she comes to accept her mother's happiness in a foreign country; and the adult Lucy Barton (the heroine of My Name Is Lucy Barton) returns to visit her siblings after seventeen years of absence.

 

 

Dystopian Fiction

Image

Kristin P. read The Light Pirate by Lily Brooks-Dalton

Florida is slipping away. As devastating weather patterns and rising sea levels gradually wreak havoc on the state's infrastructure, a powerful hurricane approaches a small town on the southeastern coast. Kirby Lowe, an electrical line worker; his pregnant wife, Frida; and their two sons, Flip and Lucas, prepare for the worst. When the boys go missing just before the hurricane hits, Kirby heads out into the high winds to search for them. Left alone, Frida goes into premature labor and gives birth to an unusual child, Wanda, whom she names after the catastrophic storm that ushers her into a society closer to collapse than ever before.

As Florida continues to unravel, Wanda grows. Moving from childhood to adulthood, adapting not only to the changing landscape, but also to the people who stayed behind in a place abandoned by civilization, Wanda loses family, gains community, and ultimately, seeks adventure, love, and purpose in a place remade by nature.

Told in four parts—power, water, light, and time—The Light Pirate mirrors the rhythms of the elements and the sometimes quick, sometimes slow dissolution of the world as we know it. It is a meditation on the changes we would rather not see, the future we would rather not greet, and a call back to the beauty and violence of an untamable wilderness.

 

Fantasy 

Image

Lucian R. read Tress of the Emerald Sea by Brandon Sanderson 

#1 New York Times bestselling author Brandon Sanderson expands his Cosmere universe shared by The Stormlight Archive and Mistborn with a new standalone novel for everyone who loved The Princess Bride.

The only life Tress has known on her island home in an emerald-green ocean has been a simple one, with the simple pleasures of collecting cups brought by sailors from faraway lands and listening to stories told by her friend Charlie. But when his father takes him on a voyage to find a bride and disaster strikes, Tress must stow away on a ship and seek the Sorceress of the deadly Midnight Sea. Amid the spore oceans where pirates abound, can Tress leave her simple life behind and make her own place sailing a sea where a single drop of water can mean instant death?

 

 

Image

Kristy J. read Ever After by Kim Harrison 

The ever after, the demonic realm that parallels the human world, is shrinking. If it disappears completely, so does all magic. It's up to witch-turned-daywalking-demon Rachel Morgan to avert catastrophe and keep life from changing... for the worse.

While saving the world is important, it isn't Rachel's only motivation. There's also the small fact that she caused the ley line to rip in the first place, setting off a chain reaction of unfortunate events. That little mistake has made her life forfeit unless she can fix it. It's also made her more than a few enemies, including the most powerful demon in the ever after—a terrifying entity who eats souls and now has an insatiable appetite for her. He's already kidnapped her friend and goddaughter to lure her out, and if Rachel doesn't give herself up soon, they'll die.

But Rachel has more than a few impressive and frightening skills of her own, and she isn't going to hand over her soul and her life without one hell of a fight. She's also got a surprise: elven tycoon Trent Kalamack. With this unlikely ally beside her—a prospect both thrilling and unnerving—she's going to return to the ever after, kick some demon butt, rescue her loved ones... and prevent an apocalypse before it's too late. Or, at least that's the plan...

Image

Geoffrey C. read Jerusalem by Alan Moore 

Fierce in its imagining and stupefying in its scope, Jerusalem is the tale of everything, told from a vanished gutter.

In the epic novel Jerusalem, Alan Moore channels both the ecstatic visions of William Blake and the theoretical physics of Albert Einstein through the hardscrabble streets and alleys of his hometown of Northampton, UK. In the half a square mile of decay and demolition that was England's Saxon capital, eternity is loitering between the firetrap housing projects. Embedded in the grubby amber of the district's narrative among its saints, kings, prostitutes, and derelicts, a different kind of human time is happening, a soiled simultaneity that does not differentiate between the petrol-colored puddles and the fractured dreams of those who navigate them.

Employing, a kaleidoscope of literary forms and styles that ranges from brutal social realism to extravagant children's fantasy, from the modern stage drama to the extremes of science fiction, Jerusalem's dizzyingly rich cast of characters includes the living, the dead, the celestial, and the infernal in an intricately woven tapestry that presents a vision of an absolute and timeless human reality in all of its exquisite, comical, and heartbreaking splendor. In these pages lurk demons from the second-century Book of Tobit and angels with golden blood who reduce fate to a snooker tournament. Vagrants, prostitutes, and ghosts rub shoulders with Oliver Cromwell, Samuel Beckett, James Joyce's tragic daughter Lucia, and Buffalo Bill, among many others. There is a conversation in the thunderstruck dome of St. Paul's Cathedral, childbirth on the cobblestones of Lambeth Walk, an estranged couple sitting all night on the cold steps of a Gothic church front, and an infant choking on a cough drop for eleven chapters. An art exhibition is in preparation, and above the world a naked old man and a beautiful dead baby race along the Attics of the Breath toward the heat death of the universe.

An opulent mythology for those without a pot to pee in, through the labyrinthine streets and pages of Jerusalem tread ghosts that sing of wealth, poverty, and our threadbare millennium. They discuss English as a visionary language from John Bunyan to James Joyce, hold forth on the illusion of mortality post-Einstein, and insist upon the meanest slum as Blake's eternal holy city.

Image

Jennifer K. read Fairy Tale by Stephen King 

Charlie Reade looks like a regular high school kid, great at baseball and football, a decent student. But he carries a heavy load. His mom was killed in a hit-and-run accident when he was ten, and grief drove his dad to drink. Charlie learned how to take care of himself—and his dad. Then, when Charlie is seventeen, he meets Howard Bowditch, a recluse with a big dog in a big house at the top of a big hill. In the backyard is a locked shed from which strange sounds emerge, as if some creature is trying to escape. When Mr. Bowditch dies, he leaves Charlie the house, a massive amount of gold, a cassette tape telling a story that is impossible to believe, and a responsibility far too massive for a boy to shoulder.

Because within the shed is a portal to another world—one whose denizens are in peril and whose monstrous leaders may destroy their own world, and ours. In this parallel universe, where two moons race across the sky, and the grand towers of a sprawling palace pierce the clouds, there are exiled princesses and princes who suffer horrific punishments; there are dungeons; there are games in which men and women must fight each other to the death for the amusement of the "Fair One." And there is a magic sundial that can turn back time.

A story as old as myth, and as startling and iconic as the rest of King's work, Fairy Tale is about an ordinary guy forced into the hero's role by circumstance, and it is both spectacularly suspenseful and satisfying.

Image

Mike S. read The Fifth Season by N. K. Jemisin 

This is the way the world ends. Again.

Three terrible things happen in a single day. Essun, a woman living an ordinary life in a small town, comes home to find that her husband has brutally murdered their son and kidnapped their daughter. Meanwhile, mighty Sanze—the world-spanning empire whose innovations have been civilization's bedrock for a thousand years—collapses as most of its citizens are murdered to serve a madman's vengeance. And worst of all, across the heart of the vast continent known as the Stillness, a great red rift has been torn into the heart of the earth, spewing ash enough to darken the sky for years. Or centuries.

Now Essun must pursue the wreckage of her family through a deadly, dying land. Without sunlight, clean water, or arable land, and with limited stockpiles of supplies, there will be war all across the Stillness: a battle royale of nations not for power or territory, but simply for the basic resources necessary to get through the long dark night. Essun does not care if the world falls apart around her. She'll break it herself, if she must, to save her daughter.

Image

Mari E. read Wintersong by S. Jae-Jones

Dark, romantic, and unforgettable, Wintersong is an enchanting coming-of-age story for fans of Labyrinth and The Cruel Prince.

The last night of the year. Now the days of winter begin and the Goblin King rides abroad, searching for his bride…

All her life, Liesl has heard tales of the beautiful, dangerous Goblin King. They've enraptured her mind, and her spirit, and inspired her musical compositions. Now eighteen and helping to run her family's inn, Liesl can't help but feel that her musical dreams and childhood fantasies are slipping away.

But when her own sister is taken by the Goblin King, Liesl has no choice but to journey to the Underground to save her. Drawn to the strange, captivating world she finds—and the mysterious man who rules it—she soon faces an impossible decision. And with time and the old laws working against her, Liesl must discover who she truly is before her fate is sealed.

Rich with music and magic, S. Jae-Jones's Wintersong will sweep you away into a world you won't soon forget.

 

Historical Fiction 

Image

Jala H. read The Wedding Dress Sewing Circle by Jennifer Ryan

After renowned fashion designer Cressida Westcott loses both her home and her design house in the London Blitz, she has nowhere to go but the family manor house she fled decades ago. Praying that her niece and nephew will be more hospitable than her brother had been, she arrives with nothing but the clothes she stands in, at a loss as to how to rebuild her business while staying in a quaint country village.

Her niece, Violet Westcott, is thrilled that her famous aunt is coming to stay—the village has been interminably dull with all the men off fighting. But just as Cressida arrives, so does Violet's conscription letter. It couldn't have come at a worse time; how will she ever find a suitably aristocratic husband if she has to spend her days wearing a frumpy uniform and doing war work?

Meanwhile, the local vicar's daughter, Grace Carlisle, is trying in vain to repair her mother's gown, her only chance of a white wedding. When Cressida Westcott appears at the local Sewing Circle meeting, Grace asks for her help—but Cressida has much more to teach the ladies than just simple sewing skills.

Before long, Cressida's spirit and ambition galvanize the village group into action, and they find themselves mending wedding dresses not only for local brides but for brides across the country. And as the women dedicate themselves to helping others celebrate love, they might even manage to find it for themselves.

Image

Sandy H. read The Moonshiner's Daughter by Donna Everhart 

Generations of Sassers have made moonshine in the Brushy Mountains of Wilkes County, North Carolina. Their history is recorded in a leather-bound journal that belongs to Jessie Sasser's daddy, but Jessie wants no part of it. As far as she's concerned, moonshine caused her mother's death a dozen years ago.

Her father refuses to speak about her mama, or about the day she died. But Jessie has a gnawing hunger for the truth--one that compels her to seek comfort in food. Yet all her self-destructive behavior seems to do is feed what her school's gruff but compassionate nurse describes as the "monster" inside Jessie.

Resenting her father's insistence that moonshining runs in her veins, Jessie makes a plan to destroy the stills, using their neighbors as scapegoats. Instead, her scheme escalates an old rivalry and reveals long-held grudges. As she endeavors to right wrongs old and new, Jessie's loyalties will bring her to unexpected revelations about her family, her strengths--and a legacy that may provide her with the answers she has been longing for.

Image

Sandy H. read The Giver of Stars by Jojo Moyes 

Alice Wright marries handsome American Bennett Van Cleve hoping to escape her stifling life in England. But small-town Kentucky quickly proves equally claustrophobic, especially living alongside her overbearing father-in-law. So when a call goes out for a team of women to deliver books as part of Eleanor Roosevelt's new traveling library, Alice signs on enthusiastically.

The leader, and soon Alice's greatest ally, is Margery, a smart-talking, self-sufficient woman who's never asked a man's permission for anything. They will be joined by three other singular women who become known as the Packhorse Librarians of Kentucky.

What happens to them–and to the men they love–becomes an unforgettable drama of loyalty, justice, humanity, and passion. These heroic women refuse to be cowed by men or by convention. And though they face all kinds of dangers in a landscape that is at times breathtakingly beautiful, at others brutal, they're committed to their job: bringing books to people who have never had any, arming them with facts that will change their lives.

Based on a true story rooted in America's past, The Giver of Stars is unparalleled in its scope and epic in its storytelling. Funny, heartbreaking, and enthralling, it is destined to become a modern classic–a richly rewarding novel of women's friendship, of true love, and of what happens when we reach beyond our grasp for the great beyond.

Image

Connie M. read Horse by Geraldine Brooks

Kentucky, 1850. An enslaved groom named Jarret and a bay foal forge a bond of understanding that will carry the horse to record-setting victories across the South. When the nation erupts into civil war, an itinerant young artist who has made his name on paintings of the racehorse takes up arms for the Union. On a perilous night, he reunites with the stallion and his groom, very far from the glamor of any racetrack.

New York City, 1954. Martha Jackson, a gallery owner celebrated for taking risks on edgy contemporary painters, becomes obsessed with a nineteenth-century equestrian oil painting of mysterious provenance.

Washington, DC, 2019. Jess, a Smithsonian scientist from Australia, and Theo, a Nigerian-American art historian, find themselves unexpectedly connected through their shared interest in the horse--one studying the stallion's bones for clues to his power and endurance, the other uncovering the lost history of the unsung Black horsemen who were critical to his racing success.

Based on the remarkable true story of the record-breaking thoroughbred Lexington, Horse is a novel of art and science, love and obsession, and our unfinished reckoning with racism.

Image

Mary-Anne P. read The Love Songs of W.E.B. Du Bois by Honorée Fanonne Jeffers

The great scholar W. E. B. Du Bois once wrote about the Problem of race in America, and what he called "Double Consciousness," a sensitivity that every African American possesses in order to survive. Since childhood, Ailey Pearl Garfield has understood Du Bois's words all too well. Bearing the names of two formidable Black Americans—the revered choreographer Alvin Ailey and her great-grandmother Pearl, the descendant of enslaved Georgians and tenant farmers—Ailey carries Du Bois's Problem on her shoulders.

Ailey is reared in the north of the City but spends summers in the small Georgia town of Chicasetta, where her mother's family has lived since their ancestors arrived from Africa in bondage. From an early age, Ailey fights a battle for belonging that's made all the more difficult by a hovering trauma, as well as the whispers of women—her mother, Belle, her sister, Lydia, and a maternal line reaching back two centuries—that urge Ailey to succeed in their stead.

To come to terms with her own identity, Ailey embarks on a journey through her family's past, uncovering the shocking tales of generations of ancestors—Indigenous, Black, and white—in the deep South. In doing so Ailey must learn to embrace her full heritage, a legacy of oppression and resistance, bondage and independence, cruelty, and resilience that is the story—and the song—of America itself.

Image

Regan G. read Demon Copperhead by Barbara Kingsolver

Set in the mountains of southern Appalachia, this is the story of a boy born to a teenaged single mother in a single-wide trailer, with no assets beyond his dead father's good looks and copper-colored hair, a caustic wit, and a fierce talent for survival. In a plot that never pauses for breath, relayed in his own unsparing voice, he braves the modern perils of foster care, child labor, derelict schools, athletic success, addiction, disastrous loves, and crushing losses. Through all of it, he reckons with his own invisibility in a popular culture where even the superheroes have abandoned rural people in favor of cities.

Many generations ago, Charles Dickens wrote David Copperfield from his experience as a survivor of institutional poverty and its damages to children in his society. Those problems have yet to be solved in ours. Dickens is not a prerequisite for readers of this novel, but he provided its inspiration. In transposing a Victorian epic novel to the contemporary American South, Barbara Kingsolver enlists Dickens' anger and compassion, and above all, his faith in the transformative powers of a good story. Demon Copperhead speaks for a new generation of lost boys, and all those born into beautiful, cursed places they can't imagine leaving behind.

Image

Joanne T. read The Girl in his Shadow by Audrey Blake 

Raised by the eccentric surgeon Dr. Horace Croft after losing her parents to a deadly pandemic, the orphan Nora Beady knows little about conventional life. While other young ladies were raised to busy themselves with needlework and watercolors, Nora was trained to perfect her suturing and anatomical illustrations of dissections.

Women face dire consequences if caught practicing medicine, but in Croft's private clinic, Nora is his most trusted—and secret—assistant. That is until the new surgical resident Dr. Daniel Gibson arrives. Dr. Gibson has no idea that Horace's bright and quiet young ward is a surgeon more qualified and ingenuitive than even himself. In order to protect Dr. Croft and his practice from scandal and collapse Nora must learn to play a new and uncomfortable role—that of a proper young lady.

But pretense has its limits. Nora cannot turn away and ignore the suffering of patients even if it means giving Gibson the power to ruin everything she's worked for. And when she makes a discovery that could change the field forever, Nora faces an impossible choice. Remain invisible and let the men around her take credit for her work, or let the world see her for what she is—even if it means being destroyed by her own legacy.

Image

Rebekah S. read The Last Bookshop in London: A Novel of World War II by Madeline Martin

August 1939: London is dismal under the weight of impending war with Germany as Hitler's forces continue to sweep across Europe. Into this uncertain maelstrom steps Grace Bennett, young and ready for a fresh start in the bustling city streets she's always dreamed of—and miles away from her troubled past in the countryside.

With aspirations of working at a department store, Grace never imagined she'd wind up employed at Primrose Hill, an offbeat bookshop nestled in the heart of the city—after all, she's never been much of a reader. Overwhelmed with organizing the cluttered store, she doesn't have time to read the books she sells. But when one is gifted to her, what starts as an obligation becomes a passion that draws her into the incredible world of literature.

As the Blitz rains down bombs on the city night after night, a devastating attack leaves the libraries and shops of London's literary center in ruins. Miraculously, Grace's bookshop survives the firestorm. Through blackouts and air raids, Grace continues running the shop, discovering a newfound comfort in the power of words and storytelling that unites her community in ways she never imagined—a force that triumphs over even the darkest nights of war-torn London.

Image

Julie B. read The Many Daughters of Afong Moy by Jamie Ford

As Washington's former poet laureate, that's how she describes channeling her dissociative episodes and mental health struggles into her art. But when her five-year-old daughter exhibits similar behavior and begins remembering things from the lives of their ancestors, Dorothy believes the past has truly come to haunt her. Fearing that her child is predestined to endure the same debilitating depression that has marked her own life, Dorothy seeks radical help.

Through an experimental treatment designed to mitigate inherited trauma, Dorothy intimately connects with past generations of women in her family: Faye Moy, a nurse in China serving with the Flying Tigers; Zoe Moy, a student in England at a famous school with no rules; Lai King Moy, a girl quarantined in San Francisco during a plague epidemic; Greta Moy, a tech executive with a unique dating app; and Afong Moy, the first Chinese woman to set foot in America.

As painful recollections affect her present life, Dorothy discovers that trauma isn't the only thing she's inherited. A stranger is searching for her in each time period. A stranger who's loved her through all of her genetic memories. Dorothy endeavors to break the cycle of pain and abandonment, to finally find peace for her daughter, and gain the love that has long been waiting, knowing she may pay the ultimate price.

Image

Lisa B. read Last Night at the Telegraph Club by Malinda Lo

"That book. It was about two women, and they fell in love with each other." And then Lily asked the question that had taken root in her, that was even now unfurling its leaves and demanding to be shown the sun: "Have you ever heard of such a thing?"

Seventeen-year-old Lily Hu can't remember exactly when the question took root, but the answer was in full bloom the moment she and Kathleen Miller walked under the flashing neon sign of a lesbian bar called the Telegraph Club.

America in 1954 is not a safe place for two girls to fall in love, especially not in Chinatown. Red-Scare paranoia threatens everyone, including Chinese Americans like Lily. With deportation looming over her father—despite his hard-won citizenship—Lily and Kath risk everything to let their love see the light of day.
 

Image

Ec B. read The Passenger by Cormac McCarthy

1980, PASS CHRISTIAN, MISSISSIPPI: It is three in the morning when Bobby Western zips the jacket of his wetsuit and plunges from the boat deck into darkness. His dive light illuminates the sunken jet, nine bodies still buckled in their seats, hair floating, eyes devoid of speculation. Missing from the crash site are the pilot's flight bag, the plane's black box, and the tenth passenger. But how? A collateral witness to machinations that can only bring him harm, Western is shadowed in body and spirit—by men with badges; by the ghost of his father, inventor of the bomb that melted glass and flesh in Hiroshima; and by his sister, the love and ruin of his soul.

Traversing the American South, from the garrulous bar rooms of New Orleans to an abandoned oil rig off the Florida coast, The Passenger is a breathtaking novel of morality and science, the legacy of sin, and the madness that is human consciousness.

 

Image

Pebbles E. read The Long View by Elizabeth Jane Howard 

Journeying backward in time—from 1950 to 1926—this masterpiece of women's literary fiction presents an indelible portrait of a marriage.

Moving backward in time from the '50s to the '20s, The Long View presents a revealing portrait of a marriage—that of Antonia and Conrad Fleming. Told through Antonia's eyes, it is a gut-wrenching and extraordinary look at marriage—both from the outside in and from present to past.


 

 

 

Image

Lesley L. read An Impossible Impostor by Deanna Raybourn

London, 1889. Veronica Speedwell and her natural historian beau Stoker are summoned by Sir Hugo Montgomerie, head of Special Branch. He has a personal request on behalf of his goddaughter, Euphemia Hathaway. After years of traveling the world, her eldest brother, Jonathan, heir to Hathaway Hall, was believed to have been killed in the catastrophic eruption of Krakatoa a few years before.

But now a man matching Jonathan's description and carrying his possessions has arrived at Hathaway Hall with no memory of his identity or where he has been. Could this man truly be Jonathan, back from the dead? Or is he a devious impostor, determined to gain ownership over the family's most valuable possessions—a legendary parure of priceless Rajasthani jewels? It's a delicate situation, and Veronica is Sir Hugo's only hope.

Veronica and Stoker agree to go to Hathaway Hall to covertly investigate the mysterious amnesiac. Veronica is soon shocked to find herself face-to-face with a ghost from her past. To help Sir Hugo discover the truth, she must open doors to her own history that she long believed to be shut for good.

Image

Linda C. read Recitatif by Toni Morrison 

A beautiful, arresting short story by Toni Morrison—the only one she ever wrote—about race and the relationships that shape us through life, with an introduction by Zadie Smith.

Twyla and Roberta have known each other since they were eight years old and spent four months together as roommates in the St. Bonaventure shelter. Inseparable at the time, they lose touch as they grow older, only to find each other later at a diner, then at a grocery store, and again at a protest. Seemingly at opposite ends of every problem, and in disagreement each time they meet, the two women still cannot deny the deep bond their shared experience has forged between them.

Written in 1980 and anthologized in a number of collections, this is the first time Recitatif is being published as a stand-alone hardcover. In the story, Twyla's and Roberta's races remain ambiguous. We know that one is white and one is black, but which is which? And who is right about the race of the woman the girls tormented at the orphanage?

Morrison herself described this story as "an experiment in the removal of all racial codes from a narrative about two characters of different races for whom racial identity is crucial." Recitatif is a remarkable look into what keeps us together and what keeps us apart, and about how perceptions are made tangible by reality.

Image

Lee Ann J. read Orphan #8 by Kim van Alkemade 

In this stunning new historical novel inspired by true events, Kim van Alkemade tells the fascinating story of a woman who must choose between revenge and mercy when she encounters the doctor who subjected her to dangerous medical experiments in a New York City Jewish orphanage years before.

In 1919, Rachel Rabinowitz is a vivacious four-year-old living with her family in a crowded tenement on New York City's Lower Eastside. When tragedy strikes, Rachel is separated from her brother Sam and sent to a Jewish orphanage where Dr. Mildred Solomon is conducting medical research. Subjected to X-ray treatments that leave her disfigured, Rachel suffers years of cruel harassment from the other orphans. But when she turns fifteen, she runs away to Colorado hoping to find the brother she lost, and discovers a family she never knew she had.

Though Rachel believes she's shut out her painful childhood memories, years later she is confronted with her dark past when she becomes a nurse at Manhattan's Old Hebrews Home and her patient is none other than the elderly, cancer-stricken Dr. Solomon. Rachel becomes obsessed with making Dr. Solomon acknowledge, and pay for, her wrongdoing. But each passing hour Rachel spends with the old doctor reveal to Rachel the complexities of her own nature. She realizes that a person's fate—to be one who inflicts harm or one who heals—is not always set in stone.

Lush in historical detail, rich in atmosphere, and based on true events, Orphan #8 is a powerful, affecting novel of the unexpected choices we are compelled to make that can shape our destinies.

Image

Rachel C. read Things in Jars by Jess Kidd

Bridie Devine, female detective extraordinaire, is confronted with the most baffling puzzle yet: the kidnapping of Christabel Berwick, the secret daughter of Sir Edmund Athelstan Berwick, and a peculiar child whose reputed supernatural powers have captured the unwanted attention of collectors trading curiosities in this age of discovery.

Winding her way through the labyrinthine, sooty streets of Victorian London, Bridie won't rest until she finds the young girl, even if it means unearthing a past that she'd rather keep buried. Luckily, her search is aided by an enchanting cast of characters, including a seven-foot-tall housemaid; a melancholic, tattoo-covered ghost; and an avuncular apothecary. But secrets abound in this foggy underworld where spectacle is king and nothing is quite what it seems.

Blending darkness and light, history and folklore, Things in Jars is a spellbinding Gothic mystery that collapses the boundary between fact and fairy tale to stunning effect and explores what it means to be human in inhumane times.

Image

Jennifer O. read The Rose Code by Kate Quinn

1940. As England prepares to fight the Nazis, three very different women answer the call to the mysterious country estate Bletchley Park, where the best minds in Britain train to break German military codes. Vivacious debutante Osla is the girl who has everything—beauty, wealth, and the dashing Prince Philip of Greece sending her roses—but she burns to prove herself as more than a society girl, and puts her fluent German to use as a translator of decoded enemy secrets. Imperious self-made Mab, a product of East-End London poverty, works the legendary code-breaking machines as she conceals old wounds and looks for a socially advantageous husband. Both Osla and Mab are quick to see the potential in local village spinster Beth, whose shyness conceals a brilliant facility with puzzles, and soon Beth spreads her wings as one of the Park's few female cryptanalysts. But war, loss, and the impossible pressure of secrecy will tear the three apart.

1947. As the royal wedding of Princess Elizabeth and Prince Philip whips post-war Britain into a fever, three friends-turned-enemies are reunited by a mysterious encrypted letter—the key to which lies buried in the long-ago betrayal that destroyed their friendship and left one of them confined to an asylum. A mysterious traitor has emerged from the shadows of their Bletchley Park past, and now Osla, Mab, and Beth must resurrect their old alliance and crack one last code together. But each petal they remove from the rose code brings danger—and their true enemy—closer...

 

Horror

Image

Jess E. read Horrorstör by Grady Hendrix 

Something strange is happening at the Orsk furniture superstore in Cleveland, Ohio. Every morning, employees arrive to find broken Kjerring bookshelves, shattered Glans water goblets and smashed Liripip wardrobes. Sales are down, security cameras reveal nothing, and store managers are panicking.

To unravel the mystery, three employees volunteer to work a nine-hour dusk-till-dawn shift. In the dead of the night, they'll patrol the empty showroom floor, investigate strange sights and sounds, and encounter horrors that defy the imagination.

A traditional haunted house story in a thoroughly contemporary setting, Horrorstör is designed to retain its luster and natural appearance for a lifetime of use. Pleasingly proportioned with generous French flaps and a softcover binding, Horrorstör delivers the psychological terror you need in the elegant package you deserve.

Image

Rose K. read Devil House by John Darnielle 

Gage Chandler is descended from kings. That's what his mother always told him.

Now, he is a true crime writer, with one grisly success—and movie adaptation—to his name, along with a series of subsequent lesser efforts that have paid the bills but not much more. But now he is being offered the chance for the big break: To move into the house—what the locals call "The Devil House"—in which a briefly notorious pair of murders occurred, apparently the work of disaffected 1980s teens. He begins his research with diligence and enthusiasm, but soon the story leads him into a puzzle he never expected—back into his own work and what it means, back to the very core of what he does and who he is.

 


 

Literary Fiction 

Image

Jess E. read Mangoes & Roosters: Stories and Tales of Haiti by Cynthia Bertelsen

Ever since colonial days, when France claimed it as her own, Haiti carried within it an aura of the unknown and the mysterious.

Once called the "Pearl of the Antilles," Haiti became for a time the largest sugar-producing region in the world, thanks to plantations populated by thousands of enslaved Africans, who rose up and defeated their French masters in a bloody revolution in 1804.

Rift with unrest ever since, Haiti continues to be an enigma, with its rich culture of art and literature and Vodun, yet forever misunderstood. Mangoes & Roosters, based on a few words found in the popular song, "Haiti Cherie," paints fictional portraits of key players in Haitian society and culture.


 

 

Image

Kyra K. read Cloud Cuckoo Land by Anthony Doerr

When everything is lost, it's our stories that survive.

How do we weather the end of things? Cloud Cuckoo Land brings together an unforgettable cast of dreamers and outsiders from the past, present, and future to offer a vision of survival against all odds.

Constantinople, 1453:
An orphaned seamstress and a cursed boy with a love for animals risk everything on opposite sides of a city wall to protect the people they love.

Idaho, 2020:
An impoverished, idealistic kid seeks revenge on a world that's crumbling around him. Can he go through with it when a gentle old man stands between him and his plans?

Unknown, Sometime in the Future:
With her tiny community in peril, Konstance is the last hope for the human race. To find a way forward, she must look to the oldest stories of all for guidance.

Bound together by a single ancient text, these tales interweave to form a tapestry of solace and resilience and a celebration of storytelling itself. Like its predecessor All the Light We Cannot See, Anthony Doerr's new novel is a tale of hope and profound human connection.

Image

Tara D. read Transcendent Kingdom by Yaa Gyasi

Yaa Gyasi's stunning follow-up to her acclaimed national bestseller Homegoing is a powerful, raw, intimate, deeply layered novel about a Ghanaian family in Alabama.

Gifty is a fifth-year candidate in neuroscience at Stanford School of Medicine studying reward-seeking behavior in mice and the neural circuits of depression and addiction. Her brother, Nana, was a gifted high school athlete who died of a heroin overdose after a knee injury left him hooked on OxyContin. Her suicidal mother is living in her bed. Gifty is determined to discover the scientific basis for the suffering she sees all around her.

But even as she turns to the hard sciences to unlock the mystery of her family's loss, she finds herself hungering for her childhood faith and grappling with the evangelical church in which she was raised, whose promise of salvation remains as tantalizing as it is elusive. Transcendent Kingdom is a deeply moving portrait of a family of Ghanaian immigrants ravaged by depression and addiction and grief--a novel about faith, science, religion, and love. Exquisitely written and emotionally searing, this is an exceptionally powerful follow-up to Gyasi's phenomenal debut.

 

Mystery/Thriller

Image

Princess Ava M. read Feel the Bern by Andrew Shaffer 

Fall is bursting out all over Vermont, and while the rest of the Congress enjoys its recess, Senator Bernie Sanders has returned to his beloved home state for a weekend of events in Eagle Creek, "America's #1 Leaf Peeping Destination." It's up to intern and Eagle Creek native Crash Robertson to keep the senator on schedule—and out of trouble.

Crash's hopes for a quiet homecoming are dashed, however, when the lifeless body of a community banker with ties to "Big Maple" is found in Lake Champlain. While the sheriff's department closes the case as an accident, a leaked autopsy indicates foul play…with a trail of syrup leading directly to one of the senator's oldest friends. Bernie, taking a page from the cozy mysteries he's addicted to, enlists Crash in a quest to uncover the killer's true identity.

If Crash allows the senator to go too far off-script, it will be the end of her yet-to-begin political career. But as the suspect list grows to include a tech bro set on "disrupting" the maple syrup industry, struggling small-business owners, and even Crash's own family, she realizes there's more on the line than her own future. If the unlikely duo can't solve the mystery of the Maple Murderer before they strike again, Bernie's life-long fight for justice may come to an unplanned end.

Image

Pam F. read Half of Paradise by James Lee Burke 

Discover James Lee Burke's debut novel—before the creation of his now-famous Cajun detective Dave Robicheaux—as he follows the lives of three very different young Louisiana men, each of whom finds himself in desperate circumstances.

Toussaint Boudreaux, a black longshoreman in New Orleans, tolerates his co-workers' racism because he has to, and moonlights as a heavyweight boxer. J.P. Winfield, with his gift for twelve-string guitar, finds his break into showbiz, which ultimately leads to the flipside of the American dream. Avery Broussard, a descendant of once-prosperous landowners, has a weakness for alcohol and succumbs to his demons when what remains of his land is repossessed...

The intertwining stories of these three men are a testament to the realities of life in 1950s Louisiana, their destinies seemingly fixed by fate. Yet each hopes for redemption...
 

Image

Katie G. read Treachery in Death by J.D. Robb 

Eve Dallas and her partner, Peabody, are following up on a brutal, senseless crime — an elderly grocery owner killed by three stoned punks for nothing more than kicks and snacks. And for the first time, Peabody is the primary detective on the case, which means she has to get used to a new level of authority and responsibility. Good thing she learned the ropes from a master like Eve.

But after rounding up the perps, Peabody stumbles upon a much trickier situation. Determined to start working out as hard as she grills suspects, she chooses to do it at the old, rarely-used gym at Central. After a grueling workout, she squeezes into one of the narrow shower stalls, happy to have the place to herself. Just after she shuts the water off, the gym door clatters open — and while she cringes inside the stall, trying not to make a sound, Peabody overhears two fellow officers, Garnet and Oberman, arguing. References are made to delivering product, and a house in the islands, and someone named Keener who's supposed to look like an OD. It doesn't take long for a naked and vulnerable Peabody to realize that both officers are crooked — guilty not just of corruption but of murder as well. Fortunately, the two clear out of the locker room without realizing there was a witness.

Eve Dallas may have trained Peabody well — but this is too dangerous for one person to take on alone. Now Peabody, Eve, and her husband, Roarke, must try to get the hard evidence they need to bring the dirty cops down — knowing all the while that the two have already killed to keep their secret, and are no doubt willing to do it again.

Image

Ellen L. read Naked in Death by J.D. Robb

Here is the novel that started it all—the first book in J.D. Robb's number-one New York Times-bestselling In Death series, featuring New York homicide detective Lieutenant Eve Dallas and Roarke.

It is the year 2058, and technology now completely rules the world. But New York City Detective Eve Dallas knows that the irresistible impulses of the human heart are still ruled by just one thing: passion.

When a senator's daughter is killed, the secret life of prostitution she'd been leading is revealed. The high-profile case takes Lieutenant Eve Dallas into the rarefied circles of Washington politics and society. Further complicating matters is Eve's growing attraction to Roarke, who is one of the wealthiest and most influential men on the planet, devilishly handsome... and the leading suspect in the investigation.

 

Image

Fran H. read Remarkably Bright Creatures by Shelby van Pelt 

After Tova Sullivan's husband died, she began working the night shift at the Sowell Bay Aquarium, mopping floors and tidying up. Keeping busy has always helped her cope, which she's been doing since her eighteen-year-old son, Erik, mysteriously vanished on a boat in Puget Sound over thirty years ago.

Tova becomes acquainted with curmudgeonly Marcellus, a giant Pacific octopus living at the aquarium. Marcellus knows more than anyone can imagine but wouldn't dream of lifting one of his eight arms for his human captors--until he forms a remarkable friendship with Tova.

Ever the detective, Marcellus deduces what happened the night Tova's son disappeared. And now Marcellus must use every trick his old invertebrate body can muster to unearth the truth for her before it's too late.

Shelby Van Pelt's debut novel is a gentle reminder that sometimes taking a hard look at the past can help uncover a future that once felt impossible.

Image

Debbie S. read Getaway Blues by William Murray

From The New Yorker writer whom The New York Times hailed as surpassing Dic Francis, here is a terrific new mystery novel featuring magician and horse player Shifty Lou Anderson, set during the winter meet in Santa Anita, and featuring the very rich, the very blonde, and the very crooked.

When Shifty Lou Anderson, magician, and gambler, takes a job as temporary chauffeur to Lucius Bedlington, an eccentric, aging millionaire and Gilbert and Sullivan fanatic, he becomes involved with racetrack intrigue, dark secrets, and a copycat sex killer.

 

 

 

Image

Aantaki R. read The Guest List by Lucy Foley

The bride ‧ The plus one ‧ The best man ‧ The wedding planner ‧ The bridesmaid ‧ The body

On an island off the coast of Ireland, guests gather to celebrate two people joining their lives together as one. The groom: handsome and charming, a rising television star. The bride: smart and ambitious, a magazine publisher. It's a wedding for a magazine, or for a celebrity: the designer dress, the remote location, the luxe party favors, the boutique whiskey. The cell phone service may be spotty and the waves may be rough, but every detail has been expertly planned and will be expertly executed.

But perfection is for plans, and people are all too human. As the champagne is popped and the festivities begin, resentments and petty jealousies begin to mingle with the reminiscences and well wishes. The groomsmen begin the drinking game from their school days. The bridesmaid not-so-accidentally ruins her dress. The bride's oldest (male) friend gives an uncomfortably caring toast.

And then someone turns up dead. Who didn't wish the happy couple well? And perhaps more important, why?

Image

Delight G. read The Widowmaker by Hannah Morrissey 

A wealthy family shrouded in scandal; a detective tasked with solving an impossible cold case; and a woman with a dark past collide in Hannah Morrissey's stunning new Black Harbor mystery, The Widowmaker.

Ever since business mogul Clive Reynolds disappeared twenty years ago, the name "Reynolds" has become synonymous with "murder" and "mystery." And now, lured by a cryptic note, down-on-her-luck photographer Morgan Mori returns home to Black Harbor and into the web of their family secrets and double lives. The same night she photographs the Reynolds holiday get-together, Morgan becomes witness to a homicide of a cop that triggers the discovery of a long-buried clue.

This could finally be the thing to crack open the chilling cold case, and Investigator Ryan Hudson has a chance to prove himself as lead detective. If only he could stop letting his need to solve his partner's recent murder distract him. But as Morgan exposes her own dark demons, could her sordid history be the key to unlocking more than one mystery?

Image

Vicki G. read What Happened to the Bennetts by Lisa Scottoline 

Your family has been attacked, never again to be the same.
Now you have to choose between law… and justice.

Jason Bennett is a suburban dad who owns a court-reporting business, but one night, his life takes a horrific turn. He is driving his family home after his daughter's lacrosse game when a pickup truck begins tailgating them, on a dark stretch of road. Suddenly two men jump from the pickup and pull guns on Jason, demanding the car. A horrific flash of violence changes his life forever.

Later that awful night, Jason and his family receive a visit from the FBI. The agents tell them that the carjackers were members of a dangerous drug-trafficking organization—and now Jason and his family are in their crosshairs. The agents advise the Bennetts to enter the witness protection program right away, and they have no choice but to agree. But WITSEC was designed to protect criminal informants, not law-abiding families. Taken from all they know, trapped in an unfamiliar life, the Bennetts begin to fall apart at the seams. Then Jason learns a shocking truth and realizes that he has to take matters into his own hands.

Sometimes justice is a one-man show.

Image

Stefanie H. read The Bandit Queens: A Novel by Parini Shroff 

Geeta's no-good husband disappeared five years ago. She didn't kill him, but everyone thinks she did--no matter how much she protests.
But she soon discovers that being known as a "self-made" widow has some surprising perks. No one messes with her, no one threatens her, and no one tries to control (ahem, marry) her. It's even been good for her business; no one wants to risk getting on her bad side by not buying her jewelry.

Freedom must look good on Geeta because other women in the village have started asking for her help to get rid of their own no-good husbands...but not all of them are asking nicely.

Now that Geeta's fearsome reputation has become a double-edged sword, she must decide how far to go to protect it, along with the life she's built. Because even the best-laid plans of would-be widows tend to go awry.
 

Image

Robin P. read Secluded Cabin Sleeps Six by Lisa Unger

Three couples rent a luxury cabin in the woods for a weekend getaway to die for in this chilling locked-room thriller by New York Times bestselling author Lisa Unger.

What could be more restful, more restorative, than a weekend getaway with family and friends? An isolated luxury cabin in the woods, complete with spectacular views, a hot tub, and a personal chef. Hannah's loving and generous tech-mogul brother found the listing online. The reviews are stellar. It's his birthday gift to Hannah and includes their spouses and another couple. The six friends need this trip with good food, good company, and lots of R & R, far from the chatter and pressures of modern life.

But the dreamy weekend is about to turn into a nightmare. A deadly storm is brewing. The rental host seems just a little too present. The personal chef reveals that their beautiful house has a spine-tingling history. And the friends have their own complicated past, with secrets that run blood-deep. How well does Hannah know her brother, her own husband? Can she trust her best friend? And who is the new boyfriend, crashing their party? Meanwhile, someone is determined to ruin the weekend, looking to exact a payback for deeds long buried. Who is the stranger among them?

Image

Mary Ann C. read Captive by Iris Johansen 

Jane MacGuire is enjoying a period of domestic bliss as she focuses on her art and her partner Seth Caleb uses his unique abilities as an agent for the MI6 intelligence service.  But when Seth crosses crime lord Hugh Bohdan, he incurs the wrath of one of the world's most powerful criminal empires…one whose tentacles reach across the globe and even to the idyllic Scottish retreat where Jane is working.  
 
Soon Jane is on the run, struggling to stay one step ahead of Bohdan's army and his devastating high-tech weaponry. Even with the assistance of Earl John MacDuff, she finds danger at every turn.  But with that peril comes an astonishing discovery: a 200-year-old secret on the brink of becoming lost to history.
 
Jane and Seth must join forces to unlock the fascinating puzzle, even as they hurtle toward a lethal final confrontation in the Highlands.  But before their adventure is over, Jane and Seth will encounter their biggest shock of all…and realize nothing can be the same for them ever again.

Image

JoAnn H. read Never Look Back by Alison Gaylin 

When website columnist Robin Diamond is contacted by true crime podcast producer Quentin Garrison, she assumes it's a business matter. It's not. Quentin's podcast, Closure, focuses on a series of murders in the 1970s, committed by teen couple April Cooper and Gabriel LeRoy. It seems that Quentin has reason to believe Robin's own mother may be intimately connected with the killings.

Robin thinks Quentin's claim is absolutely absurd. But is it? The more she researches the Cooper/LeRoy murders herself, the more disturbed she becomes by what she finds. Living just a few blocks from her, Robin's beloved parents are the one absolute she's always been able to rely upon, especially now amid rising doubts about her husband and frequent threats from internet trolls. She knows her mother better than anyone—or so she believes. But all that changes when, in an apparent home invasion, Robin's father is killed and her mother's life hangs in the balance.

Told through the eyes of Robin, podcaster Quentin, and a series of letters written by fifteen-year-old April Cooper at the time of the killings, Never Look Back asks the question: How well do we really know our parents, our partners—and ourselves?

Image

Diane M. read The Cabinet of Dr. Leng by Douglas Preston and Lincoln Child

AN INCREDIBLE JOURNEY

Astoundingly, Constance has found a way back to the place of her origins, New York City in the late 1800s, leaping at the chance, although it means leaving the present forever.

A DESPERATE OPPORTUNITY

Constance sets off on a quest to prevent the events that lead to the deaths of her sister and brother. But along the road to redemption, Manhattan's most infamous serial killer, Dr. Enoch Leng, lies in wait, ready to strike at the slightest provocation.

UNIMAGINABLE ODDS

Meanwhile, in contemporary New York, Pendergast feverishly searches for a way to reunite with Constance—but will he discover a way back to her before it's too late?

Image

Susan C. read A Fatal Grace by Louise Penny 

Welcome to winter in Three Pines, a picturesque village in Quebec, where the villagers are preparing for a traditional country Christmas, and someone is preparing for murder.

No one liked CC de Poitiers. Not her quiet husband, not her spineless lover, not her pathetic daughter—and certainly none of the residents of Three Pines. CC de Poitiers managed to alienate everyone, right up until the moment of her death.

When Chief Inspector Armand Gamache, of the Sûreté du Québec, is called to investigate, he quickly realizes he's dealing with someone quite extraordinary. CC de Poitiers was electrocuted in the middle of a frozen lake, in front of the entire village, as she watched the annual curling tournament. And yet no one saw anything. Who could have been insane enough to try such a macabre method of murder—or brilliant enough to succeed?

With his trademark compassion and courage, Gamache digs beneath the idyllic surface of village life to find the dangerous secrets long buried there. For a Quebec winter is not only staggeringly beautiful but deadly, and the people of Three Pines know better than to reveal too much of themselves. But other dangers are becoming clear to Gamache. As a bitter wind blows into the village, something even more chilling is coming for Gamache himself.

Image

Jacque B. read Desperation in Death by J.D. Robb 

New York, 2061: The place called the Pleasure Academy is a living nightmare where abducted girls are trapped, trained for a life of abject service while their souls are slowly but surely destroyed. Dorian, a thirteen-year-old runaway who'd been imprisoned there, might never have made it out if not for her fellow inmate Mina, who'd hatched the escape plan. Mina was the more daring of the two—but they'd been equally desperate.

Unfortunately, they didn't get away fast enough. Now Dorian is injured, terrified, and wandering the streets of New York, and Mina lies dead near the waterfront while Lt. Eve Dallas looks over the scene.

Mina's expensive, elegant clothes and beauty products convince Dallas that she was being groomed, literally and figuratively, for sex trafficking—and that whoever is investing in this high-overhead operation expects windfall profits. Her billionaire husband, Roarke, may be able to help, considering his ties to the city's ultra-rich. But Roarke is also worried about the effect this case is having on Dallas, as it brings a rage to the surface she can barely control. No matter what, she must keep her head clear--because above all, she is desperate for justice and to take down those who prey on and torment the innocent.

Image

Aileen Y. read Active Defense by Lynette Eason

As a former field surgeon in Afghanistan, Heather Fontaine is used to life-or-death situations. She just didn't expect them to follow her home. When she returns from a party to find that someone has broken into her house—and threatened her friends—she assumes it is the stalker who has been following her and creeping her out. She hopes to find safety and peace of mind by leaving the city and hiding out in a small town. But trouble has followed her even there.

Luckily, a stalker isn't the only one watching Heather. Travis Walker has been secretly watching out for her for weeks. As the owner of his own security agency, it's what he does. Together, Travis and Heather must figure out who wants her dead—and why—before it's too late.

Bestselling and award-winning author Lynette Eason will have you looking over your shoulder as you dive into this fast-paced, suspense-filled story about losing control and finding something even better.

 

Psychological Fiction 

Image

Sarah K. and Maureen K. read The Storied Life of A. J. Fikry by Gabrielle Zevin

On the faded Island Books sign hanging over the porch of the Victorian cottage is the motto "No Man Is an Island; Every Book Is a World." A. J. Fikry, the irascible owner, is about to discover just what that truly means.

A. J. Fikry's life is not at all what he expected it to be. His wife has died, his bookstore is experiencing the worst sales in its history, and now his prized possession, a rare collection of Poe poems, has been stolen. Slowly but surely, he is isolating himself from all the people of Alice Island—from Lambiase, the well-intentioned police officer who's always felt kindly toward Fikry; from Ismay, his sister-in-law who is hell-bent on saving him from his dreary self; from Amelia, the lovely and idealistic (if eccentric) Knightley Press sales rep who keeps on taking the ferry over to Alice Island, refusing to be deterred by A.J.'s bad attitude. Even the books in his store have stopped holding pleasure for him. These days A.J. can only see them as a sign of a world that is changing too rapidly.

And then a mysterious package appears at the bookstore. It's a small package, but large in weight. It's that unexpected arrival that gives A. J. Fikry the opportunity to make his life over, the ability to see everything anew. It doesn't take long for the locals to notice the change overcoming A.J.; or for that determined sales rep, Amelia, to see her curmudgeonly client in a new light; or for the wisdom of all those books to become again the lifeblood of A.J.'s world; or for everything to twist again into a version of his life that he didn't see coming. As surprising as it is moving, The Storied Life of A. J. Fikry is an unforgettable tale of transformation and second chances, an irresistible affirmation of why we read, and why we love.

 

Romance

Image

Holli B. read The Love Song of Miss Queenie Hennessy by Rachel Joyce

When Queenie Hennessy discovers that Harold Fry is walking the length of England to save her, and all she has to do is wait, she is shocked. Her note had explained she was dying. How can she wait?

A new volunteer at the hospice suggests that Queenie should write again; only this time she must tell Harold everything. In confessing to secrets she has hidden for twenty years, she will find atonement for the past. As the volunteer points out, 'Even though you've done your traveling, you're starting a new journey too.'

Queenie thought her first letter would be the end of the story. She was wrong. It was the beginning.

 

Image

Travis J. read Alien Lord's Captive by Mina Carter 

First contact isn't quite what she expected… Nor was losing her heart.

When Cat Moore's base is attacked by unknown aliens, she finds herself in the sights of their leader, Tarrick. An alien invasion means Earth is in danger and the women of Sentinel Five are the only line of defense…

But it's hard to remember what she's fighting against when her sexy alien lover has a thing about making sure her every need is met… and has some very inventive ways of doing so. Until she gives him a bad case of mating marks and all bets are off.

Exploration yields an unexpected bounty… and a chance at love.

Tarrick's duty to the Latharian Empire means little time for himself. Thanks to a genetic plague, the lathar have no females of their own, so a base full of human women is a bounty he can't ignore. Nor can he ignore the little human who defies him at every step.

Then a dangerous rival challenges the K'Vass claim on Terran space and all its women. Tarrick can't afford to let any of the earth women be captured, especially not his little human, Cat.

When she is taken from him, he'll do anything to rescue her. Up to and including starting an intergalactic war...

Image

Mariah H. read It Ends with Us by Colleen Hoover

Sometimes it is the one who loves you who hurts you the most.

Lily hasn't always had it easy, but that's never stopped her from working hard for the life she wants. She's come a long way from the small town in Maine where she grew up—she graduated from college, moved to Boston, and started her own business. So when she feels a spark with a gorgeous neurosurgeon named Ryle Kincaid, everything in Lily's life suddenly seems almost too good to be true.

Ryle is assertive, stubborn, and maybe even a little arrogant. He's also sensitive, brilliant, and has a total soft spot for Lily. And the way he looks in scrubs certainly doesn't hurt. Lily can't get him out of her head. But Ryle's complete aversion to relationships is disturbing. Even as Lily finds herself becoming the exception to his "no dating" rule, she can't help but wonder what made him that way in the first place.

As questions about her new relationship overwhelm her, so do thoughts of Atlas Corrigan—her first love and a link to the past she left behind. He was her kindred spirit, her protector. When Atlas suddenly reappears, everything Lily has built with Ryle is threatened.

Image

Tammy G. read It Starts with Us by Colleen Hoover

Lily and her ex-husband, Ryle, have just settled into a civil co-parenting rhythm when she suddenly bumps into her first love, Atlas, again. After nearly two years separated, she is elated that for once, time is on their side, and she immediately says yes when Atlas asks her on a date.

But her excitement is quickly hampered by the knowledge that, though they are no longer married, Ryle is still very much a part of her life—and Atlas Corrigan is the one man he will hate being in his ex-wife and daughter's life.

Switching between the perspectives of Lily and Atlas, It Starts with Us picks up right where the epilogue for the "gripping, pulse-pounding" (Sarah Pekkanen, author of Perfect Neighbors) bestselling phenomenon It Ends with Us left off. Revealing more about Atlas's past and following Lily as she embraces a second chance at true love while navigating a jealous ex-husband, it proves that "no one delivers an emotional read like Colleen Hoover" (Anna Todd, New York Times bestselling author).

Image

Candi C. read Under the Table by Stephanie Evanovich 

Suffocating in a dead-end marriage, Midwesterner Zoey Sullivan fled to New York and moved in with her little sister Ruth, a carefree, vivacious beauty with a string of eligible bachelors at her beck and call. Giving herself three months in the city to clear her head and find a direction, Zoey dodges calls from her ex, Derek, and distracts herself by cooking and catering a few private dinners and parties. Pursuing her passion for cooking was never an option when she was with Derek, and now Zoey relishes her independence.

When Zoey's meets reclusive millionaire Tristan Malloy, she's blown away by his kitchen—a marble and stainless steel temple worthy of the culinary gods—and charmed by his impeccable gentlemanly manners. But despite his firm body, handsome looks, and piles of cash, Tristan—a computer programmer—is shy and more than a little socially awkward. Zoey is sure that Tristan has all the right raw ingredients—and she's the right person to spice them up and turn him into a delectable dish.

But Zoey's unprepared for just how well her makeover works. Tristan turns out to be even sexier once he's gained a little confidence and the right wardrobe. Beneath the gorgeous package, Tristan is a great guy who deserves a woman who really appreciates him. Slowly but surely, Zoey realizes she may have found her perfect match—but does Tristan even know how her feelings have changed? Is that warm look in his eyes gratitude for the new and exciting world she's ushered him into, or something more? And what will happen when Zoey's ex comes to town, looking to win her back?

Image

Becky A. read All Your Perfects by Colleen Hoover 

Colleen Hoover delivers a tour de force novel about a troubled marriage and the one old forgotten promise that might be able to save it.

Quinn and Graham's perfect love is threatened by their imperfect marriage. The memories, mistakes, and secrets that they have built up over the years are now tearing them apart. The one thing that could save them might also be the very thing that pushes their marriage beyond the point of repair.

All Your Perfects is a profound novel about a damaged couple whose potential future hinges on promises made in the past. This is a heartbreaking page-turner that asks: Can a resounding love with a perfect beginning survive a lifetime between two imperfect people?


 

Image

Karen H. read Before I Let Go by Kennedy Ryan 

Their love was supposed to last forever. But when life delivered blow after devastating blow, Yasmen and Josiah Wade found that love alone couldn't solve or save everything.

It couldn't save their marriage.

Yasmen wasn't prepared for how her life fell apart, but she is finally starting to find joy again. She and Josiah have found a new rhythm, co-parenting their two kids and running a thriving business together. Yet like magnets, they're always drawn back to each other, and now they're beginning to wonder if they're truly ready to let go of everything they once had.

Soon, one stolen kiss leads to another…and then more. It's hot. It's illicit. It's all good—until old wounds reopen. Is it too late for them to find forever? Or could they even be better, the second time around?

Image

Heidi C. read Crazy Rich Asians by Kevin Kwan

When Rachel Chu agrees to spend the summer in Singapore with her boyfriend, Nicholas Young, she envisions a humble family home, long drives to explore the island, and quality time with the man she might one day marry. What she doesn't know is that Nick's family home happens to look like a palace, that she'll ride in more private planes than cars, and that with one of Asia's most eligible bachelors on her arm, Rachel might as well have a target on her back.

Initiated into a world of dynastic splendor beyond imagination, Rachel meets Astrid, the It Girl of Singapore society; Eddie, whose family practically lives in the pages of the Hong Kong socialite magazines; and Eleanor, Nick's formidable mother, a woman who has very strong feelings about who her son should—and should not—marry.

Uproarious, addictive, and filled with jaw-dropping opulence, Crazy Rich Asians is an insider's look at the Asian JetSet; a perfect depiction of the clash between old money and new money; between Overseas Chinese and Mainland Chinese; and a fabulous novel about what it means to be young, in love, and gloriously, crazily rich.

 

Non-Fiction

Autobiography/Biography/Memoir

Image

Laurie T. read The Light We Carry: Overcoming in Uncertain Times by Michelle Obama

There may be no tidy solutions or pithy answers to life's big challenges, but Michelle Obama believes that we can all locate and lean on a set of tools to help us better navigate change and remain steady within flux. In The Light We Carry, she opens a frank and honest dialogue with readers, considering the questions many of us wrestle with: How do we build enduring and honest relationships? How can we discover strength and community inside our differences? What tools do we use to address feelings of self-doubt or helplessness? What do we do when it all starts to feel like too much?

Michelle Obama offers readers a series of fresh stories and insightful reflections on change, challenge, and power, including her belief that when we light up for others, we can illuminate the richness and potential of the world around us, discovering deeper truths and new pathways for progress. Drawing from her experiences as a mother, daughter, spouse, friend, and First Lady, she shares the habits and principles she has developed to successfully adapt to change and overcome various obstacles--the earned wisdom that helps her continue to "become." She details her most valuable practices, like "starting kind," "going high," and assembling a "kitchen table" of trusted friends and mentors. With trademark humor, candor, and compassion, she also explores issues connected to race, gender, and visibility, encouraging readers to work through fear, find strength in community, and live with boldness.

"When we are able to recognize our own light, we become empowered to use it," writes Michelle Obama. A rewarding blend of powerful stories and profound advice that will ignite conversation, The Light We Carry inspires readers to examine their own lives, identify their sources of gladness, and connect meaningfully in a turbulent world.

Image

Matt H. and Erin P. read When Breath Becomes Air by Paul Kalanithi

For readers of Atul Gawande, Andrew Solomon, and Anne Lamott, a profoundly moving, exquisitely observed memoir by a young neurosurgeon faced with a terminal cancer diagnosis who attempts to answer the question 'What makes a life worth living?'

At the age of thirty-six, on the verge of completing a decade's worth of training as a neurosurgeon, Paul Kalanithi was diagnosed with stage IV lung cancer. One day he was a doctor treating the dying, and the next he was a patient struggling to live. And just like that, the future he and his wife had imagined evaporated. When Breath Becomes Air chronicles Kalanithi's transformation from a naïve medical student "possessed," as he wrote, "by the question of what, given that all organisms die, makes a virtuous and meaningful life" into a neurosurgeon at Stanford working in the brain, the most critical place for human identity, and finally into a patient and new father confronting his own mortality.

What makes life worth living in the face of death? What do you do when the future, no longer a ladder toward your goals in life, flattens out into a perpetual present? What does it mean to have a child, to nurture a new life as another fades away? These are some of the questions Kalanithi wrestles with in this profoundly moving, exquisitely observed memoir.

Paul Kalanithi died in March 2015, while working on this book, yet his words live on as a guide and a gift to us all. "I began to realize that coming face to face with my own mortality, in a sense, had changed nothing and everything," he wrote. "Seven words from Samuel Beckett began to repeat in my head: 'I can't go on. I'll go on.'" When Breath Becomes Air is an unforgettable, life-affirming reflection on the challenge of facing death and on the relationship between doctor and patient, from a brilliant writer who became both.

Image

Jenny B. read Men We Reaped: A Memoir by Jesmyn Ward 

'...And then we heard the rain falling, and that was the drops of blood falling; and when we came to get the crops, it was dead men that we reaped.' Harriet Tubman

In five years, Jesmyn Ward lost five men in her life, to drugs, accidents, suicide, and the bad luck that can follow people who live in poverty, particularly black men. Dealing with these losses, one after another, made Jesmyn ask the question: why? And as she began to write about the experience of living through all the dying, she realized the truth—and it took her breath away. Her brother and her friends all died because of who they were and where they were from, because they lived with a history of racism and economic struggle that fostered drug addiction and the dissolution of family and relationships. Jesmyn says the answer was so obvious she felt stupid for not seeing it. But it nagged at her until she knew she had to write about her community, to write their stories and her own.

Jesmyn grew up in poverty in rural Mississippi. She writes powerfully about the pressures this brings, on the men who can do no right and the women who stand in for family in a society where the men are often absent. She bravely tells her story, revisiting the agonizing losses of her only brother and her friends. As the sole member of her family to leave home and pursue high education, she writes about this parallel American universe with the objectivity distance provides and the intimacy of utter familiarity.

Image

Renee W. read The Woman They Could Not Silence by Kate Moore 

1860: As the clash between the states rolls slowly to a boil, Elizabeth Packard, housewife and mother of six, is facing her own battle. The enemy sits across the table and sleeps in the next room. Her husband of twenty-one years is plotting against her because he feels increasingly threatened - by Elizabeth's intellect, independence, and unwillingness to stifle her own thoughts. So Theophilus makes a plan to put his wife back in her place. One summer morning, he has her committed to an insane asylum.

The horrific conditions inside the Illinois State Hospital in Jacksonville, Illinois, are overseen by Dr. Andrew McFarland, a man who will prove to be even more dangerous to Elizabeth than her traitorous husband. But most disturbing is that Elizabeth is not the only sane woman confined to the institution. There are many rational women on her ward who tell the same story: they've been committed not because they need medical treatment, but to keep them in line - conveniently labeled "crazy" so their voices are ignored.

No one is willing to fight for their freedom and, disenfranchised both by gender and the stigma of their supposed madness, they cannot possibly fight for themselves. But Elizabeth is about to discover that the merit of losing everything is that you then have nothing to lose...

Image

Mitzi R. read The Narrative of the Life of Frederick Douglass by Frederick Douglass

Born a slave circa1818 (slaves weren't told when they were born) on a plantation in Maryland, Douglass taught himself to read and write. In 1845, seven years after escaping to the North, he published Narrative, the first of three autobiographies. This book calmly but dramatically recounts the horrors and the accomplishments of his early years—the daily, casual brutality of the white masters; his painful efforts to educate himself; his decision to find freedom or die; and his harrowing but successful escape.

An astonishing orator and a skillful writer, Douglass became a newspaper editor, a political activist, and an eloquent spokesperson for the civil rights of African Americans. He lived through the Civil War, the end of slavery, and the beginning of segregation. He was celebrated internationally as the leading black intellectual of his day, and his story still resonates in ours.
 

Image

Renee H. read Stayed on Freedom: The Long History of Black Power through one Family's Journey by Dan Berger 

A new history of Black Liberation told through the intertwined story of two grassroots organizers.

The Black Power movement, often associated with its iconic spokesmen, derived much of its energy from the work of people whose stories have never been told. Stayed On Freedom brings into focus two unheralded Black Power activists who dedicated their lives to the fight for freedom.  

Zoharah Simmons and Michael Simmons fell in love while organizing tenants and workers in the South. Their commitment to each other and to social change took them on a decades-long journey that traversed first the country and then the world. In centering their lives, historian Dan Berger shows how Black Power united the local and the global across organizations and generations.  

Based on hundreds of hours of interviews, Stayed On Freedom is a moving and intimate portrait of two people trying to make a life while working to make a better world.  

Image

Cynthia B. read Agatha Christie: An Elusive Woman by Lucy Worsley 

"Nobody in the world was more inadequate to act the heroine than I was."

Why did Agatha Christie spend her career pretending that she was "just" an ordinary housewife when clearly she wasn't?  Her life is fascinating for its mysteries and its passions and, as Lucy Worsley says, "She was thrillingly, scintillatingly modern."  She went surfing in Hawaii, she loved fast cars, and she was intrigued by the new science of psychology, which helped her through devastating mental illness.

So why—despite all the evidence to the contrary—did Agatha present herself as a retiring Edwardian lady of leisure? 

She was born in 1890 into a world that had its own rules about what women could and couldn't do. Lucy Worsley's biography is not just of a massively, internationally successful writer. It's also the story of a person who, despite the obstacles of class and gender, became an astonishingly successful working woman.

With access to personal letters and papers that have rarely been seen, Lucy Worsley's biography is both authoritative and entertaining and makes us realize what an extraordinary pioneer Agatha Christie was—truly a woman who wrote the twentieth century.

Image

Valerie E. read After the After the Last Border: Two Families and the Story of Refuge in America by Jessica Goudeau

The story of two refugee families and their hope and resilience as they fight to survive and belong in America

The welcoming and acceptance of immigrants and refugees have been central to America's identity for centuries—yet America has periodically turned its back in times of the greatest humanitarian need. After the Last Border is an intimate look at the lives of two women as they struggle for the twenty-first-century American dream, having won the golden ticket to settle as refugees in Austin, Texas.

Mu Naw, a Christian from Myanmar struggling to put down roots with her family, was accepted after decades in a refugee camp at a time when America was at its most open to displaced families; and Hasna, a Muslim from Syria, agrees to relocate as a last resort for the safety of her family—only to be cruelly separated from her children by a sudden ban on refugees from Muslim countries. Writer and activist Jessica Goudeau tracks the human impacts of America's ever-shifting refugee policy as both women narrowly escape from their home countries and begin the arduous but lifesaving process of resettling in Austin—a city that would show them the best and worst of what America has to offer.

After the Last Border situates a dramatic, character-driven story within a larger history--the evolution of modern refugee resettlement in the United States, beginning with World War II and ending with current closed-door policies--revealing not just how America's changing attitudes toward refugees have influenced policies and laws, but also the profound effect on human lives.

Image

Libby P. read I, John Kennedy Toole by Kent Carroll and Jodee Blanco

I, John Kennedy Toole is the novelized true story of the funny, tragic, riveting narrative behind the making of an American masterpiece.

The novel traces Toole's life in New Orleans through his adolescence, his stay at Columbia University in New York, his attempts to escape the burden of his demanding mother and his weak father, his retreat into a world of his own creation, and finally the invention of astonishing characters that came to living reality for both readers (and the author himself) in his prize-winning A Confederacy of Dunces.

The other fascinating (and mostly unknown) part of the story is how after a decade of rebuke and dismissal the novel came to a brilliant author, Walker Percy, and a young publisher, Kent Carroll, who separately rescued the book, then published it with verve and devotion.

The novel that almost never came to be went on to win a Pulitzer Prize and continues to sell at a satisfying rate as it winds its way to the 2-million mark. That audience is the happy ending for this brilliant, unrepentant writer, whose only reward before his untimely death was his unending belief in his work and his characters.

 

History

Image

Wendy S. read Cabin Fever: The Harrowing Journey of a Cruise Ship at the Dawn of a Pandemic by Michael Smith and Jonathan Franklin 

The true story of the Holland America cruise ship Zaandam, which set sail with a deadly and little-understood stowaway—COVID-19—days before the world shut down in March 2020. This riveting narrative thriller takes readers behind the scenes with passengers and crew who were caught unprepared for the deadly ordeal that lay ahead.

In early 2020, the world was on edge. An ominous virus was spreading on different continents, and no one knew what the coming weeks would bring. Far from the hot spots, the cruise ship Zaandam was preparing to sail from Buenos Aires, Argentina, loaded with 1,200 passengers—Americans, Europeans, and South Americans, plus 600 crew members.

Most passengers were older than sixty-five. There was concern about the virus on the news, and it had already killed and sickened passengers on other Holland America ships. But that was oceans away, and escaping to sea at the ends of the earth for a few weeks seemed like it might be a good option. The cruise line had said the voyage (three weeks around the South American coastline to see some of the world's most stunning natural wonders and ancient ruins) would carry on as scheduled, with no refunds. And it would be safe.

Among the travelers, there is a retired American school superintendent on a dream vacation with his wife of fifty-six years, on a personal quest to see Machu Picchu. There is an Argentine psychologist taking this trip to celebrate her sixty-fourth birthday with her husband, though she finds herself fretting in her cabin on day one, trying to dismiss her fears of what she's hearing on the news. There is an Indonesian laundry manager who's been toiling on Holland America cruise ships for thirty years, sending his monthly paycheck to his family back home.

Within days, people aboard Zaandam begin to fall sick. The world's ports shut down. Zaandam becomes a top story on the news and is denied safe harbor everywhere. With only two doctors aboard and few medical supplies to test for or treat COVID-19, and with dwindling food and water, the ship wanders the oceans on an unthinkable journey.

Image

Janet D. read A Place for Everything, The Curious History of Alphabetical Order by Judith Flanders 

In A Place for Everything, historian Judith Flanders draws our attention to both the neglected ubiquity of the alphabet and the long, complex history of its rise to prominence. For, while the order of the alphabet itself became fixed very soon after letters were first invented, their ability to sort and store and organize proved far less obvious.

To many of our forebears, the idea of organizing things by the random chance of the alphabet rather than by established systems of hierarchy or typology lay somewhere between unthinkable and disrespectful. The author fascinatingly lays out the gradual triumph of alphabetical order, from its possible earliest days as a sorting tool in the Great Library of Alexandria in the third century BCE, to its current decline in prominence in our digital age of Wikipedia and Google.

 

Image

Diane M. read Myth America: Historians Take On the Biggest Legends and Lies About Our Past by Kevin M. Kruse and Julian E. Zelizer

The United States is in the grip of a crisis of bad history. Distortions of the past promoted in the conservative media have led large numbers of Americans to believe in fictions over facts, making constructive dialogue impossible and imperiling our democracy.  
 
In Myth America, Kevin M. Kruse and Julian E. Zelizer have assembled an all-star team of fellow historians to push back against this misinformation. The contributors debunk narratives that portray the New Deal and Great Society as failures, immigrants as hostile invaders, and feminists as anti-family warriors—among numerous other partisan lies. Based on a firm foundation of historical scholarship, their findings revitalize our understanding of American history. 
 
Replacing myths with research and reality, Myth America is essential reading amid today's heated debates about our nation's past. 
 

Image

KatieJo C. read Fearing the Black Body: The Racial Origins of Fat Phobia by Sabrina Strings

How the female body has been racialized for over two hundred years.

There is an obesity epidemic in this country and poor Black women are particularly stigmatized as "diseased" and a burden on the public health care system. This is only the most recent incarnation of the fear of fat Black women, which Sabrina Strings shows took root more than two hundred years ago.

Strings weave together an eye-opening historical narrative ranging from the Renaissance to the current moment, analyzing important works of art, newspaper and magazine articles, and scientific literature and medical journals—where fat bodies were once praised—showing that fat phobia, as it relates to Black women, did not originate with medical findings, but with the Enlightenment era belief that fatness was evidence of "savagery" and racial inferiority.

The author argues that the contemporary ideal of slenderness is, at its very core, racialized and racist. Indeed, it was not until the early twentieth century, when racialized attitudes against fatness were already entrenched in the culture, that the medical establishment began its crusade against obesity. An important and original work, Fearing the Black Body argues convincingly that fat phobia isn't about health at all, but rather a means of using the body to validate race, class, and gender prejudice.

 

Parenting

Image

Ron H. read Last Child in the Woods: Saving Our Children from Nature-Deficit Disorder by Richard Louv 

Louv talks with parents, children, teachers, scientists, religious leaders, child-development researchers, and environmentalists to find ways for children to experience the natural world more deeply.

 

 

 

 

 

Politics

Image

Gail L. read The Bill of Obligations: The Ten Habits of Good Citizens by Richard Haass

A provocative guide to how we must reenvision citizenship if American democracy is to survive.

The United States faces dangerous threats from Russia, China, North Korea, Iran, terrorists, climate change, and future pandemics. The greatest peril to the country, however, comes not from abroad but from within, from none other than ourselves. The question facing us is whether we are prepared to do what is necessary to save our democracy.

The Bill of Obligations is a bold call for change. In these pages, New York Times bestselling author Richard Haass argues that the very idea of citizenship must be revised and expanded. The Bill of Rights is at the center of our Constitution, yet our most intractable conflicts often emerge from contrasting views as to what our rights ought to be. As former Supreme Court Justice Stephen Breyer pointed out, "Many of our cases, the most difficult ones, are not about right versus wrong. They are about right versus right." The lesson is clear: rights alone cannot provide the basis for a functioning, much less flourishing, democracy.

But there is a cure: to place obligations on the same footing as rights. The ten obligations that Haass introduces here are essential for healing our divisions and safeguarding the country's future. These obligations reenvision what it means to be an American citizen. They are not a burden but rather commitments that we make to fellow citizens and to the government to uphold democracy and counter the growing apathy, anger, selfishness, division, disinformation, and violence that threaten us all. Through an expert blend of civics, history, and political analysis, this book illuminates how Americans can rediscover and recover the attitudes and behaviors that have contributed so much to this country's success over the centuries.

As Richard Haass argues, "We get the government and the country we deserve. Getting the one we need, however, is up to us." The Bill of Obligations gives citizens across the political spectrum a plan of action to achieve it.

Image

Gail L. read The Soul of America: The Battle for Our Better Angels by Jon Meacham

Pulitzer Prize-winning author Jon Meacham helps us understand the present moment in American politics and life by looking back at critical times in our history when hope overcame division and fear.

Our current climate of partisan fury is not new, and in The Soul of America, Meacham shows us how what Abraham Lincoln called the "better angels of our nature" have repeatedly won the day. Painting surprising portraits of Lincoln and other presidents, including Ulysses S. Grant, Theodore Roosevelt, Woodrow Wilson, Franklin D. Roosevelt, Harry S. Truman, Dwight Eisenhower, and Lyndon B. Johnson, and illuminating the courage of such influential citizen activists as Martin Luther King Jr., early suffragettes Alice Paul and Carrie Chapman Catt, civil rights pioneers Rosa Parks and John Lewis, First Lady Eleanor Roosevelt, and Army-McCarthy hearings lawyer Joseph N. Welch, Meacham brings vividly to life turning points in American history.

He writes about the Civil War, Reconstruction, and the birth of the Lost Cause; the backlash against immigrants in the First World War and the resurgence of the Ku Klux Klan in the 1920s; the fight for women's rights; the demagoguery of Huey Long and Father Coughlin and the isolationist work of America First in the years before World War II; the anti-Communist witch hunts led by Senator Joseph McCarthy; and Lyndon Johnson's crusade against Jim Crow. Each of these dramatic hours in our national life have been shaped by the contest to lead the country to look forward rather than back, to assert hope over fear—a struggle that continues even now.

While the American story has not always—or even often—been heroic, we have been sustained by a belief in progress even in the gloomiest of times. In this inspiring book, Meacham reassures us, "The good news is that we have come through such darkness before"—as, time and again, Lincoln's better angels have found a way to prevail.

 

Science 

Image

Linsey G. read Spook: Science Tackles the Afterlife by Mary Roach 

"What happens when we die? Does the light just go out and that's that—the million-year nap? Or will some part of my personality, my me-ness persist? What will that feel like? What will I do all day? Is there a place to plug in my laptop?" In an attempt to find out, Mary Roach brings her tireless curiosity to bear on an array of contemporary and historical soul-searchers: scientists, schemers, engineers, and mediums, all trying to prove (or disprove) that life goes on after we die.

 

 

 

 

Self Help

Image

Candace K. read The Power of Habit: Why We Do What We Do in Life and Business by Charles Duhigg 

In The Power of Habit, award-winning New York Times business reporter Charles Duhigg takes us to the thrilling edge of scientific discoveries that explain why habits exist and how they can be changed. With penetrating intelligence and an ability to distill vast amounts of information into engrossing narratives, Duhigg brings to life a whole new understanding of human nature and its potential for transformation.

Along the way, we learn why some people and companies struggle to change, despite years of trying, while others seem to remake themselves overnight. We visit laboratories where neuroscientists explore how habits work and where, exactly, they reside in our brains. We discover how the right habits were crucial to the success of Olympic swimmer Michael Phelps, Starbucks CEO Howard Schultz, and civil-rights hero Martin Luther King, Jr. We go inside Procter & Gamble, Target superstores, Rick Warren's Saddleback Church, NFL locker rooms, and the nation's largest hospitals and see how implementing so-called keystone habits can earn billions and mean the difference between failure and success, life and death.

At its core, The Power of Habit contains an exhilarating argument: The key to exercising regularly, losing weight, raising exceptional children, becoming more productive, building revolutionary companies and social movements, and achieving success is understanding how habits work.

Habits aren't destiny. As Charles Duhigg shows, by harnessing this new science, we can transform our businesses, our communities, and our lives.

 

Spirituality 

Image

Anita S. read World as Lover, World as Self: Courage for Global Justice and Planetary Renewal by Joanna Macy 

An enduring classic of the ecology movement by the founder of the Work That Reconnects, now more timely than ever.

Humanity is in an existential crisis. Facing the magnitude of our global situation as individuals leaves us feeling alone, disempowered, and despairing. Who better to listen to for wisdom and solace than Joanna Macy, one of the originators of modern environmentalism, whose life's work has been to hear and heal our pain for the planet?

World as Lover, World as Self draws on a lifetime of wisdom to offer a re-focus on the natural world, where readers can find the strength and spiritual nourishment to envision a new future for humanity built on a sustainable relationship with the earth. Rooted in the Buddha's teachings of paticca samuppada or interdependent co-arising, Macy's reflections are especially relevant for activists who want to address the underlying mindsets of fear, greed, and selfishness that give rise to overconsumption and the ultimate destruction of our world. Both heartbreaking and uplifting, this definitive edition of World as Lover, World as Self will give a new generation of readers the tools and understanding with which to meet today's challenges and crises.

 

True Crime 

Image

Larry R. read Dreamland: The True Tale of America's Opiate Epidemic by Sam Quinones 

In fascinating detail, Sam Quinones chronicles how, over the past 15 years, enterprising sugar cane farmers in a small county on the west coast of Mexico created a unique distribution system that brought black tar heroin—the cheapest, most addictive form of the opiate, 2 to 3 times purer than its white powder cousin—to the veins of people across the United States. Communities where heroin had never been seen before—from Charlotte, NC and Huntington, WVA, to Salt Lake City and Portland, OR—were overrun with it. Local police and residents were stunned. How could heroin, long considered a drug found only in the dense, urban environments along the East Coast, and trafficked into the United States by enormous Colombian drug cartels, be so incredibly ubiquitous in the American heartland? Who was bringing it here, and perhaps more importantly, why were so many townspeople suddenly eager for the comparatively cheap high it offered?

With the same dramatic drive of El Narco and Methland, Sam Quinones weaves together two classic tales of American capitalism: The stories of young men in Mexico, independent of the drug cartels, in search of their own American Dream via the fast and enormous profits of trafficking cheap black-tar heroin to America's rural and suburban addicts; and that of Purdue Pharma in Stamford, Connecticut, determined to corner the market on pain with its new and expensive miracle drug, Oxycontin; extremely addictive in its own right. Quinones illuminates just how these two stories fit together as cause and effect: hooked on costly Oxycontin, American addicts were lured to much cheaper black tar heroin and its powerful and dangerous long-lasting high. Embroiled alongside the suppliers and buyers are DEA agents, local, small-town sheriffs, and the US attorney from eastern Virginia whose case against Purdue Pharma and Oxycontin made him an enemy of the Bush-era Justice Department, ultimately stalling and destroying his career in public service.

Dreamland is a scathing and incendiary account of drug culture and addiction spreading to every part of the American landscape.

Image

Sabrina S. read The Snapshot Killer by Duncan McNab 

A chilling journey into the life and mind of charming and persuasive predator and serial killer Christopher Wilder, who murdered on two continents and evaded capture for over twenty years

Christopher Wilder was about as bad as they get. A serial killer and predator, he first came to the attention of police in Sydney when as a teenager in 1963 he was charged with rape. As a young adult, he relocated to Florida, USA.

Wilder plied his vile and deadly trade on two continents and did so undetected for more than twenty years. He was a chameleon and a predator with a modus operandi refined over the decades, luring young teenage girls with the promise of a career as a photographic model. His final flourish was a six-week spree of abduction, sexual assault, and murder crisscrossing the USA and earning him the top spot on the FBI's Ten Most Wanted list.

Wilder could have been stopped a few times in his evil career - but he wasn't. In addition to his many crimes in the US, he is now also a prime suspect for the infamous Wanda Beach murders - one of Australia's most notorious unsolved crimes. The Snapshot Killer explores how a monster was able to hide in plain sight and tells the tragic story of the many victims - at least twelve, but likely more - whose lives Wilder destroyed, with consequences that continue to resonate to this day.
Week Six

Fiction

Bildungsroman

Image

Akilah B. read Tomorrow, and Tomorrow, and Tomorrow by Gabrielle Zevin

On a bitter-cold day, in the December of his junior year at Harvard, Sam Masur exits a subway car and sees, amid the hordes of people waiting on the platform, Sadie Green. He calls her name. For a moment, she pretends she hasn't heard him, but then, she turns, and a game begins: a legendary collaboration that will launch them to stardom. These friends, intimates since childhood, borrow money, beg favors, and, before even graduating college, they have created their first blockbuster, Ichigo. Overnight, the world is theirs. Not even twenty-five years old, Sam and Sadie are brilliant, successful, and rich, but these qualities won't protect them from their own creative ambitions or the betrayals of their hearts.

Spanning thirty years, from Cambridge, Massachusetts, to Venice Beach, California, and lands in between and far beyond, Gabrielle Zevin's Tomorrow, and Tomorrow, and Tomorrow is a dazzling and intricately imagined novel that examines the multifarious nature of identity, disability, failure, the redemptive possibilities in play, and above all, our need to connect: to be loved and to love. Yes, it is a love story, but it is not one you have read before.

 

Image

Diane J. read Red on the Bone by Jacqueline Woodson

Moving forward and backward in time, Jacqueline Woodson's taut and powerful new novel uncovers the role that history and community have played in the experiences, decisions, and relationships of these families, and in the life of the new child.

As the book opens in 2001, it is the evening of sixteen-year-old Melody's coming-of-age ceremony in her grandparents' Brooklyn brownstone. Watched lovingly by her relatives and friends, making her entrance to the music of Prince, she wears a special custom-made dress. But the event is not without poignancy. Sixteen years earlier, that very dress was measured and sewn for a different wearer: Melody's mother, for her own ceremony—a celebration that ultimately never took place.

Unfurling the history of Melody's parents and grandparents to show how they all arrived at this moment, Woodson considers not just their ambitions and successes but also the costs, the tolls they've paid for striving to overcome expectations and escape the pull of history. As it explores sexual desire and identity, ambition, gentrification, education, class and status, and the life-altering facts of parenthood, Red at the Bone most strikingly looks at the ways in which young people must so often make long-lasting decisions about their lives—even before they have begun to figure out who they are and what they want to be.

 

Dystopian 

Image

Sharon P. read Our Missing Hearts by Celeste Ng 

Twelve-year-old Bird Gardner lives a quiet existence with his loving but broken father, a former linguist who now shelves books in a university library. Bird knows to not ask too many questions, stand out too much, or stray too far. For a decade, their lives have been governed by laws written to preserve "American culture" in the wake of years of economic instability and violence. To keep the peace and restore prosperity, the authorities are now allowed to relocate children of dissidents, especially those of Asian origin, and libraries have been forced to remove books seen as unpatriotic—including the work of Bird's mother, Margaret, a Chinese American poet who left the family when he was nine years old.

Bird has grown up disavowing his mother and her poems; he doesn't know her work or what happened to her, and he knows he shouldn't wonder. But when he receives a mysterious letter containing only a cryptic drawing, he is pulled into a quest to find her. His journey will take him back to the many folktales she poured into his head as a child, through the ranks of an underground network of librarians, into the lives of the children who have been taken, and finally to New York City, where a new act of defiance may be the beginning of much-needed change.

Our Missing Hearts is an old story made new, of the ways supposedly civilized communities can ignore the most searing injustice. It's a story about the power—and limitations—of art to create change, the lessons and legacies we pass on to our children, and how any of us can survive a broken world with our hearts intact.

Image

Francine V. read The Year of the Flood (MaddAddam #2) by Margaret Atwood

The times and species have been changing at a rapid rate, and the social compact is wearing as thin as environmental stability. Adam One, the kindly leader of the God's Gardeners--a religion devoted to the melding of science and religion, as well as the preservation of all plant and animal life--has long predicted a natural disaster that will alter Earth as we know it. Now it has occurred, obliterating most human life. Two women have survived: Ren, a young trapeze dancer locked inside the high-end sex club Scales and Tails, and Toby, a God's Gardener barricaded inside a luxurious spa where many of the treatments are edible.

Have others survived? Ren's bioartist friend Amanda? Zeb, her eco-fighter stepfather? Her one-time lover, Jimmy? Or the murderous Painballers, survivors of the mutual-elimination Painball prison? Not to mention the shadowy, corrupt policing force of the ruling powers...

Meanwhile, gene-spliced life forms are proliferating: the lion/lamb blends, the Mo'hair sheep with human hair, the pigs with human brain tissue. As Adam One and his intrepid hemp-clad band make their way through this strange new world, Ren and Toby will have to decide on their next move. They can't stay locked away...

 

Fantasy

Image

Christine L. read Fairy Tale by Stephen King  

Charlie Reade looks like a regular high school kid, great at baseball and football, a decent student. But he carries a heavy load. His mom was killed in a hit-and-run accident when he was ten, and grief drove his dad to drink. Charlie learned how to take care of himself—and his dad. Then, when Charlie is seventeen, he meets Howard Bowditch, a recluse with a big dog in a big house at the top of a big hill. In the backyard is a locked shed from which strange sounds emerge, as if some creature is trying to escape. When Mr. Bowditch dies, he leaves Charlie the house, a massive amount of gold, a cassette tape telling a story that is impossible to believe, and a responsibility far too massive for a boy to shoulder.

Because within the shed is a portal to another world—one whose denizens are in peril and whose monstrous leaders may destroy their own world, and ours. In this parallel universe, where two moons race across the sky and the grand towers of a sprawling palace pierce the clouds, there are exiled princesses and princes who suffer horrific punishments; there are dungeons; there are games in which men and women must fight each other to the death for the amusement of the "Fair One." And there is a magic sundial that can turn back time.

Image

Ysabeau D. read The Magic Engineer (The Saga of Recluce #3) by L.E. Modesitt Jr.

In L. E. Modesitt's The Magic Engineer, we return to the magical island of Recluce, where Dorrin, a young scion of the Order magicians, is interested in forbidden knowledge, in the working of machines. Promising, intelligent, but determined to follow his passion for scientific knowledge, Dorrin can invent machines. He is the Leonardo da Vinci of his age, but his insights violate the rules of the Order magic of Recluce. Now he must go into exile in the lands of Chaos to pursue his dangerous inventions.

Yet Darrin remains loyal to the idea of Order and is tortured by the knowledge that to preserve it he must constantly create new devices for war. For the forces of the Chaos wizards are moving across the land, devouring whole countries and creating an empire—and their ultimate goal is the destruction of Recluce.


 

Image

Alice S. read The Patron Thief of Bread by Lindsay Eagar

Fished from the river as an infant and raised by a roving band of street urchins who call themselves the Crowns, eight-year-old Duck keeps her head down and her mouth shut. It's a rollicking life, always thieving, always on the run—until the ragtag Crowns infiltrate an abandoned cathedral in the city of Odierne and decide to set down roots. It's all part of the bold new plan hatched by the Crowns' fearless leader, Gnat: one of their very own will pose as an apprentice to the local baker, relieving Master Griselde of bread and coin to fill the bellies and line the pockets of all the Crowns. But no sooner is Duck apprenticed to the kindly Griselde than Duck's allegiances start to blur. Who is she really—a Crown or an apprentice baker? And who does she want to be?

Meanwhile, high above the streets of Odierne, on the roof of the unfinished cathedral, an old and ugly gargoyle grows weary of waiting to fulfill his own destiny—to watch and protect. Told in alternating viewpoints, this exquisite novel evokes a timeless tale of love, self-discovery, and what it means to be rescued.

Image

Mari E. read Lore Olympus by Rachel Smythe

Experience the propulsive love story of two Greek gods—Hades and Persephone—brought to life with lavish artwork and an irresistible contemporary voice.

Scandalous gossip, wild parties, and forbidden love—witness what the gods do after dark in this stylish and contemporary reimagining of one of mythology's most well-known stories from creator Rachel Smythe. Featuring a brand-new, exclusive short story, Smythe's original Eisner-nominated web-comic Lore Olympus brings the Greek Pantheon into the modern age with this sharply perceptive and romantic graphic novel.

 

 

Historical Fiction

Image

Roxanne C. read West with Giraffes by Lynda Rutledge

An emotional, rousing novel inspired by the incredible true story of two giraffes who made headlines and won the hearts of Depression-era America.

"Few true friends have I known and two were giraffes…"

Woodrow Wilson Nickel, age 105, feels his life ebbing away. But when he learns giraffes are going extinct, he finds himself recalling the unforgettable experience he cannot take to his grave.

It's 1938. The Great Depression lingers. Hitler is threatening Europe, and world-weary Americans long for wonder. They find it in two giraffes who miraculously survive a hurricane while crossing the Atlantic. What follows is a twelve-day road trip in a custom truck to deliver Southern California's first giraffes to the San Diego Zoo. Behind the wheel is the young Dust Bowl rowdy Woodrow. Inspired by true events, the tale weaves real-life figures with fictional ones, including the world's first female zoo director, a crusty old man with a past, a young female photographer with a secret, and assorted reprobates as spotty as the giraffes.

Part adventure, part historical saga, and part coming-of-age love story, West with Giraffes explores what it means to be changed by the grace of animals, the kindness of strangers, the passing of time, and a story told before it's too late.

 

LGBT+ Fiction 

Image

Sheri K. read The Guncle by Steven Rowley

Patrick, or Gay Uncle Patrick (GUP, for short), has always loved his niece, Maisie, and nephew, Grant. That is, he loves spending time with them when they come out to Palm Springs for weeklong visits, or when he heads home to Connecticut for the holidays. But in terms of caretaking and relating to two children, no matter how adorable, Patrick is honestly a bit out of his league.

So when tragedy strikes and Maisie and Grant lose their mother and Patrick's brother has a health crisis of his own, Patrick finds himself suddenly taking on the role of primary guardian. Despite having a set of "Guncle Rules" ready to go, Patrick has no idea what to expect, having spent years barely holding on after the loss of his great love, a somewhat-stalled career, and a lifestyle not-so-suited to a six- and a nine-year-old. Quickly realizing that parenting—even if temporary—isn't solved with treats and jokes, Patrick's eyes are opened to a new sense of responsibility, and the realization that, sometimes, even being larger than life means you're unfailingly human.

 

Mystery/Thriller

Image

Beth N. read Just the Nicest Couple by Mary Kubica

Two couples, two close friends, one missing husband…

Jake Hayes is missing. This much is certain. At first, his wife, Nina, thinks he is blowing off steam at a friend's house after their heated fight the night before. But then a day goes by. Two days. Five. And Jake is still nowhere to be found.

Lily Scott, Nina's friend and coworker, thinks she may have been the last to see Jake before he went missing. After Lily confesses everything to her husband, Christian, the two decide that nobody can find out what happened leading up to Jake's disappearance, especially not Nina. But Nina is out there looking for her husband, and she won't stop until the truth is discovered.

 

Image

Nik W. read The Wives by Tarryn Fisher

Thursday's husband, Seth, has two other wives. She's never met them, and she doesn't know anything about them. She agreed to this unusual arrangement because she's so crazy about him.

But one day, she finds something. Something that tells a very different—and horrifying—story about the man she married.

What follows is one of the most twisted, shocking thrillers you'll ever read.

You'll have to grab a copy to find out why.


 

Image

Nik W. read The Push by Ashley Audrain 

Blythe Connor is determined that she will be the warm, comforting mother to her new baby Violet that she herself never had.

But in the thick of motherhood's exhausting early days, Blythe becomes convinced that something is wrong with her daughter–she doesn't behave like most children do.

Or is it all in Blythe's head? Her husband, Fox, says she's imagining things. The more Fox dismisses her fears, the more Blythe begins to question her own sanity, and the more we begin to question what Blythe is telling us about her life as well.

Then their son Sam is born–and with him, Blythe has the blissful connection she'd always imagined with her child. Even Violet seems to love her little brother. But when life as they know it is changed in an instant, the devastating fall-out forces Blythe to face the truth.

The Push is a tour de force you will read in a sitting, an utterly immersive novel that will challenge everything you think you know about motherhood, about what we owe our children, and what it feels like when women are not believed.

Image

Vicki G. read Every Fifteen Minutes by Lisa Scottoline

Dr. Eric Parrish is the Chief of the Psychiatric Unit at Havemeyer General Hospital outside of Philadelphia. Recently separated from his wife Alice, he is doing his best as a single Dad to his seven-year-old daughter Hannah. His work seems to be going better than his home life, however. His unit at the hospital has just been named number two in the country and Eric has a devoted staff of doctors and nurses who are as caring as Eric is. But when he takes on a new patient, Eric's entire world begins to crumble.

Seventeen-year-old Max has a terminally ill grandmother and is having trouble handling it. That, plus his OCD and violent thoughts about a girl he likes makes Max a high-risk patient. Max can't turn off the mental rituals he needs to perform every fifteen minutes that keep him calm. With the pressure mounting, Max just might reach the breaking point. When the girl is found murdered, Max is nowhere to be found. Worried about Max, Eric goes looking for him and puts himself in danger of being seen as a "person of interest" himself. Next, one of his own staff turns on him in a trumped-up charge of sexual harassment. Is this chaos all random? Or is someone systematically trying to destroy Eric's life?

Image

Emma B. read The Bullet That Missed (Thursday Murder Club #3) by Richard Osman

It is an ordinary Thursday, and things should finally be returning to normal.

Except trouble is never far away where the Thursday Murder Club are concerned. A local news legend is on the hunt for a sensational headline, and soon the gang are hot on the trail of two murders, ten years apart.

To make matters worse, a new nemesis pays Elizabeth a visit, presenting her with a deadly mission: kill or be killed...

While Elizabeth grapples with her conscience (and a gun), the gang and their unlikely new friends (including TV stars, money launderers and ex-KGB colonels) unravel a new mystery. But can they catch the culprit and save Elizabeth before the murderer strikes again?
 

Image

Angela M. read The Maze (John Corey #8) by Nelson DeMille

Nelson DeMille introduced readers to NYPD Homicide Detective John Corey in Plum Island, who we first meet sitting on the back porch of his uncle's waterfront estate on Long Island, recovering from wounds incurred in the line of duty.

Six novels later, The Maze opens with Corey on the same porch, having survived new law enforcement roles and romantic relationships—wiser and more sarcastic than ever. Corey is restless and looking for action, so when his former lover Detective Beth Penrose appears with a job offer, Corey has to once again make some decisions about his career—and about reuniting with Beth.

Inspired by and based on the actual and still-unsolved Gilgo Beach murders, The Maze takes us on a dangerous hunt for an apparent serial killer who has murdered nine—and maybe more—sex workers and hidden their bodies in the thick undergrowth on a lonely stretch of beach.

As Corey digs deeper into this case, he comes to suspect that the failure of the local police to solve this sensational mystery may not be a result of their incompetence—it may be something else. Something more sinister.

 

Romance 

Image

Teresa L. read The Christmas Wedding Guest by Susan Mallery 

Susan Mallery, author of the Fool's Gold romances, cheerfully invites you to Wishing Tree, where Christmas comes to life…

The Somerville sisters believe in love, but they've lost faith it will happen for them. Reggie hasn't been home since the end of the world's shortest engagement. When her parents decide to renew their vows, she buffs up her twinkle to help with the Christmas wedding. Unexpectedly, Toby, her first love, is back too, and the spark between them shines as brightly as ever. In the spirit of the season, will they let go of past hurts and greet the New Year together?

Done waiting for the one, Dena is pregnant and on her own—on purpose. But then a gorgeous, sad-eyed songwriter checks in to a room at her inn. Micah, unable to write since he lost his wife, finds inspiration in Dena's determination to be a mom. One snowflake-speckled kiss and he's a goner. But Dena is afraid to believe that a rock star could fall for a cookie-cutter small-town girl like her.

As the Christmas wedding draws closer, these two sisters just might unwrap the most treasured gift of all—love.

Image

Alex M. read True Love Bites (Hunger Pangs #1) by Joy Demorra

Captain Nathan J. Northland had no idea what to expect when he returned home to Lorehaven injured from war, but it certainly wasn't to find himself posted on an island full of vampires. An island whose local vampire dandy lord causes Nathan to feel strange things he'd never felt before. Particularly about fangs.

When Vlad Blutstein agreed to hire Nathan as Captain of the Eyrie Guard, he hadn't been sure what to expect either, but it certainly hadn't been to fall in love with a disabled werewolf. However Vlad has fallen and fallen hard, and that's the problem.

Torn by their allegiances—to family, to duty, and the age-old enmity between vampires and werewolves—the pair find themselves in a difficult situation: to love where the heart wants or to follow where expectation demands.

The situation is complicated further when a mysterious and beguiling figure known only as Lady Ursula crashes into their lives, bringing with her dark omens of death, doom, and destruction in her wake.

And a desperate plea for help neither of them can ignore.

Thrown together in uncertain times and struggling to find their place amidst the rising human empire, the unlikely trio must decide how to face the coming darkness: united as one or divided and alone. One thing is for certain, none of them will ever be the same.

 

Science Fiction

Image

Dori G. read About Time (The Time Police #4) by Jodi Taylor

After their heroic efforts to safeguard the Acropolis and prevent the Paris Time-Stop, the Time Police have gone from zero to hero in but a single bound.

Then one fateful mission to apprehend a minor criminal selling dodgy historical artifacts blows up in all their faces. An officer is attacked within TPHQ. A prisoner is murdered. And investigations are about to lead to the one place where no officer can legally tread.

Worst of all, trouble is brewing for Team Weird as a surprise revelation tears the team apart.

For Commander Hay, battling to keep the Time Police afloat in a sea of storms, this will turn out to be a very long day.
 

 

Sports Fiction 

Image

Emma B. read Carrie Soto Is Back by Taylor Jenkins Reid

Carrie Soto is fierce, and her determination to win at any cost has not made her popular. But by the time she retires from tennis, she is the best player the world has ever seen. She has shattered every record and claimed twenty Grand Slam titles. And if you ask Carrie, she is entitled to every one. She sacrificed nearly everything to become the best, with her father, Javier, as her coach. A former champion himself, Javier has trained her since the age of two.

But six years after her retirement, Carrie finds herself sitting in the stands of the 1994 US Open, watching her record be taken from her by a brutal, stunning player named Nicki Chan.

At thirty-seven years old, Carrie makes the monumental decision to come out of retirement and be coached by her father for one last year in an attempt to reclaim her record. Even if the sports media says that they never liked "the Battle-Axe" anyway. Even if her body doesn't move as fast as it did. And even if it means swallowing her pride to train with a man she once almost opened her heart to: Bowe Huntley. Like her, he has something to prove before he gives up the game forever.

In spite of it all, Carrie Soto is back, for one epic final season. In this riveting and unforgettable novel, Taylor Jenkins Reid tells her most vulnerable, emotional story yet.

 

Non-Fiction

Autobiography/Biography/Memoir 

Image

Tina W. read The Year of Magical Thinking by Joan Didion 

From one of America's iconic writers, a stunning book of electric honesty and passion. Joan Didion explores an intensely personal yet universal experience: a portrait of a marriage—and a life, in good times and bad–that will speak to anyone who has ever loved a husband or wife or child.

Several days before Christmas 2003, John Gregory Dunne and Joan Didion saw their only daughter, Quintana, fall ill with what seemed at first flu, then pneumonia, then complete septic shock. She was put into an induced coma and placed on life support. Days later—the night before New Year's Eve—the Dunnes were just sitting down to dinner after visiting the hospital when John Gregory Dunne suffered a massive and fatal coronary. In a second, this close, symbiotic partnership of forty years was over. Four weeks later, their daughter pulled through. Two months after that, arriving at LAX, she collapsed and underwent six hours of brain surgery at UCLA Medical Center to relieve a massive hematoma.

This powerful book is Didion's attempt to make sense of the "weeks and then months that cut loose any fixed idea I ever had about death, about illness... about marriage and children and memory... about the shallowness of sanity, about life itself."

 

Gardening 

Image

Illume E. read Grow More Food: A Vegetable Gardener's Guide to Getting the Biggest Harvest Possible from a Space of Any Size by Colin McCrate and Brad Halm 

Just how productive can one small vegetable garden be? More productive than one might think! Colin McCrate and Brad Halm, former CSA growers and current owners of the Seattle Urban Farm Company help readers boost their garden productivity by teaching them how to plan carefully, maximize production in every bed, get the most out of every plant, scale-up systems to maximize efficiency, and expand the harvest season with succession planting, intercropping, and season extension.

Along with chapters devoted to the Five Tenets of a Productive Gardener (Plan Well to Get the Most from Your Garden; Maximize Production in Each Bed; Get the Most out of Every Plant; Scale-up Tools and Systems for Efficiency; and Expand and Extend the Harvest), the book contains interactive tools that home gardeners can use to assist them in determining how, when, and what to plant; evaluating crop health; and planning and storing the harvest.

For today's vegetable gardeners who want to grow as much of their own food as possible, this guide offers expert advice and strategies for cultivating a garden that supplies what they need.

 

History 

Image

Diane M. read The Nazi Conspiracy: The Secret Plot to Kill Roosevelt, Stalin, and Churchill by Brad Meltzer and Josh Mensch

In 1943, as the war against Nazi Germany raged abroad, President Franklin Roosevelt had a critical goal: a face-to-face sit-down with his allies Joseph Stalin and Winston Churchill. This first-ever meeting of the Big Three in Tehran, Iran, would decide some of the most crucial strategic details of the war. Yet when the Nazis found out about the meeting, their own secret plan took shape—an assassination plot that would've changed history.

A true story filled with daring rescues, body doubles, and political intrigue, The Nazi Conspiracy details FDR's pivotal meeting in Tehran and the deadly Nazi plot against the heads of state of the three major Allied powers who attended it.

With all the hallmarks of a Brad Meltzer and Josh Mensch page-turner, The Nazi Conspiracy explores the great political minds of the twentieth century, investigating the pivotal years of the war in gripping detail. This meeting of the Big Three changed the course of World War II. Here's the inside story of how it almost led to a world-shattering disaster.
Week Seven

Fiction

Dystopian 

Image

Debbie L. read Our Missing Hearts by Celeste Ng 

Twelve-year-old Bird Gardner lives a quiet existence with his loving but broken father, a former linguist who now shelves books in a university library. Bird knows to not ask too many questions, stand out too much, or stray too far. For a decade, their lives have been governed by laws written to preserve "American culture" in the wake of years of economic instability and violence. To keep the peace and restore prosperity, the authorities are now allowed to relocate children of dissidents, especially those of Asian origin, and libraries have been forced to remove books seen as unpatriotic—including the work of Bird's mother, Margaret, a Chinese American poet who left the family when he was nine years old.

Bird has grown up disavowing his mother and her poems; he doesn't know her work or what happened to her, and he knows he shouldn't wonder. But when he receives a mysterious letter containing only a cryptic drawing, he is pulled into a quest to find her. His journey will take him back to the many folktales she poured into his head as a child, through the ranks of an underground network of librarians, into the lives of the children who have been taken, and finally to New York City, where a new act of defiance may be the beginning of much-needed change.

Our Missing Hearts is an old story made new, of the ways supposedly civilized communities can ignore the most searing injustice. It's a story about the power—and limitations—of art to create change, the lessons and legacies we pass on to our children, and how any of us can survive a broken world with our hearts intact.

 

Fantasy 

Image

Alice S. read The Midnight Library by Matt Haig

Between life and death, there is a library, and within that library, the shelves go on forever. Every book provides a chance to try another life you could have lived. To see how things would be if you had made other choices... Would you have done anything differently, if you had the chance to undo your regrets? A novel about all the choices that go into a life well lived.

Somewhere out beyond the edge of the universe, there is a library that contains an infinite number of books, each one the story of another reality. One tells the story of your life as it is, along with another book for the other life you could have lived if you had made a different choice at any point in your life. While we all wonder how our lives might have been, what if you had the chance to go to the library and see for yourself? Would any of these other lives truly be better?

Nora Seed finds herself faced with this decision. Faced with the possibility of changing her life for a new one, following a different career, undoing old breakups, realizing her dreams of becoming a glaciologist; she must search within herself as she travels through the Midnight Library to decide what is truly fulfilling in life, and what makes it worth living in the first place.

 

Historical Fiction 

Image

Lee Ann J. read The House of Eve by Sadeqa Johnson

1950s Philadelphia: fifteen-year-old Ruby Pearsall is on track to becoming the first in her family to attend college, in spite of having a mother more interested in keeping a man than raising a daughter. But a taboo love affair threatens to pull her back down into the poverty and desperation that has been passed on to her like a birthright.

Eleanor Quarles arrives in Washington, DC, with ambition and secrets. When she meets the handsome William Pride at Howard University, they fall madly in love. But William hails from one of DC's elite wealthy Black families, and his par­ents don't let just anyone into their fold. Eleanor hopes that a baby will make her finally feel at home in William's family and grant her the life she's been searching for. But having a baby—and fitting in—is easier said than done.

With their stories colliding in the most unexpected of ways, Ruby and Eleanor will both make decisions that shape the trajectory of their lives.

 

Mystery/Thriller

Image

Dori G. read Thursday Murder Club by Richard Osman

In a peaceful retirement village, four unlikely friends meet up once a week to investigate unsolved murders.

But when a brutal killing takes place on their very doorstep, the Thursday Murder Club find themselves in the middle of their first live case. Elizabeth, Joyce, Ibrahim, and Ron might be pushing eighty but they still have a few tricks up their sleeves.

Can our unorthodox but brilliant gang catch the killer before it's too late?

 

 

 

Image

Be A. read The Cloisters by Katy Hays 

When Ann Stilwell arrives in New York City, she expects to spend her summer working as a curatorial associate at the Metropolitan Museum of Art. Instead, she finds herself assigned to The Cloisters, a gothic museum, and garden renowned for its medieval art collection and its group of enigmatic researchers studying the history of divination.

Desperate to escape her painful past, Ann is happy to indulge the researchers' more outlandish theories about the history of fortune-telling. But what begins as academic curiosity quickly turns into obsession when Ann discovers a hidden 15th-century deck of tarot cards that might hold the key to predicting the future. When the dangerous game of power, seduction, and ambition at The Cloisters turns deadly, Ann becomes locked in a race for answers as the line between the arcane and the modern blurs.

A haunting and magical blend of genres, The Cloisters is a gripping debut that will keep you on the edge of your seat.
Week Eight

Fiction

Fantasy 

Image

Marina P.S. read Heaven Official's Blessing by Mo Xiang Tong Xiu 

Born the crown prince of a prosperous kingdom, Xie Lian was renowned for his beauty, strength, and purity. His years of dedicated study and noble deeds allowed him to ascend to godhood. But those who rise may also fall, and fall he does--cast from the heavens and banished to the world below.

Eight hundred years after his mortal life, Xie Lian has ascended to godhood for the third time, angering most of the gods in the process. To repay his debts, he is sent to the Mortal Realm to hunt down violent ghosts and troublemaking spirits who prey on the living. Along his travels, he meets the fascinating and brilliant San Lang, a young man with whom he feels an instant connection. Yet San Lang is clearly more than he appears... What mysteries lie behind that carefree smile?

 

Image

Jackie F. read The Cradle of Ice (Moonfall #2) by James Rollins 

To stop the coming apocalypse, a fellowship was formed.

A soldier, a thief, a lost prince, and a young girl bonded by fate and looming disaster.

Each step along this path has changed the party, forging deep alliances and greater
enmities. All the while, hostile forces have hunted them, fearing what they might
unleash. Armies wage war around them.

For each step has come with a cost—in blood, in loss, in heartbreak.

Now, they must split, traveling into a vast region of ice and to a sprawling capital of the world they've only known in stories. Time is running out and only the truth will save us all.

 

Historyical Fiction 

Image

Alice S. read The Personal Librarian by Marie Benedict 

In her twenties, Belle da Costa Greene is hired by J. P. Morgan to curate a collection of rare manuscripts, books, and artwork for his newly built Pierpont Morgan Library. Belle becomes a fixture on the New York society scene and one of the most powerful people in the art and book world, known for her impeccable taste and shrewd negotiating for critical works as she helps build a world-class collection.

But Belle has a secret, one she must protect at all costs. She was born not Belle da Costa Greene but Belle Marion Greener. She is the daughter of Richard Greener, the first Black graduate of Harvard and a well-known advocate for equality. Belle's complexion isn't dark because of her alleged Portuguese heritage that lets her pass as white—her complexion is dark because she is African American.

The Personal Librarian tells the story of an extraordinary woman, famous for her intellect, style, and wit, and shares the lengths to which she must go—for the protection of her family and her legacy—to preserve her carefully crafted white identity in the racist world in which she lives.

 

Image

Beth N. read The Cliff's Edge (Bess Crawford #13) by Charles Todd

In the aftermath of World War I, nurse Bess Crawford is caught in a deadly feud between two families in this thirteenth book in the beloved mystery series from New York Times bestselling author Charles Todd. Restless and uncertain of her future in the wake of World War I, former battlefield nurse Bess Crawford agrees to travel to Yorkshire to help a friend of her cousin Melinda through surgery. But circumstances change suddenly when news of a terrible accident reaches them. Bess agrees to go to isolated Scarfdale and the Neville family, where one man has been killed and another gravely injured. The police are asking questions, and Bess is quickly drawn into the fray as two once close families take sides, even as they are forced to remain in the same house until the inquest is completed.

When another tragedy strikes, the police are ready to make an arrest. Bess struggles to keep order as tensions rise and shots are fired. What dark truth is behind these deaths? And what about the tale of an older murder--one that doesn't seem to have anything to do with the Nevilles? Bess is unaware that when she passes the story on to Cousin Melinda, she will set in motion a revelation with the potential to change the lives of those she loves most--her parents, and her dearest friend, Simon Brandon...

 

Image

Laurie T. read Last Bus to Wisdom (Two Medicine Country #12) by Ivan Doig

Donal Cameron is being raised by his grandmother, the cook at the legendary Double W ranch in Ivan Doig's beloved Two Medicine Country of the Montana Rockies, a landscape that gives full rein to an eleven-year-old's imagination. But when Gram has to have surgery for "female trouble" in the summer of 1951, all she can think to do is to ship Donal off to her sister in faraway Manitowoc, Wisconsin. There Donal is in for a rude surprise: Aunt Kate–bossy, opinionated, argumentative, and tyrannical—is nothing like her sister. She henpecks her good-natured husband, Herman the German, and Donal can't seem to get on her good side either. After one contretemps too many, Kate packs him back to the authorities in Montana on the next Greyhound. But as it turns out, Donal isn't traveling solo: Herman the German has decided to fly the coop with him. In the immortal American tradition, the pair light out for the territory together, meeting a classic Doigian ensemble of characters and having rollicking misadventures along the way.

Charming, wise, and slyly funny, Last Bus to Wisdom is a last sweet gift from a writer whose books have bestowed untold pleasure on countless readers.

 

Horror

Image

Tim R. read Bone White by Ronald Malfi 

A landscape of frozen darkness punctuated by grim, gray days.
The feeling like a buzz in your teeth.
The scrape of bone on bone...

Paul Gallo saw the report on the news: a mass murderer leading police to his victims' graves, in remote Dread's Hand, Alaska.

It's not even a town; more like the bad memory of a town. The same bit of wilderness where his twin brother went missing a year ago. As the bodies are exhumed, Paul travels to Alaska to get closure and put his grief to rest.

But the mystery is only beginning. What Paul finds are superstitious locals who talk of the devil stealing souls, and a line of wooden crosses to keep what's in the woods from coming out. He finds no closure because no one can explain exactly what happened to Danny.

And the more he searches for answers, the more he finds himself becoming part of the mystery...

 

Image

Sheri K. read Frankenstein by Mary Shelley 

Mary Shelley's seminal novel of the scientist whose creation becomes a monster.

This edition is the original 1818 text, which preserves the hard-hitting and politically-charged aspects of Shelley's original writing, as well as her unflinching wit and strong female voice. This edition also includes a new introduction and suggestions for further reading by author and Shelley expert Charlotte Gordon, literary excerpts and reviews selected by Gordon, and a chronology and essay by preeminent Shelley scholar Charles E. Robinson.

 

 

 

 

Literary Fiction 

Image

Laura H. and Jenny D. read Cloud Cuckoo Land by Anthony Doerr

When everything is lost, it's our stories that survive.

How do we weather the end of things? Cloud Cuckoo Land brings together an unforgettable cast of dreamers and outsiders from the past, present, and future to offer a vision of survival against all odds.

Constantinople, 1453:
An orphaned seamstress and a cursed boy with a love for animals risk everything on opposite sides of a city wall to protect the people they love.

Idaho, 2020:
An impoverished, idealistic kid seeks revenge on a world that's crumbling around him. Can he go through with it when a gentle old man stands between him and his plans?

Unknown, Sometime in the Future:
With her tiny community in peril, Konstance is the last hope for the human race. To find a way forward, she must look to the oldest stories of all for guidance.

Bound together by a single ancient text, these tales interweave to form a tapestry of solace and resilience and a celebration of storytelling itself. Like its predecessor All the Light We Cannot See, Anthony Doerr's new novel is a tale of hope and profound human connection.

 

Image

Trish R. read Life Without Children: Stories by Roddy Doyle 

Love and marriage. Children and family. Death and grief. Life touches everyone the same. But living under lockdown, it changes us alone.

In these ten beautifully moving short stories written mostly over the last year, Booker Prize winner Roddy Doyle paints a collective portrait of our strange times. A man abroad wanders the stag-and-hen-strewn streets of Newcastle, as news of the virus at home asks him to question his next move. An exhausted nurse struggles to let go, having lost a much-loved patient in isolation. A middle-aged son, barred from his mother's funeral, wakes to an oncoming hangover of regret.

Told with Doyle's signature warmth, wit, and extraordinary eye for the richness that underpins the quiet of our lives, Life Without Children cuts to the heart of how we are all navigating loss, loneliness, and the shifting of history underneath our feet.

 

Mystery/Thriller 

Image

Vicki G. read 24 Hours by Greg Iles

It begins on a perfect night, with a perfect family about to be trapped in a perfect crime…

Will Jennings is a successful young doctor in Jackson, Mississippi, with a thriving practice, a beautiful wife, and a five-year-old daughter he loves beyond measure. But Will and his family are being watched by a con man and psychopath who may be a genius. A man who has never been caught and whose victims have never talked to the police. A man whose life's work strikes at the heart of every family's unspoken fear: the unstoppable kidnapping.

But this time he's picked the wrong family to terrorize. Because Will and Karen Jennings aren't going to watch helplessly as he victimizes them. They aren't going to let him get away with it. They're going to fight back…

 

 

 

Image

Helene R. read Twist of the Knife by Anthony Horowitz 

'Our deal is over.'

That's what reluctant author Anthony Horowitz tells ex-detective Daniel Hawthorne in an awkward meeting. The truth is that Anthony has other things on his mind.

His new play, Mindgame, is about to open in London's Vaudeville theatre. Not surprisingly Hawthorne declines a ticket.

On opening night, Sunday Times critic Harriet Throsby gives the play a savage review, focusing particularly on the writing. The next morning she is found dead, stabbed in the heart with an ornamental dagger which, it turns out, belongs to Anthony and which has his fingerprints all over it.

Anthony is arrested, charged with Throsby's murder, thrown into prison, and interrogated.

Alone and increasingly desperate, he realizes only one man can help him.

But will Hawthorne take his call?

 

Image

Ann F. read 11th Hour by James Patterson 

Lindsay Boxer is pregnant at last! But her work doesn't slow for a second. When millionaire Chaz Smith is mercilessly gunned down, she discovers that the murder weapon is linked to the deaths of four of San Francisco's most untouchable criminals. And it was taken from her own department's evidence locker. Anyone could be the killer—even her closest friends.

Lindsay is called next to the most bizarre crime scene she's ever witnessed: two bodiless heads elaborately displayed in the garden of a world-famous actor. Another head is unearthed in the garden, and Lindsay realizes that the ground could hide hundreds of victims.

A reporter launches a series of malicious articles about the cases and Lindsay's personal life is laid bare. But this time she has no one to turn to—especially not Joe.

 

Image

Mary Ann C. read Exiles by Jane Harper 

At a busy festival site on a warm spring night, a baby lies alone in her pram, her mother vanishing into the crowds.

A year on, Kim Gillespie's absence casts a long shadow as her friends and loved ones gather deep in the heart of South Australian wine country to welcome a new addition to the family.

Joining the celebrations is federal investigator Aaron Falk. But as he soaks up life in the lush valley, he begins to suspect this tight-knit group may be more fractured than it seems.

Between Falk's closest friend, a missing mother, and a woman he's drawn to, dark questions linger as long-ago truths begin to emerge.

An outstanding novel, a brilliant mystery, and a heart-pounding read from the author of The Dry, Force of Nature, The Lost Man, and The Survivors.

 

Image

Debi S. read Two Nights in Lisbon by Chris Pavone 

You think you know a person...

Ariel Pryce wakes up in Lisbon, alone. Her husband is gone―no warning, no note, not answering his phone. Something is wrong.

She starts with hotel security, then the police, then the American embassy, at each confronting questions she can't fully answer: What exactly is John doing in Lisbon? Why would he drag her along on his business trip? Who would want to harm him? And why does Ariel know so little about her new―much younger―husband?

The clock is ticking. Ariel is increasingly frustrated and desperate, running out of time, and the one person in the world who can help is the one person she least wants to ask.

With sparkling prose and razor-sharp insights, bestselling author Chris Pavone delivers a stunning and sophisticated international thriller that will linger long after the surprising final page.

 

Romance 

Image

Linda G. read Sunrise Point (Virgin River #17) by Robyn Carr 

Tom Cavanaugh may think he wants a traditional woman, but in Virgin River, the greatest tradition is falling in love unexpectedly...

Former Marine Tom Cavanaugh has come home to Virgin River, ready to take over his family's apple orchard and settle down. He knows just what the perfect woman will be like: sweet, decent, maybe a little naive. The marrying kind.

Nothing like Nora Crane. So why can't he keep his eyes off the striking single mother?

Nora may not have a formal education, but she graduated with honors from the school of hard knocks. She's been through tough times and she'll do whatever it takes to support her family, including helping with harvest time at the Cavanaugh's orchard. She's always kept a single-minded focus on staying afloat... but suddenly her thoughts keep drifting back to rugged, opinionated Tom Cavanaugh.

Both Nora and Tom have their own ideas of what family means. But they're about to prove each other completely wrong...

 

Image

Akilah B. read Before I Let Go by Kennedy Ryan 

Their love was supposed to last forever. But when life delivered blow after devastating blow, Yasmen and Josiah Wade found that love alone couldn't solve or save everything.

It couldn't save their marriage.

Yasmen wasn't prepared for how her life fell apart, but she is finally starting to find joy again. She and Josiah have found a new rhythm, co-parenting their two kids and running a thriving business together. Yet like magnets, they're always drawn back to each other, and now they're beginning to wonder if they're truly ready to let go of everything they once had.

Soon, one stolen kiss leads to another… and then more. It's hot. It's illicit. It's all good—until old wounds reopen. Is it too late for them to find forever? Or could they even be better, the second time around?

 

Non-Fiction

Psychology 

Image

Diane C. read Great Courses: Cognitive Behavioral Therapy: Techniques for Retraining Your Brain by Jason M. Satterfield

Why is it so hard to lose weight, stop smoking, or establish healthy habits? Why do couples argue about the same issues over and over? Why do so many people lie awake at night, stricken with worry and anxiety? Why is it so difficult to come to terms with a loved one's death, even if it's after a long illness?

The answers to these questions—and the path to lasting change in your life—lie in cognitive behavioral therapy (CBT), a well-tested collection of practical techniques for managing moods and modifying undesirable behaviors through self-awareness, critical analysis, and goal-oriented change. CBT illuminates the links between thoughts, emotions, behaviors, and physical health and uses those connections to develop concrete plans for self-improvement. Built on a solid foundation of neurological and behavioral research, CBT is an approach almost anyone can use for promoting greater mental health and improving quality of life.

In 24 engaging half-hour lectures, you'll build a robust and effective self-improvement toolkit with the expert guidance of Professor Satterfield of the University of California, San Francisco. You will explore CBT's roots in Socratic and stoic philosophy, build a toolkit of CBT techniques, and hear about the latest research about its outcomes. Additionally, this intriguing and practical course allows you to take on the role of medical student, physician, psychologist, and patient.

Throughout the course, you'll explore issues that cause people to seek out therapy. In some cases, you'll get to hear Dr. Satterfield working with a patient, and in others you'll be delving into research to find what causes issues and how CBT helps to resolve them.

Everyone has something about their life that they would like to improve. With the tools in CBT and the desire to make your situation better, you can create lasting change in your life.
Descriptions adapted from the publisher.