Please note that copiers and printers accept silver change and $1 or $5 bills, but no Credit Cards. We are not able to provide change.
Image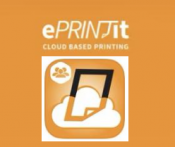 You can now use your Apple (iOS) or Android mobile device to send print jobs to the library for pickup at any of our locations during
open hours
.  To get started, you will need to download the free ePRINTit app labled "
Public Print Locations
".   You can follow the process with screen shots further below.
Here are a few features available for printing with our ePRINTit "Public Print Locations" app:
Submit multiple print jobs
Send and pickup at any branch location
Print from email, picture, the Web, Dropbox, Office 365, Google Drive, OneDrive, Box, and Files.
Multiple copies and page range options.
Black and White or Color options.
Follow these 10 steps to send your print jobs through the ePRINTit "Public Print Locations" app.
Get the app: Go to the App Store (for iOS devices) or Google Play store (for Android devices) to search for and download the ePRINTit app labeled "Public Print Locations" by ePRINTit.com Corp.

Image

Terms: You will have to accept the terms to proceed.

Image

Print options: You will have the option to print emails, pictures, Web pages, Drop Box items, Office 365 items, Google Drive items, OneDrive items, Box items, and Files.

Image

Providers (the library): Select our "TBS" printing provider. (If your location services are not on, you can bypass the "Warning" message by selecting "OK" and searching for your local branch)

Image

Branch location: Select your branch location.

Image

Details: Enter your detailed request, including number of copies, page numbers or range of pages, and black and white, or color, options, and scroll down the page to enter your library card number (or unique name) under "User Informaion".  You will need this card number or name to pick up your print job at the library.

Image

Print: Once you've entered your library card number or unique name, select "Print".

Image

Terms of Use: You will need to select "Accept" to proceed.

Image

Confirmation: You can select your printout or delete it if you wish.

Image

Go! You are ready to go to your pickup location and you can get directions if you need them.

Image