Image
We're baaaaack. And we've brought you even more queer sci-fi and fantasy for your reading pleasure. Whether you're looking for space, ~ambiance~, or wild and wacky hijinks, we've got you covered. 
Just in case you missed it, the first part of this review series can be found here: Space Gaze: Two Librarians Review Queer Sci-Fi & Fantasy.
Image
Image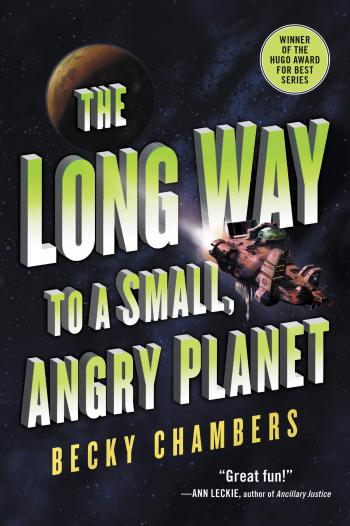 The Long Way to a Small Angry Planet by Becky Chambers [2016]
Rachael: I. Love. This. Book. Buckle in because this review is absolutely not going to be coherent. You want found family? Oh my gosh does this book have the most heartwarming found family around. You want just mind-blowingly cool and diverse alien species? Here you go, take more than you can possibly keep track of. How about some classic sci-fi elements mixed in with modern attitudes and aesthetics? Oh we absolutely got that. These elements alone would have added up to a great book, but what truly sets The Long Way to a Small Angry Planet apart is its philosophy. I can't remember the last time I read a book filled with this much love and hope for humanity (human being loosely defined here). Long Way says we are flawed, we have incomprehensible differences, and we can't help but hurt each other along the way. But if we approach the world with curiosity, love, and respect, we'll create something truly glorious together. A+. A million stars. Please read this book. 5/5 stars
Rin: I read this book back when I was first figuring out my queerness and was devouring any queer book that I could get my hands on. But I guess in retrospect it's less about queerness and more about, as Rachael, said, that good found family trope. Also, like, finding yourself away from your family, which can be a pretty queer theme. Even though I can't remember many of the details at this point (oops?), what's stuck with me over the years was the absolutely amazing worldbuilding (galaxy-building?), the diversity of sentient life that Wayfarer encounters, and the hope that can be found in the most unlikely of places. And Becky Chambers has written a few other books in this universe, though they're not direct sequels, which are absolutely worth checking out as well. 5/5 stars
Final Verdict: 5/5 stars
Image
Sinew and Steel and What They Told by Carrie Vaughn [2020]
Rin: This is a short one. Like, a really short one. I knew how many pages it was going into this and I was still surprised when it ended. That being said, it's pretty cool. I knew something was up with Graff (it even says so in the summary of the book), but every time I guessed what that was, the narrative threw a new curveball at me and I had to reassess. The final reveal is pretty freaking cool, but still. It left me craving more of this world, and not in a fanfiction-shaped-hole sort of way, but a this-should-have-been-one-hundred-pages-longer sort of way. I could definitely read a full novel about Graff, his ship and crewmates, and the place he came from—or just the rest of this galaxy in general! I guess I have to go with 3/5 stars~ because I was disappointed by the length, and I can't get over it.
Rae: I have to agree with Rin on this one, this novella is too short. Not because it's missing anything per se (it's a tight little story that says exactly what it sets out to say), but because I fell in love with these characters on page two and want to follow them on all sorts of adventures. I do believe Vaughn deliberately her work short to underscore its' message about the inherent value of lived experiences (what better way to make us appreciate something than to take it away from us after all?), but even so I selfishly wanted more content, more story, more anything. I'm going to give this story 4/5 ~ I loved what there was of it, but a month or so later I'm still wistfully wishing for a sequel. 
Final Verdict: 3.5/5 stars
Image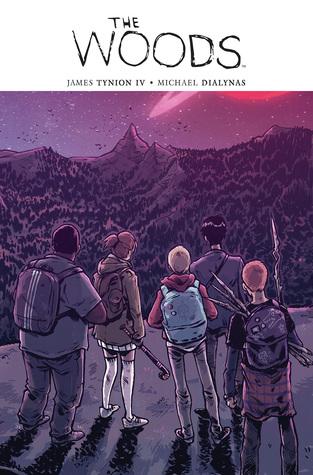 The Woods series by James Tynion IV [2014-2018]
Rae: It's lord of the flies. In SPACE! Minus the British classism and plus actual mutant alien flies that will lay eggs in your flesh. So overall coming out on top.
I gotta say, I found myself invested in this series pretty much from the word go. The Woods has all the classic elements I appreciate in survival fiction, and Tynion takes no time at all throwing you straight into the action. I'm an immediate sucker for any 'ragtag group of misfits against the world' story, and when it's literally an alien world that's trying to kill them so much the better. The designs are awesome, the characters are diverse and compelling, and the mystery is, at this point in the series, utterly opaque. The Woods isn't a series that's going to change anyone's life, but it's a lot of fun; especially for fans of not-too-scary horror. 3.5/5 
Note: at point of review only the first two volumes of the series (which has 9 volumes in total) are available. The final 7 volumes are on order, and should be arriving at the library within the next few weeks.
Rin: Okay, this one was. A lot. Mind you, I've only read the first two volumes, because the rest aren't available for checkout through the library as of the writing of this blog, but those two certainly piqued my interest enough that I want to finish off the rest of this series. That being said, this was a lot. And very gory. The Woods is not a series to be underestimated, if that's the sort of thing that bothers you. And I'm a well known scaredy cat, so it bothered me a bit. But I'm in love with some of the characters—especially Sanami and Ben—and I really liked the flashbacks in Volume 2, showing so many perspectives of the same night, interspersed with the present day oh-crap-we're-stuck-on-another-planet-or-something. I'm going to keep reading this series, though I won't know if I truly like it or not until I get to the end. 3/5
Final Verdict: 3.25/5 stars
Image
Image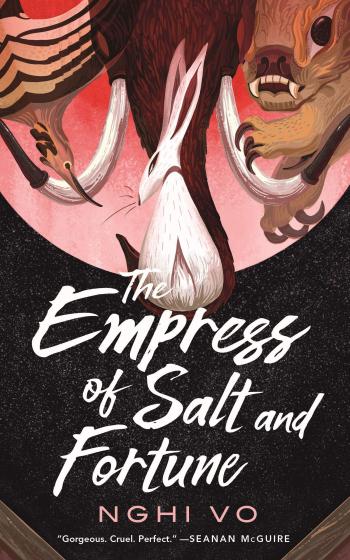 The Empress of Salt and Fortune by Nghi Vo [2020]
Rin: I love to see a story within a story, and this one in particular was exquisite. And I adore the idea of clerics who travel with bird companions who never forget a word, collecting stories as they go. The power of abandoned and forgotten women. Empresses who are foreign and remote and caring, nonetheless. The writing style of The Empress of Salt and Fortune is lyrical, nostaligic, and achingly beautiful. Okay so I basically love every little bit of this. I could devour novels about this world (and, yay, at least there's a sequel!) but I was pretty satisfied with all the author managed to pack into such a short story. 4.5/5 stars
Rae: Just absolutely gorgeous. I'm not sure I can express how very lovely The Empress of Salt and Fortune is. The fact that Nghi Vo didn't start her career as a poet (as far as I'm aware anyway) is shocking. She could have spent every word of this novella simply describing the world she created, and her voice alone would have kept me captivated. On top of her lyrical writing style and inventive world-building, however, Vo somehow found the time to develop a heartbreaking story about the impact of the abused, oppressed, and forgotten. I may have cried just a bit. 5/5 stars
Final Verdict: 4.75/5 stars
Image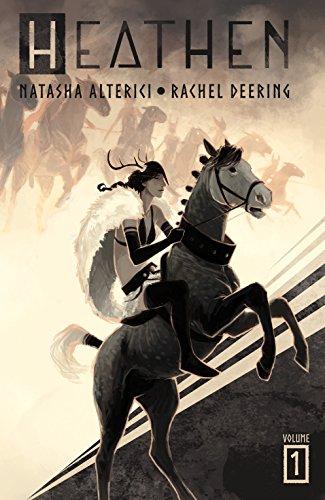 Heathen series by Natasha Alterici and Rachel Deering [2017-2020]
Rae: There are a lot of great elements in this series. Before we can talk about them though, I'm going to have to address the elephant in the room. The protagonist's costume is... bad. Real bad. Hon, you are in Scandinavia. Please put on something warmer than a bikini top and opera gloves. Those just aren't going to cut it, even with the fur cape draped artfully on top. I do like the antlers though, those are pretty cool.
Baffling sartorial choices aside, Heathen is a series worth checking out. The art style is distinctive and the character designs (although somewhat limited in the first volume) are interesting enough to hold your attention. Where this series really shines though is in its main conceit: the protagonist's quest for freedom from the rigid and male dominated world around her. Aydis' refusal to compromise her identity in the face of adversity is impressive. When a girl decides to kill a literal god rather than apologize for who she is, you just can't help but cheer. 3/5 stars
Rin: Rachael said it first and best: the outfits are. Pretty bad. And I'm feeling sort of conflicted as I write this review. I was really captured by the first volume and Aydis's struggle to protect herself and others who are vulnerable in her society. But as I continued reading, I couldn't help but feel like that fell away; Aydis was no longer confronting the gods because it would make her and others safer, but because it was the path she had been set on by other gods. I dunno fam, the art is gorgeous and the colors are so atmospheric, but the series started at a high point and sort of went downhill from there. Just a little bit. 3/5 stars
Final Verdict: 3/5 stars
Image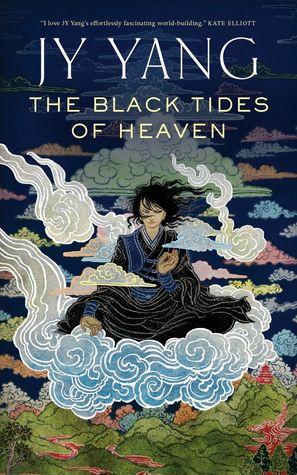 The Black Tides of Heaven by Neon Yang [2017]
Rin: Ooooooh, gender. Gender gender gender gender. I know there's more to this book than that but let me hyperfixate for a minute, yeah?
Okay, I'm good. Even beyond what's probably the coolest gender system I've ever seen in a story, this one gets me. Cool magic, a foreign world (five sunrises and sunsets in a day! What!), familial affection, familial antagonism... The list goes on, as does my enjoyment of this book. I'll admit that it took me a bit to get into it, but by the end of the second or third time skip, I was hooked. And speaking of time skips—I love when a book follows a character over years and decades, and this one certainly did not disappoint. I'm writing this immediately after finishing the book and I still feel a bit muzzy, like I haven't fully emerged from the book coma, but I can absolutely recommend this one, no question. 4/5 stars
Rae: And here we have yet another book that decided to reach into my chest to rip out my still beating heart. Cool cool cool. Everything is fine.
The Black Tides of Heaven is a bit on the longer side for a novella, and Yang uses every word to its fullest effect. This is a book about family, identity, loss, and love. It's a book about embracing who you are, and drawing lines in the sand. It's about the empty aching hole in your heart that loved ones leave behind, and it's about sacrifice. With the Tensorate series (yes, we've got another series for you) Yang builds a beautiful and deadly world and then simply lets the reader steep in the heartache. This is a lovely book that shouldn't be missed, especially if you want to feel all possible human emotions all at the same time. 4/5 stars ~ it hurts so good.
Final Verdict: 4/5 stars
Image

Image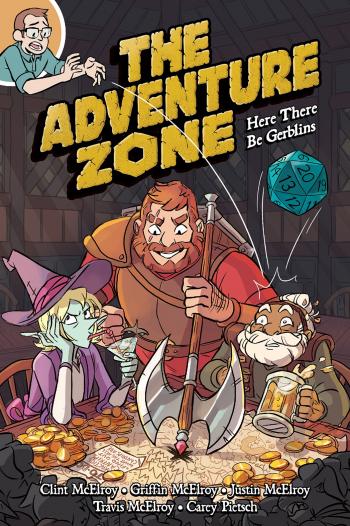 The Adventure Zone series by Clint McElroy [2018- ]
Rin: Rachael dragged me into this one kicking and screaming, and now I'm obsessed. The Adventure Zone graphic novels are everything a person could ask for: brilliantly colorful, ridiculously funny, and instantly entrancing. Taako, Merle, and Magnus are so stupid they're somehow the best at [static]. Wait, I mean [static]. Shoot. Guess you'll just have to read them to find out what's going on!
Beware though! I've always been insistent that I wouldn't listen to podcasts. But with only three of the graphic novels out so far (with a fourth on the way in July!), I caved and started listening to the podcast these graphic novels are based on. And it's awesome. If you want to get into the podcast, I'd recommend trying out what I did: read the volume first, and then get all the extra stuff they had to cut out in the podcast arc. It's a pretty fun way to do it, but you can absolutely read these books without listening to a single TAZ episode. I cannot recommend these books or the podcast enough, but I guess this will have to suffice: 5/5 stars
Rae: A graphic novel series. Based on a podcast. About a game of Calvinball D&D played by three brothers and their dad.... I think we may have reached peak nerd here, folks.
Like Rin said, I'm a huge fan of the podcast these novels are based on. If you don't have 85 or so hours to invest though, The Adventure Zone graphic novels are a great way to get some of that TAZ magic without living with headphones in your ears for a few weeks. Carey Pietsch, the artist, did a marvelous job streamlining a truly ridiculous amount of content into a series of bright, hilarious, and engaging books. She perfectly captures the personality of our intrepid adventurers (whose group name I can't actually write in this review as it would get flagged for naughty words), and I would gladly stare at her dynamic art style all day long. The Adventure Zone deftly walks the line between goofy and emotionally weighty, transitioning seamlessly between ribald jokes and heartbreaking emotional journeys. It's a master class on how to hold deep introspections into the nature of life itself while lightly looting some gerblin corpses. 5/5 stars ~ this universe is a gift.
Final Verdict: 5/5 stars
Image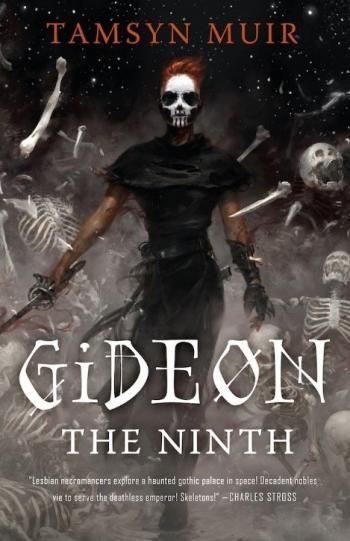 Gideon the Ninth by Tamsyn Muir [2019]
Rae: With Gideon the Ninth Tamsyn Muir has built a sprawling, detailed, and shockingly vivid universe filled with arcane lore, rigid mystical hierarchies, and razor sharp political intrigue. And then she populated this miraculous world with violent feral idiots who are, at all times, ready to throw down for absolutely no reason. Think gender swapped Sherlock Holmes if Holmes and Watson hated each other, Sherlock could do necromancy, Watson was a muscle-bound himbo who just wanted to smack everything in sight with a giant sword, and both learned how to interact with the world around them by watching Mad Max films on 2X speed. That's pretty much the vibe here. Basically what I'm saying is that I have NEVER read anything like Gideon the Ninth. It's violent, profane, occasionally hilarious, and will draw you in from page one. 5/5 stars ~ I don't even know what to do with myself after reading this book.
Rin: Lesbian necromancers (IN SPACE!) solving (mostly by accident) a whodunit—what's not to love? This is one of those few books I got to before Rachael did, and there was a lot of satisfaction in being able to recommend a book to her for once. This one doesn't shy away from the gross and gory details of necromancy, but our narrator Gideon is funny, irreverent, and still referencing memes from this decade, which more than makes up for the gross bits for me. Actually, let's just be honest with ourselves: Gideon is the very definition of electric boogaloo. I like to think she'd be honored to be included in this part of the list.
I've also listened to the audiobook, which is narrated by Moira Quirk, and it is absolutely perfect. 5/5 stars
Final Verdict: 5/5 stars
Image
The Ruthless Lady's Guide to Wizardry by C. M. Waggoner [2021]
Rin: I went into this one based purely on Rachael's recommendation with absolutely no idea of what to expect, but that really upped the electric boogaloo vibes of this book. It's weird. It's funky. It's long. And it's so much fun. Waggoner really throws you in the deep end right from the get-go and expects you to either sink or swim, and I, for one, am here for that. And of course no review of this book will be complete without mentioning Winn, who I fell in love with before we even learned her name. She's the buffest sweetheart you could ever hope to meet, and she balances our main character Delly so very well. 5/5 stars ~ I want to go back and reread this immediately.
Rae: If I had to describe The Ruthless Lady's Guide to Wizardry in one world it would be unexpected. Luckily for me (because I am physically incapable of stopping myself from talking about books I like) there's no word limit on these reviews, so I can expand upon unexpected as much as I like. I didn't see a single plot twist in this book coming. I didn't even see the plot developments coming. Waggoner has such an unusual and delightful turn of phrase that I found myself simply admiring sentences the same way I would a particularly riotous field of flowers. And then BAM. Plot! Class commentary! Action and adventure! An incredibly soft romantic relationship I actually found myself super invested in despite the fact I'm not a huge fan of romance because they're just both so amazing and perfect for each other and seeing them gaze dreamily into each others eyes while taking on the world together makes me believe in love again! 
So yeah, I liked this book a lot. Give me a sequel immediately. 4.5/5 stars 
Final Verdict: 4.75/5 stars
Image
Image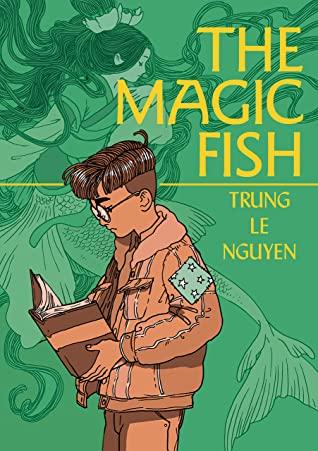 Rin's Suggestion for Rachael
The Magic Fish by Trung Le Nguyen [2020]
Okay, based on what I know of your reading habits (for example, how you felt about Taproot in our last blog), I think you're either going to love this one or be bored to tears by it. But it's worth me suggesting because I loved it and I want someone to talk to about it. I will say that The Magic Fish is stretching the limits of our queer sf/f boundaries: Tiến and his mother's story are set in the 1990s in America, while the fairy tales woven throughout their story are definitely fantasy, and there's just a dash of queerness sprinkled throughout both. For flavoring. That being said, I think you'll really like the way all three strands—past, present, and fantasy—are braided together, and the way the creator uses colors to denote each specific storyline. Tiến's relationship with his mother is the bedrock of the whole book, and it's well worth it to read The Magic Fish, if only for that.
Image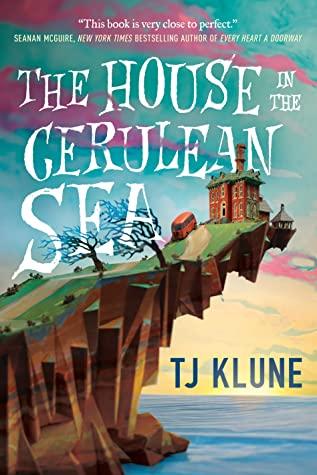 Rachael's Suggestion for Rin
The House in the Cerulean Sea by T.J. Klune [2020] 
Rin. It's just so freaking cute. And so very up your alley. The protagonist is your favorite architype (a sad and gentle man who deserves better from the world), it's about found family (with a big emphasis on found), and one of the characters is a beautiful and glorious island sprite who holds everyone together with sheer exasperated mom energy (which isn't specifically something you love but should be appreciated by everyone so I included it). Ultimately, you should read this book because it's like a cup of warm tea. Sweet, homey, and oh so comforting.
Also I love Theodore with all of my heart and I need you to love him too.
And we already have part three in the works! Keep an eye out for Space Gaze 3, coming soon to a local library blog near you.