Image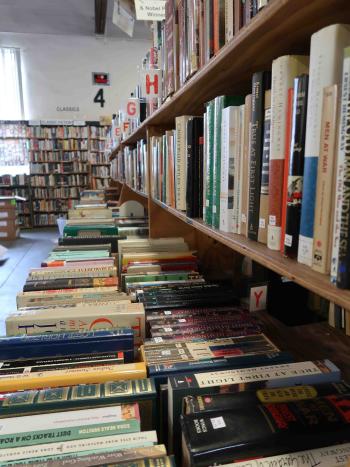 The Friends of the Library Bookhouse is brimming with thousands of bargain-priced books, vinyl records, puzzles, board games, artworks, comic books, DVDs, and more. Snap up these great items during the Friends of the Library's Spring Book Sale April. 23-27 at the Bookhouse, 430-B North Main St. in Gainesville. Profits from the sale support the Alachua County Library District and community literacy projects. Most items are priced between 25 cents and $4. 
The sale hours are:
Saturday, April 23, 9 a.m.-6 p.m.
Sunday, April 24, 12-6 p.m.
Monday, April 25, 12-6 p.m.
Tuesday, April 26, 12- 6 p.m. – All items in the general collection are half price.
Wednesday, April 27, 12-6 p.m. – All items are 10 cents.
The Collector's Corner features rare and unusual items from many genres. Books may be leather-bound, signed, first editions, out of print, or published by small presses. Larger sections include Art, Military History, Literature, Non-Fiction, Florida, Genealogy, Regional, Early Cookbooks, Natural History, Vintage Children's Books, Pop-ups, and "Grandma's Bookshelf." The Collector's Corner is open Saturday, April 23-Tuesday, April 26. 
Featured items in the 2022 Spring Collector's Corner include the following:
Art, Architecture, and Photography
Gabriel Orozco: Photographs, first edition, 2004.
Louis C. Tiffany: Golden Museum Collection, 2004.
My Adventure as an Illustrator, by Norman Rockwell, first edition, signed.
The Cremaster Cycle, by Matthew Barry, 2002.
Olmec Art at Dumbarton Oaks, by Karl A. Taube.

Taras Shevchenko (Ukraine's Poet Laureate and Artist), portraits and creative work, printed in the Soviet Union, 1964.

Jean-Michel Frank: The Strange and Subtle Luxury of the Parisian Haute-Monde in the Art Period.
Archaeology
Atlamira, by Francisco Santamatilde, tipped in pages; original photographs by the author, 1968.
Machu Picchu, A Citadel of the Incas, by Hiram Bingham, limited to 500 copies; includes a pull-out map, first edition, 1930.

A large collection of books on Mesoamerican culture and art, especially the Olmec.
Florida
Grander in Her Daughters, by Tracy J. Revels, first edition, 2004.
Aquiferious, by Margaret Ross Tolbert, signed, two copies, 2010.
The East Coast of Florida, by Nance, three volume set, 1962.
Cross Creek Reader's Guide and Cross Creek Reader's Guide: An Illustrated Quick Reference Guide to Cross Creek, by James Stephens. Multiple copies, some signed. Published in 2003 and 2008.
Old Tales and Trails of Florida, by Myrtle Hilliard Crow, 1987.
The World's First Airline: The St. Petersburg – Tampa Airboat Line, by Gay Blair White, 1984.
History
Gold and Power in Ancient Cost Rica, Panama, and Colombia, out of print, 2003.
The Writings of Colonel William Byrd, limited edition, #166 of 500, 1901.
History of the Campaigns of 1780 and 1781, by Lieutenant Colonel S. B. Tarleton, first edition with multiple intact fold-out maps, 1787.
A Sermon, occasioned by the Death of George Washington delivered in the Baptist Church, Savannah Georgia, January 19, 1800, very rare.
Lincoln Obsequies, in the City of New York, 1866.
The Rise and Fall of the Confederate Government, by Jefferson Davis, two volume set, 1881.
Instruction for Field Artillery, Civil War field manual, 1864.
The Life and Campaigns of Major-General J. E. B. Stuart.
The Catawba Soldier of the Civil War, first edition, 1911.
Look out Below! A Story of the Airborne by a Paratrooper Padre, by Chaplain

(Lt. Col.) Francis L. Sampson, 1958.

How the West Was Worn, by Holly George-Warren and Michelle Friedman.
Return of the Enola Gay, by Paul W. Tibbets, signed, 1998.
Peleliu Landing, by Tom Lea, deluxe edition, #279 of 500, signed by author/artist. Includes a color bonus insert from Life Magazine.
City Map Central Tokyo, June 1948, prepared by the Engineer Survey Battalion especially for dependents and allied military forces stationed in Tokyo after WWII.
Cities Destroyed for Cash, by Brian D. Boyer, the FHA scandal at HUD, 1973.
Trumpy, by Robert Tolf. Mullen books describes it as, "

A fabulous and scarce book which presents the history of Yacht design from the perspective of John Trumpy. He began his career as Mathis Yacht Building company in 1910 and closed in 1973 as John Trumpy & Sons," signed, 1996.
Humor
What's Got Your Back Up?, by Bill Mauldin, signed, 1961
Literature and Classics
The Pickwick Papers (The Posthumous Papers of the Pickwick Club), first edition, 1837.
Shipping News, by E. Annie Proulx, first edition.
The Eighth Day, by Thornton Wilder, signed, limited edition.
Dragon's Teeth, by Upton Sinclair, first edition, 1942.
Look Homeward Angel, by Thomas Wolfe, signed, 1934.

A large selection of books by or about Thomas Wolfe.
Music
Been Here and Gone, by Frederick Ramsey, Jr., with a letter from the author, 1960.
A Closer Walk: The Pete Fountain Story, signed by Pete Fountain and Band Mates, plus two signed photographs of Pete Fountain, 1972.
Violin Restoration a Manual for Violin Makers, by Hans Weisshaar and Margaret Shipman, 1988.
Nonfiction
Know Your Doctor, by R. J. Reynolds, advertising; an interesting addition to any collection of smoking ephemera, 1947.
Trump: The Art of the Deal, 2016 Election Edition, signed by Donald Trump.
The Story of Scotch Whiskey, by Tom Bruce-Gardyne.
Collecting the Confederacy, by Shannon Pritchard, limited edition, signed, as new condition.
Redheaded Peckerwood, by Christian Patterson, 2011.
Poetry
The Works of Mr. Abraham Cowley Consisting of Those Which Were Formerly Printed: and Those Which He Designed for the Press, the eighth edition, 1693.
The Dream Keeper, by Langston Hughes, first edition, rare, 1932.
Science
The Life and Work of Charles Pritchard, professor of Astronomy at Oxford, 1897.
Adventures in a Green World: The Story of David Fairchild and Barbour Lathrop, by Marjory Stoneman Douglas, 1973.
About Robins, by Lady Caroline Blanche Elizabeth Lindsay, published in England with color plates, 1889.
Miscellaneous 
Vintage medical books.

Books about Barbie Doll collections and memorabilia.

Life Magazines from the WWII era.

Pop-up books.