Image

Gail's pick was...
Image
Cast out of the royal court by Eleanor of Aquitaine, deemed too coarse and rough-hewn for marriage or courtly life, 17-year-old Marie de France is sent to England to be the new prioress of an impoverished abbey, its nuns on the brink of starvation and beset by disease.

At first taken aback by the severity of her new life, Marie finds focus and love in collective life with her singular and mercurial sisters. In this crucible, Marie steadily supplants her desire for family, for her homeland, for the passions of her youth with something new to her: devotion to her sisters, and a conviction in her own divine visions. Marie, born the last in a long line of women warriors and crusaders, is determined to chart a bold new course for the women she now leads and protects. But in a world that is shifting and corroding in frightening ways, one that can never reconcile itself with her existence, will the sheer force of Marie's vision be bulwark enough?

Equally alive to the sacred and the profane, Matrix gathers currents of violence, sensuality, and religious ecstasy in a mesmerizing portrait of consuming passion, aberrant faith, and a woman that history moves both through and around. Lauren Groff's new novel, her first since Fates and Furies, is a defiant and timely exploration of the raw power of female creativity in a corrupted world.
Meredith's pick was...
Image
Fox & I by Catherine Raven [2021]
A solitary woman's inspiring, moving, surprising, and often funny memoir about the transformative power of her unusual friendship with a wild fox, a new window onto the natural world, and the introduction of a remarkable literary talent.

Catherine Raven left home at 15, fleeing an abusive father and an indifferent mother. Drawn to the natural world, for years she worked as a ranger in National Parks, at times living in her run-down car (which lacked a reverse gear), on abandoned construction sites, or camping on a piece of land in Montana she bought from a colleague. She managed to put herself through college and then graduate school, eventually earning a Ph.D. in biology.

Yet she never felt at home with people, and though she worked at various universities and taught field classes in the National Parks, she built a house on a remote plot of land in Montana and, except when teaching, spoke to no one. One day, she realized that the fox who had been appearing at her house was coming by every day at 4:15. He became a regular visitor, who eventually sat near her as she read to him from The Little Prince or Dr. Seuss. Her scientific training had taught her not to anthropomorphize animals, but as she grew to know him, his personality revealed itself—and he became her friend. But friends cannot always save each other from the uncontained forces of nature.

Though this is a story of survival, it is also a poignant and dramatic tale of living in the wilderness and coping with inevitable loss. This uplifting fable-like true story about the friendship of a woman and a wild fox not only reveals the power of friendship and our interconnectedness with the natural world but is an original, imaginative, and beautiful work that introduces a stunning new voice.
Allison's pick was...
Image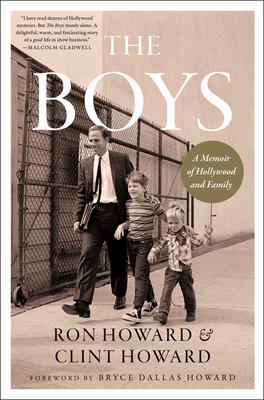 The Boys : A Memoir of Hollywood and Family by Ron Howard, Clint Howard, Bryce Dallas Howard [2021]
"What was it like to grow up on TV?" Ron Howard has been asked this question throughout his adult life. In The Boys, he and his younger brother, Clint, examine their childhoods in detail for the first time. For Ron, playing Opie on The Andy Griffith Show and Richie Cunningham on Happy Days offered fame, joy, and opportunity—but also invited stress and bullying. For Clint, a fast start on such programs as Gentle Ben and Star Trek petered out in adolescence, with some tough consequences and lessons.

With the perspective of time and success—Ron as a filmmaker, producer, and Hollywood A-lister, Clint as a busy character actor—the Howard brothers delve deep into an upbringing that seemed normal to them yet was anything but. Their Midwestern parents, Rance and Jean, moved to California to pursue their own showbiz dreams. But it was their young sons who found steady employment as actors. Rance put aside his ego and ambition to become Ron and Clint's teacher, sage, and moral compass. Jean became their loving protector—sometimes over-protector—from the snares and traps of Hollywood.

By turns confessional, nostalgic, heartwarming, and harrowing, The Boys is a dual narrative that lifts the lid on the Howard brothers' closely held lives. It's the journey of a tight four-person family unit that held fast in an unforgiving business and of two brothers who survived "child-actor syndrome" to become fulfilled adults.
Sarah's pick was...
Image
The Boston Girl by Anita Diamant [2014]
From the New York Times bestselling author of The Red Tent and Day After Night, comes an unforgettable coming-of-age novel about family ties and values, friendship and feminism told through the eyes of a young Jewish woman growing up in Boston in the early twentieth century.

Addie Baum is The Boston Girl, born in 1900 to immigrant parents who were unprepared for and suspicious of America and its effect on their three daughters. Growing up in the North End, then a teeming multicultural neighborhood, Addie's intelligence and curiosity take her to a world her parents can't imagine - a world of short skirts, movies, celebrity culture and new opportunities for women. Addie wants to finish high school and dreams of going to college. She wants a career and to find true love.

Eighty-five-year-old Addie tells the story of her life to her twenty-two-year-old granddaughter, who has asked her "How did you get to be the woman you are today?" She begins in 1915, the year she found her voice and made friends who would help shape the course of her life. From the one-room tenement apartment she shared with her parents and two sisters, to the library group for girls she joins at a neighborhood settlement house, to her first, disastrous love affair, Addie recalls her adventures with compassion for the naïve girl she was and a wicked sense of humor.

Written with the same attention to historical detail and emotional resonance that made Anita Diamant's previous novels bestsellers, The Boston Girl is a moving portrait of one woman's complicated life in twentieth-century America, and a fascinating look at a generation of women finding their places in a changing world.
Guylene's pick was...
Image
The Anomaly by Michael Rutger [2018]
Not all secrets are meant to be found.

If Indiana Jones lived in the X-Files era, he might bear at least a passing resemblance to Nolan Moore -- a rogue archaeologist hosting a documentary series derisively dismissed by the "real" experts, but beloved of conspiracy theorists.

Nolan sets out to retrace the steps of an explorer from 1909 who claimed to have discovered a mysterious cavern high up in the ancient rock of the Grand Canyon. And, for once, he may have actually found what he seeks. Then the trip takes a nasty turn, and the cave begins turning against them in mysterious ways.

Nolan's story becomes one of survival against seemingly impossible odds. The only way out is to answer a series of intriguing questions: What is this strange cave? How has it remained hidden for so long? And what secret does it conceal that made its last visitors attempt to seal it forever?
Sean's pick was...
Image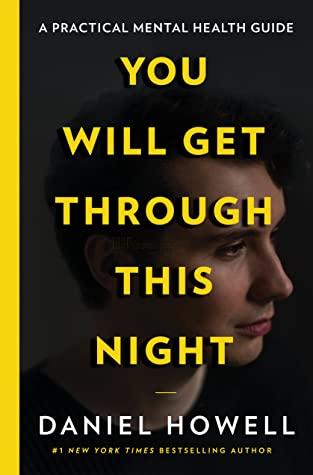 You Will Get Through This Night by Daniel Howell [2021]
Written by Daniel Howell, in conjunction with a qualified psychologist, in an entertaining and personal way from the perspective of someone who has been through it all—this no-nonsense book gives you the tools to understand your mind so you can be in control and really live. Split into three chapters for each stage of the journey:

This Night - how to get through your toughest moments and be prepared to face anything.
Tomorrow - small steps to change your thoughts and actions with a big impact on your life.
The Days After - help to look after yourself in the long term and not just survive, but thrive.

You will laugh and learn—but most of all, this book will assure you that even in your darkest times, there is always hope. 

You will get through this night.
Rachael's pick was...
Image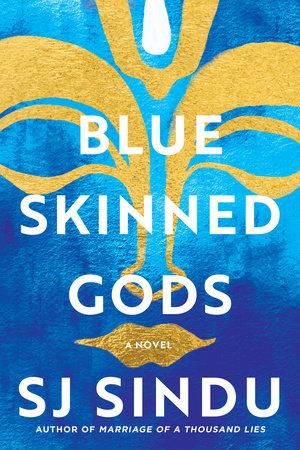 Blue-Skinned Gods by S.J. Sindu [2021]
In Tamil Nadu, India, a boy is born with blue skin. His father sets up an ashram, and the family makes a living off of the pilgrims who seek the child's blessings and miracles, believing young Kalki to be the tenth human incarnation of the Hindu god Vishnu. In Kalki's tenth year, he is confronted with three trials that will test his power and prove his divine status and, his father tells him, spread his fame worldwide. While he seems to pass them, Kalki begins to question his divinity.

Over the next decade, his family unravels, and every relationship he relied on—father, mother, aunt, uncle, cousin—starts falling apart. Traveling from India to the underground rock scene of New York City, Blue-Skinned Gods explores ethnic, gender, and sexual identities, and spans continents and faiths, in an expansive and heartfelt look at the need for belief in our globally interconnected world.
Cameron's pick was...
Image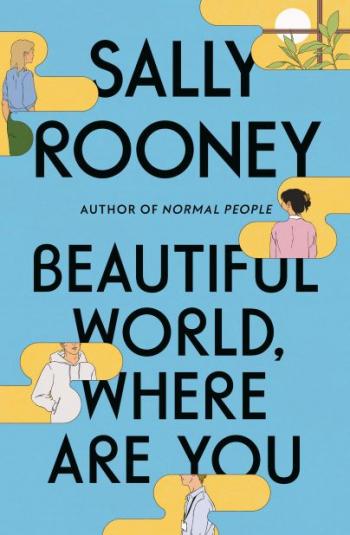 Beautiful World, Where Are You by Sally Rooney [2021]
Alice, a novelist, meets Felix, who works in a warehouse, and asks him if he'd like to travel to Rome with her. In Dublin, her best friend, Eileen, is getting over a break-up and slips back into flirting with Simon, a man she has known since childhood. Alice, Felix, Eileen, and Simon are still young—but life is catching up with them. They desire each other, they delude each other, they get together, they break apart. They have sex, they worry about sex, they worry about their friendships and the world they live in. Are they standing in the last lighted room before the darkness, bearing witness to something? Will they find a way to believe in a beautiful world?
Jen's pick was...
Image
The Empress of Salt and Fortune by Nghi Vo [2020]
A young royal from the far north is sent south for a political marriage in an empire reminiscent of imperial China. Her brothers are dead, her armies and their war mammoths long defeated and caged behind their borders. Alone and sometimes reviled, she must choose her allies carefully.

Rabbit, a handmaiden, sold by her parents to the palace for the lack of five baskets of dye, befriends the emperor's lonely new wife and gets more than she bargained for.

At once feminist high fantasy and an indictment of monarchy, this evocative debut follows the rise of the empress In-yo, who has few resources and fewer friends. She's a northern daughter in a mage-made summer exile, but she will bend history to her will and bring down her enemies, piece by piece.
Beth's pick was...
Image
Mercy (Atlee Pine #4) by David Baldacci [2021]
FBI Agent Atlee Pine's harrowing search for her long-lost sister Mercy reaches a boiling point in this breakneck thriller from #1 New York Times bestselling author David Baldacci.

For her entire life, FBI agent Atlee Pine has been searching for her twin sister, Mercy, who was abducted at the age of six and never seen again. Mercy's disappearance left behind a damaged family that later shattered beyond repair when Atlee's parents inexplicably abandoned her.

Now, after a perilous investigation that nearly proved fatal, Atlee has finally discovered not only the reason behind her parents' abandonment and Mercy's kidnapping, but also the most promising breakthrough yet: proof that Mercy survived her abduction and then escaped her captors many years ago.

Though Atlee is tantalizingly close to her family at last, the final leg of her long road to Mercy will be the most treacherous yet. Mercy left at least one dead body behind before fleeing her captors years before. Atlee has no idea if her sister is still alive, and if so, how she has been surviving all this time. When the truth is finally revealed, Atlee Pine will face the greatest danger yet, and it may well cost her everything
Read the first in the series here!
Wendy's pick was...
Image
Dancing with the Octopus: The Telling of a True Crime by Debora Harding [2020]
One Omaha winter day in 1978, when Debora Harding was just fourteen, she was abducted at knife-point, thrown into a van, assaulted, held for ransom, and left to die.

But what if this wasn't the most traumatic, defining event in her childhood?

Undertaking a radical project, Debora Harding dexterously shifts between the past and present to unravel her story. From the immediate aftermath to the possibility of restorative justice twenty years later, Dancing with the Octopus lays bare the social and political forces that act upon us after the experience of serious crime. A vivid, sly and intimate portrait of one family's disintegration, this is a darkly humorous and ground-breaking narrative of reckoning and recovery.
Jeremy's pick was...
Image
The Soul of a Butterfly: Reflections on Life's Journey by Muhammad Ali [2004]
"During my boxing career, you did not see the real Muhammad Ali. You just saw a little boxing. You saw only a part of me. After I retired from boxing my true work began. I have embarked on a journey of love." So Muhammad Ali begins this spiritual memoir, his description of the values that have shaped and sustained him and that continue to guide his life. In The Soul of a Butterfly the great champion takes readers on a spiritual journey through the seasons of life, from childhood to the present, and shares the beliefs that have served him well.

After fighting some of the fiercest bouts in boxing history against Joe Frazier and George Foreman, today Muhammad Ali faces his most powerful foe -- outside the boxing ring. Like many people, he battles an illness that limits his physical abilities, but as he says, "I have gained more than I have lost....I have never had a more powerful voice than I have now." Ali reflects on his faith in God and the strength it gave him during his greatest challenge, when he lost the prime years of his boxing career because he would not compromise his beliefs. He describes how his study of true Islam has helped him accept the changes in his life and has brought him to a greater awareness of life's true purpose. As a United Nations "Messenger of Peace," he has traveled widely, and he describes his 2002 mission to Afghanistan to heighten public awareness of that country's desperate situation, as well as his more recent meeting with the Dalai Lama.

Ali's reflections on topics ranging from moral courage to belief in God to respect for those who differ from us will inspire and enlighten all who read them. Written with the assistance of his daughter Hana, The Soul of a Butterfly is a compassionate and heartfelt book that will provide comfort for our troubled times
Lucy's pick was...
Image
A Psalm for the Wild-Built by Becky Chambers [2021]
It's been centuries since the robots of Panga gained self-awareness and laid down their tools; centuries since they wandered, en masse, into the wilderness, never to be seen again; centuries since they faded into myth and urban legend.

One day, the life of a tea monk is upended by the arrival of a robot, there to honor the old promise of checking in. The robot cannot go back until the question of "what do people need?" is answered.

But the answer to that question depends on who you ask, and how.

They're going to need to ask it a lot.

Becky Chambers's new series asks: in a world where people have what they want, does having more matter?
Stephanie's pick was...
Image
The Thursday Murder Club by Richard Osman [2020]
Four septuagenarians with a few tricks up their sleeves
A female cop with her first big case
A brutal murder
Welcome to…
The Thursday Murder Club

In a peaceful retirement village, four unlikely friends meet weekly in the Jigsaw Room to discuss unsolved crimes; together they call themselves The Thursday Murder Club. Elizabeth, Joyce, Ibrahim and Ron might be pushing eighty but they still have a few tricks up their sleeves.

When a local developer is found dead with a mysterious photograph left next to the body, the Thursday Murder Club suddenly find themselves in the middle of their first live case. As the bodies begin to pile up, can our unorthodox but brilliant gang catch the killer, before it's too late?
Fiona's pick was...
Image
Bethlehem by Karen Kelly [2019]
With the atmospheric storytelling of Kate Morton and Lisa Wingate, Karen Kelly weaves a shattering debut about two intertwined families and the secrets that they buried during the gilded, glory days of Bethlehem, PA.

A young woman arrives at the grand ancestral home of her husband's family, hoping to fortify her cracking marriage. But what she finds is not what she expected: tragedy haunts the hallways, whispering of heartache and a past she never knew existed.

Inspired by the true titans of the steel-boom era, Bethlehem is a story of temptation and regret, a story of secrets and the cost of keeping them, a story of forgiveness. It is the story of two complex women—thrown together in the name of family—who, in coming to understand each other, come finally to understand themselves.
Elaine's pick was...
Image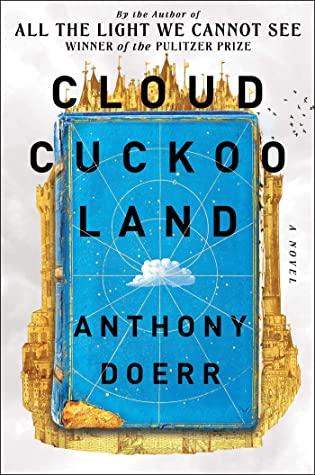 Cloud Cuckoo Land by Anthony Doerr [2021]
Thirteen-year-old Anna, an orphan, lives inside the formidable walls of Constantinople in a house of women who make their living embroidering the robes of priests. Restless, insatiably curious, Anna learns to read, and in this ancient city, famous for its libraries, she finds a book, the story of Aethon, who longs to be turned into a bird so that he can fly to a utopian paradise in the sky. This she reads to her ailing sister as the walls of the only place she has known are bombarded in the great siege of Constantinople. Outside the walls is Omeir, a village boy, miles from home, conscripted with his beloved oxen into the invading army. His path and Anna's will cross.

Five hundred years later, in a library in Idaho, octogenarian Zeno, who learned Greek as a prisoner of war, rehearses five children in a play adaptation of Aethon's story, preserved against all odds through centuries. Tucked among the library shelves is a bomb, planted by a troubled, idealistic teenager, Seymour. This is another siege. And in a not-so-distant future, on the interstellar ship Argos, Konstance is alone in a vault, copying on scraps of sacking the story of Aethon, told to her by her father. She has never set foot on our planet.
Image
Sean's pick was...
Image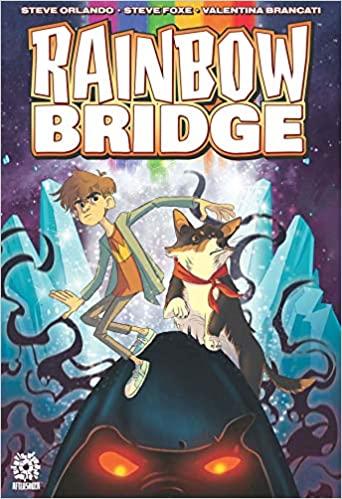 Rainbow Bridge by Steve Orlando, Steve Foxe, & Valentina Vianconi [2021]
What if the Rainbow Bridge was the Bifrost?

ANDY's parents rescued ROCKET when Andy was just a toddler, and they grew up together, with Rocket serving as Andy's guardian through every one of childhood's ups and downs. So when Rocket passes away right before Andy's 14th birthday, he's rudderless. High school is coming soon and he can't imagine making that transition without Rocket at his side. The day before school starts, when Andy is at his lowest, he visits Rocket's grave, and unexpectedly summons the RAINBOW BRIDGE, a gateway to a fantasy world where pets discover their afterlife.

One part heaven and one part limbo, this is a final resting place for pets – but also a realm where any unfinished business must be completed, before restless pet souls twist into bizarre, seemingly malevolent wraiths that haunt the periphery of this otherwise splendid paradise. It's extremely rare for a human to visit this realm, but Rocket and Andy find each other again in this wondrous pet Valhalla to go on one last epic adventure to help Rocket reunite with his lost littermate, fulfilling Rocket's last wishes. Here, the roles are reversed, as Andy has to be the strong one and support Rocket in his quest for closure. By adventure's end, Andy finally gains the confidence to let go of his childhood and enter the next phase of his life, starting his first day of high school.
Susan's pick was...
Image
Marie Antoinette, Serial Killer by Katie Alender [2013]
Colette Iselin is excited to go to Paris on a class trip. She'll get to soak up the beauty and culture, and maybe even learn something about her family's French roots.

But a series of gruesome murders are taking place across the city, putting everyone on edge. And as she tours museums and palaces, Colette keeps seeing a strange vision: a pale woman in a ball gown and powdered wig, who looks suspiciously like Marie Antoinette.

Colette knows her popular, status-obsessed friends won't believe her, so she seeks out the help of a charming French boy. Together, they uncover a shocking secret involving a dark, hidden history. When Colette realizes she herself may hold the key to the mystery, her own life is suddenly in danger . . .

Acclaimed author Katie Alender brings heart-stopping suspense to this story of revenge, betrayal, intrigue — and one killer queen.
Janna's pick was...
Image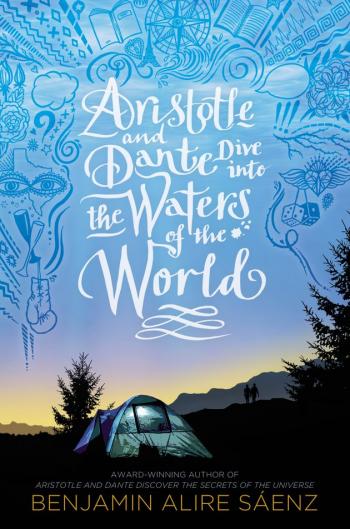 Aristotle and Dante Dive into the Waters of the World by Benjamin Alire Sáenz [2021]
In Aristotle and Dante Discover the Secrets of the Universe, two boys in a border town fell in love. Now, they must discover what it means to stay in love and build a relationship in a world that seems to challenge their very existence.

Ari has spent all of high school burying who he really is, staying silent and invisible. He expected his senior year to be the same. But something in him cracked open when he fell in love with Dante, and he can't go back. Suddenly he finds himself reaching out to new friends, standing up to bullies of all kinds, and making his voice heard. And, always, there is Dante, dreamy, witty Dante, who can get on Ari's nerves and fill him with desire all at once.

The boys are determined to forge a path for themselves in a world that doesn't understand them. But when Ari is faced with a shocking loss, he'll have to fight like never before to create a life that is truthfully, joyfully his own.
 
Read the first in the series here!
Image
Samantha's pick was...
Image
Gone to the Woods: Surviving a Lost Childhood by Gary Paulsen [2021]
His name is synonymous with high-stakes wilderness survival stories. Now, author Gary Paulsen portrays a series of life-altering moments from his turbulent childhood as his own original survival story. If not for his summer escape from a shockingly neglectful Chicago upbringing to a North Woods homestead at age five, there never would have been a Hatchet. Without the encouragement of the librarian who handed him his first book at age thirteen, he may never have become a reader. And without his desperate teenage enlistment in the Army, he would not have discovered his true calling as a storyteller.
Lisely's pick was...
Image
D-39: A Robodog's Journey by Irene Latham [2021]
Klynt's days on her Papa's farm are the all the same, even during wartime. Until the robodog, that is. A dystopic but heartwarming novel-in-verse perfect for fans of Pax by Sara Pennypacker.

In a future United States, civil war is devastating a country on its last legs. On one side: the Patriots. On the other: President Vex's corrupt government. In the middle: everybody else, just trying to survive. The war is going from bad to worse, but out in the sparsely populated Worselands, twelve-year-old Klynt Tovis doesn't see much of it.

Instead, Klynt spends most of her long summer days bored, or restoring artifacts in her Museum of Fond Memories. Real pet dogs are a thing of the past: after they were found to be carriers of a sickness the government ordered them all killed. But one day an incredible antique shows up at the farm: a D-39 robodog, "Real as a dog can be!" Klynt is overjoyed, but the good luck doesn't last. When the war makes its way into the empty Worselands, she and D-39 find themselves thrown into an epic journey for survival and hope.

Through the twists and turns of this riveting read, Irene Latham deftly shows how kindness can appear in unexpected places during uncertain times. 
Ashley's pick was...
Image
Garlic and the Vampire by Bree Paulsen [2021]
Garlic feels as though she's always doing something wrong. At least with her friend Carrot by her side and the kindly Witch Agnes encouraging her, Garlic is happy to just tend her garden, where it's nice and safe.

But when her village of vegetable folk learns that a bloodthirsty vampire has moved into the nearby castle, they all agree that, in spite of her fear and self-doubt, Garlic is the obvious choice to confront him. And with everyone counting on her, Garlic reluctantly agrees to face the mysterious vampire, hoping she has what it takes.

After all, garlic drives away vampires…right?
Ross's pick was...
Image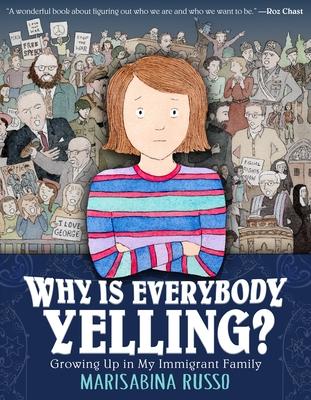 Why Is Everybody Yelling?: Growing Up in My Immigrant Family by Marisabina Russo [2021]
This graphic-novel debut from an acclaimed picture book creator is a powerfully moving memoir of the author's experiences with family, religion, and coming of age in the aftermath of World War II, and the childhood struggles and family secrets that shaped her.

It's 1950s New York, and Marisabina Russo is being raised Catholic and attending a Catholic school that she loves--but when she finds out that she's Jewish by blood, and that her family members are Jewish survivors of the Holocaust, her childhood is thrown into turmoil. To make matters more complicated, her father is out of the picture, her mother is ambitious and demanding, and her older half-brothers have troubles, too. Following the author's young life into the tumultuous, liberating 1960s, this heartfelt, unexpectedly humorous, and meticulously illustrated graphic-novel memoir explores the childhood burdens of memory and guilt, and Marisabina's struggle and success in forming an identity entirely her own.