Image
John's pick was...
Image
The House on Mango Street by Sandra Cisneros [1984]
Acclaimed by critics, beloved by readers of all ages, taught everywhere from inner-city grade schools to universities across the country, and translated all over the world, The House on Mango Street is the remarkable story of Esperanza Cordero.

Told in a series of vignettes – sometimes heartbreaking, sometimes deeply joyous–it is the story of a young Latina girl growing up in Chicago, inventing for herself who and what she will become. Few other books in our time have touched so many readers.
Sabrina's pick was...
Image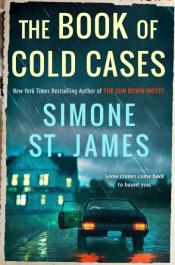 The Book of Cold Cases by Simone St. James [2022]
In 1977, Claire Lake, Oregon, was shaken by the Lady Killer Murders: Two men, seemingly randomly, were murdered with the same gun, with strange notes left behind. Beth Greer was the perfect suspect--a rich, eccentric twenty-three-year-old woman, seen fleeing one of the crimes. But she was acquitted, and she retreated to the isolation of her mansion.

Oregon, 2017. Shea Collins is a receptionist, but by night, she runs a true crime website, the Book of Cold Cases--a passion fueled by the attempted abduction she escaped as a child. When she meets Beth by chance, Shea asks her for an interview. To Shea's surprise, Beth says yes.

They meet regularly at Beth's mansion, though Shea is never comfortable there. Items move when she's not looking, and she could swear she's seen a girl outside the window. The allure of learning the truth about the case from the smart, charming Beth is too much to resist, but even as they grow closer, Shea senses something isn't right. Is she making friends with a manipulative murderer, or are there other dangers lurking in the darkness of the Greer house?
Janna's pick was...
Image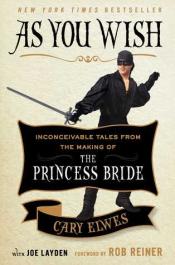 As You Wish: Inconceivable Tales from the Making of The Princess Bride by Cary Elwes [2014]
From actor Cary Elwes, who played the iconic role of Westley in The Princess Bride, comes a first-person account and behind-the-scenes look at the making of the cult classic film filled with never-before-told stories, exclusive photographs, and interviews with costars Robin Wright, Wallace Shawn, Billy Crystal, Christopher Guest, and Mandy Patinkin, as well as author and screenwriter William Goldman, producer Norman Lear, and director Rob Reiner.

The Princess Bride has been a family favorite for close to three decades. Ranked by the American Film Institute as one of the top 100 Greatest Love Stories and by the Writers Guild of America as one of the top 100 screenplays of all time, The Princess Bride will continue to resonate with audiences for years to come.

Cary Elwes was inspired to share his memories and give fans an unprecedented look into the creation of the film while participating in the twenty-fifth anniversary cast reunion. In As You Wish he has created an enchanting experience; in addition to never-before seen photos and interviews with his fellow cast mates, there are plenty of set secrets, backstage stories, and answers to lingering questions about off-screen romances that have plagued fans for years!

With a foreword by Rob Reiner and a limited edition original poster by acclaimed artist Shepard Fairey, As You Wish is a must-have for all fans of this beloved film.
Laurel's pick was...
Image
The Clan of the Cave Bear by Jean M. Auel [1980]
This novel of awesome beauty and power is a moving saga about people, relationships, and the boundaries of love. Through Jean M. Auel's magnificent storytelling we are taken back to the dawn of modern humans, and with a girl named Ayla we are swept up in the harsh and beautiful Ice Age world they shared with the ones who called themselves The Clan of the Cave Bear.

A natural disaster leaves the young girl wandering alone in an unfamiliar and dangerous land until she is found by a woman of the Clan, people very different from her own kind. To them, blond, blue-eyed Ayla looks peculiar and ugly--she is one of the Others, those who have moved into their ancient homeland; but Iza cannot leave the girl to die and takes her with them. Iza and Creb, the old Mog-ur, grow to love her, and as Ayla learns the ways of the Clan and Iza's way of healing, most come to accept her. But the brutal and proud youth who is destined to become their next leader sees her differences as a threat to his authority. He develops a deep and abiding hatred for the strange girl of the Others who lives in their midst, and is determined to get his revenge.
Martha's pick was...
Image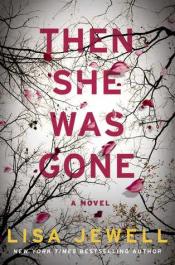 Then She Was Gone by Lisa Jewell [2017]
THEN
She was fifteen, her mother's golden girl. She had her whole life ahead of her. And then, in the blink of an eye, Ellie was gone.

NOW
It's been ten years since Ellie disappeared, but Laurel has never given up hope of finding her daughter.

And then one day a charming and charismatic stranger called Floyd walks into a café and sweeps Laurel off her feet.

Before too long she's staying the night at this house and being introduced to his nine year old daughter.

Poppy is precocious and pretty - and meeting her completely takes Laurel's breath away.

Because Poppy is the spitting image of Ellie when she was that age. And now all those unanswered questions that have haunted Laurel come flooding back.

What happened to Ellie? Where did she go?

Who still has secrets to hide?
Madison's pick was...
Image
The Fifth Season by N.K. Jemisin [2015]
This is the way the world ends. Again.

Three terrible things happen in a single day. Essun, a woman living an ordinary life in a small town, comes home to find that her husband has brutally murdered their son and kidnapped their daughter. Meanwhile, mighty Sanze -- the world-spanning empire whose innovations have been civilization's bedrock for a thousand years -- collapses as most of its citizens are murdered to serve a madman's vengeance. And worst of all, across the heart of the vast continent known as the Stillness, a great red rift has been torn into the heart of the earth, spewing ash enough to darken the sky for years. Or centuries.

Now Essun must pursue the wreckage of her family through a deadly, dying land. Without sunlight, clean water, or arable land, and with limited stockpiles of supplies, there will be war all across the Stillness: a battle royale of nations not for power or territory, but simply for the basic resources necessary to get through the long dark night. Essun does not care if the world falls apart around her. She'll break it herself, if she must, to save her daughter.
 
Sean's pick was...
Image
Summer Sons by Lee Mandelo [2021]
Andrew and Eddie did everything together, best friends bonded more deeply than brothers, until Eddie left Andrew behind to start his graduate program at Vanderbilt. Six months later, only days before Andrew was to join him in Nashville, Eddie dies of an apparent suicide. He leaves Andrew a horrible inheritance: a roommate he doesn't know, friends he never asked for, and a gruesome phantom with bleeding wrists that mutters of revenge.

As Andrew searches for the truth of Eddie's death, he uncovers the lies and secrets left behind by the person he trusted most, discovering a family history soaked in blood and death. Whirling between the backstabbing academic world where Eddie spent his days and the circle of hot boys, fast cars, and hard drugs that ruled Eddie's nights, the walls Andrew has built against the world begin to crumble, letting in the phantom that hungers for him.
Sarah's pick was...
Image
Landrace Gardening: Food Security through Biodiversity and Promiscuous Pollination by Joseph Lofthouse [2021]
Bringing dynamic back into vegetable gardening, seed saving, and breeding of plants and animals. A joyful and accessible approach to growing tasty, productive, and resiliently diverse food.

Advocating a return to traditional regenerative horticulture methods of gardening and farming, while minimizing the use of current agricultural methods. Focusing on communities, and local varieties of crops and animals. Biodiversity and cross pollination allow selection for crops that thrive under ever changing conditions, while lessening the need for costly inputs, like poisons, fertilizer, materials, and labor. Less labor means more time for friends, family, music, dancing, or whatever it is that brings you joy.

The book includes detailed suggestions for developing a more reliable food system using local crop varieties. The techniques taught in this book can bring self-reliance and sustainable food security to small scale back yard beginner gardens, large scale farms, and permaculture food forests.

A chapter is devoted to pollination and the benefits of encouraging cross-pollination.

Chapters are devoted to breeding tomatoes, corn, beans, squash, and grains. Tips on growing many other vegetable varieties are included. The appendix includes a summary of which vegetables and grains are easiest to work with.

A chapter is devoted to extending the principles of local gardening to breeding chickens, honeybees, mushrooms, and trees.
Tina's pick was...
Image
The Premonitions Bureau: A True Account of Death Foretold by Sam Knight [2022]
From a rising star New Yorker staff writer, the incredible and gripping true story of John Barker, a psychiatrist who investigated the power of premonitions—and came to believe he himself was destined for an early death

On the morning of October 21, 1966, Kathleen Middleton, a music teacher in suburban London, awoke choking and gasping, convinced disaster was about to strike. An hour later, a mountain of rubble containing waste from a coal mine collapsed above the village of Aberfan, swamping buildings and killing 144 people, many of them children. Among the doctors and emergency workers who arrived on the scene was John Barker, a psychiatrist from Shelton Hospital, in Shrewsbury. At Aberfan, Barker became convinced there had been supernatural warning signs of the disaster, and decided to establish a "premonitions bureau," in conjunction with the Evening Standard newspaper, to collect dreams and forebodings from the public, in the hope of preventing future calamities.

Middleton was one of hundreds of seemingly normal people, who would contribute their visions to Barker's research in the years to come, some of them unnervingly accurate. As Barker's work plunged him deeper into the occult, his reputation suffered. But in the face of professional humiliation, Barker only became more determined, ultimately realizing with terrible certainty that catastrophe had been prophesied in his own life.

In Sam Knight's crystalline telling, this astonishing true story comes to encompass the secrets of the world. We all know premonitions are impossible—and yet they come true all the time. Our lives are full of collisions and coincidence: the question is how we perceive these implausible events and therefore make meaning in our lives. The Premonitions Bureau is an enthralling account of madness and wonder, of science and the supernatural. With an unforgettable ending, it is a mysterious journey into the most unsettling reaches of the human mind.
Rachelle's pick was...
Image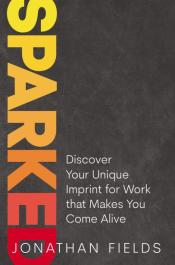 Sparked: Discover Your Unique Imprint for Work that Makes You Come Alive by Jonathan Fields [2021]
We're all born with a certain "imprint" for work that makes us come alive. This is your "Sparketype®," your DNA-level driver of work that lets you know, deep down, you're doing what you're here to do. Work that motivates you, fills you with purpose and, fully-expressed in a healthy way, becomes a main-line to meaning, flow, performance, and joy. Put another way, work that "sparks" you.

Sparked draws upon years of research, experimentation, more than 25-million data-points generated by over half-a-million people, and hundreds of deep-dive conversations with luminaries from science to art to industry and wellbeing. Award-winning author, serial wellness-industry founder, and host of the top-ranked Good Life Project®, Jonathan Fields, and his team at Spark Endeavors, developed the Sparketype imprints and methodology that is the basis of this book.

In this book, Fields and his team will help you:

Discover what sparks you, what drains you, where you stumble and come alive, so you can reclaim a sense of direction, control, and purpose;
Understand the "real" reasons certain experiences, jobs, and roles leave you empty and know how to make things better, without having to endure big disruptive changes;
Learn from real-world, relatable stories, case-studies, and data-driven insights;
Identify the action steps to begin immediately transforming the way you work and live.
Sparked takes you deep into the world of the Sparketypes, revealing an entirely new depth of insights about what makes you come alive in work life, along with what empties you out and trips you up, so you can avoid those life-drains.

You'll discover tons of case studies, stories, and real-world applications, creating a comprehensive guide to help you discover what you are meant to do and how to get started.
Phillis' pick was...
Image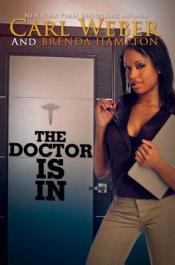 The Doctor Is In by Carl Weber [2016]
Dr. Kasen Phillips has the magic touch when it comes to helping his patients who are in dire need of counseling services, but when the love of his life winds up missing in action, Kasen's life takes a horrific turn for the worse. His office manager, Voncile Harper, is there to lend a helping hand. She's on a mission to shake Kasen from his misery, by offering him her sweet heat that he can't resist. It's not long before Kasen finds himself caught up in a web of Voncile's lies, and when he realizes that he may have bitten off more than he can chew, he wants out of their reckless relationship for good. Unfortunately for Kasen, walking away may be difficult to do. Voncile is deep in love, and any man who refuses to play by her rules may be forced to suffer dire consequences.
John's pick was...
Image
Call Me Nathan by Catherine Castro [2022]
"All I want is a proper body . . . " Born as biologically female, Nathan spends his formative years facing questions without answers, social ostracism from his peers, and incomprehension from his family—because from as early as he can remember, he knows he has been born in the wrong body. But, as his family comes to recognize, a physical identity is harder to change than a piece of clothing or a haircut. So from the moment he is at last supplied with a professional term for his self-diagnosis—"gender dysphoria"—he is able to leave behind his complicated psychological history, the challenges of his self-harming, and his struggles with sexual identity, and begin the difficult process of claiming his true self. Based on a true story, at first hand, Call Me Nathan issues a moving call for understanding, a powerful denunciation of prejudice, and a celebration of everything it means to love.
Madison's pick was...
Image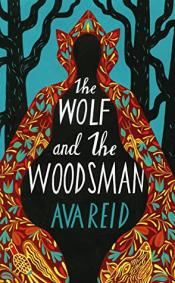 The Wolf and the Woodsman by Ava Reid [2021]
In her forest-veiled pagan village, Évike is the only woman without power, making her an outcast clearly abandoned by the gods. The villagers blame her corrupted bloodline—her father was a Yehuli man, one of the much-loathed servants of the fanatical king. When soldiers arrive from the Holy Order of Woodsmen to claim a pagan girl for the king's blood sacrifice, Évike is betrayed by her fellow villagers and surrendered.

But when monsters attack the Woodsmen and their captive en route, slaughtering everyone but Évike and the cold, one-eyed captain, they have no choice but to rely on each other. Except he's no ordinary Woodsman—he's the disgraced prince, Gáspár Bárány, whose father needs pagan magic to consolidate his power. Gáspár fears that his cruelly zealous brother plans to seize the throne and instigate a violent reign that would damn the pagans and the Yehuli alike. As the son of a reviled foreign queen, Gáspár understands what it's like to be an outcast, and he and Évike make a tenuous pact to stop his brother.

As their mission takes them from the bitter northern tundra to the smog-choked capital, their mutual loathing slowly turns to affection, bound by a shared history of alienation and oppression. However, trust can easily turn to betrayal, and as Évike reconnects with her estranged father and discovers her own hidden magic, she and Gáspár need to decide whose side they're on, and what they're willing to give up for a nation that never cared for them at all.
 
Fiona's pick was...
Image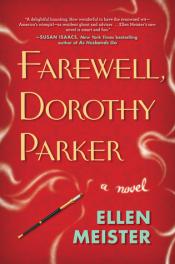 Farewell, Dorothy Parker by Ellen Meister [2013]
When it comes to movie reviews, critic Violet Epps is a powerhouse voice. But that's only because she's learned to channel her literary hero, Dorothy Parker, the most celebrated and scathing wit of the twentieth century.
If only Violet could summon that kind of strength in her personal life.

Gripped by paralyzing anxiety, Violet visits the Algonquin Hotel in an attempt to pull strength from the hallowed dining room, where Dorothy Parker and so many other famous writers of the 1920s traded barbs. But she gets more than she bargained for, and the feisty spirit rematerializes . . . hitching a ride onto Violet's already troubled life.

An irreverent ghost with problems of her own—including a refusal to cross over to the afterlife—Mrs. Parker helps Violet face her fears, becoming mentor, tormentor, and, with any luck, friend.
Wickedly funny and surprisingly poignant, Farewell, Dorothy Parker perfectly re-imagines one of America's most iconic voices in a touching and unforgettable tale.
Cameron's pick was...
Image
A Visit from the Goon Squad by Jennifer Egan [2010]
Jennifer Egan's spellbinding interlocking narratives circle the lives of Bennie Salazar, an aging former punk rocker and record executive, and Sasha, the passionate, troubled young woman he employs. Although Bennie and Sasha never discover each other's pasts, the reader does, in intimate detail, along with the secret lives of a host of other characters whose paths intersect with theirs, over many years, in locales as varied as New York, San Francisco, Naples, and Africa.

We first meet Sasha in her mid-thirties, on her therapist's couch in New York City, confronting her long-standing compulsion to steal. Later, we learn the genesis of her turmoil when we see her as the child of a violent marriage, then as a runaway living in Naples, then as a college student trying to avert the suicidal impulses of her best friend. We plunge into the hidden yearnings and disappointments of her uncle, an art historian stuck in a dead marriage, who travels to Naples to extract Sasha from the city's demimonde and experiences an epiphany of his own while staring at a sculpture of Orpheus and Eurydice in the Museo Nazionale. We meet Bennie Salazar at the melancholy nadir of his adult life—divorced, struggling to connect with his nine-year-old son, listening to a washed-up band in the basement of a suburban house—and then revisit him in 1979, at the height of his youth, shy and tender, reveling in San Francisco's punk scene as he discovers his ardor for rock and roll and his gift for spotting talent. We learn what became of his high school gang—who thrived and who faltered—and we encounter Lou Kline, Bennie's catastrophically careless mentor, along with the lovers and children left behind in the wake of Lou's far-flung sexual conquests and meteoric rise and fall.

A Visit from the Goon Squad is a book about the interplay of time and music, about survival, about the stirrings and transformations set inexorably in motion by even the most passing conjunction of our fates. In a breathtaking array of styles and tones ranging from tragedy to satire to PowerPoint, Egan captures the undertow of self-destruction that we all must either master or succumb to; the basic human hunger for redemption; and the universal tendency to reach for both—and escape the merciless progress of time—in the transporting realms of art and music. Sly, startling, exhilarating work from one of our boldest writers.
Beth's pick was...
Image
The German Wife by Kelly Rimmer [2022]
Berlin, Germany, 1930—When the Nazis rise to power, Sofie von Meyer Rhodes and her academic husband benefit from the military ambitions of Germany's newly elected chancellor when Jürgen is offered a high-level position in their burgeoning rocket program. Although they fiercely oppose Hitler's radical views, and joining his ranks is unthinkable, it soon becomes clear that if Jürgen does not accept the job, their income will be taken away. Then their children. And then their lives.

Huntsville, Alabama, 1950—Twenty years later, Jürgen is one of many German scientists pardoned and granted a position in America's space program. For Sofie, this is a chance to leave the horrors of her past behind. But when rumors about the Rhodes family's affiliation with the Nazi party spread among her new American neighbors, idle gossip turns to bitter rage, and the act of violence that results tears apart a family and leaves the community wondering—is it an act of vengeance or justice?
Jordyn's pick was...
Image
Book Lovers by Emily Henry [2022]
Nora Stephens' life is books—she's read them all—and she is not that type of heroine. Not the plucky one, not the laidback dream girl, and especially not the sweetheart. In fact, the only people Nora is a heroine for are her clients, for whom she lands enormous deals as a cutthroat literary agent, and her beloved little sister Libby.

Which is why she agrees to go to Sunshine Falls, North Carolina for the month of August when Libby begs her for a sisters' trip away—with visions of a small-town transformation for Nora, who she's convinced needs to become the heroine in her own story. But instead of picnics in meadows, or run-ins with a handsome country doctor or bulging-forearmed bartender, Nora keeps bumping into Charlie Lastra, a bookish brooding editor from back in the city. It would be a meet-cute if not for the fact that they've met many times and it's never been cute.

If Nora knows she's not an ideal heroine, Charlie knows he's nobody's hero, but as they are thrown together again and again—in a series of coincidences no editor worth their salt would allow—what they discover might just unravel the carefully crafted stories they've written about themselves.
Linda's pick was...
Image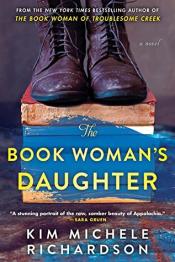 The Book Woman's Daughter (The Book Woman of Troublesome Creek #2) by Kim Michele Richardson [2022]
Bestselling historical fiction author Kim Michele Richardson is back with the perfect book club read following Honey Mary Angeline Lovett, the daughter of the beloved Troublesome book woman, who must fight for her own independence with the help of the women who guide her and the books that set her free.

In the ruggedness of the beautiful Kentucky mountains, Honey Lovett has always known that the old ways can make a hard life harder. As the daughter of the famed blue-skinned, Troublesome Creek packhorse librarian, Honey and her family have been hiding from the law all her life. But when her mother and father are imprisoned, Honey realizes she must fight to stay free, or risk being sent away for good.

Picking up her mother's old packhorse library route, Honey begins to deliver books to the remote hollers of Appalachia. Honey is looking to prove that she doesn't need anyone telling her how to survive, but the route can be treacherous, and some folks aren't as keen to let a woman pave her own way. If Honey wants to bring the freedom that books provide to the families who need it most, she's going to have to fight for her place, and along the way, learn that the extraordinary women who run the hills and hollers can make all the difference in the world.
Read the first in the series here
Allison's pick was...
Image
The Office BFFs: Tales of The Office from Two Best Friends Who Were There by Jenna Fischer & Angela Kinsey [2022]
Receptionist Pam Beesly and accountant Angela Martin had very little in common when they toiled together at Scranton's Dunder Mifflin Paper Company. But, in reality, the two bonded in their very first days on set and, over the nine seasons of the series' run, built a friendship that transcended the show and continues to this day. Sharing everything from what it was like in the early days as the show struggled to gain traction, to walking their first red carpet—plus exclusive stories on the making of milestone episodes and how their lives changed when they became moms—The Office BFFs is full of the same warm and friendly tone Jenna and Angela have brought to their Office Ladies podcast.
Rachael's pick was...
Image
The Fall of Babel (The Books of Babel #4) by Josiah Bancroft [2021]
As Marat's siege engine bores through the Tower, erupting inside ringdoms and leaving chaos in its wake, Senlin can do nothing but observe the mayhem from inside the belly of the beast. Caught in a charade, Senlin desperately tries to sabotage the rampaging Hod King, even as Marat's objective grows increasingly clear. The leader of the zealots is bound for the Sphinx's lair and the unimaginable power it contains.

In the city under glass at the Tower's summit, Adam discovers a utopia where everyone inexplicably knows the details of his past. As Adam unravels the mystery of his fame, he soon discovers the crowning ringdom conceals a much darker secret.

Aboard the State of Art, Edith and her crew adjust to the reality that Voleta has awoken from death changed. She seems to share more in common with the Red Hand now than her former self. While Edith wars for the soul of the young woman, a greater crisis looms: They will have to face Marat on unequal footing and with Senlin caught in the crossfire.

And when the Bridge of Babel is finally opened, and the Brick Layer's true ambition revealed, neither they nor the Tower will ever be the same again. 
Read the first in the series here
Diana's pick was...
Image
A Memory of Violets: A Novel of London's Flower Sellers by Hazel Gaynor [2015]
In 1912, twenty-year-old Tilly Harper leaves the peace and beauty of her native Lake District for London, to become assistant housemother at Mr. Shaw's Home for Watercress and Flower Girls. For years, the home has cared for London's flower girls—orphaned and crippled children living on the grimy streets and selling posies of violets and watercress to survive.

Soon after she arrives, Tilly discovers a diary written by an orphan named Florrie—a young Irish flower girl who died of a broken heart after she and her sister, Rosie, were separated. Moved by Florrie's pain and all she endured in her brief life, Tilly sets out to discover what happened to Rosie. But the search will not be easy. Full of twists and surprises, it leads the caring and determined young woman into unexpected places, including the depths of her own heart.
Susan's pick was...
Image
Anna: The Biography by Amy Odell [2022]
This definitive biography of Anna Wintour follows the steep climb of an ambitious young woman who would—with singular and legendary focus—become one of the most powerful people in media.

As a child, Anna Wintour was a tomboy with no apparent interest in clothing but, seduced by the miniskirts and bob haircuts of swinging 1960s London, she grew into a fashion-obsessed teenager. Her father, an influential newspaper editor, loomed large in her life, and once he decided she should become editor-in-chief of Vogue, she never looked back.

Impatient to start her career, she left high school and got a job at a trendy boutique in London—an experience that would be the first of many defeats. Undeterred, she found work in the competitive world of magazines, eventually embarking on a journey to New York and a battle to ascend, no matter who or what stood in her way. Once she was crowned editor-in-chief of Vogue—in one of the stormiest transitions in fashion magazine history—she continued the fight to retain her enviable position, ultimately rising to dominate all of Condé Nast.

Based on extensive interviews with Anna Wintour's closest friends and collaborators, including some of the biggest names in fashion, journalist Amy Odell has crafted the most revealing portrait of Wintour ever published. Weaving Anna's personal story into a larger narrative about the hierarchical dynamics of the fashion industry and the complex world of Condé Nast, Anna charts the relentless ambition of the woman who would become an icon.
Sofia's pick was...
Image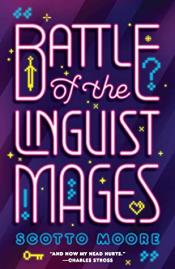 Battle of the Linguist Mages by Scotto Moore [2022]
Isobel is the Queen of the medieval rave-themed VR game Sparkle Dungeon. Her prowess in the game makes her an ideal candidate to learn the secrets of "power morphemes"—unnaturally dense units of meaning that warp perception when skilfully pronounced.

But Isobel's reputation makes her the target of a strange resistance movement led by spellcasting anarchists, who may be the only thing stopping the cabal from toppling California over the edge of a terrible transformation, with forty million lives at stake.

Time is short for Isobel to level up and choose a side—because the cabal has attracted much bigger and weirder enemies than the anarchist resistance, emerging from dark and vicious dimensions of reality and heading straight for planet Earth!
Allison's pick was...
Image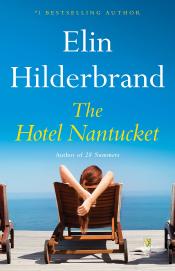 The Hotel Nantucket by Elin Hilderbrand [2022]
After a tragic fire in 1922 that killed 19-year-old chambermaid, Grace Hadley, The Hotel Nantucket descended from a gilded age gem to a mediocre budget-friendly lodge to inevitably an abandoned eyesore — until it's purchased and renovated top to bottom by London billionaire, Xavier Darling.  Xavier hires Nantucket sweetheart Lizbet Keaton as his general manager, and Lizbet, in turn, pulls together a charismatic, if inexperienced, staff who share the vision of turning the fate of the hotel around. They face challenges in getting along with one another (and with the guests), in overcoming the hotel's bad reputation, and in surviving the (mostly) harmless shenanigans of Grace Hadley herself — who won't stop haunting the hotel until her murder is acknowledged.
 
Filled with the emotional tension and multiple points of view that characterize Elin's books (The Blue Bistro, Golden Girl) as well as an added touch of historical reality, Hotel Nantucket offers something for everyone in this summer drama for the ages. 
Michelle's pick was...
Image
The challenge: spend a week hiding in an abandoned amusement park and don't get caught.

The prize: enough money to change everything.

Even though everyone is desperate to win--to seize their dream futures or escape their haunting pasts--Mack feels sure that she can beat her competitors. All she has to do is hide, and she's an expert at that.

It's the reason she's alive, and her family isn't.

But as the people around her begin disappearing one by one, Mack realizes this competition is more sinister than even she imagined, and that together might be the only way to survive.

Fourteen competitors. Seven days. Everywhere to hide, but nowhere to run.

Come out, come out, wherever you are.
Lynda's pick was...
Image
Cats & Books by Universe [2022]
Showcasing all the charisma and amusing quirks of the wide world of cats, from the US to Africa, France, Brazil, and places far and wide, Cats & Books features cats begging for their owner's love and attention on top of favorite books, bookshelves, and various bookish environments. From long-haired, snowy white ragdolls to short-haired orange tabbies, there are many types of cats for everyone to love and find a favorite, if that's even possible! See the furry companions lounging comfortably on a bookshelf and walking around a bookstore, as if looking for their next book to read. Learn fun and cute facts about the featured felines, like how a rescue found their forever home or how one cat's favorite treat is ice cream. Cat owners and enthusiasts won't be able to stop themselves from falling in love with each adorable and playful cat they encounter on every page. This is the perfect gift for feline and book lovers alike. It will have fans laughing with joy while also perhaps finding a new book to read!
Image
Sean's pick was...
Image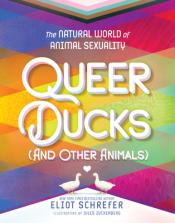 Queer Ducks (and Other Animals): The Natural World of Animal Sexuality by Eliot Schrefer [2022]
A quiet revolution has been underway in recent years, with study after study revealing substantial same-sex sexual behavior in animals. Join celebrated author Eliot Schrefer on an exploration of queer behavior in the animal world--from albatrosses to bonobos to clownfish to doodlebugs.

In sharp and witty prose--aided by humorous comics from artist Jules Zuckerberg--Schrefer uses science, history, anthropology, and sociology to illustrate the diversity of sexual behavior in the animal world. Interviews with researchers in the field offer additional insights for readers and aspiring scientists.

Queer behavior in animals is as diverse and complex--and as natural--as it is in our own species. It doesn't set us apart from animals--it bonds us even closer to our animal selves.
Rachelle's pick was...
Image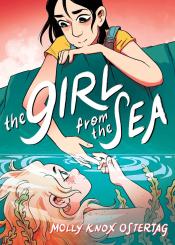 The Girl from the Sea by Molly Knox Ostertag [2021]
Fifteen-year-old Morgan has a secret: She can't wait to escape the perfect little island where she lives. She's desperate to finish high school and escape her sad divorced mom, her volatile little brother, and worst of all, her great group of friends...who don't understand Morgan at all. Because really, Morgan's biggest secret is that she has a lot of secrets, including the one about wanting to kiss another girl.

Then one night, Morgan is saved from drowning by a mysterious girl named Keltie. The two become friends and suddenly life on the island doesn't seem so stifling anymore.

But Keltie has some secrets of her own. And as the girls start to fall in love, everything they're each trying to hide will find its way to the surface...whether Morgan is ready or not.
Charissa's pick was...
Image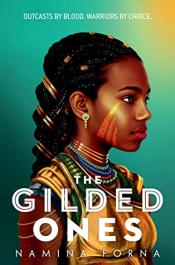 The Gilded Ones by Namina Forna [2021]
Sixteen-year-old Deka lives in fear and anticipation of the blood ceremony that will determine whether she will become a member of her village. Already different from everyone else because of her unnatural intuition, Deka prays for red blood so she can finally feel like she belongs.

But on the day of the ceremony, her blood runs gold, the color of impurity--and Deka knows she will face a consequence worse than death.

Then a mysterious woman comes to her with a choice: stay in the village and submit to her fate, or leave to fight for the emperor in an army of girls just like her. They are called alaki--near-immortals with rare gifts. And they are the only ones who can stop the empire's greatest threat.

Knowing the dangers that lie ahead yet yearning for acceptance, Deka decides to leave the only life she's ever known. But as she journeys to the capital to train for the biggest battle of her life, she will discover that the great walled city holds many surprises. Nothing and no one are quite what they seem to be--not even Deka herself.
Fiona's pick was...
Image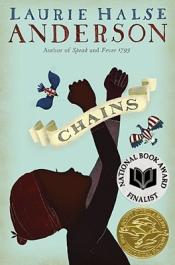 Chains by Laurie Halse Anderson [2008]
As the Revolutionary War begins, thirteen-year-old Isabel wages her own fight...for freedom. Promised freedom upon the death of their owner, she and her sister, Ruth, in a cruel twist of fate become the property of a malicious New York City couple, the Locktons, who have no sympathy for the American Revolution and even less for Ruth and Isabel. When Isabel meets Curzon, a slave with ties to the Patriots, he encourages her to spy on her owners, who know details of British plans for invasion. She is reluctant at first, but when the unthinkable happens to Ruth, Isabel realizes her loyalty is available to the bidder who can provide her with freedom.
From acclaimed author Laurie Halse Anderson comes this compelling, impeccably researched novel that shows the lengths we can go to cast off our chains, both physical and spiritual.
Charissa's pick was...
Image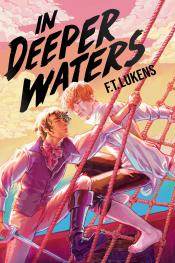 In Deeper Waters by F.T. Lukens [2021]
Prince Tal has long awaited his coming-of-age tour. After spending most of his life cloistered behind palace walls as he learns to keep his forbidden magic secret, he can finally see his family's kingdom for the first time. His first taste of adventure comes just two days into the journey, when their crew discovers a mysterious prisoner on a burning derelict vessel.

Tasked with watching over the prisoner, Tal is surprised to feel an intense connection with the roguish Athlen. So when Athlen leaps overboard and disappears, Tal feels responsible and heartbroken, knowing Athlen could not have survived in the open ocean.

That is, until Tal runs into Athlen days later on dry land, very much alive, and as charming—and secretive—as ever. But before they can pursue anything further, Tal is kidnapped by pirates and held ransom in a plot to reveal his rumored powers and instigate a war. Tal must escape if he hopes to save his family and the kingdom. And Athlen might just be his only hope…
Beth's pick was...
Image
See You Yesterday by Rachel Lynn Solomon [2022]
Barrett Bloom is hoping college will be a fresh start after a messy high school experience. But when school begins on September 21st, everything goes wrong. She's humiliated by the know-it-all in her physics class, she botches her interview for the college paper, and at a party that night, she accidentally sets a frat on fire. She panics and flees, and when she realizes her roommate locked her out of their dorm, she falls asleep in the common room.

The next morning, Barrett's perplexed to find herself back in her dorm room bed, no longer smelling of ashes and crushed dreams. It's September 21st. Again. And after a confrontation with Miles, the guy from Physics 101, she learns she's not alone—he's been trapped for months.

When her attempts to fix her timeline fail, she agrees to work with Miles to find a way out. Soon they're exploring the mysterious underbelly of the university and going on wild, romantic adventures. As they start falling for each other, they face the universe's biggest unanswered question yet: what happens to their relationship if they finally make it to tomorrow?
Madison's pick was...
Image
The Stars and the Blackness Between Them by Junauda Petrus [2019]
Trinidad. Sixteen-year-old Audre is despondent, having just found out she's going to be sent to live in America with her father because her strictly religious mother caught her with her secret girlfriend, the pastor's daughter. Audre's grandmother Queenie (a former dancer who drives a white convertible Cadillac and who has a few secrets of her own) tries to reassure her granddaughter that she won't lose her roots, not even in some place called Minneapolis. "America have dey spirits too, believe me," she tells Audre.

Minneapolis. Sixteen-year-old Mabel is lying on her bed, staring at the ceiling and trying to figure out why she feels the way she feels–about her ex Terrell, about her girl Jada and that moment they had in the woods, and about the vague feeling of illness that's plagued her all summer. Mabel's reverie is cut short when her father announces that his best friend and his just-arrived-from-Trinidad daughter are coming for dinner.

Mabel quickly falls hard for Audre and is determined to take care of her as she tries to navigate an American high school. But their romance takes a turn when test results reveal exactly why Mabel has been feeling low-key sick all summer and suddenly it's Audre who is caring for Mabel as she faces a deeply uncertain future.

Junauda Petrus's debut brilliantly captures the distinctly lush and lyrical voices of Mabel and Audre as they conjure a love that is stronger than hatred, prison, and death and as vast as the blackness between the stars.
Madison's pick was...
Image
Our Crooked Hearts by Melissa Albert [2022]
THE SUBURBS, RIGHT NOW . . .

Seventeen-year-old Ivy's summer break kicks off with an accident, a punishment, and a mystery: a stranger whose appearance in the middle of the road, in the middle of the night, heralds a string of increasingly unsettling events. As the days pass, Ivy grapples with eerie offerings, corroded memories, and a secret she's always known—that there's more to her mother than meets the eye.

THE CITY, BACK THEN . . .

Dana has always been perceptive. And the summer she turns sixteen, with the help of her best friend and an ambitious older girl, her gifts bloom into a heady fling with the supernatural, set in a city of magical possibilities and secret mystics. As the trio's aspirations darken, they find themselves speeding toward a violent breaking point.

Years after it began, Ivy and Dana's shared story will come down to a reckoning among a daughter, a mother, and the dark forces they never should've messed with. 
Michelle's pick was...
Image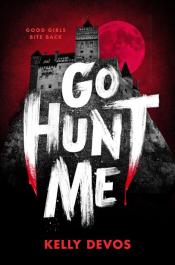 Go Hunt Me by Kelly deVos [2022]
For Dracula lovers and fans of Diana Urban's All Your Twisted Secrets, this spine-tingling thriller follows seven horror buffs as their dream trip to a remote Romanian castle turns into a nightmare when they begin to be killed one by one.

Alex Rush is ready for the trip of a lifetime.

She and her friends have made some creepily awesome films together throughout high school, so with only a few months left before they go their separate ways for college, they're determined to make the best one yet: an epic short film that reimagines the story of Dracula, filmed on location at a remote castle in Romania.

But when they get there, it's not quite the majestic setting they planned for. Menacing weapons line the walls, the twisted halls are easy to get lost in, and with no connection to the outside world, the group is unexpectedly off the grid. After just a few hours spent under its roof, Alex and her friends have no trouble imagining how this dark, terrifying castle inspired one of the most enduring horror novels of all time.

Only soon they no longer have to use their imaginations to understand the location's terrifying history—just as they get the film's first shot rolling, one of Alex's friends disappears, and she's nearly certain she saw a cloaked stranger lurking in the shadows. As more members of the group begin to meet an untimely demise, Alex is desperate to stop the bloodshed, even if it means facing a monster she never thought would be let loose.
Image
Sean's pick was...
Image
Cinderelliot: A Scrumptious Fairytale by Mark Ceilley [2022]
Cinderelliot is stuck at home taking care of his ungrateful stepsister and stepbrother. When Prince Samuel announces a kingdom-wide competition to join the royal staff as his baker, the stepsiblings insist that Cinderelliot bake their entries, leaving no time for he, himself, to compete. Fairy Godfather Ludwig appears and magically helps Cinderelliot bake his best chocolate cake, clean up, and get to the competition via limo. At the bake-off, Prince Samuel falls in love with Cinderelliot's cake, but our hero has to run off as the clock strikes midnight, leaving behind his chef hat. The next day, Prince Samuel searches the kingdom for the owner of the hat and finds that it fits perfectly on Cinderelliot's head. The prince is delighted to find not only his new baker but also the man of his dreams, and Cinderelliot creates a magnificent wedding cake--and the two live scrumptiously ever after.
Fiona's pick was...
Image
Ten Magic Butterflies by Danica McKellar [2018]
Join ten flower friends for a night of excitement that mixes a little math with a lot of magic. As each flower turns into a butterfly, children will discover different ways to group numbers to create ten, an essential building block of math, all while watching each flower's dream come true. (And keep an eye out for the caterpillar who wishes he could fly, too!)
Diana's pick was...
Image
Someone Builds the Dream by Lisa Wheeler [2021]
Buildings, bridges, and books don't exist without the laborers who are often invisible in the final product, as this picture book reveals.

All across this great big world, jobs are getting done
by many hands in many lands. It takes much more than ONE.

This is an exploration of the many types of work that go into building our world--from the making of a bridge to a wind farm, an amusement park, and even the very picture book that you are reading. An architect may dream up the plans for a house, but someone has to actually work the saws and pound the nails. This book is a thank-you to the skilled women and men who work tirelessly to see our dreams brought to life.
Beth's pick was...
Image
My Own Lightning (Wolf Hollow #2) by Lauren Wolk [2022]
It's been several months since the tragic events set in motion by bully Betty Glengarry, and the routine of daily life in Wolf Hollow has slowly returned. But for Annabelle McBride it's hard to move forward and make peace with what feels like threadbare justice.

Newly warm summer days are about to bring a jolt of change on the winds of a powerful storm. In its wake, the search for her brother's missing dog will set Annabelle on a new path that brings her to unfamiliar doorsteps and reunites her with a too-familiar adversary--Andy Woodberry, who was complicit in Betty's most terrible acts. Growing up and blazing her own trail will soon force Annabelle to reexamine deeply felt truths--about people, about justice, about herself--that had once seemed so uncomplicated.

Bestselling author Lauren Wolk (Beyond the Bright Sea, Echo Mountain) returns to World War II-era Western Pennsylvania in this luminous sequel to her Newbery Honor-winning debut, Wolf Hollow, proving once again why her acclaimed novels have been celebrated as "historical fiction at its finest."
Read the first in the series here
All descriptions adapted from the publisher