Image

Lisa's pick was...
Image
Draw Every Little Thing: Learn to Draw More than 100 Everyday Items, from Food to Fashion by Flora Waycott [2019]
The Inspired Artist series invites art hobbyists and casual art enthusiasts to have fun learning basic art concepts, relaxing into the creative process to make art in a playful, contemporary style. With Draw Every Little Thing, the first book in this new series, you can learn to draw and paint your favorite everyday items. From learning to draw and paint plants, flowers, and bicycles to the neighborhood café and the contents of the kitchen cabinet, this contemporary drawing book demonstrates just how easy it is to render the world around you with little more than a pencil, paper, and paint.
Following a brief introduction to the joys of simplistic drawing and painting, this aesthetically pleasing book familiarizes you with a range of drawing tools and materials, including graphite pencil, pen and ink, colored pencil, and gouache, before offering a quick overview of basic color theory. Each subsequent chapter is then devoted to a specific theme—kitchenalia, hobbies, neighborhood haunts, and much more—and packed with simple step-by-step drawing projects.
This accessible book encourages you to jump around so you can draw what immediately inspires you. Interactive prompts, creative exercises, and inspiring ideas make the process fun and engaging. Easy techniques and helpful instructions show you how to develop your own personal style, as well as add color to your drawings using gouache and colored pencil. Crafty projects round out the book, allowing you to use your newfound drawing and painting skills.
Filled to the brim with whimsical artwork and loads of creative ideas, Draw Every Little Thing encourages artists of all skill levels to draw any time inspiration strikes.
Beth's pick was...
Image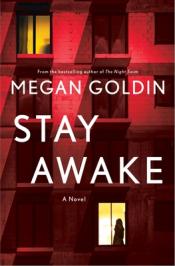 Stay Awake by Megan Goldin [2022]
Liv Reese wakes up in the back of a taxi with no idea where she is or how she got there. When she's dropped off at the door of her brownstone, a stranger answers―a stranger who now lives in her apartment and forces her out in the cold. She reaches for her phone to call for help, only to discover it's missing, and in its place is a bloodstained knife. That's when she sees that her hands are covered in black pen, scribbled messages like graffiti on her skin: STAY AWAKE.

Two years ago, Liv was living with her best friend, dating a new man, and thriving as a successful writer for a trendy magazine. Now, she's lost and disoriented in a New York City that looks nothing like what she remembers. Catching a glimpse of the local news, she's horrified to see reports of a crime scene where the victim's blood has been used to scrawl a message across a window, the same message that's inked on her hands. What did she do last night? And why does she remember nothing from the past two years? Liv finds herself on the run for a crime she doesn't remember committing as she tries to piece together the fragments of her life. But there's someone who does know exactly what she did, and they'll do anything to make her forget―permanently.

In the vein of SJ Watson's Before I Go to Sleep and Christopher Nolan's cult classic Memento, Megan Goldin's Stay Awake is an electrifying novel that plays with memory and murder.
Lesia's pick was...
Image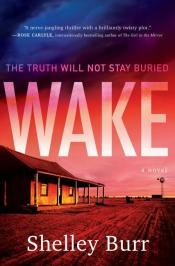 The tiny outback town of Nannine lies in the harsh red interior of Australia. Once a thriving center of stockyards and sheep stations, years of punishing drought have petrified the land and Nannine has been whittled down to no more than a stoplight, a couple bars, and a police station.

And it has another, more sinister claim to fame: the still-unsolved disappearance of young Evelyn McCreery nineteen years ago.

Mina McCreery's life has been defined by the intense public interest in her sister's case--which is still a hot topic in true-crime chat rooms and on social media. Now an anxious and reclusive adult, Mina lives alone on her family's sunbaked destocked sheep farm.

Enter Lane Holland, a young private investigator who dropped out of the police academy to earn a living cracking cold cases. Before she died, Mina's mother funded a million-dollar reward for anyone who could explain how Evelyn vanished from her bed in the family's farmhouse. The lure of cash has only increased public obsession with Evelyn and Mina--but yielded no answers.

Lane wins Mina's trust when some of his more unconventional methods show promise. But Lane also has darker motivations, and his obsession with the search will ultimately risk both their lives--and yield shocking results.

Compulsively readable, with an unforgettable setting and cast of characters, Wake is a powerful, unsparing story of how trauma ripples outward when people's private tragedies become public property, and how it's never too late for the truth to come out.
Wendy's pick was...
Image
The Other Einstein by Marie Benedict [2016]
In the tradition of The Paris Wife and Mrs. Poe, The Other Einstein offers us a window into a brilliant, fascinating woman whose light was lost in Einstein's enormous shadow. It is the story of Einstein's wife, a brilliant physicist in her own right, whose contribution to the special theory of relativity is hotly debated and may have been inspired by her own profound and very personal insight.

Mitza Maric has always been a little different from other girls. Most twenty-year-olds are wives by now, not studying physics at an elite Zurich university with only male students trying to outdo her clever calculations. But Mitza is smart enough to know that, for her, math is an easier path than marriage. And then fellow student Albert Einstein takes an interest in her, and the world turns sideways. Theirs becomes a partnership of the mind and of the heart, but there might not be room for more than one genius in a marriage.
Sean's pick was...
Image
The Nice House on the Lake by James Tynion IV [2022]
With Something Is Killing the Children and The Department of Truth, James Tynion IV has changed the face of horror in modern comics—now get ready for his most ambitious story yet, alongside his Detective Comics partner Álvaro Martínez Bueno!

Everyone who was invited to the house knows Walter—well, they know him a little, anyway. Some met him in childhood; some met him months ago. And Walter's always been a little…off.

But after the hardest year of their lives, nobody was going to turn down Walter's invitation to an astonishingly beautiful house in the woods, overlooking an enormous sylvan lake. It's beautiful, it's opulent, it's private—so a week of putting up with Walter's weird little schemes and nicknames in exchange for the vacation of a lifetime? Why not?

All of them were at that moment in their lives when they could feel themselves pulling away from their other friends; wouldn't a chance to reconnect be…nice? In The Nice House on the Lake, the overriding anxieties of the 21st century get a terrifying new face—and it might just be the face of the person you once trusted most.
Lisa's pick was...
Image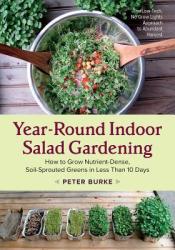 Year-Round Indoor Salad Gardening: How to Grow Nutrient-Dense, Soil-Sprouted Greens in Less Than 10 Days by Peter Burke [2015]
The Low-Tech, No-Grow-Lights Approach to Abundant Harvest

Year-Round Indoor Salad Gardening offers good news: with nothing more than a cupboard and a windowsill, you can grow all the fresh salad greens you need for the winter months (or throughout the entire year) with no lights, no pumps, and no greenhouse.

Longtime gardener Peter Burke was tired of the growing season ending with the first frost, but due to his busy work schedule and family life, didn't have the time or interest in high-input grow lights or greenhouses. Most techniques for growing what are commonly referred to as microgreens left him feeling overwhelmed and uninterested. There had to be a simpler way to grow greens for his family indoors. After some research and diligent experimenting, Burke discovered he was right there was a way! And it was even easier than he ever could have hoped, and the greens more nutrient packed. He didn't even need a south-facing window, and he already had most of the needed supplies just sitting in his pantry. The result: healthy, homegrown salad greens at a fraction of the cost of buying them at the market. The secret: start them in the dark.

Growing Soil Sprouts Burke's own descriptive term for sprouted seeds grown in soil as opposed to in jars employs a method that encourages a long stem without expansive roots, and provides delicious salad greens in just seven to ten days, way earlier than any other method, with much less work. Indeed, of all the ways to grow immature greens, this is the easiest and most productive technique. Forget about grow lights and heat lamps! This book is a revolutionary and inviting guide for both first-time and experienced gardeners in rural or urban environments. All you need is a windowsill or two. In fact, Burke has grown up to six pounds of greens per day using just the windowsills in his kitchen! Year-Round Indoor Salad Gardening offers detailed step-by-step instructions to mastering this method (hint: it s impossible not to succeed, it s so easy!), tools and accessories to have on hand, seeds and greens varieties, soil and compost, trays and planters, shelving, harvest and storage, recipes, scaling up to serve local markets, and much more.
Ashley's pick was...
Image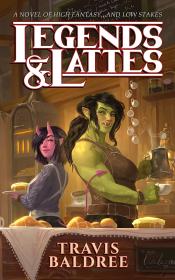 Legends & Lattes by Travis Baldree [2022]
High Fantasy with a double-shot of self-reinvention.

Worn out after decades of packing steel and raising hell, Viv the orc barbarian cashes out of the warrior's life with one final score. A forgotten legend, a fabled artifact, and an unreasonable amount of hope lead her to the streets of Thune, where she plans to open the first coffee shop the city has ever seen.

However, her dreams of a fresh start pulling shots instead of swinging swords are hardly a sure bet. Old frenemies and Thune's shady underbelly may just upset her plans. To finally build something that will last, Viv will need some new partners and a different kind of resolve.

A hot cup of fantasy slice-of-life with a dollop of romantic froth.
Rachelle's pick was...
Image
Exquisite Corpse by Pénélope Bagieu [2010]
Zoe isn't exactly the intellectual type, which is why she doesn't recognize world-famous author Thomas Rocher when she stumbles into his apartment...and into his life. It's also why she doesn't know that Rocher is supposed to be dead. Turns out, Rocher faked his death years ago to escape his critics, and has been making a killing releasing his new work as "lost manuscripts," in cahoots with his editor/ex-wife Agathe. Neither of them would have invited a crass party girl like Zoe into their literary conspiracy of two, but now that she's there anyway. . . . Zoe doesn't know Balzac from Batman, but she's going to have to wise up fast... because she's sitting on the literary scandal of the century!
Charissa's pick was...
Image
The Death of Mrs. Westaway by Ruth Ware [2018]
On a day that begins like any other, Hal receives a mysterious letter bequeathing her a substantial inheritance. She realizes very quickly that the letter was sent to the wrong person—but also that the cold-reading skills she's honed as a tarot card reader might help her claim the money.

Soon, Hal finds herself at the funeral of the deceased…where it dawns on her that there is something very, very wrong about this strange situation and the inheritance at the centre of it.
Cameron's pick was...
Image
In the Margins: On the Pleasures of Reading and Writing by Elena Ferrante [2021]
In 2020, Claire Luchette in O, The Oprah Magazine described the beloved Italian novelist Elena Ferrante as "an oracle among authors." Here, in these four crisp essays, Ferrante offers a rare look at the origins of her literary powers. She writes about her influences, her struggles, and her formation as both a reader and a writer; she describes the perils of "bad language" and suggests ways in which it has long excluded women's truth; she proposes a choral fusion of feminine talent as she brilliantly discourses on the work of Emily Dickinson, Gertrude Stein, Ingeborg Bachmann, and many others.

Here is a subtle yet candid book by "one of the great novelists of our time" about adventures in literature, both in and out of the margins.
Sabrina's pick was...
Image
Unmasked: My Life Solving America's Cold Cases by Paul Holes [2022]
From the detective who found The Golden State Killer, a memoir of investigating America's toughest cold cases and the rewards--and toll--of a life solving crime.

I order another bourbon, neat. This is the drink that will flip the switch. I don't even know how I got here, to this place, to this point. Something is happening to me lately. I'm drinking too much. My sheets are soaking wet when I wake up from nightmares of decaying corpses. I order another drink and swig it, trying to forget about the latest case I can't shake.

Crime-solving for me is more complex than the challenge of the hunt, or the process of piecing together a scientific puzzle. The thought of good people suffering drives me, for better or worse, to the point of obsession.

People always ask how I am able to detach from the horrors of my work. Part of it is an innate capacity to compartmentalize; the rest is experience and exposure, and I've had plenty of both. But I had always taken pride in the fact that I can keep my feelings locked up to get the job done. It's only been recently that it feels like all that suppressed darkness is beginning to seep out.

When I look back at my long career, there is a lot I am proud of. I have caught some of the most notorious killers of the twenty-first century and brought justice and closure for their victims and families. I want to tell you about a lifetime solving these cold cases, from Laci Peterson to Jaycee Dugard to the Pittsburgh homicides to, yes, my twenty-year-long hunt for the Golden State Killer.

But a deeper question eats at me as I ask myself, at what cost? I have sacrificed relationships, joy—even fatherhood—because the pursuit of evil always came first. Did I make the right choice? It's something I grapple with every day. Yet as I stand in the spot where a young girl took her last breath, as I look into the eyes of her family, I know that, for me, there has never been a choice. "I don't know if I can solve your case," I whisper. "But I promise I will do my best."

It is a promise I know I can keep.
Hailey's pick was...
Image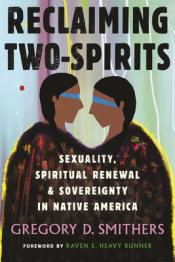 Reclaiming Two-Spirits: Sexuality, Spiritual Renewal & Sovereignty in Native America by Gregory D. Smithers [2022]
A sweeping history of Indigenous traditions of gender, sexuality, and resistance that reveals how, despite centuries of colonialism, Two-Spirit people are reclaiming their place in Native nations.
Reclaiming Two-Spirits decolonizes the history of gender and sexuality in Native North America. It honors the generations of Indigenous people who had the foresight to take essential aspects of their cultural life and spiritual beliefs underground in order to save them.
Before 1492, hundreds of Indigenous communities across North America included people who identified as neither male nor female, but both. They went by aak'skassi, miati, okitcitakwe or one of hundreds of other tribally specific identities. After European colonizers invaded Indian Country, centuries of violence and systematic persecution followed, imperiling the existence of people who today call themselves Two-Spirits, an umbrella term denoting feminine and masculine qualities in one person.
Drawing on written sources, archaeological evidence, art, and oral storytelling, Reclaiming Two-Spirits spans the centuries from Spanish invasion to the present, tracing massacres and inquisitions and revealing how the authors of colonialism's written archives used language to both denigrate and erase Two-Spirit people from history. But as Gregory Smithers shows, the colonizers failed--and Indigenous resistance is core to this story. Reclaiming Two-Spirits amplifies their voices, reconnecting their history to Native nations in the 21st century.
Jordyn's pick was...
Image
The Book That Matters Most by Ann Hood [2016]
Ava's twenty-five-year marriage has fallen apart, and her two grown children are pursuing their own lives outside of the country. Ava joins a book group, not only for her love of reading but also out of sheer desperation for companionship. The group's goal throughout the year is for each member to present the book that matters most to them. Ava rediscovers a mysterious book from her childhood—one that helped her through the traumas of the untimely deaths of her sister and mother. Alternating with Ava's story is that of her troubled daughter Maggie, who, living in Paris, descends into a destructive relationship with an older man. Ava's mission to find that book and its enigmatic author takes her on a quest that unravels the secrets of her past and offers her and Maggie the chance to remake their lives.
Roxanne's pick was...
Image
The Only Good Indians by Stephen Graham Jones [2020]
The creeping horror of Paul Tremblay meets Tommy Orange's There There in a dark novel of revenge, cultural identity, and the cost of breaking from tradition in this latest novel from the Jordan Peele of horror literature, Stephen Graham Jones.
Seamlessly blending classic horror and a dramatic narrative with sharp social commentary, The Only Good Indians follows four American Indian men after a disturbing event from their youth puts them in a desperate struggle for their lives. Tracked by an entity bent on revenge, these childhood friends are helpless as the culture and traditions they left behind catch up to them in a violent, vengeful way.
Laurel's pick was...
Image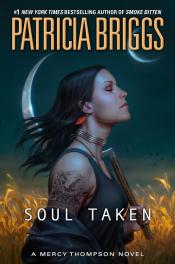 Soul Taken (Mercy Thompson #13) by Patricia Briggs [2022]
The vampire Wulfe is missing. Since he's deadly, possibly insane, and his current idea of "fun" is stalking me, some may see it as no great loss. But, warned that his disappearance might bring down the carefully constructed alliances that keep our pack safe, my mate and I must find Wulfe—and hope he's still alive. As alive as a vampire can be, anyway.

But Wulfe isn't the only one who has disappeared. And now there are bodies, too. Has the Harvester returned to the Tri-Cities, reaping souls with his cursed sickle? Or is he just a character from a B horror movie and our enemy is someone else?

The farther I follow Wulfe's trail, the more twisted—and darker—the path becomes. I need to figure out what's going on before the next body on the ground is mine.
Read the first in the series here!
Gail's pick was...
Image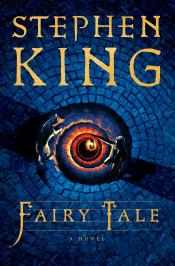 Fairy Tale by Stephen King [2022]
Legendary storyteller Stephen King goes deep into the well of his imagination in this spellbinding novel about a seventeen-year-old boy who inherits the keys to a parallel world where good and evil are at war, and the stakes could not be higher—for their world or ours.

Charlie Reade looks like a regular high school kid, great at baseball and football, a decent student. But he carries a heavy load. His mom was killed in a hit-and-run accident when he was ten, and grief drove his dad to drink. Charlie learned how to take care of himself—and his dad. Then, when Charlie is seventeen, he meets Howard Bowditch, a recluse with a big dog in a big house at the top of a big hill. In the backyard is a locked shed from which strange sounds emerge, as if some creature is trying to escape. When Mr. Bowditch dies, he leaves Charlie the house, a massive amount of gold, a cassette tape telling a story that is impossible to believe, and a responsibility far too massive for a boy to shoulder.

Because within the shed is a portal to another world—one whose denizens are in peril and whose monstrous leaders may destroy their own world, and ours. In this parallel universe, where two moons race across the sky, and the grand towers of a sprawling palace pierce the clouds, there are exiled princesses and princes who suffer horrific punishments; there are dungeons; there are games in which men and women must fight each other to the death for the amusement of the "Fair One." And there is a magic sundial that can turn back time.

A story as old as myth, and as startling and iconic as the rest of King's work, Fairy Tale is about an ordinary guy forced into the hero's role by circumstance, and it is both spectacularly suspenseful and satisfying.
Jesse's pick was...
Image
At Swim-Two-Birds by Flann O'Brien [1939]
A wildly comic send-up of Irish literature and culture, At Swim-Two-Birds is the story of a young, lazy, and frequently drunk Irish college student who lives with his curmudgeonly uncle in Dublin. When not in bed (where he seems to spend most of his time) or reading he is composing a mischief-filled novel about Dermot Trellis, a second-rate author whose characters ultimately rebel against him and seek vengeance. From drugging him as he sleeps to dropping the ceiling on his head, these figures of Irish myth make Trellis pay dearly for his bad writing.

Hilariously funny and inventive, At Swim-Two-Birds has influenced generations of writers, opening up new possibilities for what can be done in fiction. It is a true masterpiece of Irish literature.
Sid's pick was...
Image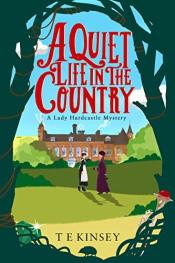 A Quiet Life in the Country by T.E. Kinsey [2016]
Lady Emily Hardcastle is an eccentric widow with a secret past. Florence Armstrong, her maid and confidante, is an expert in martial arts. The year is 1908 and they've just moved from London to the country, hoping for a quiet life.

But it is not long before Lady Hardcastle is forced out of her self-imposed retirement. There's a dead body in the woods, and the police are on the wrong scent. Lady Hardcastle makes some enquiries of her own, and it seems she knows a surprising amount about crime investigation…

As Lady Hardcastle and Flo delve deeper into rural rivalries and resentment, they uncover a web of intrigue that extends far beyond the village. With almost no one free from suspicion, they can be certain of only one fact: there is no such thing as a quiet life in the country.
Michelle's pick was...
Image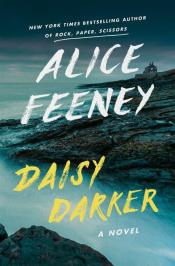 Daisy Darker by Alice Feeney [2022]
After years of avoiding each other, Daisy Darker's entire family is assembling for Nana's 80th birthday party in Nana's crumbling gothic house on a tiny tidal island. Finally back together one last time, when the tide comes in, they will be cut off from the rest of the world for eight hours.

The family arrives, each of them harboring secrets. Then at the stroke of midnight, as a storm rages, Nana is found dead. And an hour later, the next family member follows…

Trapped on an island where someone is killing them one by one, the Darkers must reckon with their present mystery as well as their past secrets, before the tide comes in and all is revealed.

With a wicked wink to Agatha Christie's And Then There Were None, Daisy Darker's unforgettable twists will leave readers reeling.
Linda's pick was...
Image
Out of the Clear Blue Sky by Kristan Higgins [2022]
Lillie Silva knew life as an empty nester would be hard after her only child left for college, but when her husband abruptly dumps her for another woman just as her son leaves, her world comes crashing down. Besides the fact that this announcement is a complete surprise (to say the least), what shocks Lillie most is that she isn't...heartbroken. She's furious.

Lillie has loved her life on Cape Cod, but as a mother, wife and nurse-midwife, she's used to caring for other people...not taking care of herself. Now, alone for the first time in her life, she finds herself going a little rogue. Is it over the top to crash her ex-husband's wedding, dressed like the angel of death? Sure! Should she release a skunk into his perfect new home? Probably not! But it beats staying home and moping.

She finds an unexpected ally in her glamorous sister, with whom she's had a tense relationship all these years. And an unexpected babysitter in of all people Ben Hallowell, the driver in a car accident that nearly killed Lillie 20 years ago. And then there's Ophelia, her ex-husband's oddly lost niece, who could really use a friend.

It's the end of Lillie's life as she knew it. But sometimes the perfect next chapter surprises you...out of the clear blue sky.
Image
Beth's pick was...
Image
We Can't Keep Meeting Like This by Rachel Lynn Solomon [2021]
A wedding harpist disillusioned with love and a hopeless romantic cater-waiter flirt and fight their way through a summer of weddings.

Quinn Berkowitz and Tarek Mansour's families have been in business together for years: Quinn's parents are wedding planners, and Tarek's own a catering company. At the end of last summer, Quinn confessed her crush on him in the form of a rambling email—and then he left for college without a response.

Quinn has been dreading seeing him again almost as much as she dreads another summer playing the harp for her parents' weddings. When he shows up at the first wedding of the summer, looking cuter than ever after a year apart, they clash immediately. Tarek's always loved the grand gestures in weddings—the flashier, the better—while Quinn can't see them as anything but fake. Even as they can't seem to have one civil conversation, Quinn's thrown together with Tarek wedding after wedding, from performing a daring cake rescue to filling in for a missing bridesmaid and groomsman.

Quinn can't deny her feelings for him are still there, especially after she learns the truth about his silence, opens up about her own fears, and begins learning the art of harp-making from an enigmatic teacher.

Maybe love isn't the enemy after all—and maybe allowing herself to fall is the most honest thing Quinn's ever done.
Sean's pick was...
Image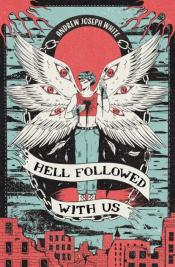 Hell Followed With Us by Andrew Joseph White [2022]
Prepare to die. His kingdom is near.
Sixteen-year-old trans boy Benji is on the run from the cult that raised him—the fundamentalist sect that unleashed Armageddon and decimated the world's population. Desperately, he searches for a place where the cult can't get their hands on him, or more importantly, on the bioweapon they infected him with.
But when cornered by monsters born from the destruction, Benji is rescued by a group of teens from the local Acheson LGBTQ+ Center, affectionately known as the ALC. The ALC's leader, Nick, is gorgeous, autistic, and a deadly shot, and he knows Benji's darkest secret: the cult's bioweapon is mutating him into a monster deadly enough to wipe humanity from the earth once and for all.
Still, Nick offers Benji shelter among his ragtag group of queer teens, as long as Benji can control the monster and use its power to defend the ALC. Eager to belong, Benji accepts Nick's terms…until he discovers the ALC's mysterious leader has a hidden agenda, and more than a few secrets of his own.
A furious, queer debut novel about embracing the monster within and unleashing its power against your oppressors. Perfect for fans of Gideon the Ninth and Annihilation.
Image

Sean's pick was...
Image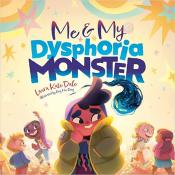 Me and My Dysphoria Monster: An Empowering Story to Help Children Cope with Gender Dysphoria by Laura Kate Dale [2022]
The first children's book to fully explore what gender dysphoria feels like and how to cope with it.
Nisha's monster follows her everywhere. It used to be small, but recently her monster has begun to grow. And as her monster gets bigger and bigger, Nisha feels more and more unlike herself.
When people refer to her as a boy, or when she tries to hide her true gender identity, Nisha's dysphoria monster grows larger and larger. Until, one day, Nisha meets Jack - a trans man - who shows Nisha how she can shrink her dysphoria monster back down to size.
This touching story is the perfect book for discussing gender dysphoria with children, explaining what it is and how they and their families can deal with it. It also includes an accompanying guide for parents with further information about gender dysphoria, terminology, and first-hand examples of the author's own experiences.
Samantha's pick was...
Image
A story about a boy on a quest to rescue his father, with only a ghost as his companion, and a mysterious pony as his guide.

Twelve-year-old Silas is awoken in the dead of night by three menacing horsemen who take his father away. Silas is left shaken, scared, and alone, except for the presence of his companion, Mittenwool . . . who happens to be a ghost. When a pony shows up at his door, Silas makes the courageous decision to leave his home and embark on a perilous journey to find his father. Along the way, he will face his fears to unlock the secrets of his past and explore the unfathomable mysteries of the world around him.
All summaries adapted from publisher