Image

Teentober in past years was Teen Reads week and Teen Tech Week. This year for the whole month of October we celebrate all of the amazing things teens can enjoy with the library. From services to programs, tune in throughout the month to check out what is in store. 
Image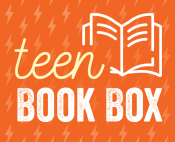 Teen Book Boxes
Sign up to recieve a box filled with a book and goodies just for you.  The sign up form includes an option to select a first and second choice of book genre to receive. So whether fantasy or historical books are your favorite there is something for you! Supplies are limited but lucky participants can pick up their boxes at their branch of choice throughout the month of October. 
Keep an eye on our social media at the beginning of October for an unboxing video! 
Image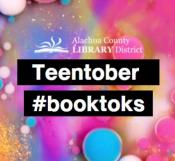 Catch a #booktok every week
Follow the Alachua County Library District on Facebook, Instagram, or Twitter to catch our weekly #booktok videos recommending exciting new books from our collection. These quick videos will whet your appetite for your next book binge! 
Events 
Throughout the rest of the month of October we will have a few extra special Teen programs. Follow the links below or join us on Facebook Live. 
Library Perks 
Did you know that your library card is for more than just checking out books? Here are some other free services that you may be excited to hear about.