Image

Lots of people love a good scare. Whether you're reading some horror or catching a scary movie, the surge of adrenaline can be thrilling! 
But, did you know that reading scary stories can actually help kids develop important life skills? It's true! Multiple studies have shown that age-appropriate, creepy tales can help kids build:
Confidence & Resilience - Reading about characters that battle evil and overcome their fears helps children think about overcoming their own obstacles and conquering their fears.
Empathy & Understanding - Reading about the fears and struggles of others allows kids to put their selves in someone else's shoes and think about what they might do in a given situation. Reading about good vs. evil also helps kids process and differentiate these tough topics in a more tangible way.
Of course, everyone is different and we're aiming for age-appropriate frights as opposed to nightmares and anxiety. While we've put together a list of stories we think are perfect for kids from ages 9-12, only you know what's right for you (or your child).
Remember, it's always okay to stop reading if you think a story is too scary for you. After all, there's thousands of books in the library and we definitely have the right one for you! 
Chapter Books:
Image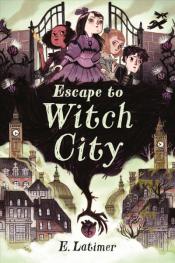 Escape to Witch City by Erin Latimer
Emmaline Black has a secret. She can hear the rhythm of heartbeats. Not just her own, but others' too. It's a rhythm she's learned to control, and that can only mean one thing . . . Emma's a witch. In a world where a sentence of witchcraft comes with dire consequences and all children who have reached the age of thirteen are tested to ensure they have no witch blood, Emma must attempt to stamp out her power before her own test comes. But the more she researches, the more she begins to suspect that her radically anti-witch aunt and mother are hiding something.
Image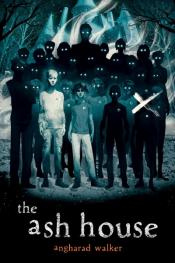 The Ash House written by Angharad Walker with illustrations by Corey Brickley
When eleven-year-old Sol arrives at the Ash House, desperate for a cure for his complex pain syndrome, he finds a community of strange children long abandoned by their mysterious Headmaster. The children at the Ash House want the new boy to love their home as much as they do. They give him a name like theirs. They show him the dorms and tell him about the wonderful oasis that the Headmaster has created for them. But the new boy already has a name, doesn't he? At least he did before he walked through those gates...
Image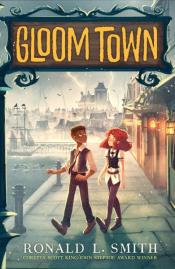 When twelve-year-old Rory applies for a job at a spooky old mansion in his gloomy seaside town, he finds the owner, Lord Foxglove, odd and unpleasant. But he and his mom need the money, so he takes the job anyway. Rory soon finds out that his new boss is not just strange, he's not even human and he's trying to steal the townspeople's shadows. Together, Rory and his friend Isabella set out to uncover exactly what Foxglove and his otherworldly accomplices are planning and devise a strategy to defeat them. But can two kids defeat a group of ancient evil beings who are determined to take over the world?
Image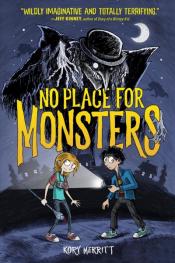 No Place for Monsters written and illustrated by Kory Merritt
Levi and Kat are about to discover a very dark side to their neighborhood. Nothing ever seems out of place in the safe, suburban town of Cowslip Grove. Lawns are neatly mowed, sidewalks are tidy, and the sounds of ice cream trucks fill the air. But now...kids have been going missing--except no one even realizes it, because no one remembers them. Not their friends, not their teachers, not even their families. But Levi and Kat do remember, and suddenly only they can see why everyone is in terrible danger when the night air rolls in. Now it is up to Levi and Kat to fight it and save the missing kids before it swallows the town whole.
Image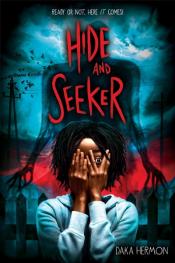 Hide and Seeker by Daka Hermon
Something is wrong with twelve-year-old Zee, who has returned after a year's absence; nobody knows where he was or what happened to him, but now he is distracted and violent, freaking out when he sees his friends, Justin, Nia, and Lyric, playing an odd game of hide-and-seek, and talking wildly about some danger that is approaching--and soon his friends are pulled into a shadowy world ruled by a monstrous, shape-shifting Seeker, forced to play a terrifying game of hide-and-seek where they will have to confront their worst nightmares in order to find their way home.
Image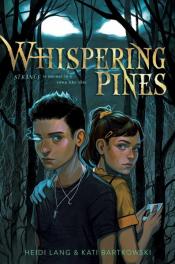 Whispering Pines by Heidi Lang & Kati Bartkowski
Rae's father vanished without a trace and Rae knows what happened to him. However, no one believes her when she says that her father didn't run off but was actually taken. Now, a year of therapy later, Rae's mother decides they need a fresh start, so they move to a new town in the hope that life can return to normal. The problem is, there is nothing normal about the town of Whispering Pines. No one knows this better than Caden. He's lived in Whispering Pines his entire life, and he's seen more than his fair share of weird, starting with his own family, as the town is the perfect home base for his mother's ghost hunting business.
 
Image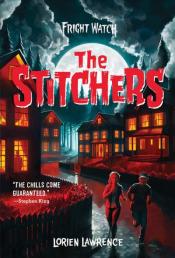 The Stitchers by Lorien Lawrence
Thirteen-year-old Quinn Parker knows that there's something off about her neighbors. She calls them 'the Oldies' because they've lived on Goodie Lane for as long as anyone can remember, but they never seem to age... If her dad were still around, he'd believe her. When he was alive, they'd come up with all sorts of theories about the Oldies. Now, Quinn's determined to keep the investigation going with the help of Mike, her neighbor and maybe-crush... But the Oldies are on to them. And the closer Quinn and Mike get to uncovering the answers, the more they realize just how terrifying the truth may be.
Image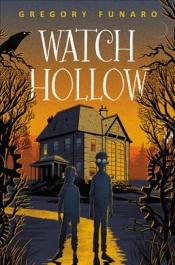 Watch Hollow by Gregory Funaro
Deep within the enchanted woods in the town of Watch Hollow stands the once-grand Blackford House, whose halls hold a magical secret: a giant cuckoo clock that does much more than tell time. However, when the clock's gears cease to turn, an evil presence lurking among the trees begins to come out of the shadows. When Lucy and Oliver Tinker arrive in Watch Hollow, they have no idea that anything is wrong. A mysterious stranger has made their father an offer that's too good for him to refuse. All Mr. Tinker needs to do is fix the clock at Blackford House and fistfuls of gold coins are his to keep.
Image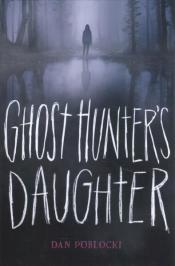 Ghost Hunter's Daughter by Dan Poblocki
Claire doesn't believe in ghosts, even though her dad is a ghost hunter on TV. Suddenly, her dad disappears. A strange boy in her class, Lucas, knows something about ghosts. One of them has a message for her: Her dad has been taken, and he's in grave danger. Together, Claire and Lucas set out for the town of Hush Falls, where her dad was last seen. Claire and Lucas are determined to rescue her father but how can they save him from the ghost of Hush when everyone knows that seeing the ghost means that you're destined to die?...
Short Story Collections:
Image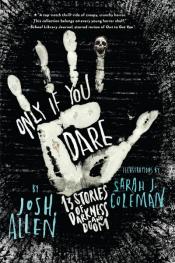 Only If You Dare: 13 Stories of Darkness and Doom written by Josh Allen and illustrated by Sarah J. Coleman
A collection of thirteen short stories showing how horribly wrong food, dating, jobs, and even a bed pillow can be.
Image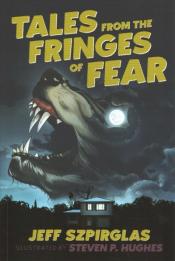 Tales from the Fringes of Fear written by Jeff Szpirglas and illustrated by Steven P. Hughes
Thirteen creepy stories about a very strange school and its students that can be as puzzling as they are scary.
Image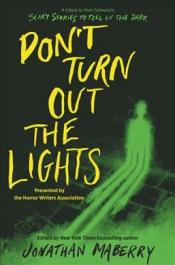 Don't Turn Out the Lights edited by Jonathan Maberry
In collaboration with the Horror Writers Association, New York Times bestselling author and master of horror Jonathan Maberry has compiled a gruesome collection of terrifying stories--in tribute to Alvin Schwartz's classic Scary Stories to Tell in the Dark series--that will absolutely chill readers to the bone.
All title descriptions adapted from publisher.