Image

October is a favorite time of year, with cooler temps, colorful foliage, and Halloween to look forward to at the very end of the month! Here at the library, we have all sorts of festive picture books about witches, pumpkins, ghosts, and more that capture all the good feels, excitement, magic, and mystery of this fun holiday. From picture books for the little ones all the way up to elementary and middle-grade chapter books, there is something for everyone! Take a look at some of our favorites below or search our catalog for even more ideas. Happy spooky season!
Picture Books
Image
Witchy Things by Mariasole Brusa
"Oh, for the love of stinking skunk farts! My hair is still blue!" This witch is very angry. She wants her hair color booger green, blood red, or even muddy like a swamp. But not blue, like the blue fairy! She wants to be a witchy witch… so she decides she's going to kidnap a kid at the park! But this witch is in for a big surprise…
Image
There's a Witch in Your Book by Tom Fletcher
There's a witch in your book and she's making a terrible mess! Can you use your own magic to show Messy Witch who's boss and help her keep your book tidy? Use your finger or grab a magic wand but be careful - your magic might be more powerful than you think!
Image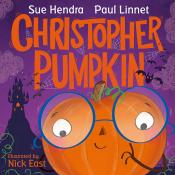 Christopher Pumpkin by Sue Hendra & Paul Linnet
Christopher Pumpkin is delighted to be magicked to life by a witch - until he discovers she wants him and the other pumpkins to get her creepy castle ready for the spookiest party ever! Chris just can't bring himself to hang cobwebs and cook curried slugs - he's much more into bunting and fairy cakes! This book tells a delightful story about blazing your own trail, perfect for reading aloud.
Image
The Poisoned Apple by Anne Lambelet 
The princess is too sweet, too kind―but the witch knows just how to handle a princess like that. One bite from a painstakingly made poisoned apple should do it! Once the apple is in the hands of the princess, the plan is in motion. But when the kindhearted princess gives the apple away, the witch watches as her plot spirals out of control. Can she get the apple back before it's too late? Who will end up with a happily ever after?
Image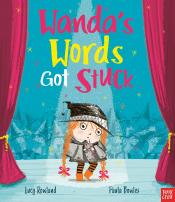 Wanda's Words Got Stuck by Lucy Rowland
Wanda the witch is so shy she can't talk at school. No matter how hard she tries, the words simply won't come out. But when another quiet little witch named Flo joins her class, it seems that Wanda's not the only one who gets nervous sometimes. Then disaster strikes at the school-wide magic contest. Will Wanda have the courage to shout out the magic words and save her new friend?
Image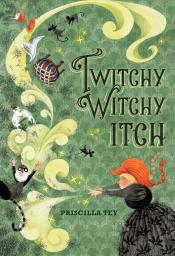 Twitchy Witchy Itch by Priscilla Tey
Itch the witch is having company over for tea. As the clock counts down to tea o'clock, Itch's mind is in a tizzy: is her house too twitchy? Is her home too itchy? Zipping and zooming, dusting and brooming, Itch sweeps and bewitches the mess away (just in the nick of time). But as soon as her two guests walk in, Itch's housekeeping comes unraveled. How will Itch tame such an itchy, glitchy, fidgety mess?
Chapter Books
Image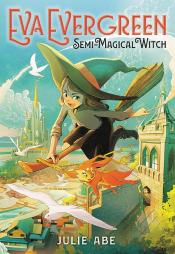 Eva Evergreen series by Julie Abe
In the first book in this series - Eva Evergreen, Semi-Magical Witch - Eva is determined to earn the rank of Novice Witch before her 13th birthday. If she doesn't, she'll lose her magic forever. For most young witches and wizards, it's a simple enough test: 1) Help your town, do good all around. 2) Live there for one moon, don't leave too soon. 3) Fly home by broomstick, the easiest of tricks.
The only problem? Eva only has a pinch of magic. She summons heads of cabbage instead of flowers and gets a sunburn instead of calling down rain. And to add insult to injury, whenever she overuses her magic, she falls asleep. When she lands in the tranquil coastal town of Auteri, the residents expect a powerful witch, not a semi-magical girl. So Eva comes up with a plan: set up a magical repair shop to aid Auteri and prove she's worthy. She may have more blood than magic, but her "semi-magical fixes" repair the lives of the townspeople in ways they never could have imagined. Only, Eva's bit of magic may not be enough when the biggest magical storm in history threatens the town she's grown to love. Eva must conjure up all of the magic, bravery, and cleverness she can muster, or Auteri and her dreams of becoming a witch will wash away with the storm.
Image
The Last Windwitch by Jennifer Adam 
Many years ago, in the kingdom of Fenwood Reach, there was a powerful Windwitch who wove the seasons, keeping the land bountiful and the people happy. But then a dark magic drove her from the realm, and the world fell into chaos. Brida is content in her small village of Oak Hollow. There, she's plenty occupied trying to convince her fickle magic to actually do what it's meant to in her work as a hedgewitch's apprentice—until she accidentally catches the attention of the wicked queen. On the run from the queen's huntsman and her all-seeing Crow spies, Brida discovers the truth about her family, her magic, and who she is destined to be—and that she may hold the power to defeating the wicked queen and setting the kingdom right again.
Image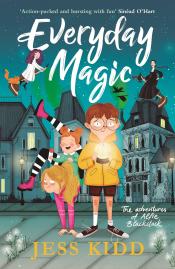 Nine-year-old Alfie Blackstack's parents have met a very unfortunate end. Now he's living in the super creepy Switherbroom Hall with his mad-haired Aunt Gertie and warty Aunt Zit. The thing is, Alfie's aunts aren't just weird - they're witches! When the circus arrives in town Alfie makes his first-ever friend, the fearless Calypso Fagan. But when Calypso's little sister Nova disappears, they must face the terrifying Head Witch in a race to find Nova and stop the next Witch War.
Image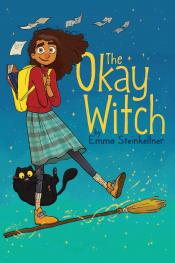 The Okay Witch series by Emma Steinkellner 
Magic is harder than it looks. Thirteen-year-old Moth Hush loves all things witchy. But she's about to discover that witches aren't just the stuff of movies, books, and spooky stories. When some eighth-grade bullies try to ruin her Halloween, something really strange happens. It turns out that Founder's Bluff, Massachusetts, has a centuries-old history of witch drama. And, surprise: Moth's family is at the center of it all! When Moth's new powers show up, things get totally out-of-control. She meets a talking cat, falls into an enchanted diary, and unlocks a hidden witch world. Secrets surface from generations past as Moth unravels the complicated legacy at the heart of her town, her family, and herself.
Image
Cattywampus series by Ash Van Otterloo 
In the town of Howler's Hollow, conjuring magic is strictly off-limits. Only nothing makes Delpha McGill's skin crawl more than rules. So when she finds her family's secret book of hexes, she's itching to use it to banish her mama's money troubles. She just has to keep it quieter than a church mouse -- not exactly Delpha's specialty. Trouble is, Katybird Hearn is hankering to get her hands on the spellbook, too. The daughter of a rival witching family, Katy has reasons of her own for wanting to learn forbidden magic, and she's not going to let an age-old feud or Delpha's contrary ways stop her. But their quarrel accidentally unleashes a hex so heinous it resurrects a graveyard full of angry Hearn and McGill ancestors bent on total destruction. If Delpha and Katy want to reverse the spell in time to save everyone in the Hollow from rampaging zombies, they'll need to mend fences and work together.
Image
Starfell series by Dominique Valente
The first book in this series - Willow Moss & the Lost Day - follows Willow Moss, the youngest and least powerful sister in a family of witches, who has a magical ability for finding lost things like keys, or socks, or wooden teeth. Useful, but not exactly exciting. Then the most powerful witch in the world of Starfell turns up at Willow's door and asks for her help. A whole day last Tuesday to be precise has gone missing. Completely. And, without it, the whole universe could unravel. Now Willow holds the fate of Starfell in her rather unremarkable hands. Can she save the day by finding the lost one?
Descriptions adapted from the publisher.