Regular Hours
| Day | Hours |
| --- | --- |
| Monday | 10 a.m. - 6 p.m. |
| Tuesday | 10 a.m. - 7 p.m. |
| Wednesday | 10 a.m. - 7 p.m. |
| Thursday | 10 a.m. - 7 p.m. |
| Friday | 10 a.m. - 6 p.m. |
| Saturday | 10 a.m. - 5 p.m. |
| Sunday | 12 - 5 p.m. |
Amenities
Image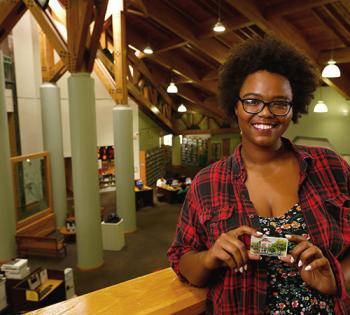 Snuggle-Up Center
Teen Room 
Quiet Reading Room 
Wi-Fi
Team
Vacant, Public Services Administrator - Headquarters
Vacant, Adult Services Senior Manager
Paula Thomas, Circulation Services Senior Manager
Otto Pleil, eBranch Manager
Barbara Hughey Reardon, Literacy Coordinator 
Vacant, Outreach Services Manager
Paul Lightcap, Technical Services Senior Manager
Vacant, Youth Services Senior Manager
Learn more about the Headquarters Library
The Headquarters Library is the largest of all twelve Alachua County Library District locations and resides at the center of the county in downtown Gainesville. Located at 401 East University Avenue, if you travel downtown on University Avenue, you may miss it behind the large oak trees along with the hidden Sweetwater Branch Creek that runs behind it. Although the Headquarters Library represents the first public library in the county, it traveled across University Avenue and around town a few times before settling into its current location in 1991.
Image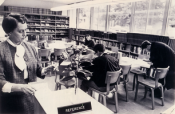 Image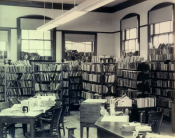 As far back as 1903, the Twentieth Century Club, a forerunner of the Gainesville Women's Club, issued a call for donated books and money to start the town's first library. By 1906, a newly formed Library Association opened the Gainesville Public Library on West Liberty Street. Then in 1918, a new library was built at 419 East University Avenue and opened to the public, thanks to $10,000 received from the Carnegie Corporation. This location would be in the same area where it would eventually return. In 1949, the library became a department of the City of Gainesville, and a new building was built on the same site and opened in 1956. The first library branches were added in Hawthorne, High Springs, and Micanopy in 1959, and bookmobile services began.
Image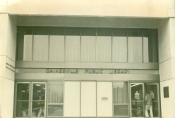 In 1968, a new 17,500 sq. ft. library opened across University Avenue at 222 East University Avenue, and services to the Alachua County Detention Center and nursing homes began. Library service to homebound patrons started in 1974. In 1983, a Joint City/County Committee recommended establishment of an independent taxing district to finance and govern library services countywide. The Florida Legislature passed legislation for a library independent special taxing district in 1985 and on April 1, 1986, the Alachua County Library District was established. In December of that same year, the library introduced the first on-line catalog, which provided branch libraries with catalogs for the first time.
Image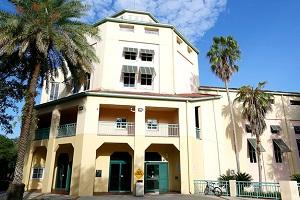 In 1987 voters approved a $19 million bond issue for a new main library and four branches. The new, and current, 78,000 sq. ft. Headquarters Library opened in 1991 with meeting rooms first introduced and available for the public. Internet access was first provided for the public in 1995 and all Library District buildings were made compliant with the 1991 Americans With Disabilities Act.
The Headquarters Library continues to serve patrons from its centralized location in Alachua County in downtown Gainesville and online providing:
A collection of almost 200,000 books, DVDs, music CDs, and audiobooks on CD, as well as access to more than 200,000 digital books and audiobooks, databases, downloadable movies, music, and magazines, and more.
Internet computers, WiFi, printers, and copiers
Diverse events and programs for all ages
Meeting rooms and study rooms
A centralized headquarters for all library collections, programs, and services across the county.