I can hear it, the waves crashing.
I can see it, the enchanting glisten.
I can feel it, the cool trickle through my fingers.
I can taste it, the refreshing gulp of purity.
I can smell it, the exhilarating scent of cleanliness.
Water…All living things need it.
We can find water all over the Earth in the form of rivers, oceans, springs, or even bottled for your consumption.
But did you know that astronomers have discovered much more water in space than in all of the oceans on Earth?
Imagine floating in outer space and suddenly being hit by a shower of rain, a cool mist, or swimming in a space pool.
Do you think it could ever happen?
According to this article, "Scientists using NASA's Hubble Space Telescope recently provided powerful evidence that Ganymede has a saltwater, sub-surface ocean, likely sandwiched between two layers of ice".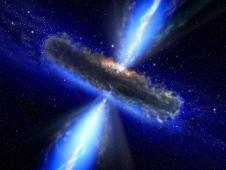 This artist's concept illustrates a quasar, or feeding black hole, similar to APM 08279+5255, where astronomers discovered huge amounts of water vapor. Image credit: NASA/ESA
Use the Alachua County Library District's eSources in your quest to learn more about other space aquatic discoveries!
You can start by taking a look at these articles from Kids InfoBits:
NASA: Meteorites can strike the moon and cause plumes of water to shoot into space
References:
Clavin, Whitney, and Alan Buis. "Astronomers Find Largest, Most Distant Reservoir of Water." NASA, 22 July 2011, www.nasa.gov/topics/universe/features/universe20110722.html+.
Jenkins, Ann, and Ray Villard. "NASA Finds a Large Amount of Water in an Exoplanet's Atmosphere." NASA, 1 Mar. 2018, www.nasa.gov/feature/goddard/2018/nasa-finds-a-large-amount-of-water-in-an-exoplanets-atmosphere.