Do you have Irish ancestors? Ireland consists of two countries, the Republic of Ireland and Northern Ireland, so tracing your Irish ancestors could include one or both countries.
Gather the information on the ancestors that you know. Start with yourself and your parents, grandparents, uncles & aunts. Fill in both a family group sheet for each relative and a pedigree chart.

Talk to your relatives to fill in the gaps that you have. Add this new information to both forms.

Focus your search on one person at a time. This makes it easy to stay on course
4. Using Ancestry Library Edition (accessible at home for the time being) or Heritage Quest, to begin searching for your ancestors.
5.You may be able to see some census and birth or death information in Ancestry. Just exhaust your search before you decide there is no more information on your ancestor left in the United States.
6. Don't forget to check passenger lists for the ancestors who came to America from the UK (includes Northern Ireland) or the Republic of Ireland. The first website that are good to search is Castle Garden  which was the Port of New York from 1820-1892. After that Ellis Island is the place to search for your ancestor arriving in 1892 and after.
7. Write down everything that is recorded for your ancestor, especially what port the ship left Ireland or England.

 Census returns in Ireland Most mid-19th Century censuses were destroyed in fires or by the Irish government so Griffith's Valuation is the next place to search. 

Step 1 is mandatory. 
2. Family Search's Ireland Civil Registration Indexes, 1845-1958 can be searched for birth, marriage and death records.  General index of births, marriages and deaths registered in Saorstát Éireann [Irish Free State], 1922-1958 has the listing for the Republic of Ireland. Family History Library 
has indices of birth, marriage, and death for the citizens of that country.
3. Gravestone Inscriptions:
You can use Find A Grave just remember to put "Ireland" in the cemetery location textbox. Billion Graves can be search for UK and Ireland gravestones. I had to register with Billion Graves first then searched for the last name and then country ("UK" for Northern Ireland and "Ireland" for the Republic of Ireland). I was able to see the headstones of various people. Irish Graveyards allows you to search a number of Irish graveyards to locate a specific grave or simply to browse through a graveyard or number of graveyards. Use their search engine or graveyard locator to find what you are looking for. This site Ireland Genealogy Projects Archive is a bit different than the previous cemetery sites. You must know which county your ancestor is buried, then search that county's list of cemeteries The pictures of the headstones must be attributed to the owner and can't be used on commercial sites.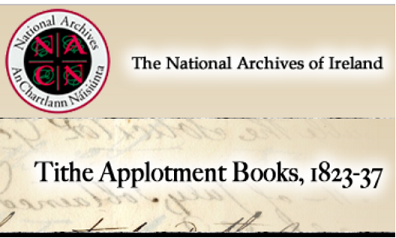 4. Tithe Applotment Books. An Applotment is a property tax paid to the Church of Ireland which everyone paid regardless of religion. These books contain the information for the pre-Famine period, given the loss of the 1821-51 Census records. Compiled between 1823 and 1837 to determine the amount which occupiers of agricultural holdings (urban areas are not included) over one acre should pay in tithes to the Church of Ireland (the main Protestant church and the church established by the State until its dis-establishment in 1871).
5. Obituaries: On Legacy, you can search the name of your relative who died since the  2000s.
Family Search in collaboration with findmypast.com has this page British Newspaper Archives Obituaries where you can search for your deceased relatives information. DO NOT restrict by country as this gave me no listing for the surname
I searched. You will have to subscribe to the newspaper to look at the archived article but it is free. I would definitely get the information for as many relatives as I can before I sign up just in case there is a time limit for the free subscription. The information could mention others listed in the obituary such as the spouse or close relative of the deceased.
Websites of interest:
Guide to Irish American Resources at the Library of Congress. This guide introduces the wonderful primary and secondary resources on Irish American heritage available through the Library of Congress. A variety of formats can be explored including audio recordings of interviews and music, photographs, and historic newspaper articles. In addition to the freely-available online resources from the Library of Congress's collections, selected online resources from sites outside of the Library of Congress are also listed. Additional materials such as printed books and subscription databases are available onsite at the Library of Congress and through other libraries. This selective guide is not intended to be exhaustive; see Search Tips for finding additional materials.
Guide to Ireland Online Genealogy Records for researching ancestry, family history and genealogy: birth, marriage, death, census, church, military, immigration, and naturalization records. This chart shows links to countrywide collections.
Warning: If a link on this site goes to findmypast.com, it allows you to make an account for free but any ancestor you find, you will not be able to see the information unless you pay them $129 a year for Essential and $179 a year for Ultimate to search British and Irish records.
Conclusion:
ACLD has books in its Reference collection that may help you with your research should your research online prove to have a brick wall.
Irish Records – sources for Family & Local History
Ships from Ireland to Early America
For some fun reading after all this serious stuff, take a trip to Assh's Irish Heritage blog where she discusses fiction, non-fiction, and films.