Every May, Asian and Pacific American Heritage Month celebrates the past and present contributions of Asian and Pacific Islander people to the creation, growth and continued success of the United States of America.
Here, you'll find some great titles for children all about the real Asian and Pacific Islander people who have impacted the Unted States, and the world!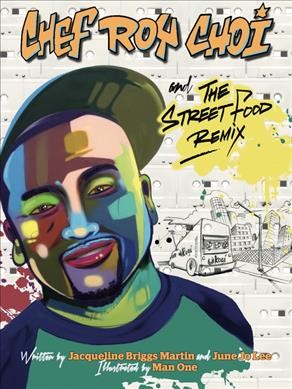 Chef Roy Choi and the Street Food Remix by Jacqueline Briggs Martin & June Jo Lee and illustrated by Man One
Traces the multicultural story of the Korean-American chef who helped pioneer the food truck movement in Los Angeles, describing how Chef Roy Choi expressed love through the culinary traditions of his family.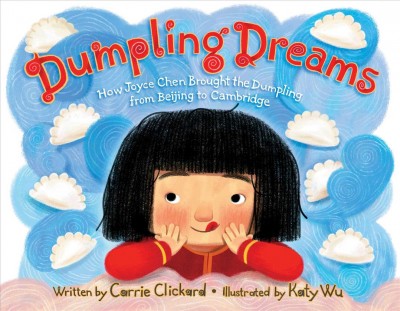 Dumpling dreams: How Joyce Chen Brought the Dumpling from Beijing to Cambridge by Carrie Clickard and illustrated by Katy Wu
An introduction to the life and influence of famous chef Joyce Chen describes how she immigrated to America from Communist China and helped popularize Chinese food in the northeastern United States.
Mountain Chef: How One Man Lost his Groceries, Changed his Plans, and Helped Cook up the National Park Service by Annette Bay Pimentel and llustrated by Rich Lo
The inspiring true story of a Chinese-American trail cook whose resourcefulness during a historical camping venture safeguarded a team of influential people who later founded the National Park Service.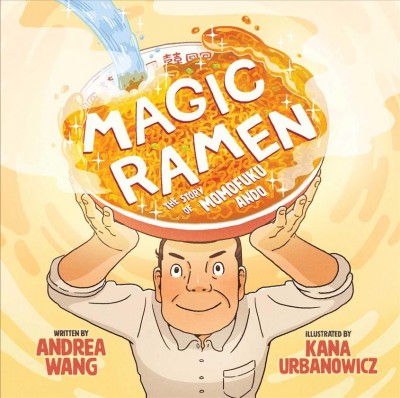 Magic Ramen: the Story of Momofuku Ando by Andrea Wang and illustrated by Kana Urbanowicz
Shares the story of how Ando Momofuku (Taiwanese-Japanese inventor and businessman) created instant ramen noodle soup in an effort to feed hungry people.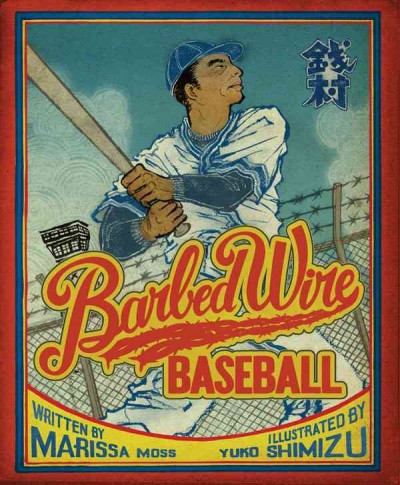 Barbed Wire Baseball by Marissa Moss and illustrated by Yuko Shimizu
A tale based on the early life of Japanese-American baseball pioneer Kenichi Zenimura traces his childhood dream of playing professionally and his family's struggles in a World War II internment camp where he introduces baseball to raise hope.
Naomi Osaka by Jon M. Fishman
Born in the US, raised in a Haitian and Japanese household, and known for her tennis talent, Naomi Osaka is the first Asian player to hold the top ranking for singles tennis. Learn her story!
Olympic Swimmer Duke Kahanamoku by Ellie Crowe with illustrations by Richard Waldrep
The story of Duke Kahanamoku, an exceptional swimmer who became the first native Hawaiian athlete to win an Olympic gold medal for the US and is considered the father of modern surfing.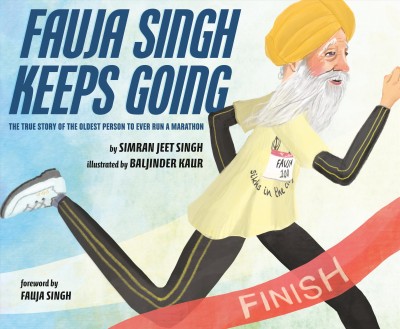 Fauja Singh Keeps Going: The True Story of the Oldest Person to ever Run a Marathon by Simran Jeet Singh and illustrated by Baljinder Kaur
The true story of Fauja Singh, who broke world records to become the first 100-year-old to run a marathon, shares valuable lessons on the source of his grit, determination to overcome obstacles, and commitment to positive representation of the Sikh community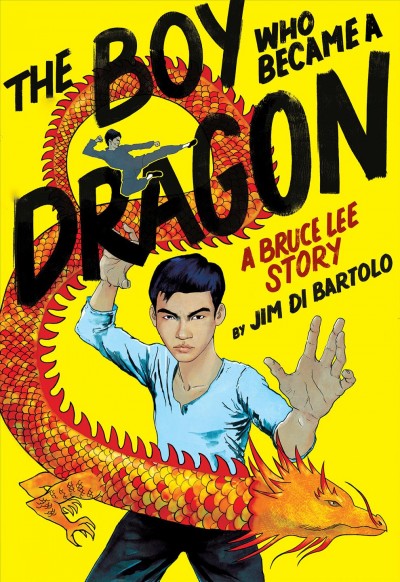 The Boy Who Became a Dragon: a Bruce Lee Story by Jim Di Bartolo
A graphic novel biography of the life of martial arts legend Bruce Lee describes how his childhood in Hong Kong was shaped by World War II and gang violence before kung fu enabled his achievements as a student, teacher and international star.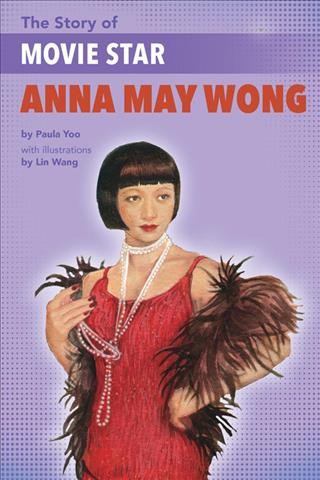 The Story of Movie Star: Anna May Wong by Paula Yoo with illustrations by Lin Wang
The story of Anna May Wong, a Chinese American actress who advocated for authentic depictions of Asians and Asian Americans in film during the early years of Hollywood. 
Yo-Yo Ma: Cellist by Laura L. Sullivan
In an era when the music world thought only Westerners could truly understand Western classical music, Chinese-American cellist Yo-Yo Ma broke barriers and defied expectations. Through his musical skill and exceptional passion, he showed that classical music is for everyone.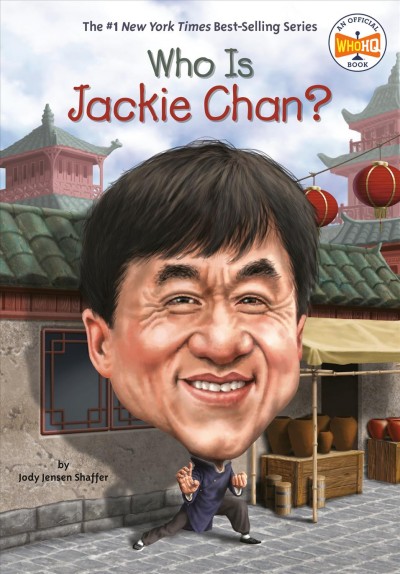 Who is Jackie Chan? by Jody Jensen Shaffer and illustrated by Gregory Copeland
When Kong-sang was a young boy in Hong Kong, he enjoyed practicing martial arts with his dad but hated going to school. He was eventually enrolled in the China Drama Academy.That training led to a successful career as an actor. Kong-sang, now known as Jackie Chan, never gave up on his passion for screwball physical comedy.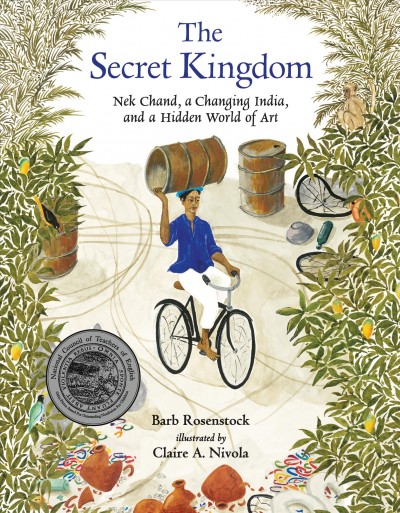 The Secret Kingdom: Nek Chand, A Changing India, and a Hidden World of Art by Barb Rosenstock and illustrated by Claire A. Nivola
Documents the story of the world's largest visionary environment, the Rock Garden of Chandigarh, describing how in the aftermath of the partition of India in 1947, artist Nek Chand Saini cleared a section of jungle and stockpiled odds and ends that he created into a secret, sophisticated labyrinth of paths, mosaics and patterns.
Paper Son: The Inspiring Story of Tyrus Wong, Immigrant and Artist by Julie Leung and illustrated by Chris Sasaki
An inspiring picture-book biography of animator Tyrus Wong, the Chinese American immigrant responsible for bringing Disney's Bambi to life.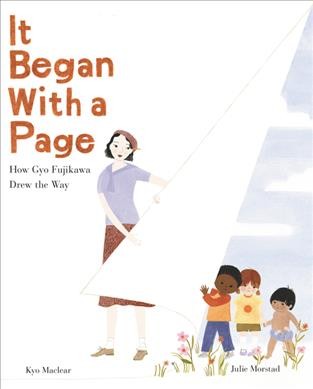 It began with a Page: How Gyo Fujikawa Drew the Way by Kyo Maclear with pictures by Julie Morstad
Gyo Fujikawa's iconic children's books are beloved all over the world. Now it's time for Gyo's story to be told--a story of artistic talent that refused to be constrained by rules or expectations. 
Ruth Asawa: A Sculpting Life by Joan Schoettler and illustrated by Traci Van Wagoner
From the Japanese-American internment camps to the creation of the San Francisco School of the Arts, Ruth Asawa's life journey is one filled with challenges and obstacles turned into triumphs through perseverance and a unique vision.
Larry Itliong Leads the Way for Farmworkers' Rights by Rose Zilka
Explores the history, events, and aftermath of Larry Itliong's [Filipino-American labor organizer] fight for farmworkers' rights.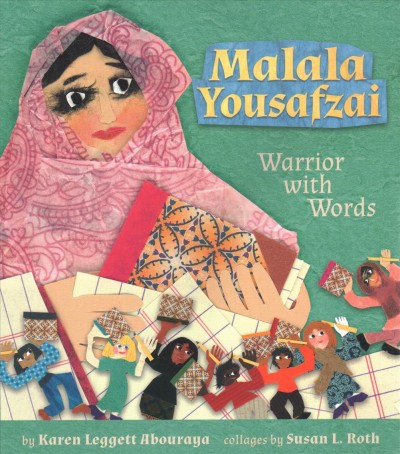 Malala Yousafzai: Warrior with Words by Karen Leggett Abouraya with collages by Susan L. Roth
Growing up in the Swat Valley of Pakistan, Malala Yousafzai loved books and school. But in 2009, the Taliban came to power and closed all schools for girls. Malala, just eleven years old, began to speak and blog about the right of all children to receive an education.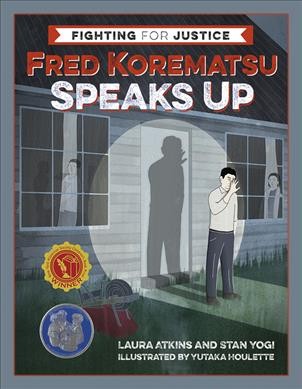 Fred Korematsu Speaks Up by Laura Atkins and Stan Yogi and illustrations by Yutaka Houlette
Highlights the life and accomplishments of the man who challenged the legality of imprisoning Japanese Americans during World War II, describing the prejudice he and other Japanese Americans experienced and his long struggle for justice.
Shark Lady: The True Story of How Eugenie Clark Became the Ocean's Most Fearless Scientist by Jess Keating with illustrations by Marta Alvarez Miguens
A lavishly illustrated portrait of [Japanese American] shark scientist Eugenie Clark describes the childhood fascination that prompted her challenge of negative perceptions about sharks throughout her career, revealing how she overcame gender barriers to make remarkable discoveries and promote conservation.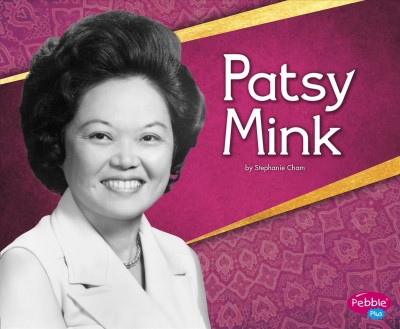 Patsy Mink by Stephanie Cham
How did Patsy Mink become a member of Congress? Readers will learn all about this great Asian American politician and the significant events in her life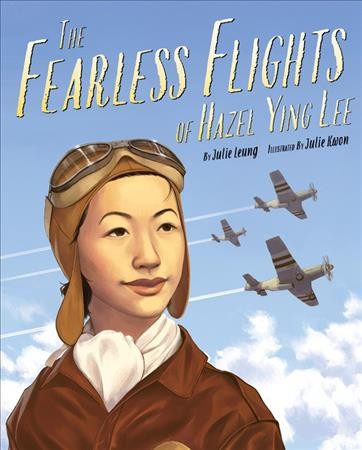 The Fearless Flights of Hazel Ying Lee by Julie Leung and illustrated by Julie Kwon
An inspiring picture book biography about Hazel Ying Lee, the first Chinese American woman to fly for the US military.
Queen of Physics: How Wu Chien Shiung Helped Unlock the Secrets of the Atom by Teresa Robeson and illustrated by Rebecca Huang
When Wu Chien Shiung was born in China 100 years ago, girls did not attend school. This biography follows Wu as she battles sexism at home and racism in the United States of America to become what Newsweek magazine called the "Queen of Physics" for her work on how atoms split.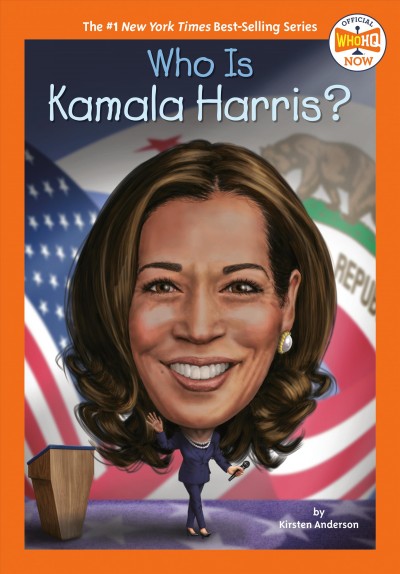 Who Is Kamala Harris? by Kirsten Anderson and illustrated by Manuel Gutierrez
On November 7, 2020, Kamala Harris, a senator from California, became the first woman and the first African-American and South Asian-American person to be elected to the vice presidency. While her nomination for this position was not unexpected, her rise to national prominence was one filled with unexpected turns and obstacles.
Want to read about even more Amazing Asian Americans? Check out this title too!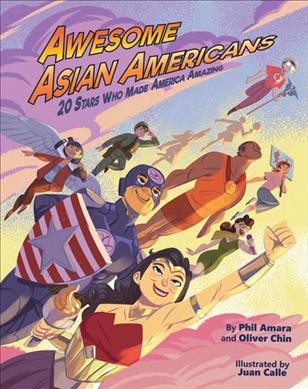 Awesome Asian Americans: 20 Stars who made America Amazing by Phil Amara and Oliver Chin and illustrated by Juan Calle
This is an illustrated children's anthology of noteworthy Asian Americans. Includes: Dwayne "The Rock" Johnson (actor), Mindy Kaling (comedy writer), Jeremy Lin (basketball player), Chrissy Teigen (model/entrepreneur), Daniel K. Inouye (senator/soldier), Sono Osato (dancer), and more!