Image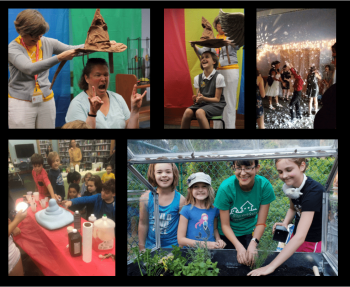 Congratulations! You have been accepted to the Millhopper School of Witchcraft and Wizardry (MSWW), and your wizarding training starts now.
What is the Millhopper School of Witchcraft and Wizardry, you ask? MSWW is eight months of Harry Potter-themed programming for all ages here at the Millhopper Branch. We know that some things are a bit different for Year 5, but remember Harry Potter had to deal with lots of changes in his fifth year at Hogwarts – almost being expelled, a big surprise on the Gryffindor Quidditch team, taking the Ordinary Wizard Level exams, and more (we hope that doesn't spoil too much for anyone!).
MSWW will begin virtually this year. To participate fully, gain access to our MSWW Google Classroom for virtual programs and fun, and earn House points, you must register. Online registration begins on Harry Potter's Birthday, July 31. Register before Sept. 1 to be included in this year's Sorting Ceremony. Register to experience the magic!
Email msww@aclib.us for more information.
Previous House Cup winners:
Year 1: Hufflepuff
Year 2: Ravenclaw
Year 3: Gryffindor
Year 4: Gryffindor
Who will reign victorious as House Cup winner in Year 5?
House Point Tracker: Coming Soon!
MSWW Events
The Sorting Ceremony will be held in October to kick off Year 5 for new and returning students. Please contact us at msww@aclib.us if you have any questions about MSWW. Register to check out the Virtual Yearbook on Google Classroom to see highlights of the first four years of MSWW.
MSWW Staff
| | |
| --- | --- |
| Elaine | Headmistress |
| Daniel | Deputy Headmaster |
| Beth | Deputy Headmistress |
| Teresa | Head of Gryffindor |
| Joyce  | Head of Hufflepuff |
| Alexis | Head of Ravenclaw |
| Jessica | Head of Slytherin |
| Mary | Keeper of Keys and Grounds |
| Ashley | Caretaker (but so much friendlier than Filch!) |
| Karen | Founder of Millhopper School of Witchcraft and Wizardry |