Image
Image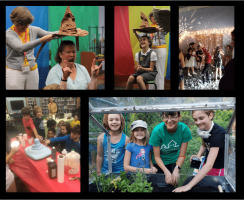 The sixth year of the Millhopper School of Witchcraft and Wizardry is drawing to an end. We have had some wonderful activities posted in our Google Classroom this year. We still have a few events going into the final months of the school year, including some in-person events in April and May. You may need to register to reserve a spot for some of these events.
We are already looking ahead to the seventh year of the Millhopper School of Witchcraft and Wizardry, and will begin registration for interested participants on July 31, 2023. A link to the registration form will be available on this page on that date. The Sorting Ceremony will be held in October to kick off Year 7 for new and returning students. Please contact us at msww@aclib.us if you have any questions about MSWW. 
Current and former students: let us know what you liked, what we can improve, and what you would like to see next year by emailing us at msww@aclib.us. Everything will wrap up at the end of May so hang in there, complete assignments, and earn House Points! 
Please make sure to check out the library's Events Calendar for upcoming programs and don't forget to check out the library catalog for our Harry Potter related collection!
Previous House Cup winners:
Year 1: Hufflepuff
Year 2: Ravenclaw
Year 3: Gryffindor
Year 4: Gryffindor
Year 5: Gryffindor
Who will reign victorious as House Cup winner in Year 6?
Image
House Point Tracker
Image
MSWW Staff
| | |
| --- | --- |
| Elaine | Headmistress |
| Daniel | Deputy Headmaster |
| Beth | Deputy Headmistress |
| Teresa | Head of Gryffindor |
| Joyce  | Head of Hufflepuff |
| Sammi | Head of Ravenclaw |
| Xylie | Head of Slytherin |
| Lucy | Keeper of Keys and Grounds |
| Ashley | Caretaker (but so much friendlier than Filch!) |
| Karen | Founder of Millhopper School of Witchcraft and Wizardry |