Regular Hours
| Day | Hours |
| --- | --- |
| Monday | 10 a.m. - 6 p.m. |
| Tuesday | 10 a.m. - 6 p.m. |
| Wednesday | 10 a.m. - 6 p.m. |
| Thursday | 10 a.m. - 6 p.m. |
| Friday | 10 a.m. - 6 p.m. |
| Saturday | 10 a.m. - 5 p.m. |
| Sunday | 12 - 5 p.m. |
Amenities
Image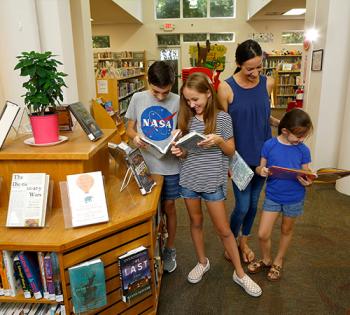 Snuggle-Up Center
Teen Space
Quiet Reading Room 
Wi-Fi
Learn more about the Newberry Branch
The Newberry Branch began as a couple of bookmobile stops in the town of Newberry. In 1993, the original branch opened as the sister branch to the Archer Branch, built at the same time with a similar size and architectural style. When it was renovated in 2015, it nearly doubled in square footage, accommodating the city of Newberry, the third fastest growing city in Florida.
Many computers are available to apply for jobs, do homework, or to just entertain yourself. There are also two study rooms and one meeting room that may be reserved. A Quiet Reading Room is available to relax in, or read the newspapers or magazines. The Teen Room provides a place where teens can use the computer or hang out and play chess, color a giant mandala, or get creative with the poetry wall. The children's area has puzzles and Duplo Legos, as well as AWE digital learning stations located at the tractor desk. 
Image
What makes the Newberry Branch special? So many things:
It is the only branch that has a telescope available to check out for 2 weeks, and must be picked up and returned at the Newberry Branch.

It is a great place to bring children and train enthusiasts. There is almost always a train parked on the tracks across the street from the library. On a good day, you might be able to see grain from a train car or see the train in motion.

Seaboard Avenue, the road the library is on, is closed down twice a year for the Newberry Spring and Fall Festivals. You will find local crafts and organizations, as well as food trucks and live music. You may even see a bouncy house for the kids or camels you can ride on! Stop by the festival, then visit the library.

Regular programming includes Storytime on the Green, Music and Movement, Newberry Needlecrafters, the Newberry Teen Book Club, and the Drawing Club, where you can hang out, draw, and chat. The branch also host a monthly art challenge and has hosted Goat Storytime in with baby goats in March and December.

Above all, come for the friendly staff who follow Branch Manager, Marlin Day's, "Get to Yes" customer service philosophy. They'd love to see you leave with a smile.
Come visit, travel west on Newberry Avenue past all the cows and take a left just past the railroad tracks.