Since her professional debut in 1995, she has been one of the most extraordinary tennis players in the world. She has been the top-ranked female tennis player multiple times in her career and has won 23 Grand Slam singles titles. In 2019, she becmae the first athlete on Forbes' Richest Self-Made Women list. Her name is Serena Williams.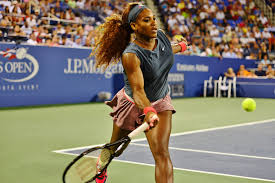 But, there is so much more to Williams' story. Wouldn't it be great if there were a resource that offered everything you could possibly want to know about prominent figures like Williams in one place? There is. It's called Gale In Context: Biography and it's a research resource that's built on an extensive foundation of more than 650,000 biographical entries covering a substantial number of international figures from all time periods and areas of study.
The challenges, motivations, successes, and failures of history's notables can be educational and inspiring to researchers and Gale In Context: Biography offers authoritative reference content alongside magazine and journal articles, primary sources, videos, audio podcasts, and a vast array of images. The research tool covers more 400,000 international figures and is continuously updated to ensure that researchers have access to the very latest information on everyone from Abraham Lincoln to Donald Trump.
For those who are more visual learners, Gale In Context: Biography offers images on the homepage that have hot spots that when scrolled-over show additional content and details associated with that image. This is a feature exclusive to this research tool.
Gale In Context: Biography allows you to take on your research with the support of the most highly respected sources including millions of full-text articles drawn from hundreds of periodical and newspapers including The New York Times, USA Today, Daily Mail (London), and Globe and Mail (Canada).
Come face-to-face with your subjects via engaging videos, audio selections, and images of yesterday's and today's most studied figures. Get to know the world's most influential people by giving this resource a whirl at www.aclib.us/Biography.