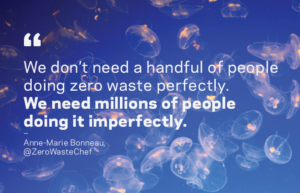 Plastic Free July is a movement to refuse single-use plastics and encourage individuals to make changes to reduce overall plastic use all year long.
Although the pandemic has reversed some gains, there are always ways to participate:
Refuse single-use plastic whenever possible. For instance, when ordering takeout from your favorite restaurant to enjoy at home, say no to utensils.

Most produce does not need to be placed in separate plastic bags. Visit Creativebug for instructions to make a No-Sew T-shirt tote. Add additional breathing holes for a produce bag.

Switch to reusable containers instead of using single-use plastic storage bags or plastic bags.

Look for items that have the least amount of packaging.

Reusable Containers are safe to use during COVID-19 pandemic, say experts. This includes your grocery bags.
Join other Alachua County Residents working toward reducing their plastic use with the Plastic Free Ecochallenge. The local group is hosted by the Santa Fe College Teaching Zoo.
Books and DVDs for Adults:
How to Give up Plastic: A Guide to Changing the World, One Plastic Bottle at a Time by Will McCallum
Life Without Plastic: The Practical Step-by-Step Guide to Avoiding Plastic to Keep Your Family and the Planet Healthy by Chantal Plamondon
Plastic-Free: How I Kicked the Plastic Habit and You Can Too by Beth Terry
Bag It: Is Your Life too Plastic?
Books for Kids:
Join the No-Plastic Challenge! A First Book of Reducing Waste
One Plastic Bag: Isatou Ceesay and the Recycling Women of the Gambia
Plastic: Past, Present, and Future
Plastic Sucks! How You Can Reduce Single-Use Plastic and Save Our Planet
Recycled Crafts Box: Sock Puppets, Cardboard Castles, Bottle Bugs & 37 More Earth-Friendly Projects & Activities You Can Create