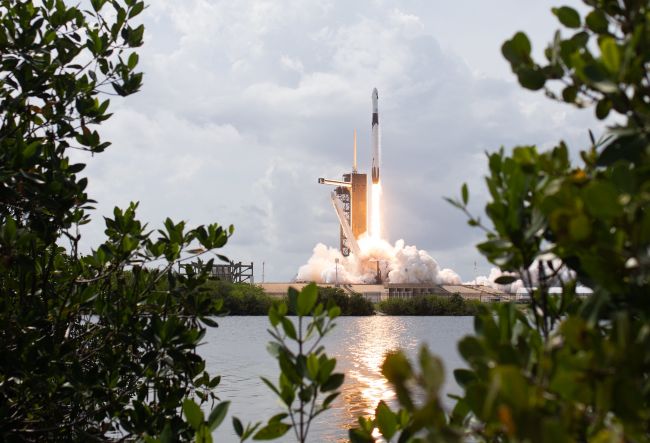 Space is the theme of this year's "Summer with the Library" virtual program.  The kickoff began on Saturday, May 30 and it was a very special day.  
 At 3:22 pm EDT on Saturday, May 30, a SpaceX Crew Dragon spacecraft launched from Launch Complex 39A at NASA's Kennedy Space Center in Florida to the International Space Station.   Launch Complex 39A is the same launch pad used for the Apollo 11 Moon landing mission. This is the first mission to launch American astronauts on American rockets from American soil to the station since the Space Shuttle Program in 2011.  It is also the first time in history NASA has sent astronauts to space on systems owned, built, tested and operated by private companies. 
NASA astronauts Robert Behnken and Douglas Hurley were onboard the Falcon 9 rocket, which is the first commercially produced American rocket in history.  NASA Administrator Jim Bridenstine told his crew "This represents a transition in how we do spaceflight from the United States of America. NASA is not going to purchase, own and operate rockets and capsules the way we used to; we're going to partner with commercial industry.  He continued to say "This model is going to apply when we go to the Moon. When we go to the Moon we're going to land on the surface of the Moon with commercial landers.  All of this is leading up to an amazing day where we have humans living and working for long periods of time on the surface of the Moon, and doing it with a purpose. And that purpose, of course, is to go to Mars."
After reaching orbit, Behnken and Hurley named their Crew Dragon spacecraft "Endeavour" as a tribute to the first space shuttle each astronaut had flown aboard in 2011.
After a 19 hour flight at speeds up to 17,000 mph, the Crew Dragon and crew arrived safely at the International Space Station on Sunday, May 31 at 10:16 EDT.  Hurley and Behnken will spend somewhere between one to four months at the International Space Station. NASA and SpaceX have not yet determined the length of the mission. The Crew Dragon is currently certified for up to four months in space. 
Visit NASA.gov for all the details and a tour of the International Space Station.  You can also learn how to spot the ISS in the sky.   You will also find thoughts of the flight from the astronauts at Space.com.   
If you are interested in space exploration, check out the library's collection of books and media.  You can also enjoy articles and information on our esource page.  Check out the Florida Electronic Library, Gale Ebooks, and Issues and Controversies.
(Image credit: Joel Kowsky/NASA)