Image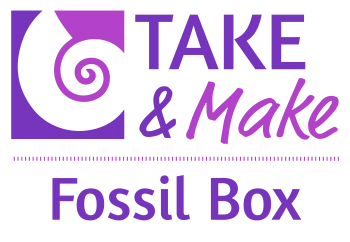 Dig into a hands-on prehistoric activity with our Take & Make Fossil Box. Online registration is now closed due to capacity being met. If you reserved one, please be sure to pick up your box from the library location that you selected from Oct. 9-16.  Each box includes a fossil block and tool to unearth real fossils, plus a guide to identifying these ancient organisms. Each box also includes passes to the Florida Museum of Natural History and the Cade Museum for Creativity and Invention. 
Each kit contains:
1 plaster of paris and sand mold containing 5 miscellaneous fossils within

1 fossil hunting booklet

1 wooden digging tool

1 container that holds the mold

1 bag to contain kit contents
Live Virtual Programs
Join us for two unique live virtual events on Zoom or Facebook.
Florida Museum 360°: Giants of Florida's Prehistoric Past
Sunday, October 17, 2021, 2:30 p.m. on Zoom or Facebook
Bring the Florida Museum to your home! Take a 360° virtual tour and learn about some of the most spectacular giants on display in the "Florida Fossils: Evolution of Life and Land" exhibit hall. Discover the stories of the Megalodon Shark, Terror Bird and Giant Ground Sloth, including how they got so big and why they went extinct. 
Presented by Alberto Lopez Torres, Youth Outreach Coordinator, Florida Museum of Natural History.
Cade Fossil Fun - Presented by the Cade Museum for Creativity and Invention
Sunday, October 24, 2:30 p.m. on Zoom or Facebook
Watch a quick demonstration in Cade's Lab. We will also discuss Florida limestone, how the special fossil in the Fossil Box was made, and how rocks and fossils are formed and what they tell us.
Presented by Patty Lipka, Director of Experiential Education, The Cade Museum.