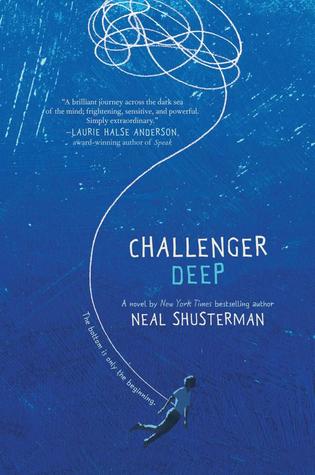 "Caden Bosch is on a ship that's headed for the deepest point on Earth: Challenger Deep, the southern part of the Marianas Trench.
Caden Bosch is a brilliant high school student whose friends are starting to notice his odd behaviour.
Caden Bosch is designated the ship's artist in residence to document the journey with images.
Caden Bosch pretends to join the school track team but spends his days walking for miles, absorbed by the thoughts in his head.
Caden Bosch is split between his allegiance to the captain and the allure of mutiny.
Caden Bosch is torn." back cover, Challenger Deep by Neal Shusterman
I picked up this book after walking past it on our display for a few weeks. I had no idea that metaphorical ship I was about to board was so rocky.
Caden Bosch is your average fifteen year old. He is likable, has friends, and can generally get on with his classes and his peers without an issue. The book starts at the beginning of his first psychotic episode, but Caden doesn't know it. Shusterman expertly navigates us from reality to the way that Caden is perceiving reality in each chapter. Readers follow Caden's descent into episode very slowly. It starts with his inability to interact with his friends to paranioa about his peers to wandering around the city pacing to the final moment that his family realizes they are unable to help him. Anyone who has loved someone or experienced mental illness can relate to this slow decline and then immediate rush into danger. The highs and lows are painfully, accurately portrayed.
Caden jumps back and forth between knowing that he is in a mental rehabililtation center to believing that he is a crewmate on a ship of misfits led by a one-eye Captain and his talking parrot. As the story goes on, you begin to realize that the people on the ship are representative of real people in Caden's life. There is a content warning for suicide in this book as Caden struggles with his own ideas of suicide as do other characters in the story.
This story is punctated by the author's note that his writing was informed by his experience with his son who suffers from a mental disorder. The pictures drawn in the book are by his son and many of Caden's friend's phrases are from his son's poetry. This is a deeply personal and powerful book.
Overall, Challenger Deep  has been praised as an accurate portrayal of experiencing a mental illness. It covers topics from how the medications make him feel and work to complexities of group therapy to the relationships he has with his family and friends. As Caden reminds us his greatest fear, "Dead kids are put on pedestals, but mentally ill kids get hidden under the rug."  Readers intimately see his struggles and you cannot help but cheer for him to put that piece of blue sky back in the puzzle.
This review was written in part because September is Suicide Prevention Month. Reading stories about mental illness can foster empathy for those struggling, educate their loved ones, and help prevent suicide. If you are struggling with mental illness or to support someone with, you can contact the Alachua County Crisis Center at 352-264-6789 or the National Suicide Hotline at 1-800-784-2433.
You can check it out from us in print, eBook, or eAudiobook today as it is available now.