Welcome back to 50 States of Gay, a blog series of book recommendations in celebration of October being LGBTQ+ History Month. We'll be touring the country with a book title (or two or six) set in each state. Some will be Young Adult titles, while others will be biographies, memoirs, or adult fiction titles that have crossover appeal for teen readers.
If you're concerned about potential harmful or triggering content, we recommend checking out a book's listing on Goodreads or DoesTheDogDie.com, both of which often include content warnings provided by other readers.
Previously: Alabama to Kentucky
Image

Image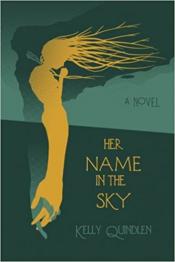 Louisiana: Her Name in the Sky by Kelly Quindlen [2014]
Seventeen-year-old Hannah wants to spend her senior year of high school going to football games and Mardi Gras parties. She wants to drive along the oak-lined streets of Louisiana's Garden District and lie on the hot sand of Florida's beaches. She wants to spend every night making memories with her tight-knit group of friends. The last thing she wants is to fall in love with a girl—especially when that girl is her best friend, Baker. 
Image
Maine: The Last True Poets of the Sea by Julia Drake [2019]
Inspired loosely by Shakespeare's Twelfth Night, teenaged Violet is shipped off to Maine after her brother's hospitalization, where she searches for the lost shipwreck that her great-great grandmother survived and for answers about her family's long struggle with mental illness, all while falling in love.
Also set in Maine: All the Things We Do in the Dark  —  How to Make a Wish  —  Zenobia July  —  A Good Idea
Image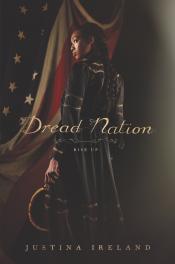 Maryland: Dread Nation: Rise Up by Justina Ireland [2018]
When families go missing in Baltimore County, Jane McKeene, who is studying to become an Attendant, finds herself in the middle of a conspiracy that has her fighting for her life against powerful enemies.
Image
Massachusetts: Yesterday is History by Kosoko Jackson [2021]
Weeks ago, Andre Cobb received a much-needed liver transplant. He's ready for his life to finally begin, until one night, when he passes out and wakes up somewhere totally unexpected...in 1969, where he connects with a magnetic boy named Michael. And then, just as suddenly as he arrived, he slips back to present-day Boston, where the family of his donor is waiting to explain that his new liver came with a side effect—the ability to time travel. And they've tasked their youngest son, Blake, with teaching Andre how to use his unexpected new gift.
Also set in Massachusetts: Verona Comics  —  These Witches Don't Burn  — We Were Promised Spotlights  —  Openly Straight
Image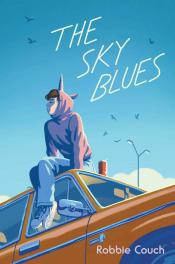 Michigan: The Sky Blues by Robbie Couch [2021]
Sky Baker may be openly gay, but in his small, insular town, making sure he was invisible has always been easier than being himself. Determined not to let anything ruin his senior year, Sky decides to make a splash at his high school's annual beach bum party by asking his crush, Ali, to prom—and he has thirty days to do it. What better way to start living loud and proud than by pulling off the gayest promposal Rock Ledge, Michigan, has ever seen?
Also set in Michigan: Drum Roll Please
Image
Minnesota: Sister Mischief by Laura Goode [2011]
Esme Rockett, also known as MC Ferocious, rocks her suburban Minnesota Christian high school with more than the hip-hop music she makes with best friends Marcy (DJ SheStorm) and Tess (The ConTessa) when she develops feelings for her co-MC, Rowie (MC Rohini).
Also set in Minnesota: Two Grooms on a Cake — a picture book about the first gay marriage in the U.S., from 1971!
Image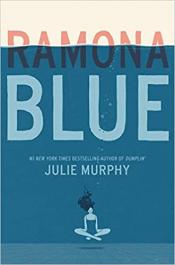 Mississippi: Ramona Blue by Julie Murphy [2017]
Standing over six feet tall with unmistakable blue hair, Ramona is sure of three things: she likes girls, she's fiercely devoted to her family, and she knows she's destined for something bigger than the trailer she calls home in Eulogy, Mississippi. But juggling multiple jobs, her flaky mom, and her well-meaning but ineffectual dad forces her to be the adult of the family. Now, with her sister, Hattie, pregnant, responsibility weighs more heavily than ever. The return of her childhood friend Freddie brings a welcome distraction. Ramona's friendship with the former competitive swimmer picks up exactly where it left off, and soon he's talked her into joining him for laps at the pool. But as Ramona falls in love with swimming, her feelings for Freddie begin to shift too, which is the last thing she expected. With her growing affection for Freddie making her question her sexual identity, Ramona begins to wonder if perhaps she likes girls and guys or if this new attraction is just a fluke.
Image
Missouri: Almost Perfect by Brian Katcher [2009]
With his mother working long hours and in pain from a romantic break-up, eighteen-year-old Logan feels alone and unloved until a zany new student arrives at his small-town Missouri high school, keeping a big secret.
Image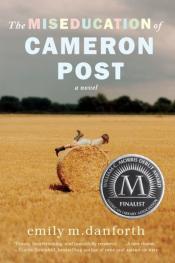 Montana: The Miseducation of Cameron Post by Emily M. Danforth [2012]
When Cameron Post's parents die suddenly in a car crash, her shocking first thought is relief. Relief they'll never know that, hours earlier, she had been kissing a girl. But that relief doesn't last, and Cam is soon forced to move in with her conservative aunt Ruth and her well-intentioned but hopelessly old-fashioned grandmother. She knows that from this point on, her life will forever be different. Survival in Miles City, Montana, means blending in and leaving well enough alone (as her grandmother might say), and Cam becomes an expert at both. Then Coley Taylor moves to town.
Image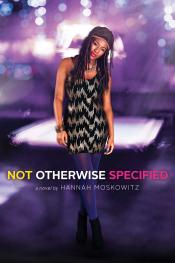 Nebraska: Not Otherwise Specified by Hannah Moskowitz [2015]
Auditioning for a New York City performing arts high school could help Etta escape from her Nebraska all-girl school, where she is not gay enough for her former friends, not sick enough for her eating disorders group, and not thin enough for ballet, but it may also mean real friendships.
Image
Nevada: Out of Step by Anthony Moll [2018]
A queer coming-of-age-story set against the backdrop of the U.S. military during the "Don't Ask, Don't Tell" era, this memoir recounts what it was like for a punk, nerdy, left-leaning poor boy from Nevada to explore his bisexuality while facing war and changing ideals.
Also set in Nevada: Honey Girl
Image
New Hampshire: A Separate Peace by John Knowles [1959]
Gene Fowler is a lonely, introverted intellectual. Phineas is a handsome, charismatic athlete. Their bittersweet rivalry leads to a tragic accident during the ill-fated summer of 1942, disrupting the uneasy peace of their artificial oasis and forcing them to accept the realities of manhood.
Note: This one is more queer subtext, as much as it pains me that I couldn't find a good queer book set in my home state!
Image
New Jersey: All Boys Aren't Blue by George M. Johnson [2020]
In a series of personal essays, prominent journalist and LGBTQIA+ activist George M. Johnson explores his childhood, adolescence, and college years in New Jersey and Virginia. From the memories of getting his teeth kicked out by bullies at age five, to flea marketing with his loving grandmother, to his first sexual relationships, this young-adult memoir weaves together the trials and triumphs faced by Black queer boys.
Image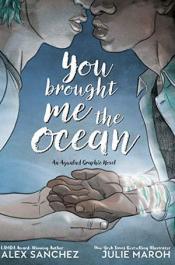 New Mexico: You Brought Me the Ocean by Alex Sanchez [2020]
Jake Hyde yearns for the ocean and is determined to leave his hometown in New Mexico for a college on the coast, and while his family and friends encourage him to stay, he must deal with his secrets of being gay and some strange new blue markings on his skin giving him a glow when he touches water.
Also set in New Mexico: Like Water
Image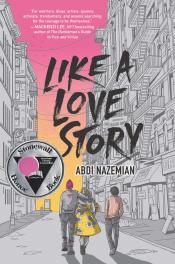 New York: Like a Love Story by Abdi Nazemian [2019]
It's 1989 in New York City, and for three teens, the world is changing. Reza is an Iranian boy who has just moved to the city with his mother to live with his stepfather and stepbrother. He's terrified that someone will guess the truth he can barely acknowledge about himself. Reza knows he's gay, but all he knows of gay life are the media's images of men dying of AIDS. Judy is an aspiring fashion designer who worships her uncle Stephen, a gay man with AIDS who devotes his time to activism as a member of ACT UP. Judy has never imagined finding romance... until she falls for Reza and they start dating. Art is Judy's best friend, their school's only out and proud teen. He'll never be who his conservative parents want him to be, so he rebels by documenting the AIDS crisis through his photographs. As Reza and Art grow closer, Reza struggles to find a way out of his deception that won't break Judy's heart—and destroy the most meaningful friendship he's ever known.
Also set in New York: None of the Above  —  Felix Ever After  —  Annie On My Mind
Image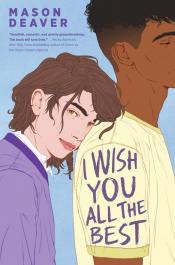 North Carolina: I Wish You All the Best by Mason Deaver [2019]
When eighteen-year-old Ben De Backer tells their parents that they are non-binary they are immediately thrown out of their home, without even time to put on a coat or shoes, despite the cold January North Carolina weather; Ben is rescued by Hannah, their estranged older sister and her husband Thomas, and desperately hopes to finish the last half of senior year while dealing with an anxiety disorder and without calling attention to themselves—a plan that goes awry when they meet Nathan Allan, a charismatic student, and start to fall in love.
Also set in North Carolina: Only Mostly Devastated
Image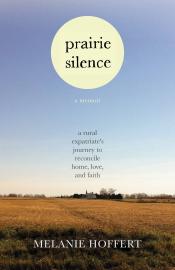 North Dakota: Prairie Silence by Melanie Hoffert [2013]
Returning to her small North Dakota hometown to spend a harvest season on the family farm, Melanie Hoffert explores the silence surrounding sexuality in rural environments and offers commentary on the state of American rural life.
Descriptions adapted from the publisher.