Image

With winter comes more time spent indoors with family, or outdoors on your lonesome if you're so inclined. Check out these audiobooks to accompany you as your work your way through your winter to-do list.
Image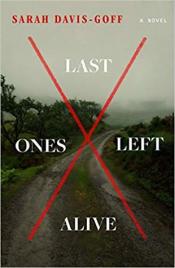 ❄️Planning on taking a winter hike? Check out:
Last Ones Left Alive by Sarah Davis Groff
Raised in isolation by her mother and Maeve on a small island off the coast of a post-apocalyptic Ireland, Orpen's life has revolved around training to fight a threat she's never seen. More and more she feels the call of the mainland, and the prospect of finding other survivors.
But that is where danger lies, too, in the form of the flesh-eating menace known as the skrake.
Then disaster strikes. Alone, pushing an unconscious Maeve in a wheelbarrow, Orpen decides her last hope is abandoning the safety of the island and journeying across the country to reach the legendary banshees, the rumored all-female fighting force that battles the skrake.
But the skrake are not the only threat…
Image
❄️Plan on spending time at your local coffee shop? Check out:
Before the Coffee Gets Cold by Toshikazu Kawaguchi
If you could go back, who would you want to meet?
In a small back alley of Tokyo, there is a café that has been serving carefully brewed coffee for more than one hundred years. Local legend says that this shop offers something else besides coffee—the chance to travel back in time.
Over the course of one summer, four customers visit the café in the hopes of making that journey. But time travel isn't so simple, and there are rules that must be followed. Most important, the trip can last only as long as it takes for the coffee to get cold.
Heartwarming, wistful, mysterious and delightfully quirky, Toshikazu Kawaguchi's internationally bestselling novel explores the age-old question: What would you change if you could travel back in time?
Image
❄️Cooking a meal for the family? Check out:
The Tiger Mom's Tale by Lyn Liao Butler
Lexa Thomas has never quite fit in. Having grown up in a family of blondes while more closely resembling Constance Wu, she's neither white enough nor Asian enough. Visiting her father in Taiwan as a child, Lexa thought she'd finally found a place where she belonged. But that was years ago, and even there, some never truly considered her to be a part of the family.
When her estranged father dies unexpectedly, leaving the fate of his Taiwanese family in Lexa's hands, she is faced with the choice to return to Taiwan and claim her place in her heritage . . . or leave her Taiwanese family to lose their home for good. Armed with the advice of two half-sisters (one American and the other Taiwanese, who can't stand each other), a mother who has reevaluated her sexuality, a man whose kisses make her walk into walls, and her self-deprecating humor, Lexa finds the courage to leave the comfort of New York City to finally confront the person who drove her away all those decades ago.
With fond memories of eating through food markets in Taiwan and forming a bond with a sister she never knew she had, Lexa unravels the truth of that last fateful summer and realizes she must stand up for herself and open her heart to forgiveness, or allow the repercussions of her family's choices to forever dictate the path of her life
Image
❄️Going on a ski trip? Check out:
Getting snowed in at a luxurious, rustic ski chalet high in the French Alps doesn't sound like the worst problem in the world. Especially when there's a breathtaking vista, a full-service chef and housekeeper, a cozy fire to keep you warm, and others to keep you company. Unless that company happens to be eight coworkers…each with something to gain, something to lose, and something to hide.
When the cofounder of Snoop, a trendy London-based tech start-up, organizes a weeklong trip for the team in the French Alps, it starts out as a corporate retreat like any other: PowerPoint presentations and strategy sessions broken up by mandatory bonding on the slopes. But as soon as one shareholder upends the agenda by pushing a lucrative but contentious buyout offer, tensions simmer and loyalties are tested. The storm brewing inside the chalet is no match for the one outside, however, and a devastating avalanche leaves the group cut off from all access to the outside world. Even worse, one Snooper hadn't made it back from the slopes when the avalanche hit.
As each hour passes without any sign of rescue, panic mounts, the chalet grows colder, and the group dwindles further…one by one.
Image
❄️Wrapping Presents? Check out:
Harry Potter and the Sorcerer's Stone by J.K. Rowling
Harry Potter has never been the star of a Quidditch team, scoring points while riding a broom far above the ground. He knows no spells, has never helped to hatch a dragon, and has never worn a cloak of invisibility. All he knows is a miserable life with the Dursleys, his horrible aunt and uncle, and their abominable son, Dudley - a great big swollen spoiled bully. Harry's room is a tiny closet at the foot of the stairs, and he hasn't had a birthday party in eleven years. But all that is about to change when a mysterious letter arrives by owl messenger: a letter with an invitation to an incredible place that Harry - and anyone who reads about him - will find unforgettable. For it's there that he finds not only friends, aerial sports, and magic in everything from classes to meals, but a great destiny that's been waiting for him... if Harry can survive the encounter.
Image
❄️Working on your latest knitting project? Check out:
Practical Magic by Alice Hoffman
For more than two hundred years, the Owens women have been blamed for everything that has gone wrong in their Massachusetts town. Gillian and Sally have endured that fate as well: as children, the sisters were forever outsiders, taunted, talked about, pointed at. Their elderly aunts almost seemed to encourage the whispers of witchery, with their musty house and their exotic concoctions and their crowd of black cats. But all Gillian and Sally wanted was to escape. One will do so by marrying, the other by running away. But the bonds they share will bring them back—almost as if by magic...
Image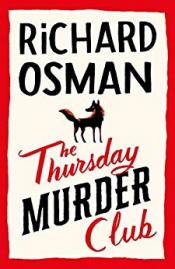 ❄️Curling around a cup of cocoa? Check out:
The Thursday Murder Club by Richard Osman
Four septuagenarians with a few tricks up their sleeves;
A female cop with her first big case;
A brutal murder.
Welcome to...
THE THURSDAY MURDER CLUB
In a peaceful retirement village, four unlikely friends meet weekly in the Jigsaw Room to discuss unsolved crimes; together they call themselves the Thursday Murder Club.
When a local developer is found dead with a mysterious photograph left next to the body, the Thursday Murder Club suddenly find themselves in the middle of their first live case.
As the bodies begin to pile up, can our unorthodox but brilliant gang catch the killer, before it's too late?